What Does Unimproved Land Mean? What to Know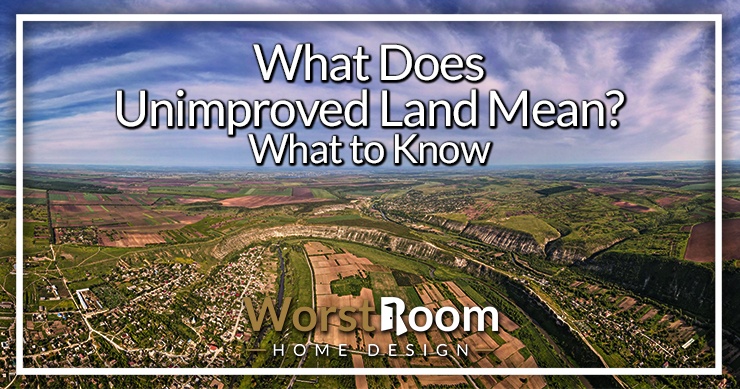 There are many considerations to consider if you want to invest in a piece of property, like unimproved land. Some landowners find it more practical to purchase vacant lots for commercial establishments or dream family homes. But what does unimproved land mean?
What Is Unimproved Land?
What is unimproved property? Unimproved land is a term used to refer to land for sale in any remote area. When you say the remote location, the property has no access to electricity or water utilities, no public streets, and the land is very raw.
Uses of Unimproved Land
There are many reasons to buy unimproved land, which can be a good investment. Some landowners turn their land into rental homes or consider building an apartment complex.
Thus, it can provide a steady flow of potential financial income. Some other uses of the unimproved land are the following:
storage area
farmland
parking area
The point is, though, that to earn cash flow from the land, you will need to transform it into something useful for humans in some capacity. Otherwise, you may hold it and sell it later at a greater price, but this is wasted potential (but less risky).
You can imagine what it would take to cut down dozens of every type of cedar tree, selling them, leveling the ground, growing some type of bermuda grass to keep soil from eroding, having water, sewage, and electricity installed, and so forth. This is why you can still find unimproved land, because people often don't want to mess with all that.
Pros of Purchasing Unimproved Land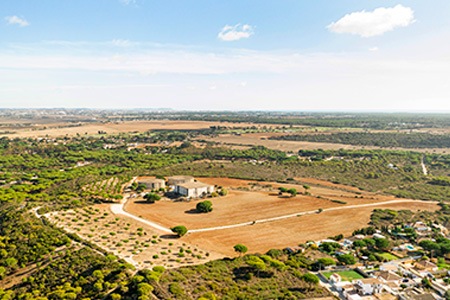 You should take note that although you can think that unimproved land could be a good investment with a high capital gain, you may need help looking for financing. Before deciding whether to buy unimproved land, you should consider the costs and risks.
Less Competition: Not all buyers want to start from scratch, like building a new property. Thus, it gives you an advantage since there is no tight competition in the real estate market.
Low-Maintenance: When compared to improved land, unimproved land is less expensive. You don't need to worry about faulty systems issues or even stress over leaky roofs. Thus, you can save money on any repairs or upkeeps.
Fast ROI: If you manage your investment wisely on unimproved land, you can see that the ROI is more immediate than any mortgaged property. Imagine the law of supply and demand. Because there aren't many unimproved plots of land, the price of the land can go up over time.
Flexibility: Consider how you might convert unimproved land for future use. You are not restricted to converting this property for commercial or private use.
Largely, the pros are due to the difficulty, annoyance, and risk levels of developing unimproved land, which you could almost call negatives, which we'll get to now. But what does unimproved land mean to many professional developers? Just that, a giant pain in the rump.
Cons of Purchasing Unimproved Land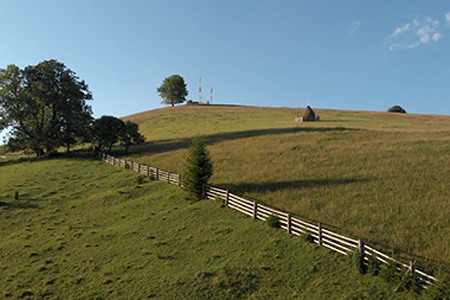 While purchasing unimproved land is a wise investment, it is also worth noting that there are also drawbacks, such as the following:
Time-Consuming: If you have a strict timeline, you may find unimproved land time-consuming in terms of preparing the ground for proper access to utilities and some improvements.
Higher Investment: You may find that the investment increases more in unimproved land than in any specific property. You may expect a 15-25% down payment.
Less Secure: Since you are purchasing raw land, you may feel less secure in your investment. Therefore, you may have to prepare higher loan collateral or pay as high as 50% of your down payment.
Law Restrictions: If you are unfamiliar with zoning restrictions, unimproved land can be limiting. So, you must carefully research land property zoning laws or visit your local government office for detailed information.
Several Permits: You need to secure several permits with the local government. If you're not ready for the hustle and time-consuming permit issuance, then unimproved land is not for you.
Easements: This is a privilege to grant to a person to pass over one's property. Take note that landlocked properties require easements. If you acquire a property with easements, you need to ensure there won't be any hindrances or delay in your plans.
As you can see, the greatest idea in your head can have a lot of monetary and legal road blocks to deal with before you can put that plan into action. This is why so many people avoid these plots of land.
How to Buy Unimproved Land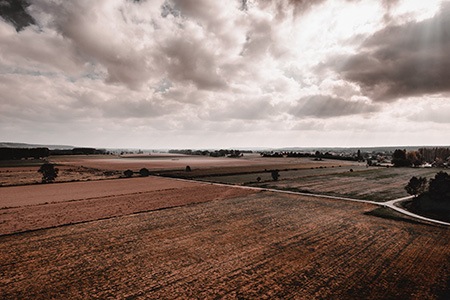 If by now you are considering buying unimproved land, here are some of the necessary steps to ensure that your investment won't go to waste.
Map Out the Area
The first step is to map out the area to get an idea of what you would like to do with the unimproved land. Also, remember that the property's location is a main part of figuring out how much it is worth.
Therefore, look for a potential area where you know the value gets higher because it is a prime location in the future. That's part of the main unimproved land meaning: it's not that attractive now but what about the future?
Some of these most important factors are the ones you should be looking for in unimproved land:
Zoning laws
Cellphone sites services
Soil condition
Flooding situation
Commercial and farm operations nearby
Property easements
Access to septic system
Consider hiring a land surveyor to check out the property. The pros in this field are the only ones who can give you useful information about encroachments, easements, and if access to electricity and water lines is possible.
Check for Illegal Squatting
You would not want anyone to live on the property and claim that it is someone's dubious ownership. In some states, illegal squatters occupy some land and claim to gain legal rights over the property. Always be smart in conducting first-hand inspection and look for legal documentation to avoid this circumstance.
Ask for Land Title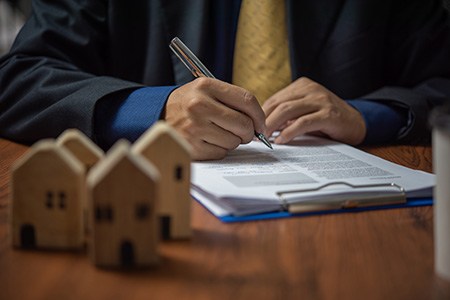 It's a rule of thumb to always ask for legal documents and if the property land is in good standing. As mentioned in this article, zoning regulations apply, and you should know how it is regulated in that area. That is why you must conduct thorough research in mapping out the site.
Know All the Local Utilities
Having access to the community's various utilities is an important consideration. In some extremely remote areas, the only source of power available is electricity, and the installation of septic systems is prohibitively expensive because permits are required. In rural areas, the cost of gaining access to water is also higher.
So what does unimproved land mean? A big piece of it is there's no water access, sewage, electricity, telephone and internet lines, and many times not even road access.
Get the Necessary Permits
This step is also important when planning where to purchase the raw land. Make time to visit your local government and look for necessary information about the property. If you're seeking professional help, you must ensure that you get a reliable agent to get all the information about the property.
Some areas have a maximum number of acres to acquire. You'll need survey information to identify the boundaries. It would also help you to look at the number of days the unimproved land has been listed in the listings, so you can ensure that it hasn't been on the market for years.
Consider the Undeveloped Land Cost
The average cost of constructing a property on raw land currently is around $295,000.
For any property, the price depends on the following:
Size of the property
Location
Layout complexity
Materials used (when building a property)
Also, you need to check if the land was previously used for farming, as the tax status will update, and you'll have to pay for rolling back taxes. Thus, the tax implications are an important factor to consider when purchasing unimproved land.
Inquire About a Raw Land Loan
Some loan services cater to clients who need a raw land loan. A land loan is similar to a regular mortgage but involves higher risk. Several factors affect the property's value and the loan's approval. Some of these are zoning restrictions, access to utilities, and survey boundaries.
To ensure that financial companies offer the best possible loan terms, check the regulations of the Federal Deposit Insurance Corporation (FDIC) on setting maximum loan-to-value ratios. For instance, a 15 percent down payment is required for single-family homes and apartments with four or fewer units.
You need to weigh your options and look for the most competitive offer with low-interest rates and lower down payments. Although land loan interest rates are higher than mortgage interest rates, the better your credit score, the more likely you'll be approved.
To obtain a financing loan, you may also need collateral and a detailed plan that shows how much the property will be worth in the future. The property's intended use will be a deciding factor for loan approval.
Get a Vacant Lot Insurance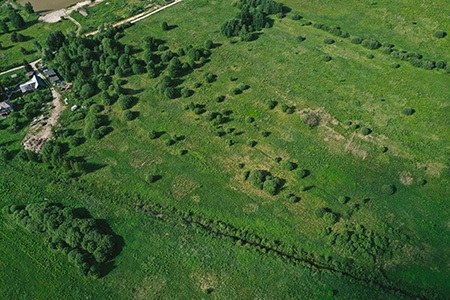 Like any homeowner's insurance, vacant lot insurance protects you from any liabilities for injuries or death. It can also shield you from bankruptcy if you are sued by someone else.
The insurance covers the following:
Legal costs
Medical charges
Pain and suffering
Lost wages
Death benefits
The insurance can cost you around $25–$45 monthly for an estimated $1,000,000 general liability policy. It would also depend on the location and size of the unimproved land. Nevertheless, this insurance can give you peace of mind about any possible legal actions.
However, there are some constraints. The vacant land insurance won't cover any injuries inflicted or caused by the property owner's activities.
Can You Build on Unimproved Land?
As long as you meet the required building codes and zoning codes, you can build whatever you want on your own property, whether that's residential property, commercial property, industrial buildings, and so forth.
Unimproved Land Meaning Defined & Explained
You can save money and time if you know what to expect when purchasing unimproved land. Buying raw land has benefits as well as drawbacks. For this reason, you must do your homework. Unimproved land is a good investment, but only if you're willing to take risks and have enough time and resources to build your property from scratch.
This article gives you an idea of what does unimproved land mean and the necessary costs and time commitments you need to make. If you have enough money to buy land but don't know how to do it, you should look for an experienced real estate agent.
You'll Also Enjoy: