28 Apartment Garden Ideas That Will Activate Your Green Thumb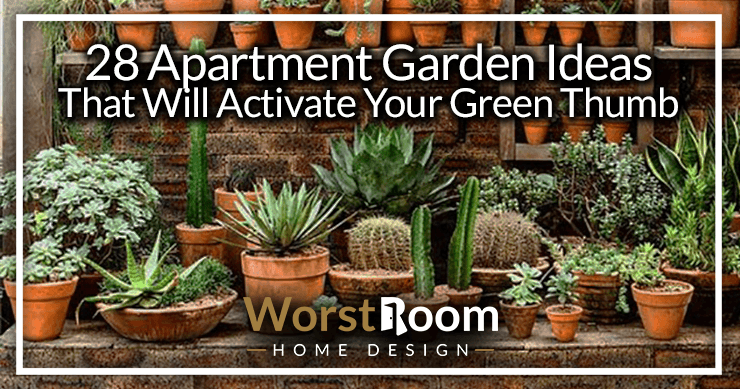 Building an apartment garden is no easy task. You're either going to build indoors, which can be tricky due to lighting, or you're going to do it in a backyard, on a patio, or on an even smaller balcony.
Luckily for us, there's been plenty of people who've already figured out all of the clever methods of maximizing your garden space.
If you know you'll rent your apartment for quite some time you can get really creative for some more permanent solutions that you can even leave for the next tenant.
Apartment Garden Ideas
Below we tried to collect pictures illustrating as many various ideas we could for differing budgets, styles, and locations. Flowers, vegetables, spices, herbs, it's all interchangeable. With a little imagination and these ideas, you can do anything.
1. Using Shelfs, Ladders, & Pots for a Wall Display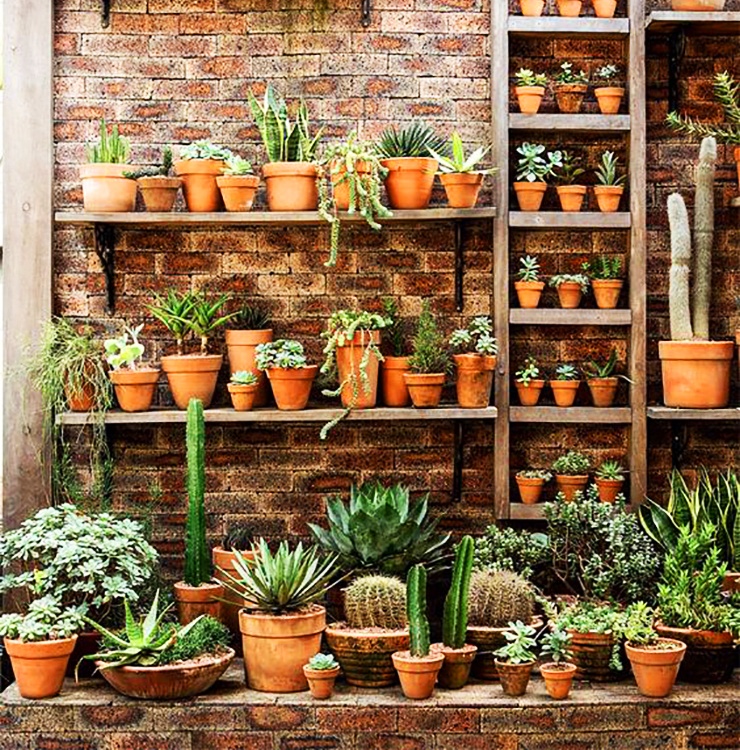 By using simple board shelves and a small ladder, you can create a very attractive cactus and succulent garden. Place it in front of a brick wall with clay pots and the entire scene will pop.
2. Floor & Wall Planters for a Decorative Garden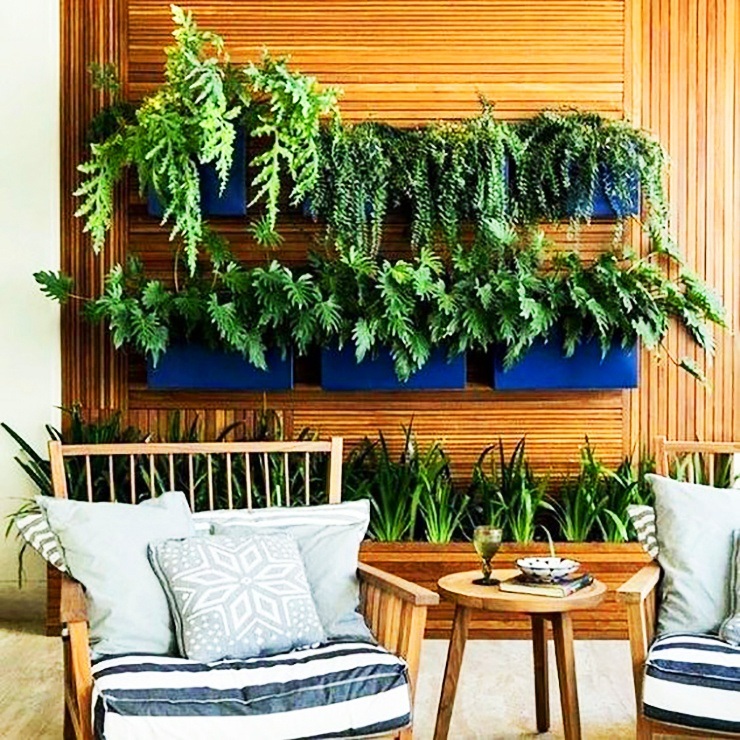 These ferns in front of a thin wooden slat wall looks great, especially with the complimentary colored squared containers to get some dark color splashed in there. Coordinate it with your wooden furniture and cushion and pillow decorations.
3. Well Lit Apartment Garden Room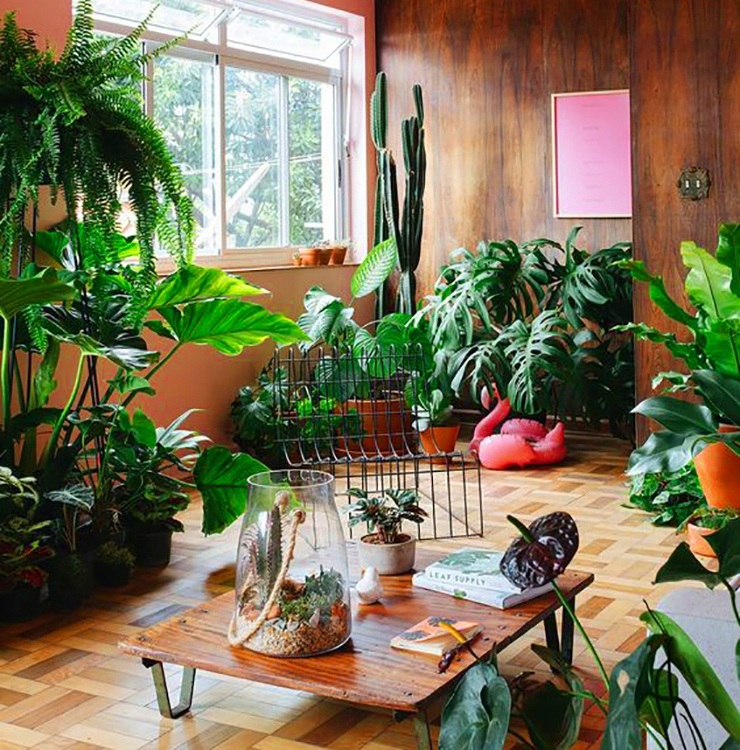 This entire apartment living room has been converted into indoor types of gardens thanks to its huge window facing the sun. Notice that the walls reflect light around, too, which helps big time.
4. Apartment Balcony Railing Hangers for Herbs & Vegetables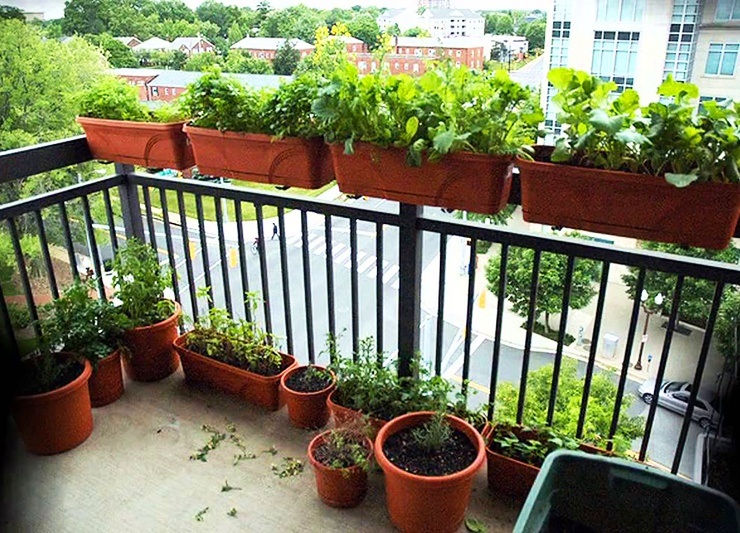 Sometimes you just want to grow some herbs or vegetables without worrying about the decorative aspect. Containers that ride the railings of your balcony is a great way to use your space effectively.
5. Hanging Garden Around Balcony Borders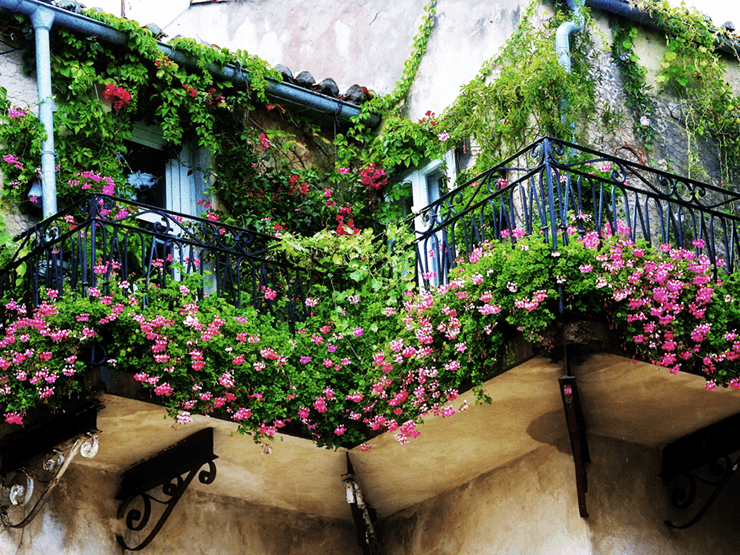 Growing your flowers through your balcony railings looks great in combination with allowing the various types of ivy and vines to grow up the walls. Choose flowers with bright colors!
6. Separate Vegetable Gardens with Greenhouses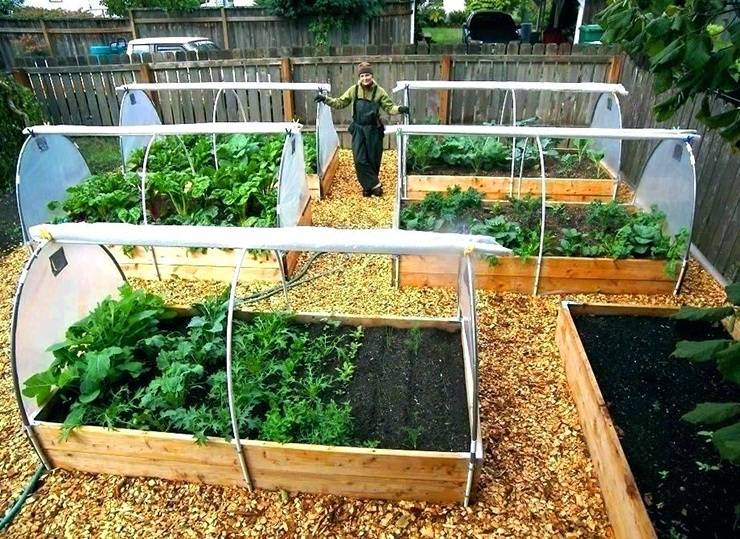 These individual vegetable containers can be crammed into a small apartment yard and built in a way that they can be watered on a timer and converted into greenhouses as well.
7. Mason Jar Spice & Herb Containers on Fence Slats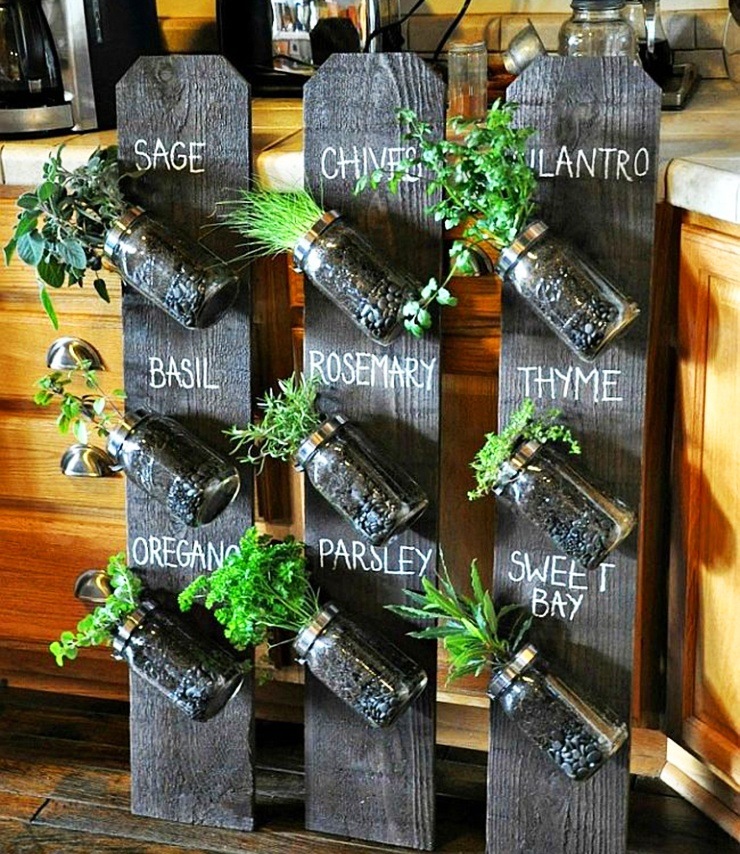 There are countless ideas like this for growing herbs inside your apartment. The attraction with these methods is you can label each while using them as wall decorations as well.
8. Pallet & 2x4 Board Containers Built into Patio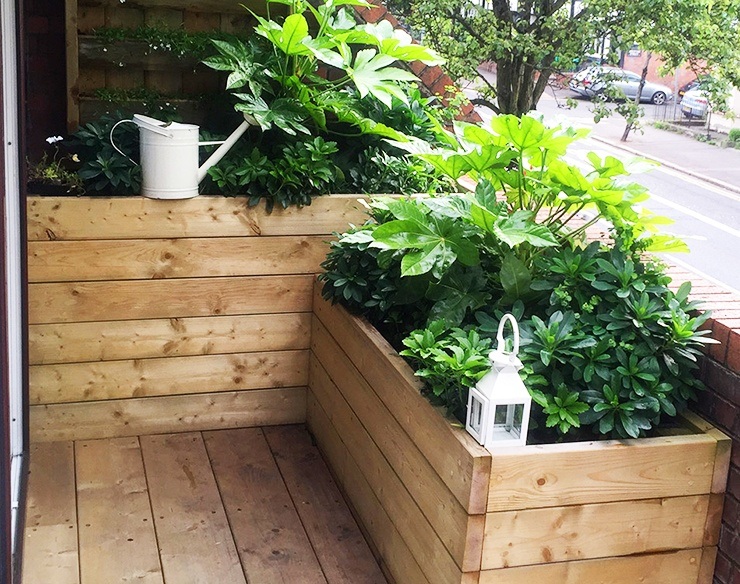 You can use 2x4's or pallet wood to build containers against your apartment's patio walls and build shelves behind them to create a calming outdoor experience. If you do it well enough you can leave it for the next tenant. Using aged and imperfect types of pallets can look great, just seal them so they don't wear any further.
9. Five Sided Flower & Succulent Garden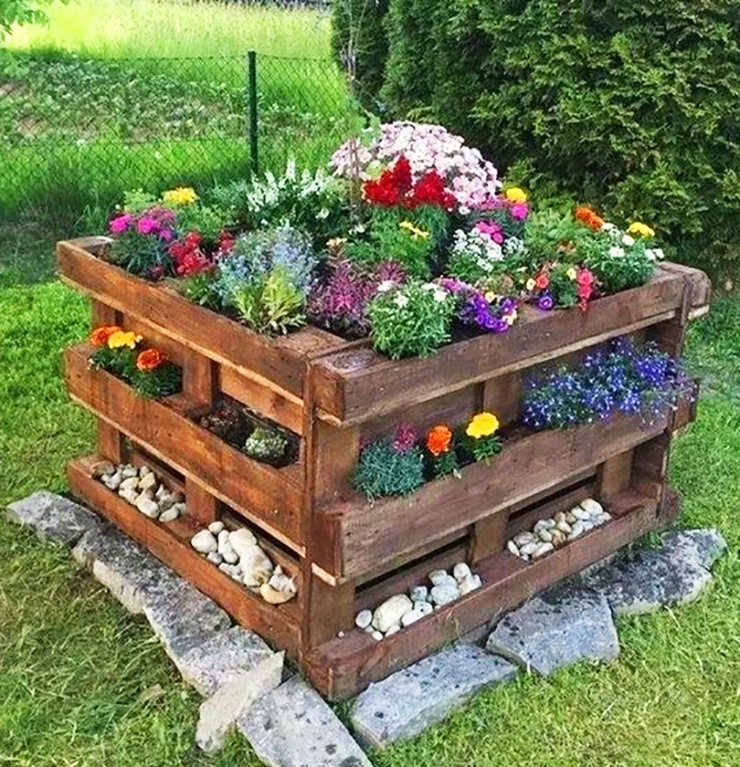 This cube shaped container not only has a huge garden in the center but can contain two levels of separate sections around all the sides. Perfect for flowers, succulents, cacti, or herbs, with vegetables in the center. Just watch out for rabbits and birds.
10. Modern Apartment Garden in Backyard
This modern and minimal garden in the yard is built in combination with privacy walls and benches. You can use the garden plants to bring color to an otherwise bland backyard.
11. Indoor Multi-Level Planter Stand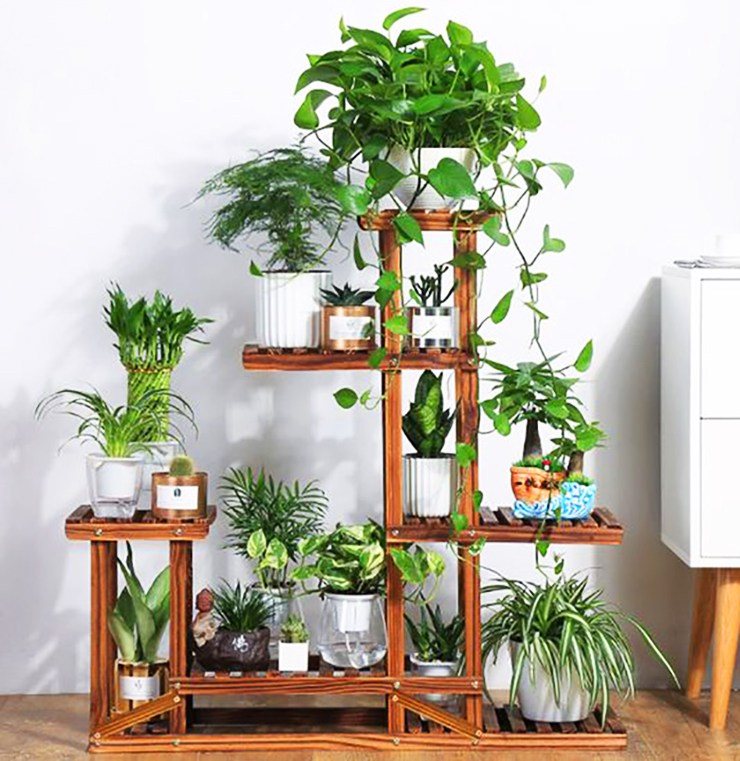 You can get crafty with this DIY plant stand, building exactly like this or to any design you'd like. Staining the wood to your taste and choosing glazed pots can really make your room and wall stand out.
12. Self-Watering 2-Liter Herb Garden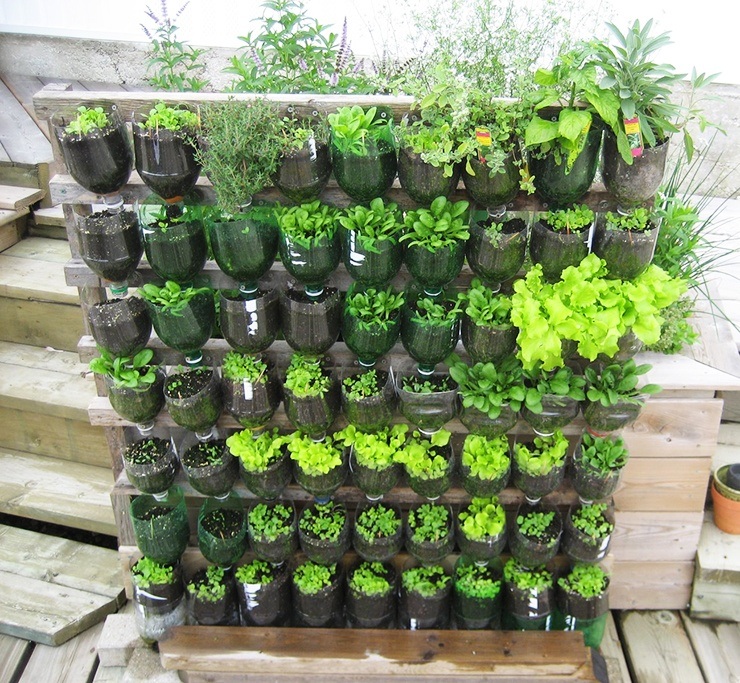 These genius pallet and 2-liter bottle herb and vegetable gardens are amazing, and they don't look bad at all. The coolest part is you don't have to worry about drainage, since each one drains into the one below it. This is one of the genius alternatives to underground sprinkler systems.
13. Hex Shaped Indoor Ferns on Apartment Wall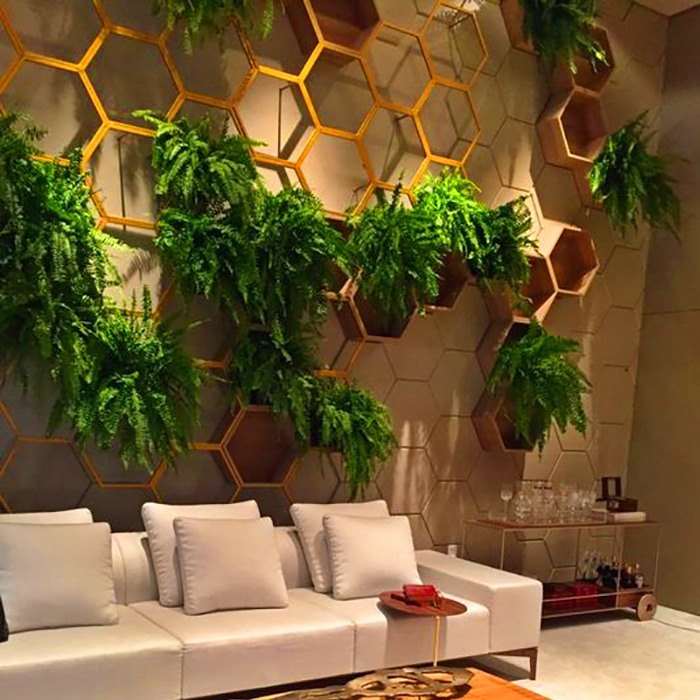 An expensive, high ceiling apartment can still have a garden. Check out this shadow box, hexagonal decorative wall with ferns planted within it.
14. Wild Flower Garden Between Apartment Buildings
Lots of people love a more wild garden where whatever happens happens! This one shows a low maintenance walkway garden with a stone path and aged patio furniture. How quaint and chill is that? The cat loves it.
15. Plant Pot Organization on Apartment Balcony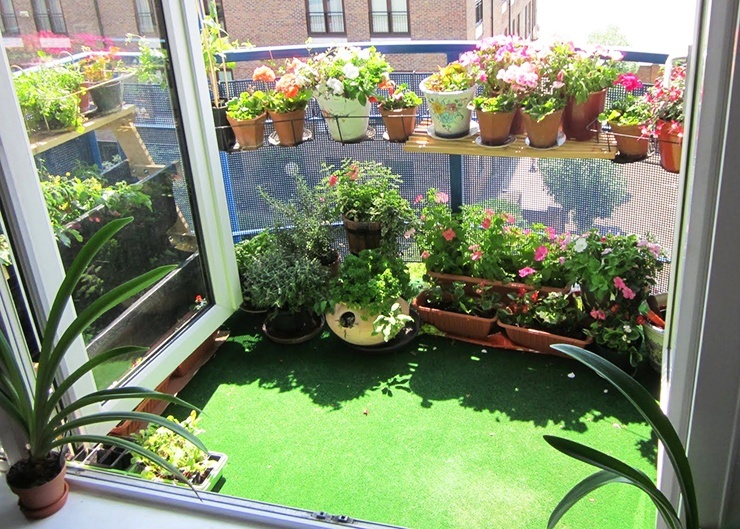 Even if you have a tiny apartment balcony you can still make use of the space, just make sure you can still open your door if it's not a sliding door. Shelving, as you can see, helps a ton and lets your neighbors see your flowers from the ground level.
16. Simple, Colorful Flower Garden on Apartment Patio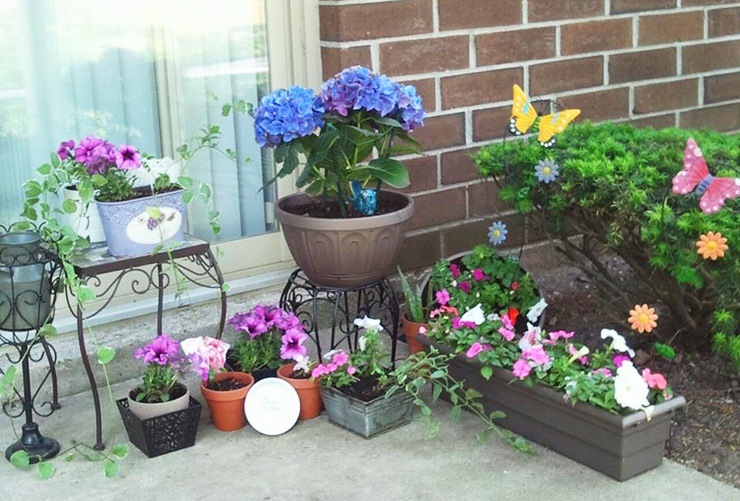 Sometimes we just want a simple arrangement for our pretty flowers. Using the corner of your apartment patio with a few stands can make room for more containers below.
17. Hanging Veggies & Tree with Flowers Potted Together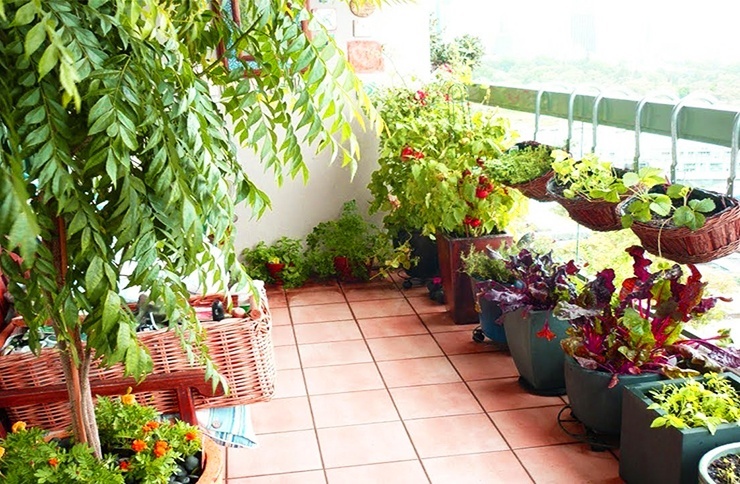 If you have a wide enough balcony, you can hang plants off the railing, have pots below those, and on the opposing wall you can even have a small fruit tree. These people even planted flowers in the same tree pot.
18. Patio Garden with Bushes & Wall Ivy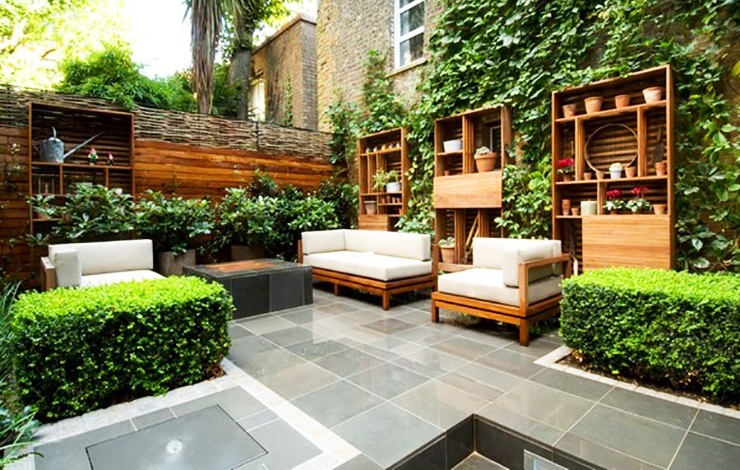 This very classy patio uses lots of shelving and containers to create a lush, green area in an otherwise bland area. They even have trimmed bushes and an ivy wall. This is how it's done.
19. Outdoor Patio Garden with Stone Walkway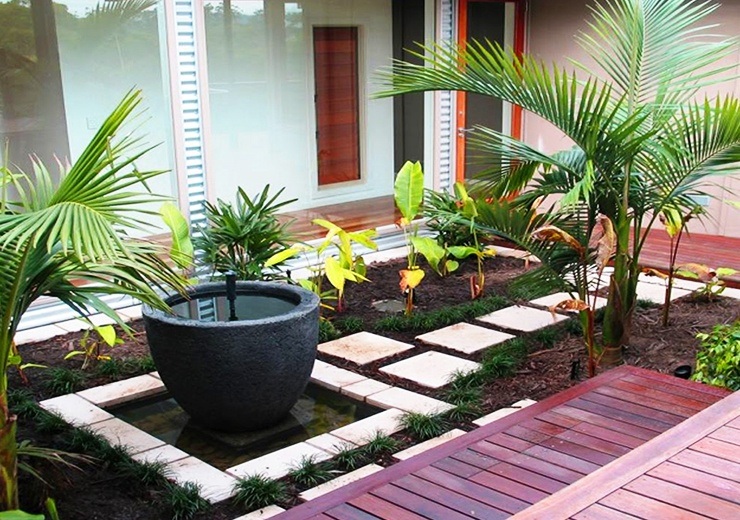 This mulched garden even contains a small pond, if you want to call it that, with any small types of fountains. The palm trees are a nice touch, as are the stone paths that let you get inside and enjoy the plants and monkey grass.
20. Indoor, Wall-Mounted Mason Jar Herbs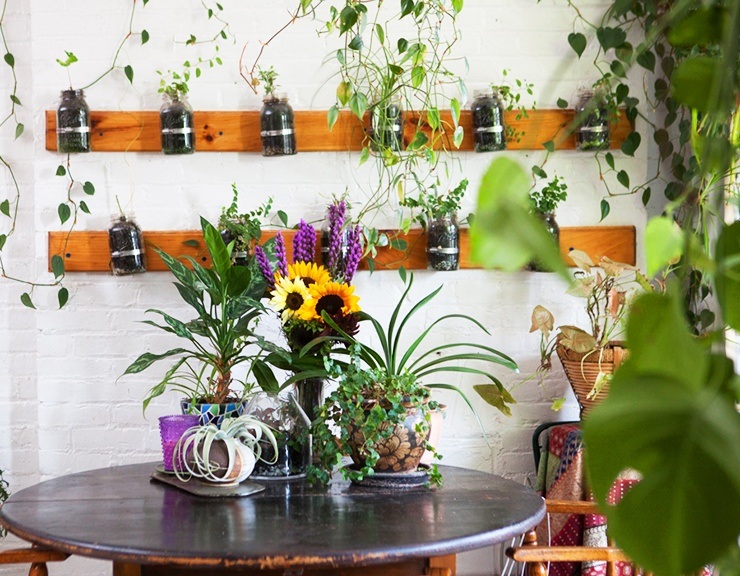 This simple mason jar herb setup allows you to grow herbs, label them, and bring some life to a boring wall. They've placed various types of planters in the corner and on the table as well.
21. Flowers Grown Along Apartment Balcony Railings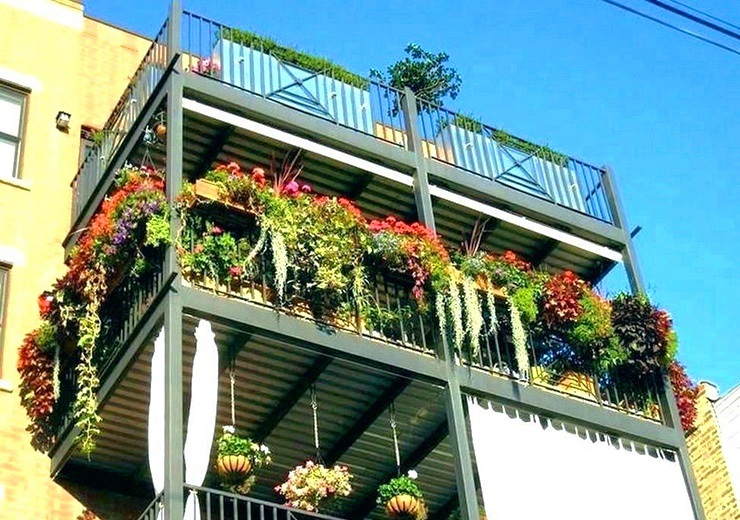 Here's another example of hanging pots from your balcony ceiling and growing along the railings and along the border on the floor. These people brought a ton of color and life to a boring building exterior.
22. Simple Potted Flowers & Bonsai Around Porch Boundary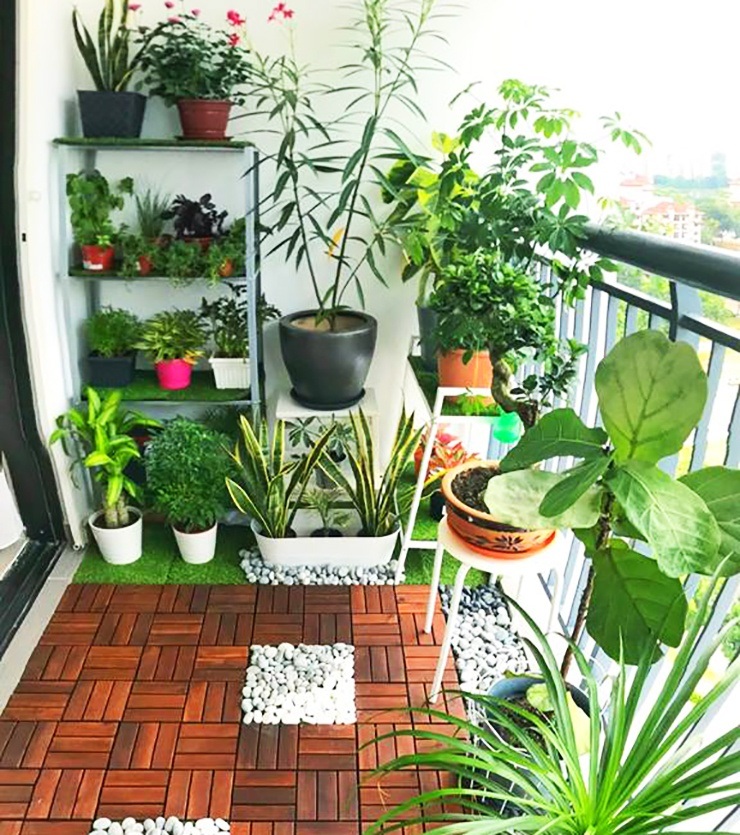 Using stones and turf grass brings a feel of being at the ground level in a yard, but on your small balcony. Then you can apply all of the other principles to organize your garden.
23. Utilizing Porch Steps & Border Containers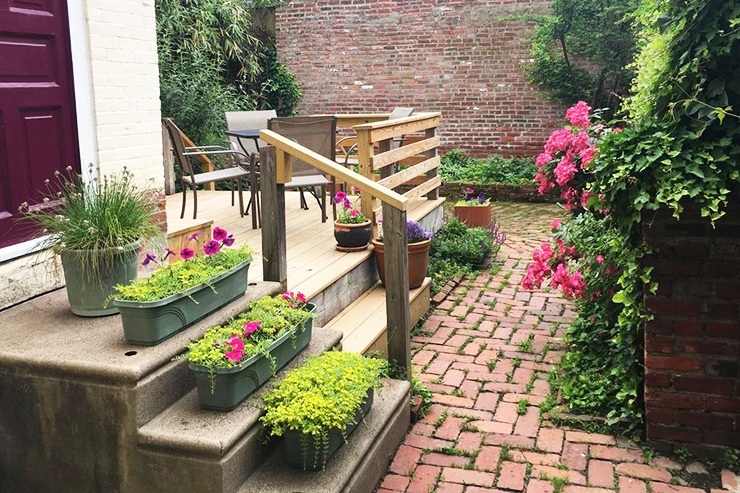 This family used their extra steps behind an unused door to house some plant containers, while also building boundary containers along the brick wall. Letting grass grow between the bricks is a nice touch, too.
24. Horizontal Gardens on Balcony Wall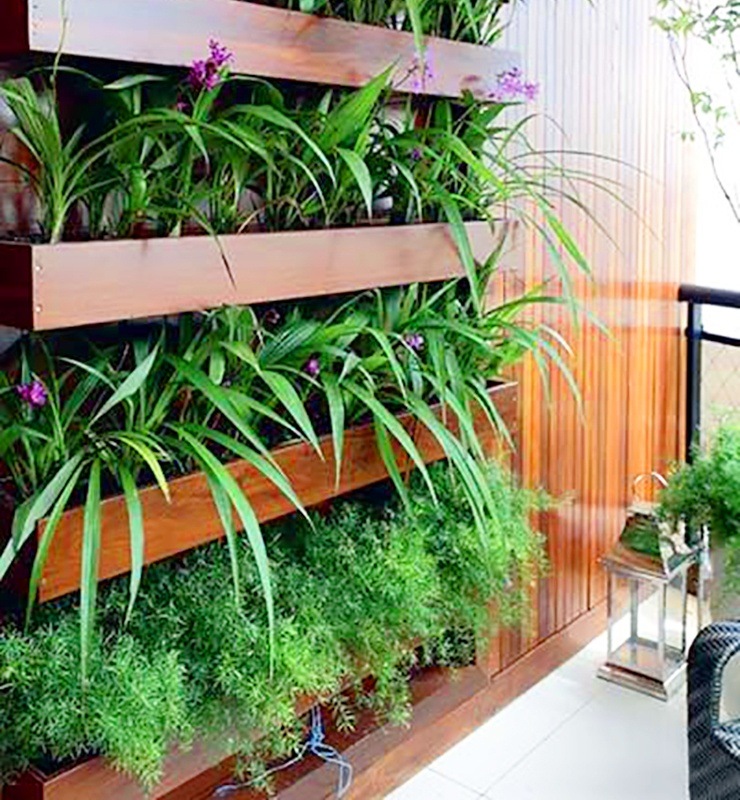 This is a beautiful use of a wall by installing horizontal gardens along the side wall. You can grow flowers, climbing vegetables, and anything you want in these by creating as much space as you want between them. Just make sure there's still enough light.
25. Stone Garden Surrounding Apartment Patio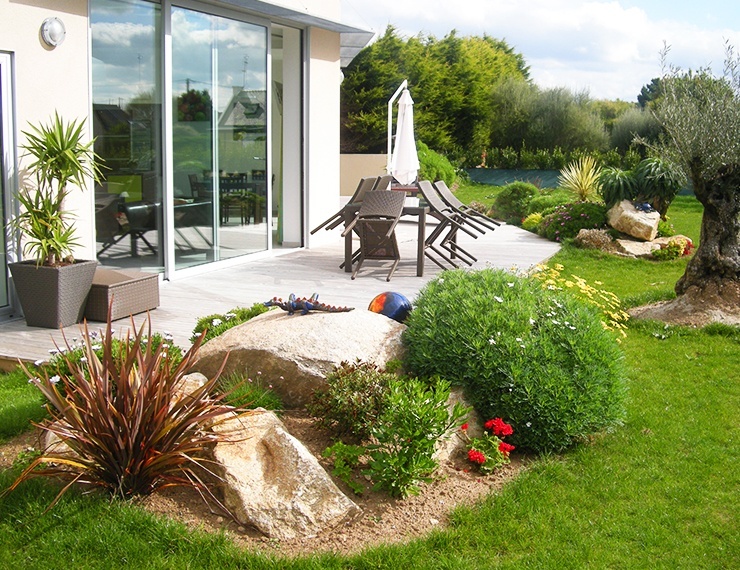 If you're on the ground level and have those poured concrete rocks around, you can mulch around them and grow bushes or vegetables and toss in some flowers for color. Get creative and make a combination. Look into concrete alternatives for the rocks as well to keep it eco-friendly.
26. Maintained Apartment Yard Garden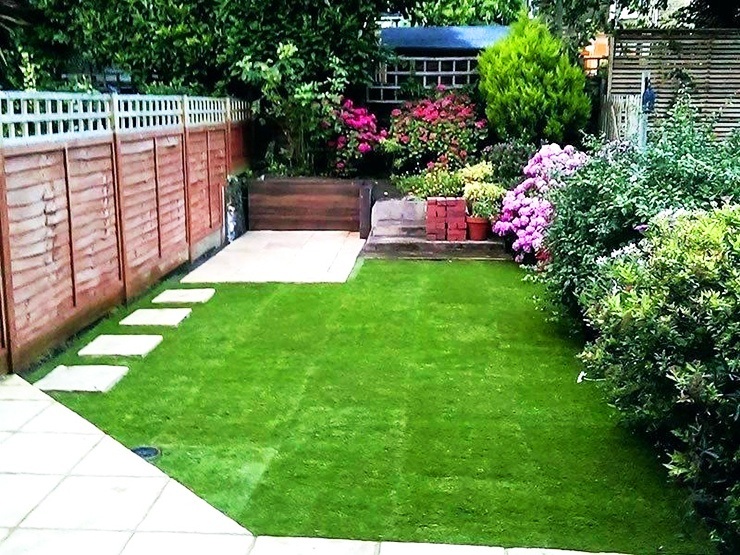 This is a beautifully maintained yard with a garden and bushes along the wall. With this much space you could do anything you'd like, though they've gone with pre-grown grass sod.
27. Six Tiered Barrel Garden at Apartment Entryway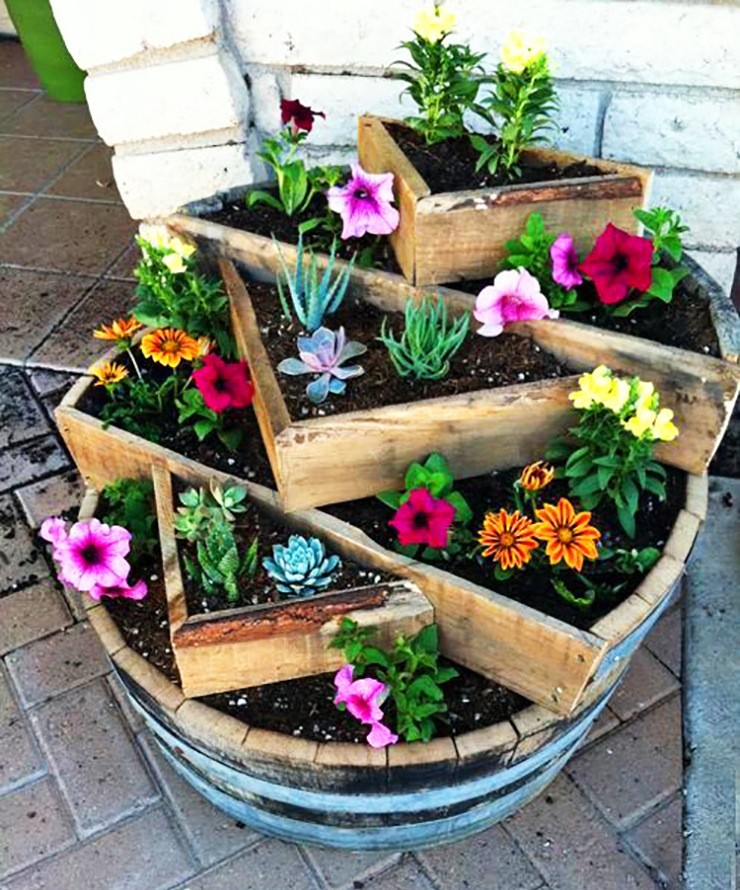 These kind of apartment garden ideas are so creative. They built a multi-tiered container on top of a barrel container to create a three dimensional flower pot. Placing something like this at your entryway is very welcoming for your visitors.
28. Garden Behind Apartment Patio Benches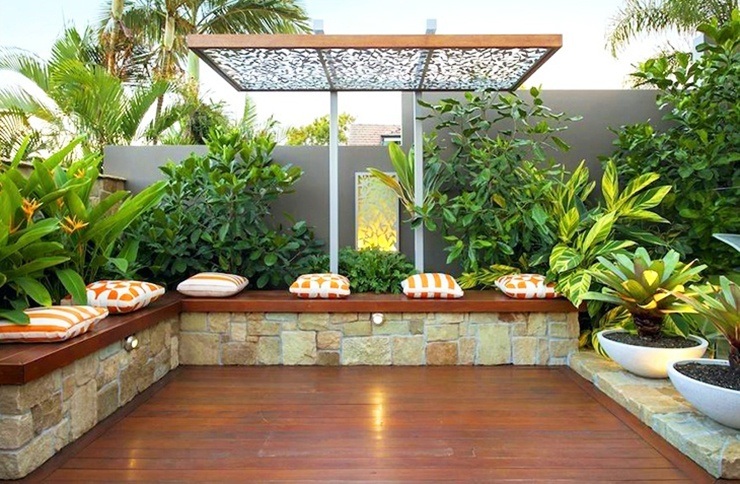 Perhaps the best patio garden I've seen, they've used the benches as the front wall of the huge containers behind them. This gives you enough soil to grow anything, such as the large bushes they've chosen here.
You'll Also Enjoy: