15 Types of Planters to Look Great & Enhance Your Plants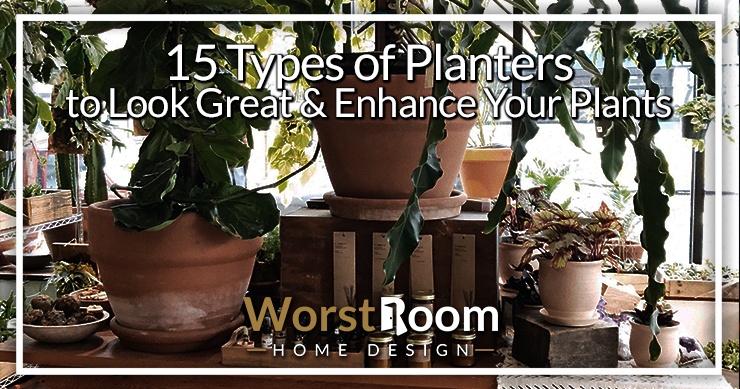 Plants bring freshness to your home. So, choosing the right types of planters is essential to escalating the beauty and essence of your space. However, which planter styles are the best option for you?
There are many planter types for you to choose from. Fiberglass planters, concrete planters, plastic planters, and terracotta planters are some of the best planters that you can choose to make your home more beautiful and elegant.
Therefore, this article will talk about the different types and benefits that each of these planters possesses and how it beautifies your space.
7 Types of Planters by Materials
When picking a planter, one thing is for sure you'll not be in any shortage of options. You will have the option to pick a planter anywhere from fiberglass, concrete, plastic, terracotta and ceramic, metal, woods, and foam planters.
Each of these different types of planters is a little special in its own way, thanks to the material they're made from, which we will discuss down below…
Fiberglass Planters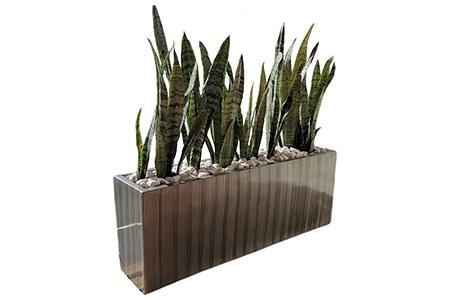 Fiberglass planters are incredibly versatile and durable in terms of shapes and designs. Moreover, these planter types are weather-proof, resistant to rust, non-porous, and don't crack due to the sun or frost.
This planter also requires little to no maintenance, and the drainage holes at the bottom of the pot do most of the work itself.
However, there are a few drawbacks to these pots too. Since it is non-porous, it traps in the heat, thus leading to overheating, which could bake the plant's roots. That's not all; these pots can be quite pricey, and some may even come with no drainage holes.
Concrete Planters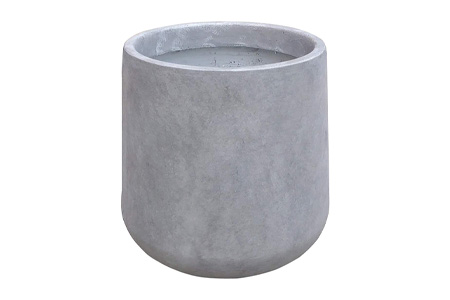 Few plants prefer an alkaline environment over neutral or acidic environments, such as succulents. Succulents absolutely love the alkaline solution and are perfect for cement planters or pots.
Other examples of alkaline loving plants are Easter Lilies, Mums, Orchids, Morning Glories, African Violets, and Begonias, perfect for an alkaline pot.
Concrete is not environmentally friendly. Manufacturing of concrete produces CO2, which Princeton University says makes up 8% of total emissions globally. Moreover, they are also pretty fragile thus can show cracks if not handled right.
Plastic Planters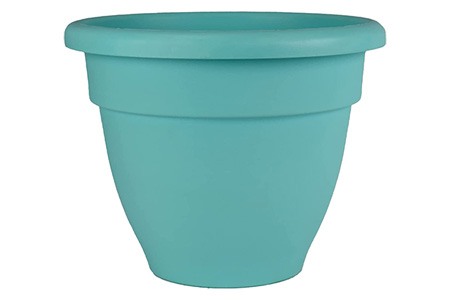 Plastic planters tend to attract and store heat inside of the pot, causing the roots to go bad and causing premature wilting. Moreover, any plastic material can take up to thousands of years to degrade and decompose. These pots can leak toxins into the soil and plants that can leak harmful chemicals into plants.
Plastic types of planters have a lot of downsides to them, for sure, but it does come a lot cheaper than the other types of plant pots out there. Plastic planters are more readily available and lightweight compared to other planters in the market.
Terracotta & Ceramic Planters
These are essentially the same products with a slight variation to them. These are both made of the same base material, which is clay. While they have the same basic material, they differ in appearance and property quite a bit.
Terracotta and Ceramic planters are porous and allow air and water to pass through their surfaces, preventing soil roots and root rot. These planters are best for colder climates and outdoor plants.
One other benefit of having this planter is that you can tell by the appearance of the pot whether it needs to be watered more frequently or not. When moisture is present, the terracotta is darker in color, thus making it easier to know when to water.
As convenient as possible, these planters also come with a few downsides. One of which is that it tends to crack open when used for outdoor plants, as they can be as fragile as types of vases. Given that it is made of clay, it can be fragile and break apart even after being heavy.
These pots may also require you to water the plant more frequently. Or at least keep an eye out on when to water.
Metal Planters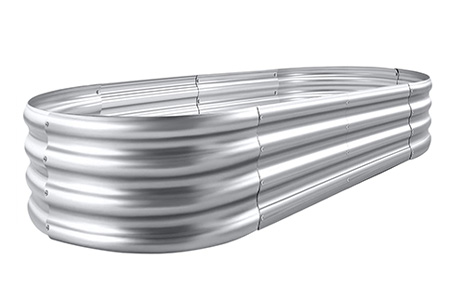 It is a basic knowledge that metal draws heat. When using a metal pot, it is absolutely essential to use a lining. These metal planters come in various types of metal, such as aluminum and galvanized metals to cast irons and more.
Using these types of planters can be so appealing. The modern industrial look can lure people right in. These are very durable and relieve us of the burden of being broken or chipped or falling apart.
They are also very easy to clean off of any dirt or dust. To avoid any of the inevitable damages that metal planters can cause, some people improvise and use the metal planter as a decoy with a plastic or terracotta planter on the inside with the plant planted on it.
Having these planter types outdoors can cause damage to your plant. At times, the sun's scorching heat will be enough to kill the plant in a matter of a few days because of overheating and cooking away from the roots.
There are a few different types of fertilizers that can potentially damage the nice, shiny finish of the metal planter that attracted you in the first place. Since it is a non-porous material, you will need to drill in holes the planter.
Wooden Planters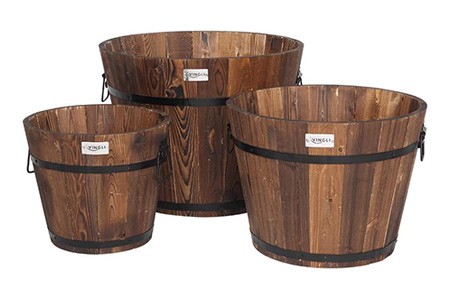 Wooden planters are among the favorites of many gardeners. These are available in so many different textures, wooden grains, colors, and finishes.
These planters don't threaten the plants since they are all natural. Rosewood, Cedar, Hemlock, Fir, and Pine are some of the common types of woods used for wooden planters. One of the lightweight planters is the bamboo planter.
These are safe types of plant pots that can cause no potential danger or threat to the plant or its health and growth. It may cause no danger to the plant. It is prone to rot.
You can apply a coat of varnish, polyurethane, or a lacquer seal to prevent it. These will help delay the rot of the wood, which inevitably will come at some point.
Another way to prevent the rot is to add an inner lining to the pot itself. This is when you add a layer of plastic upon which you can add the soil and then proceed on potting your plant.
There are a few different ways to approach this idea if you don't want to opt for plastics. You can go for a planter stand, a plastic inner container, or apply a layer of liquid sealants. All of these are just a way of delaying the inevitable rot.
Foam Planters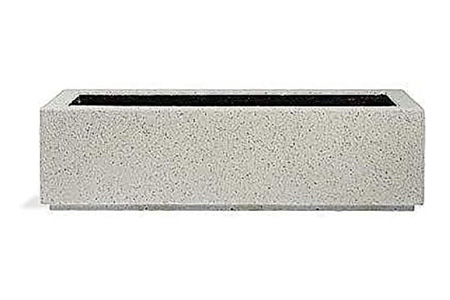 Planters usually need about 6 to 8 inches of soil. But since the depth of the pots is much higher than that, the excess soil used just to fill the soil is simply money wasted buying that amount.
Instead of having this wastage of soil and money, an easy alternative is to add a chunk of foam inside the planter to raise the height of the inside of the pot and then add in the soil.
These different types of planters can cause a bit of a soggy situation underneath the soil and cause root rot. This can be avoided by poking large holes into the foam itself to allow drainage.
Though being artificial and taking years upon years to decompose, this material poses little to no significant damage to anyone. While it does leach out some chemicals when overheating, it cannot pose any threat whatsoever.
8 Types of Planter Styles
While knowing what the types of pots for plants are made from, that's hardly what people must have in mind when they want to know what types are out there. They're really asking what the planter styles are.
The truth is, the styles and shapes of planters are likely endless, especially when you're looking at ceramic and terracotta ones. But here we can give you some basic ideas and some unique shapes so you can at least start honing in on the styles and colors you may want.
Indoor Ceramic Planters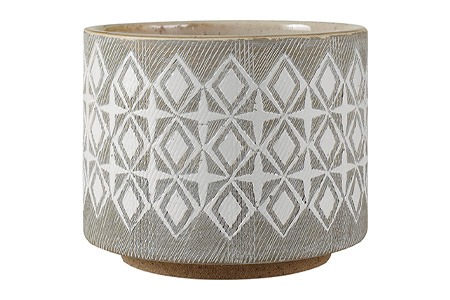 I'm calling these "indoors" but they're being used outdoors too. What I'm referring to here is your basic ceramic planter of any shape or size, which is then painted and glazed over professionally so it has a very refined and aesthetic look.
You've seen these everywhere, for good reason. They make them big, huge, and even tiny. My mom has half a dozen in one window sill for her indoor cactus types and succulents.
Resin Planters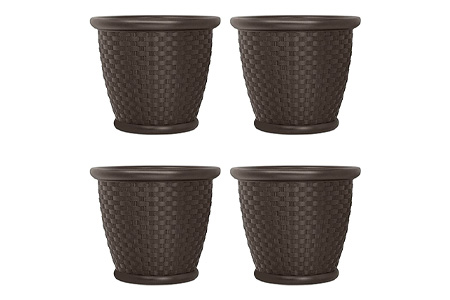 Resin planters can look a lot like the fancier ceramic planters but they can also be molded into nearly infinite shapes. I've seen ones that look like concrete and have gargoyles embossed on the sides. I've seen them that look like old half barrels. But at the end of they're molded plastic, which means they have high durability too.
Hanging Wall Planters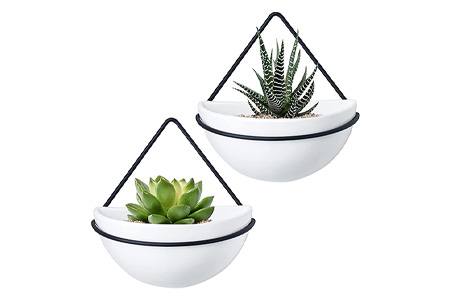 Much like light sconces, hanging wall planters are attached to the side of a wall but instead of a lightbulb you would have a plant growing in it (or a fake plant). These types of pots for plants can really help flesh out your interior decor or even on your back porch.
Hanging Ceiling Planters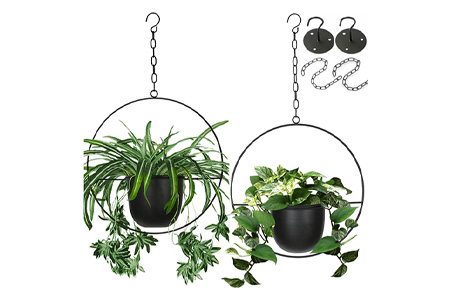 You'll see these types of planters on people's front porches often, with various types of ferns in them. Hanging ceiling planters are hung using ropes attached to hooks that are screwed into a stud or joist in the ceiling. This is important so that they're secured safely. This is a great way to bring more green indoors without using up floor space.
Tire Planters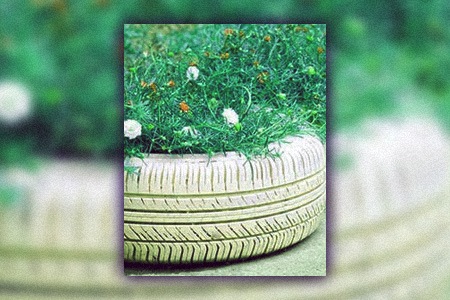 If you live in the county, country, or even in a neighborhood (just make it look good!), you can use old tires as planter types. They won't rot away on you like untreated wood will, and you can easily fill them up with soil after laying them on their sides.
I've seen ones where families allow their children to paint the outside of the tire so that it looks more welcoming and less "low class" for lack of a better word. The shape of these will use up a lot of space so make sure you're willing to give up that much of your lawn.
Wheelbarrow Planter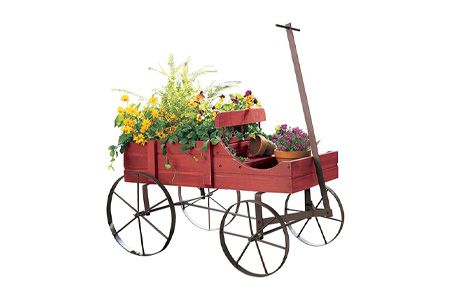 Much like the tire planter, you can find old wheelbarrows for cheap and use them as planters. This will really elevate the "garden culture" aesthetic of your home. The nice part is you can easily and quickly move your entire flower bed using a wheelbarrow planter. Paint the sides, too, as many times as you want!
Wooden Crate Planter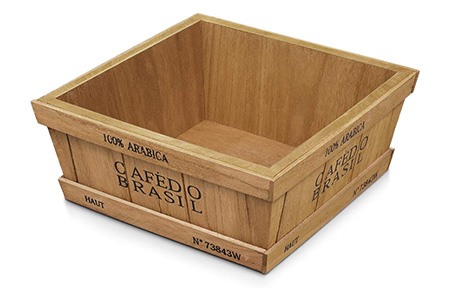 If you get ahold of an old wooden crate (or even make one) you can line the inside with plastic and fill it up with potting soil. Now you have a wonderfully shaped rectangular planter to place on your front porch, back patio, or driveway.
You can sand the wood (or not). You can stain them any rich or dark color you prefer. But you should stain them and coat them in polyurethane if they'll be outside getting rained on. Of course, you'll be watering the plants so it's even more important to seal them.
Elevated Planters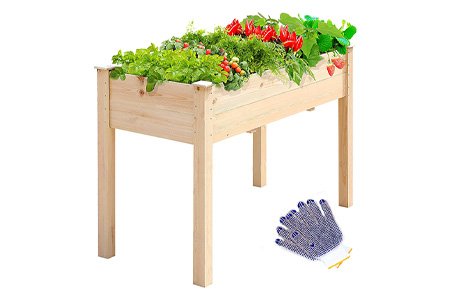 Whether these types of plant pots come with their own feet built-in or they're placed on a separate pedestal, you can add a bit of flair and refinement by setting a planter up off the ground. It makes it easier to work in and lifts the plant closer to eye level or to the level of other furniture in your home.
Other Planter Ideas
The list can go on forever, so let me just quickly reel off some other ideas you can explore:
Recycled Food Can Planters - paint them however you wish!
Mason Jar Planters - leaves the root system visible and can be easily labeled
Pallet Planters - turn any types of pallets sideways & mount them on the wall to create shelf space
Rain Boot Planters - fill rubber rain boots with soil and plant in them for your front porch
The amount of items you can use for different planter styles are seriously nearly endless. Just get creative and then customize the containers with paint, twine, labels, and anything else you can think of and you'll have something unique you can be proud of.
Types of Planters for Durability, Decor, & Budget Level
All of the items mentioned above carry their own good and bad sides, allowing you more than just a few options to choose from that suit you and your aesthetic to add a touch of your own to your place.
So, these are the different types of planters to choose from. It's best to take your time researching the material. You should think about the compatibility of the planters with your surrounding environment and the type of plant you're planning on planting in it.
You'll Also Enjoy: