12 Types of Allium for a Colorful Spring & Summer Garden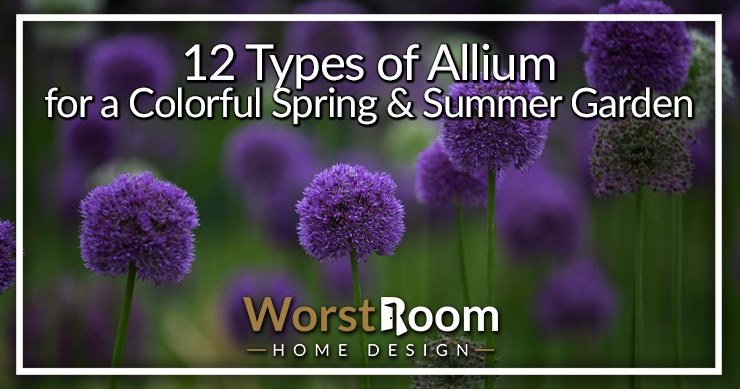 When it comes to significant spring blooms, allium flowering bulbs are one of the most preferable choices for most gardeners. Any of the types of allium are among of the most adaptable, easy to maintain, and aesthetic flowers that one can have in a garden.
These bulb-forming blooms are a delight to have in any garden. However, there are many allium species that you can choose from to give your garden that fairyland look.
Read our guide below to know about different allium varieties, their colors, height and much more.
12 Types of Allium
Allium flowers are the perfect addition to most spring and summer gardens. Their species has many different colors and variants to choose from. If you have finally decided to grow alliums, you should definitely discover all your options.
Thereby, below we have listed down the most common type of allium varieties that will add beauty and charm to your garden. Once you acquire the plants or seeds, make sure you know how to have success with your alliums.
Purple Sensation Allium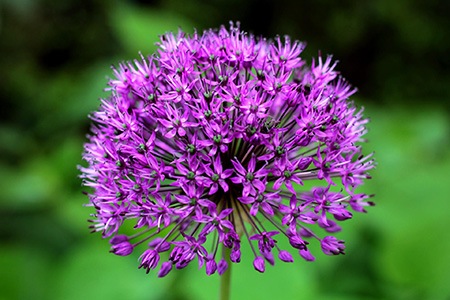 Purple Sensation is one of the deepest colored alliums. It is also known as Allium Hollandicum. It has small, star-shaped flowers that have rich violet-lilac color. The flower heads of purple sensation are well-rounded.
Moreover, this allium flower grows on solid stalks that rise from a group of blue-green, strap-like leaves. The purple sensation's blooming period starts in late spring and lasts till early summer. Another feature of these allium flowers is that they can last for two weeks after cutting the flowers from the plant.
A purple sensation's height can be 28-36 inches. Growing this flower is easy if the soil is rich, well-drained, and sandy to gritty. In addition, these types of allium flowers can grow during drought. However, they need full sunlight for the best growth.
They are ideal for lining garden fences and cottage gardens since they contrast greatly in most gardens when grown in groups. Allium in general are plants that repel mosquitos as well.
Mount Everest Allium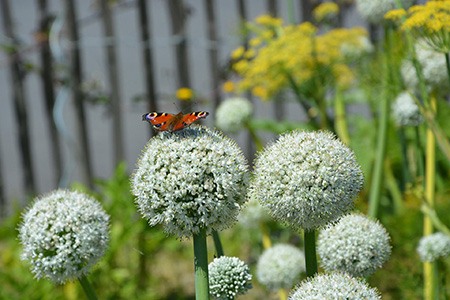 As referred by its name, allium Mount Everest comes in the size of baseball-like flower tops that are accompanied by tiny shimmers of white flowers. They grow on tall plant stems that are straight and rigid.
Every allium bulb of Mount Everest allium contains more than 50 flowers. The flower heads of this plant are about 6 inches in width.
Coming to the leaves, they don't hang all the way nor are straight, rather semi-erect. The leaves are strap-shaped and have grey-green shades. Mount Everest alliums grow during later spring or early summertime.
This flowering plant can grow as high as 3 feet and does great in moisturized or sandy soil. They can resist droughts as well. Mount Everest alliums are ornamental and are ideal for making flower beds or garden linings.
Star of Persia Allium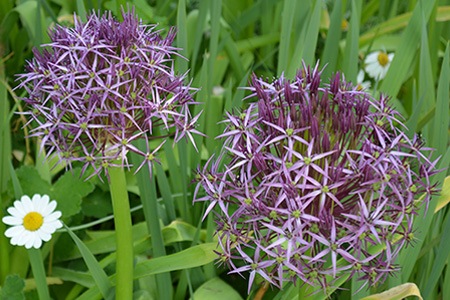 Star of Persia, also known as Allium Cristophii is a type of allium flower that is perennial and can grow up to 50cm high. They have glaucous and strap-shaped leaves that become dry and shriveled during flowering time.
The color of these flowers is rosy-violet, and they are star-shaped. Moreover, the flowers are born 20cm wide, globose heads. These types of allium flowers bloom during early summer.
Star of Persia grows better in soils that are chalky, loamy, sandy, and well-drained. For better growth of this allium, pH should be alkaline, acidic, or neutral.
Another important fact about these allium varieties is that they belong to an endurance zone of five, and to grow to a height of 0.1 to 0.5 meters, they take about two to five years. These plants are also quite resistant to tree diseases and are low maintenance.
Three Cornered Leek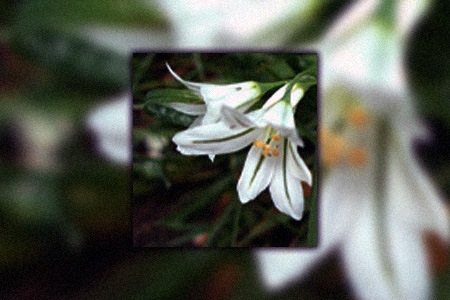 This allium species called Allium 'triquetrum' is a shade-loving plant that will bloom for you in the months of April, May, and June. It's not very common, which is why I mention it so you can get outside of the usual options.
This choice can grow as high as one feet in height. It performs best in the shade, but needs a slightly moist soil that can drain easily. They can manage acidic soil, alkaline soil, and neutral soil on the pH scale. But of course you don't want to swing either way too drastically.
If you're in the USDA Hardiness Zones of 7 through 10, you'll find these will thrive for you. People have found that they work great as edge flowers along fence lines and places like that. Give it a shot if you like how it looks and you live in the right areas.
Globeprimary Allium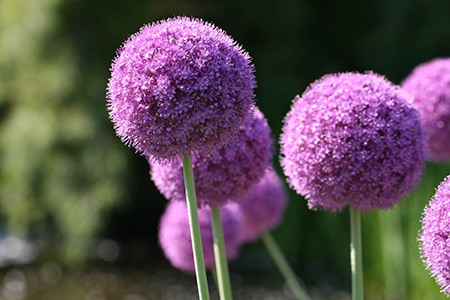 It's the tallest and most detailed bloom among all types of allium flowers. Its flowers have deep purple color, and the flower heads are oversized and have the shape of a globe.
Moreover, the flower heads of Globeprimary Allium are 3 to 4 feet long. And these allium types bloom from early to mid-June. Leaves of Allium Globeprimary have straps and are grayish-green in color.
The leaves wither during mid-spring, and during this period, the flowering stems reach a height of 20 to 30 inches. These stems have deep lavender-colored, globular flower heads on top. However, the flowers of globeprimary allium don't have much fragrance.
Globeprimaries are a hybrid allium of Allium macleanii and Star of Persia (Allium cristophii).
Although globeprimary allium can tolerate different soil types, it grows easily in average, well-drained soils that have dry to medium moisture. However, they grow better in sandy soils. For best growth, they also need full sun along with partial shade.
Allium Drumstick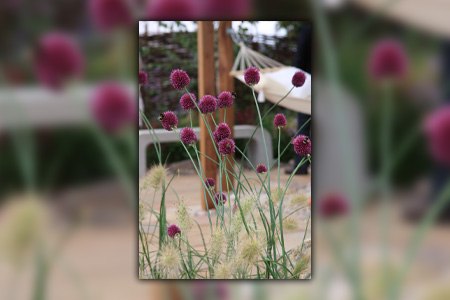 As you can guess by the name, drumstick allium, also known as Allium 'sphaerocephalon' is a unique allium species with drumstick like flower heads that are deep purple in color.
This allium plant starts with lime-colored blooms that gradually age and turns maroon-ish to brick red in color.
Allium drumsticks grow well in moisturized and properly drained muddy soil where there's full sunlight available. They can reach up to 3 feet of height and belong to endurance zones of 3-10. These flowers are ideal for wild garden beds and borders.
Karataviense Allium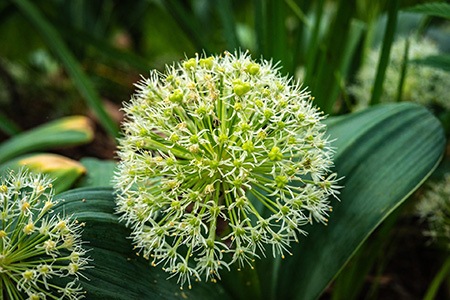 Allium Karataviense is characterized by very pretty leaves. They are featured with pink flowers that grow on their round globe-shaped flowering heads. Each globe is about 3 inches in width. Leaves of this allium are of greyish green shades.
The blooming time for Karataviense alliums is during spring and early summer. Flowers stay in good condition for about a month. Moreover, these plants can grow up to 10-12 inches high. They give off a sweet odor as well.
This allium prefers a thermoperiodic weather cycle with a good balance of warm to cool temperatures. While they are drought and hot weather resistant, they still need moisture throughout their growth stage.
Karataviense allium grows well in regions with abundant sunlight and well-drained soil. They belong to hardy zones of 5 to 9.
Millenium Allium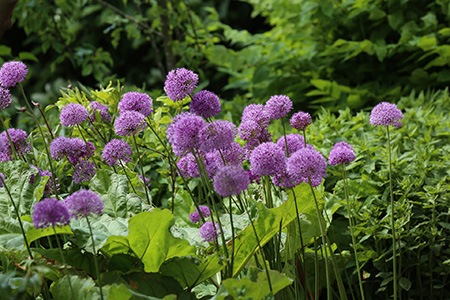 These types of allium flowers live for a long time and are bulb-like with big flower gloves. Purple rosy flowers are packed together tightly in this plant.
Blooming season for Millenium allium is middle and late summer. They can grow between 15 and 20-inches high. It is drought tolerant and can grow well in fertile soil.
These bright flowers are supported on top of upright and strong stems. The foliage of this allium contrasts well against the flowers with its green leaves. Millenium allium is an ideal pick for rocky gardens, containers, and flowering beds.
Chives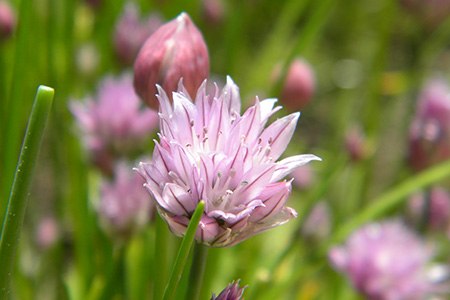 Chives, also known by the name of Allium 'schoenoprasum' are tiny purple flowers that have a long lifespan and can reach heights of 12 to 14 inches. Chive leaves resemble tubular grass, making them distinguishable from other allium leaves. You've seen them or even eaten them as types of garnish, especially on Japanese dishes.
Flowers of chives are start-shaped and come in light purple shades. Each flower has 6 petals, while each chive cluster groups together 10-30 flowers altogether.
The flowers stay in the form of enclosed papery leaf buds before they bloom fully. They bloom to the fullest from April to May.
They grow well in sandy, loamy, and intense clayey soil that has been drained well. The plant can also adapt easily to neutral, acidic, or alkaline soils. Chives grow ideally in semi-shaded regions.
Pink Lily Leek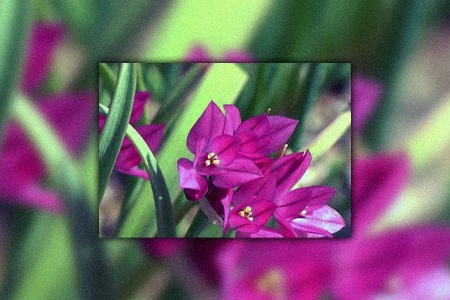 Pink Lily Leek, also known as Allium 'oreophilum' is a small bulbous flowering plant with star-like pinkish-red blooms. The stems of this plant are mounted and have grayish mauve shades.
This lily leek allium has semi-erect greyish-green leaves. Moreover, this allium can grow from 8 inches to about 12 inches tall. It suits best in well-drained soils with moderate moisture and prefers full sun to grow to its maximum potential.
Pink Lily Leek is an ideal flower for growing in garden linings, cottage gardens, rocky gardens, and flower beds. These types of allium grow well in containers as well.
Blue Allium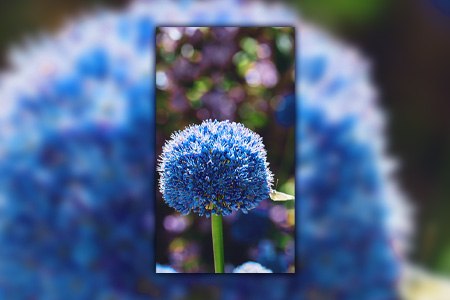 Blue Allium or allium 'caeruleum' is a bulbous allium that produces, as indicated by its name, light blue flowers that grow on flower heads of 2 inches in width.
Their prime blooming season lies between late spring till early summer. Well drained soil with abundant sunlight is all these alliums require to grow to their maximum potential. Blue alliums can reach heights of about 2 feet. They belong to hardy zones of 4-9.
Moly Allium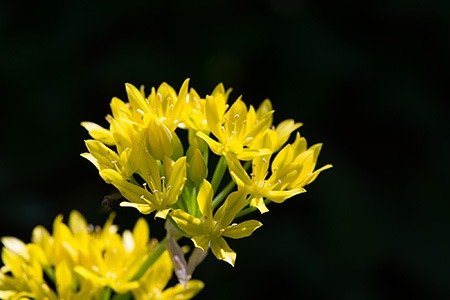 Moly alliums are hard to refer to as an allium since they come in yellow shades, while almost all other alliums belong to a purple-violent color range.
These plants have golden-ish yellow flowers that grow in clusters and give off a vibrant look to the place where it is planted.
This allium grows during late spring and till the earlier summer season. They grow best in well-drained soils with great exposure to sunlight. Moly alliums can grow up to heights of 8 inches. And they belong to hardy zones of 3-9.
14 More Types of Allium
We can't discuss at length all the allium varieties lest we bore you with an entire novel. But we can quickly list off a bunch of allium types we haven't discussed yet so you can continue your journey if you choose:
Allium Vineale ('Dready')
Allium Schubertii
Allium 'Mont Blanc'
Allium Nigrum
Allium 'Red Mohican'
Allium 'His Excellency'
Allium Cernuum
German Garlic Allium
Allium Nevskianum
Allium 'Gladiator'
Turkistan Onion Allium
Crow Garlic Hair Allium
Giant Onion Allium
Ornamental Onion
This list will set you up to look into allium species such as Allium atropurpureum, Allium senescens, Allium giganteum, and many more we didn't make our way to in the main list. As you can see, all types of onions are allium, too, but not quite the kind you want in your flower garden.
Types of Allium for a Beautiful Spring Garden
While there are more species of this beautiful bulbous flowering plant, our list is comprised of the most common types and popular types that should be considered by every gardener out there.
Make sure you are taking care of the specific allium's soil, and sunlight needs when you plant them. And there you go — everything you need to know about the different types of allium.
You'll Also Enjoy: