17 Types of Artificial Grass to Perfect Your Turf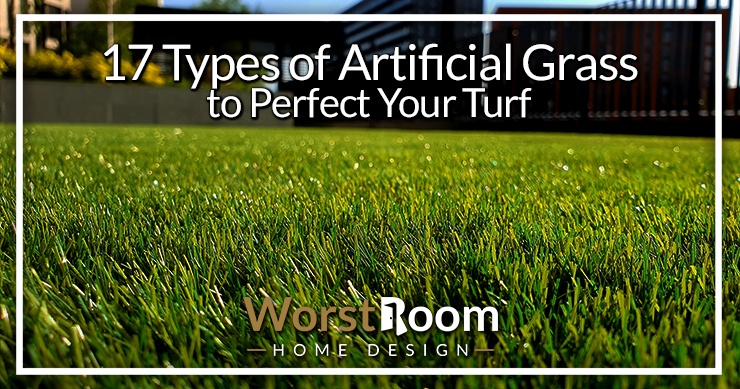 Artificial grass or artificial turf is synthetic grass. It's a great alternative to natural grass. On the lawn and playground, the use of any different types of artificial grass is increasing because of its low maintenance.
During the initial years of artificial grass, it didn't look similar to natural grass. But the time has changed, and the evolution has been remarkable. Now highest quality synthetic fibers are used in the making of artificial grass, which makes it appear as natural as possible.
It's nearly impossible to distinguish between artificial grass and real grass visually. Almost 14 different artificial grass types are available on the market to match people's preferences.
17 Types of Artificial Grass
We can easily make this list more organized by listing all the options in 3 to 4 categories. It would be helpful for everyone if we described each type with its features. So you can make the best possible decision according to your taste and budget. Rest assured, for many people in many environments, the pros of artificial grass far outweigh the negatives.
Artificial Grass Types by Materials
We can recommend three kinds of artificial grass depending on their materials. These types of fake grass are…
Polyethylene Artificial Grass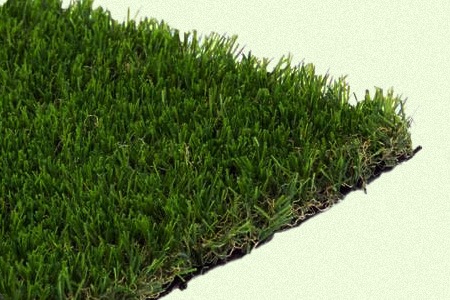 This type of artificial grass most closely resembles natural grass and is typically what homeowners choose to install when converting their lawns into artificial grass.
Polyethylene grass is not the cheapest nor the most expensive grass. Making it sturdier than the cheaper ones and also more affordable than the expensive ones.
This type of artificial grass not only looks wonderful with bright green colors and a wide range of textures, but it also feels softer and more innate. It is frequently used for landscaping and athletic fields, such as soccer, football, and baseball.
Polyethylene artificial turf types have a non-porous quality. It will not hold on to odors like some other artificial grass will. This quality makes it best suited for pet owners.
Polyethylene artificial grass is relatively simple to maintain because it only needs to be raked or brushed regularly to keep the blades perked up and looking their best.
Nylon Artificial Grass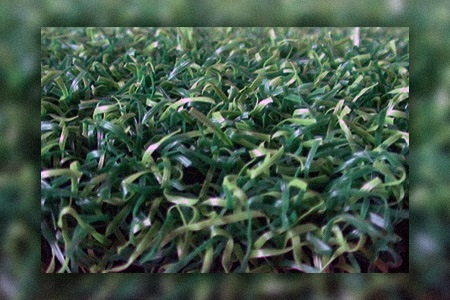 Nylon types of artificial grass are the most expensive and most durable type. Because of its rigidity and texture, it does not feel natural. At the same time, these qualities make sure your lawn keeps its good look.
Despite heavy use and high temperatures, nylon artificial grass can tolerate both without losing its original shape or getting matted down. It will get rid of your worries about accidentally crushing it or the hot temperature damaging the look of your lawn.
The product's material is a bit stiff. Because of its stiffness, it lacks that natural vibe. However, the durability of this artificial grass is unquestionable and quite impressive.
If we talk about the price, these types of artificial turf are definitely not cheap compared to other synthetic grass types. However, the product's durability justifies the high price.
Polypropylene Artificial Grass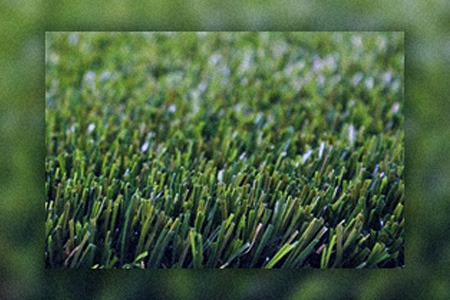 Polypropylene is the cheapest option available to cover our lawn with artificial grass. It is cheap because it is made with inexpensive materials. Even though it looks very similar to grass, its durability and melting point are very low.
There are numerous drawbacks to polypropylene. It cannot withstand people playing on it and walking on it. It gets destroyed easily if it is used in a busy place where people pass by it more often.
Adding to that, high temperatures are the greatest enemy of this material. Unlike polyethylene and nylon, it does not have a high temperature tolerance. It is most commonly used in a controlled environment, such as an indoor environment.
Types of Artificial Grass by Features
Depending on their features, we can describe eight types of artificial grass. Let's check them out…
Heat & Frost Resistant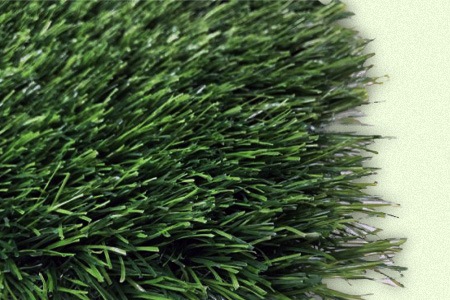 Frequent temperature changes can affect the longevity of your artificial grass. That is why it is important to buy quality artificial grass with a heat-resistant feature. So it can stand up to winter and hot sunny days.
People who live in temperate climates, on the other hand, will not have to worry about it. However, under extreme temperature conditions, a heat-resistant feature is a must-have. Use them along side various types of pavers and you'll have durability that can last a very long time.
Artificial Grass with Perforation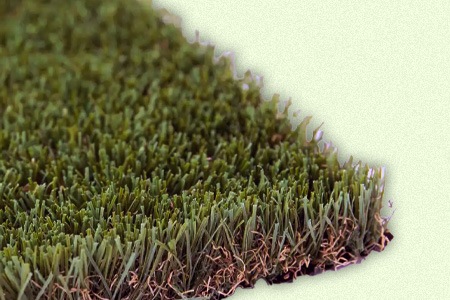 Artificial grass with perforation is a great way to avoid waterlogging. Perforation gives protection against water mess. It makes the least mess while playing on the grass. This is also good for the types of driveways that have a grass strip running up the middle or is weaved into it like a grid.
This feature makes the artificial grass drain water quickly. Otherwise, we have to deal with puddles. Not only humans but also pets can move around the grass without making a mess.
Non-Flammable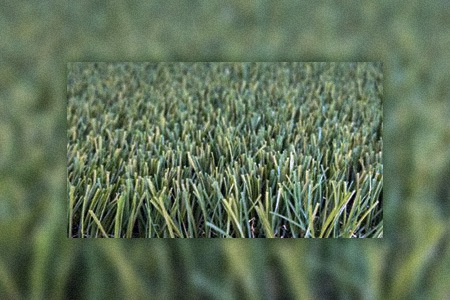 The material of the artificial grass is susceptible to fire and catches fire very easily. To avoid any such incident, non-flammable features for artificial grass are extremely popular.
Obviously, any added value also costs some extra money. This one may be a little costlier than the regular artificial grass but its worth it for commercial institutions.
UV-Stabilized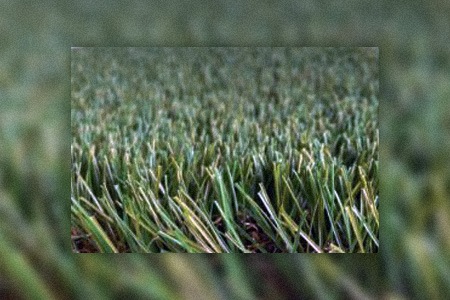 Some artificial grass is highly heat resistant but cannot stand up to the UV rays. If your artificial grass is on the outside, you will need UV-stabilized grass.
Otherwise, it will deteriorate and fade quickly. UV-stabilized grass will last a very long time, even under the damaging effect of UV rays coming from the sun.
Urethane Backing
A urethane coat on the backing of artificial grass makes a project stable and durable. The coating also helps drain the water. Using urethane backing also keeps the seams strong and increases their durability.
This urethane backing is necessary for non-nylon users. Nylon itself is very durable and long-lasting. For other types, using urethane backing will guarantee long-term service.
Non-Absorbent Fiber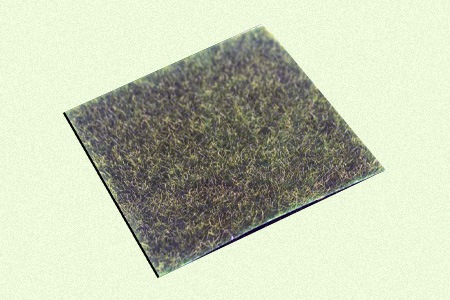 Non-absorbent fiber can ensure safety from smells from animals being absorbed by the product. Otherwise, the smells are very hard to get rid of no matter what types of artificial grass you use.
Initially, this one might look pricy, but this lowers the price for upkeep expenses and doesn't need regular cleaning unlike other different types of turf.
Varied Color Blades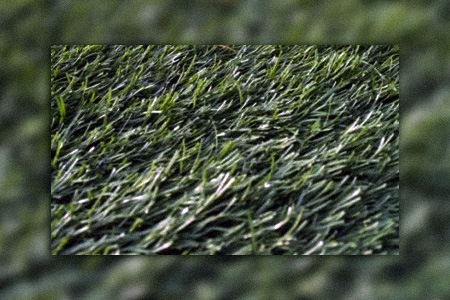 If all the blades of your types of synthetic grass are the same, it doesn't look natural. Though having the same color blade is less expensive, the variety of colored blades will make any project much more attractive and natural. Varied color blades will give the feeling of having a real lawn.
Non-Staining Artificial Grass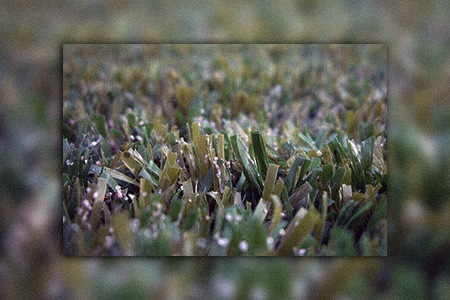 Non-staining artificial grass will keep you worry-free from getting stained by food, animals, or other uses. It will protect your grass for a long time, keeping its appearance the same.
Artificial Grass Types by the Colors
The artificial grass offers three different color options. And they are as follows…
Artificial Grass with Bright Colors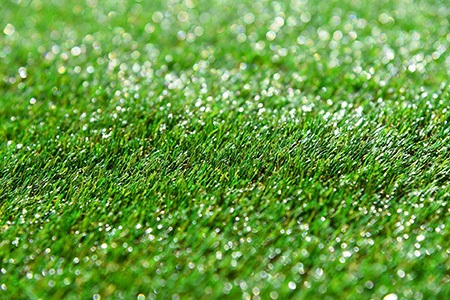 For an eye-catching and color-popping grass project, there are so many colors available. The popular colors are pink, turquoise, purple, orange, and yellow. The colors look good in a fun and happening environment, like around a pool.
These ones are also used for making team colors and mascots for a game or event. The availability of multiple colors gives you the liberty to become as creative as you can be.
Blue Artificial Grass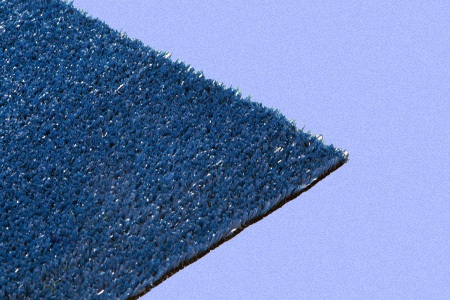 Blue-colored types of artificial grass is often used around pools and other areas near water. It is also commonly used in school playgrounds to direct young children to where they can have fun.
It can also be a splendid color for the practice arena, where players can relax and get rid of thoughts of playing a proper match.
Green Artificial Grass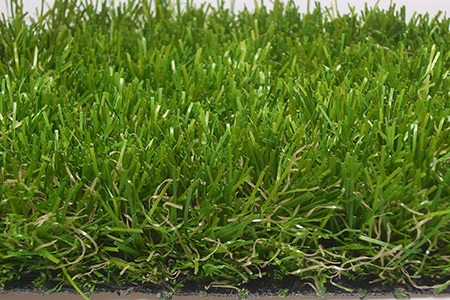 When thinking about artificial grass, the color that comes to people's minds first is the solid green color. But solid green looks unnatural. High quality products have a variety of greens like lime, olive, dark green, and olive green, etc.
Using a combination of these colors will make the grass project as real as possible. Because of the availability of these colors, all sorts of customization are possible. A customized artificial lawn can provide comfort and ease without spending a lot of money and time.
Artificial Grass by Usage Type
Other than these, most types of turf grass can be varied by its uses as well. Some will use it in very small home lawns in the backyard and some will create putting greens for golfing as well (though the real experience requires types of Bermuda grass).
But the main uses of these artificial turf types are below. Take a moment to consider the pile height you want too (as short grass may be too stiff for kids and pet feet).
Artificial Playground Grass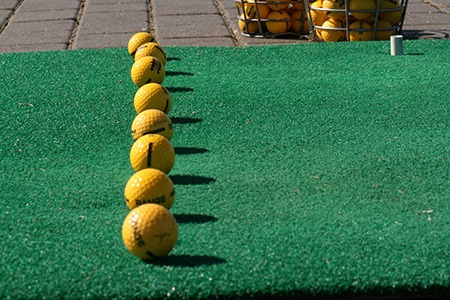 Playgrounds need durable surfaces and a safe place for children to play. Installing artificial grass ensures that it will last for a long time and are safe for children.
Artificial Grass for Pet Yards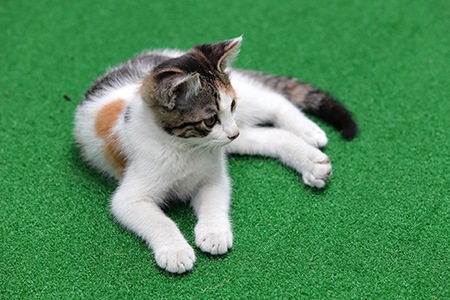 Artificial grass with great drainage will make sure that no one has to deal with muddy paws and fur after playing when their pets come inside. And natural lawns can be destroyed by excited animals, whereas durable artificial grass can get you rid of this thought.
Balcony Surface Artificial Grass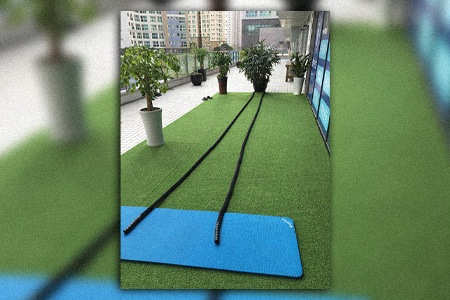 In urban areas, artificial grass is catching everyone's attention. Synthetic grass types are easy to install and less expensive, so it can give an experience of nature while staying in the city.
In the city areas, lawns and gardens are the hardest to come by. So, artificial grass is used on the balconies to give some green therapy to the eyes.
Types of Artificial Grass to Never Need Maintenance Again
The use of artificial grass is more widespread than you might think. Though we have described many types of artificial grass for your yards, this does not limit its application.
All of the different types of artificial grass may be seen on lawns, playgrounds, roofs, and a variety of other surfaces. Choose what fits best in your circumference.
You'll Also Enjoy: