13 Types of Pavers to Create the Pattern & Style You Want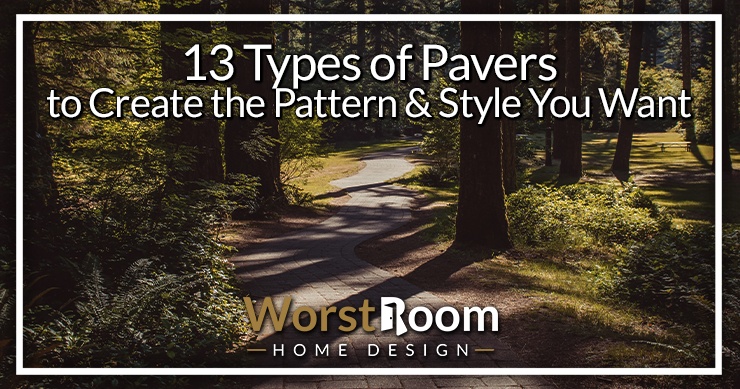 Be it a driveway, patio, walkway, or swimming pool deck, the different types of pavers are an essential part of all modern exterior flooring. Paving stones provide unrivaled beauty, excellent durability, and maximum strength at surprisingly affordable costs.
If you're going for paver installation for the first time, you will be amazed at how many paver types are available on the marketplace. Stone, concrete, brick, and porcelain pavers are the most common types of paving stones. They also vary in colors, designs, and installation patterns.
Let's explore the world of pavers and chat about the beneficial features of all kinds of pavers so that you can ultimately settle on one best paver type for your constructions.
13 Types of Pavers
Material is the main factor that differentiates the paving styles. Below we have rounded up the 9 top-tier materials based on their quality, visual appeal, and installation costs. Let's have a look at these paver options' features, advantages, and drawbacks for making the ultimate decision.
Concrete Pavers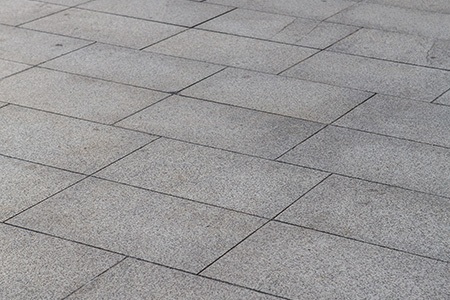 As the most common type, concrete pavers are seen in every commercial and residential structure. That's because concrete pavers are relatively affordable, long-lasting, and customizable.
This is because rock and sand are much cheaper than cement, and when you mix them together with cement to get concrete, you not only increase the strength but meaningfully decrease the cost. From thick rectangles to thin tiles, concrete pavers can be molded into any shape and size.
Concrete pavers are made of sand, cement, aggregate stones, and dyes. So, you get the option to choose the pavers in whatever color you like. Also, concrete pavers are stamped, engraved, and designed with various patterns to increase the aesthetic value of the structures.
Another beneficial aspect of concrete pavers is that installing them is pretty easy and less time-consuming. Moreover, concrete pavers have a uniform texture and smooth finish. If you have some DIY expertise in floor construction, you can do it all by yourself.
Despite being a solid material, concrete is susceptible to cracks caused by extreme cold. You have to ensure regular maintenance for increasing the durability of the material. You can look into concrete alternatives if you want to stay in this general direction but find materials with other strengths.
Unfortunately, the color of concrete pavers often fades away after some years. In that case, you need to apply a sealant to keep the pigments intact. But you can create any paver shapes you like if you lay the concrete yourself.
Greencrete Pavers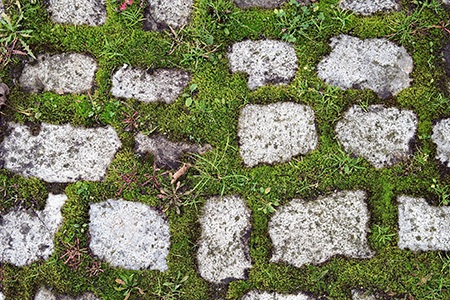 You can consider this as an upgraded and more sustainable version of concrete. The recipe for Greencrete pavers is the same as concrete except for the aggregates. Here the aggregates are made from permeable and natural materials for better drainage.
In Greencrete flooring, the concrete surface has reinforced voids filled by grass. This way, it offers a natural, soothing look that's becoming popular among nature lovers. Since the material has nearly the same strength as concrete, it can easily bear the weights of large vehicles.
Because of the material's permeable nature, Greencrete exhibits excellent resistance to extreme weather changes. Keep in mind that, Greencrete pavers are pretty expensive and require high maintenance to keep the grass alive.
If you're looking for sustainable, unique, and eco-friendly types of pavers that looks cool for many types of driveways, Greencrete is surely the best option.
Brick Pavers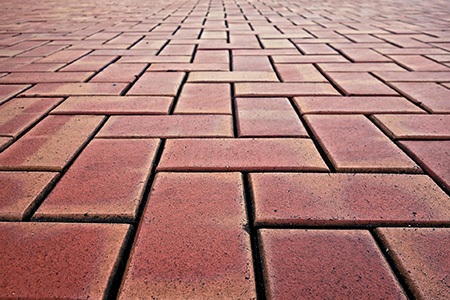 From the middle ages to recent times, people have been using brick for making patios, driveways, and walkways. Brick is a readily available material that is pocket-friendly and recyclable. The material is made by baking molded clay and setting it in a base of sand or mortar.
As all these substances are natural, brick will be an eco-friendlier choice over concrete. Moreover, the color of brick pavers is fired into the material so that it remains unchanged for a lifetime. You can even find clay bricks to use if you prefer that.
Apart from the classic red color, various types of brick pavers come in many modern-looking colors to suit traditional and contemporary buildings.
You can choose the types of brick pavers you want in any shape or size and install them in numerous interesting patterns to make the flooring visually pleasing.
Also, brick paver types don't stain easily like some other materials. You can keep some small gaps while installing the bricks for better drainage and temperature control in your paving styles.
Like every material, all types of brick pavers have some downsides too. Brick isn't the strongest material, and it usually cracks or chips after a few years of use. Also, you might need to de-weed the outdoor brick flooring more often as weeds can easily grow between the gaps.
Flagstone Pavers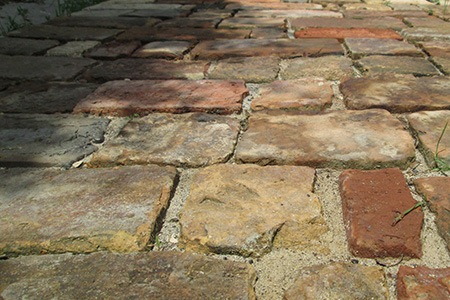 Here comes the most gorgeous and classy material of the paver options. Flagstone is a sedimentary rock that is mined from a quarry. As the mining and transportation costs are usually high, the material is expensive. You can buy the flagstone pavers in different shades of red, brown, grey, and blue.
What sets this material apart is the interesting sizes and shapes of the pavers. Although the pavers come in rectangular or perfect square shapes, most people find the irregular, puzzle-like shapes more attractive.
That makes for a unique and stylish landscape that increases the curb appeal of your property. Unlike concrete and granite, flagstone pavers have a non-slip texture. Hence, it's a perfect material for areas where heavy rain and snowfall occur frequently.
However, flagstone types of pavers are usually thinner and lighter than other materials. And so, it's not a good idea to use it for driveways or as one of the driveway alternatives. Instead, you can opt for flagstone to make patios, walkways, and stepping stones.
Travertine Pavers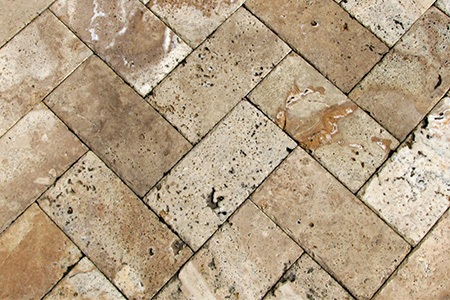 Another sedimentary rock travertine is commonly used for landscaping, flooring, and making pool decks. The material is valued for its smooth, natural looks and weather-resistant quality. As it can insulate heat, you don't have to worry about any cracks and the surface getting hot.
As travertine has a dense texture, it's pretty durable and lasts longer than concrete and brick. Moreover, the material is all-natural and kinder to the environment.
Because of the smooth surface, you'll find it very easy to clean and maintain the material. You can purchase the material in many striking colors that remain intact even without sealants.
However, you have to be extra careful while using cleaners on this material. Vinegar and some acid-based detergents can leave unpleasant stains on the travertine surface.
Granite Pavers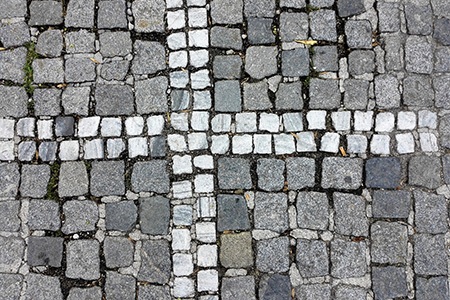 Granite is the most expensive yet widely used material among all the natural stones. The incredible strength and longevity of the material make it preferable to homeowners. To meet various aesthetic needs, it comes in a plethora of colors and designs.
Granite is a volcanic rock that traps many minerals to become one of the strongest materials on earth. Hence, you can use it for making roads, driveways, and walkways. Since granite surface is non-porous, it effectively resists scratches, cracks, and stains.
Although the natural look of granite is relatively elegant and polished, you can go for the colorful granite pavers if you want. Granite stone is particularly known for its weather-resistant nature.
It withstands extreme heat as well as recurring frost. So, granite pavers are ideal for areas near the fireplace and outdoor flooring.
One downside of granite types of pavers are that it's a heavy material and somewhat difficult to cut. Hence, the labor cost for installing granite pavers is pretty high. Otherwise, granite is one of the most durable materials out there.
Cobblestone Pavers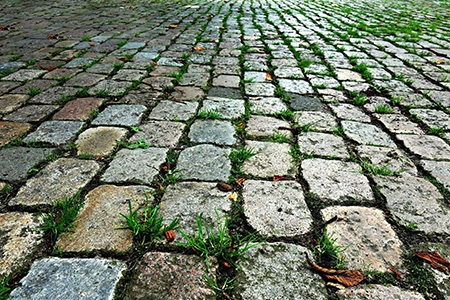 Cobblestone is the old-street substance that has been used as paver material for decades. This type of paver is incredibly strong and popular for roadways and driveways. Even with low upkeeping, cobblestone pavers can survive up to 100 years.
Apart from durability, cobblestone is famous for its versatility. You can find various sizes and shapes of cobblestone on the marketplace. As the natural color of cobblestone is very appealing, different color combinations aren't readily available.
These paver options can be installed in uncountable exquisite patterns that immediately make a positive impression. As you can guess, the stone is very dense and survives the harshest environments. If you have a good budget, we recommend going for cobblestone pavers to ensure longevity.
Porcelain Pavers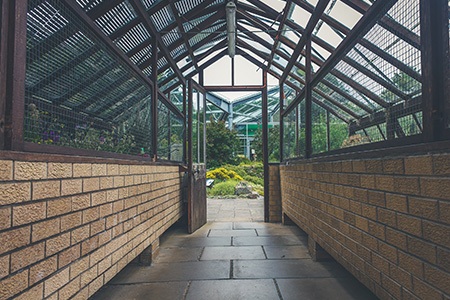 Although porcelain is new to the paver world, its growing popularity is quite impressive. The material is particularly used in pool areas due to its non-porous nature.
Also, the low-absorbent surface of these paver types effectively fights moisture and dust. You'll find it very easy to keep the porcelain pavers free from dirt.
Porcelain is a clay-based material, and it's usually baked for molding into different sizes and shapes. That makes the material strong enough to withstand high heat. Porcelain pavers are given the same color and finish as natural stones to make them feel more natural.
Usually, these types of paving stones are easily attainable and doesn't require any heavy equipment for installation. Although porcelain is a strong material, it's not as durable as some of the other ones. Moreover, it tends to crack and break when exposed to excessive cold.
Rubber Pavers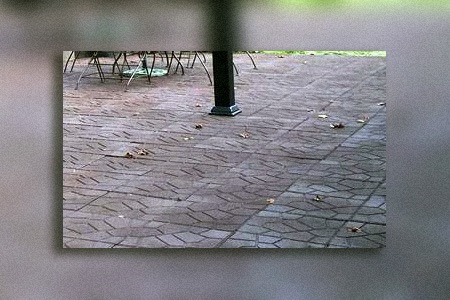 It might come as a surprise, but some innovative minds have found a way to recycle rubber-made items and turn them into sustainable and dependable paver material. Rubber pavers offer excellent absorption properties and sufficient traction, making them a good driveway option.
Usually, rubber pavers are installed on already existing flooring to make a safe surface for kids. It's often dyed and given the look of porcelain, brick, or cobblestone to make the material visually pleasing. Rubber pavers are impressively cheap, tear-resistant, and eco-friendly.
Due to its slip-resistant nature, the material is suited for patios and pool decks as patio surface alternatives. However, it can't provide the strength and functionality of other hard materials on our list.
Bluestone Pavers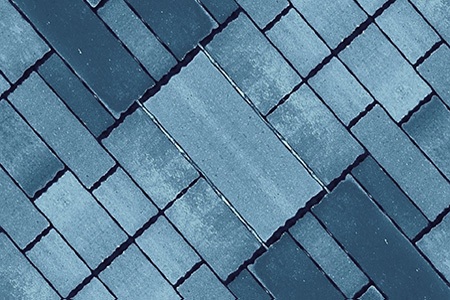 Bluestone pavers are made from bluestone, a type of sandstone that is easily crafted into specific shapes of various sizes.
You can have larger slabs installed on your driveway, or you can have them cut into tile sized pieces to be laid out in your preferred design, or even have it broken into gravel or crushed stone.
Beyond the ability to force it into the shape you want, it has a beautiful blueish gray color that will become lighter over time as it's exposed to the sun. You can mix it in with other types of pavers as well.
Marble Pavers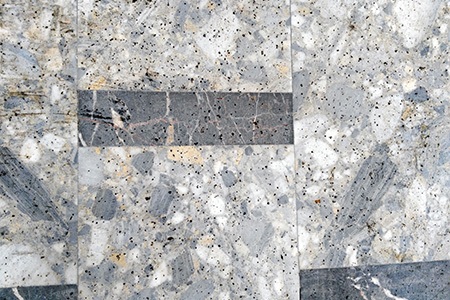 You can acquire paver stones made from different types of marble, though of course some are going to be prohibitively expensive to use for this purpose. They're not uncommon, though. You can find them being used in driveways, walkways, patios, and much more.
They're attractive due to their beauty and the very smooth surface they can create. They can be further polished and covered in resin to seal them to help extend their lifetime. You'll certainly increase the appeal of whatever area you use them in.
Limestone Pavers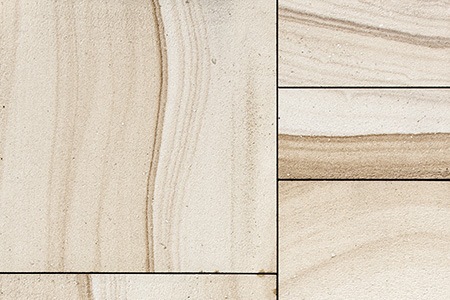 If the various shades of gray, tan, and lighter colors tending towards white match your decor, you'll want to give limestone pavers serious consideration. They come in larger tiles usually, and are heavy and durable. The density of these types of paving bricks also makes them very durable.
They can dissipate heat well and have a low absorption making them an ideal surface for most types of patios and surrounding swimming pools. They don't require much maintenance beyond cleaning and unless you drop something extremely heavy on them, they're not likely to c rack.
These paving styles can stain easily though. You can seal them to help with this, but algae and mold can still take root. That's something to consider if you're sensitive to discolorations.
Plastic Pavers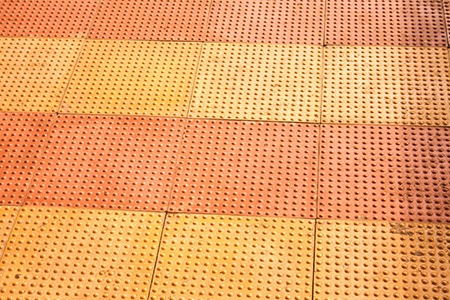 While I'm not a fan of these paver options and would probably recommend against them in most cases, plastic pavers exist and can be a cost-effective alternative to stone pavers. The benefit to these is they're created from recycled materials, so it's definitely a way to reduce your own eco-footprint.
These paver types can be molded into any paver shapes, sizes, or colors to mimic other types of stones. If sealed, people won't ever detect the difference unless you tell them.
Types of Pavers for Patios, Walkways, Decks, & Driveways
Follow our guide and consider the benefits of each material to choose the most suitable pavers for your house. We recommend you opt for concrete, brick, or stone pavers for years of unparalleled service.
That was everything about the different types of pavers. For landscaping and flooring, very few alternatives are as cost-effective and versatile as pavers.
You'll Also Enjoy: