15 Types of Begonias to Bring Beauty to Your Home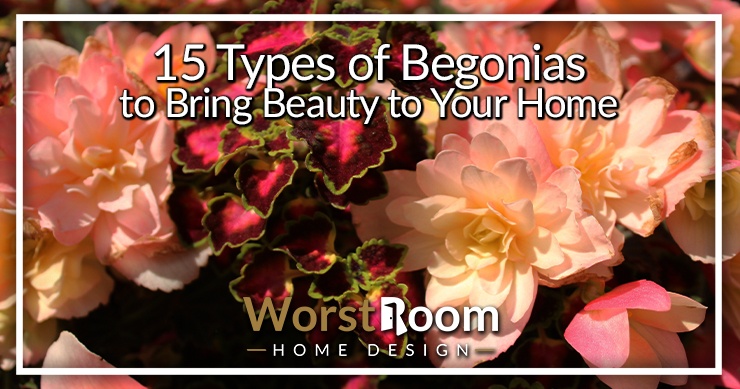 The various types of begonias are beautiful flowering plants that are blessed with various colors, so they're one of the must-have plants when it comes to decorating your garden.
There are around 1000 different species of begonia, and the best part about them is you can take care of them very easily. Some don't even need direct sunlight to grow — a place with shades does the trick.
After doing extensive research, we have decided to come up with the main and most common types of begonias that you see around your neighborhood — time for you to take a look at them.
15 Types of Begonias
Begonias are categorized in different ways, but we decided to keep it simple. We chose the types of begonia based on their nature, color, and look. Without further ado, time for you to explore the world of begonias! And by the way, as a true enthusiast, you may enjoy looking into and even joining the National Begonia Society.
Charm Begonia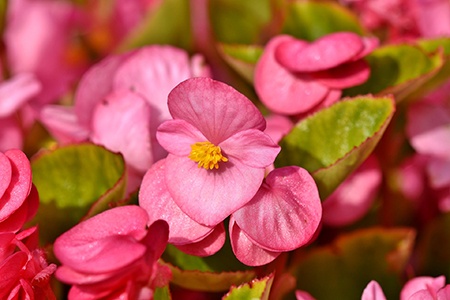 This Begonia semperforens likes partial shade and grows well in the USDA Hardiness Zones of 10 and 11. Unlike the usual begonia types with white markings on their green leaves, this variety has yellow splotches.
The vivid yellow gives it an interesting visual effect and makes the plant a suitable option as the main focus in flower containers. The short size and nice spread also help with this cause.
Charm Begonia is a kind of Wax Begonia with fibrous roots. The plant requires some exposure to the sun to ensure color development and growth. It has a height of around 6-12 inches and is considered a hybrid plant by nature.
Richmond Begonia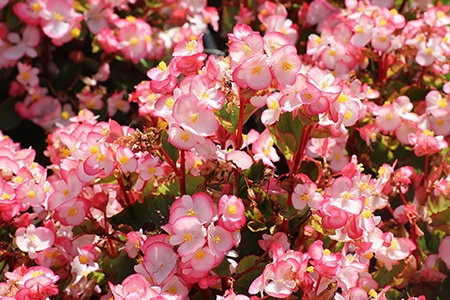 This one is a bit different from the Charm Begonia, as it has bronze-green foliage that changes its color complexion according to light conditions.
The underside of its leaves has a reddish note, so it's a trendy choice for hanging baskets. It's also a fibrous root type plant, and it's relatively larger than the other types of begonias.
The hybrid plant grows up to 24 inches, and it requires light shade alongside part sun to maintain normal color and growth. Due to its large size, it has a somewhat shrubby shape. Richmond Begonias can bloom constantly and is grown as an annual.
Mocca Yellow Begonia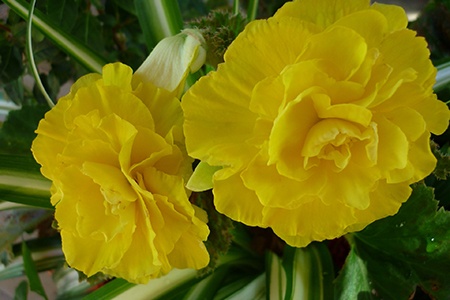 When it comes to regions that have hot summers the Mocca Yellow Begonia steals the show. It's a kind of tuberous Begonia, so it does require adequate care in terms of water, picking the right fertilizer numbers, and light exposure. 0-20-20 fertilizer without nitrogen can work wonders.
This begonia can grow up to 16 inches, and the bright yellow flowers can be the center of attention at garden parties. Moreover, unlike other tuberous begonias, it doesn't have heat tolerance issues.
Solenia Dusty Rose Begonia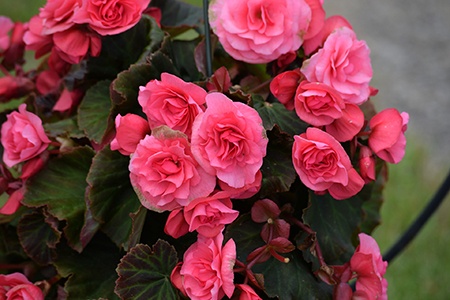 Here's another Tuberous Begonia that's blessed with rose-colored flowers with heart-shaped and succulent green leaves. It's called Begonia x tuberhybrida due to being a nursery hybrid plant.
The flower usually blooms from mid-spring to mid-fall, and the leaves remain green throughout the year. Unlike the first few, this type of begonia requires more sun.
The hybrid plant is relatively shorter than the others, with a 6–12-inch growth rate. If you want, you can dry the tubers, store them appropriately, and then replant them in the following spring for better blossoms the next year.
Ambassador Series Begonias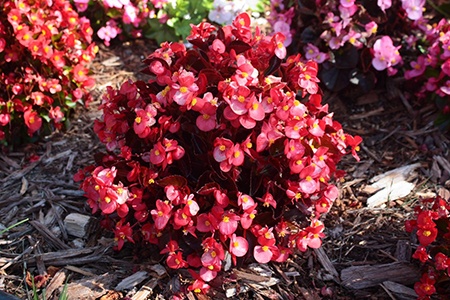 This here is another wax begonia with fibrous roots that is a perfect choice for upcoming gardeners.
The main problem of gardening is protecting trees from pests and drought, and luckily, the thick leaves of these different types of begonias can fend off both! But that's not the only good thing about them.
Plants from the Ambassador series can grow large-sized flowers with white, red, or pink shades growing up to as much as 13 inches. The plant requires complete or at least partial exposure to sunlight.
Rose Begonia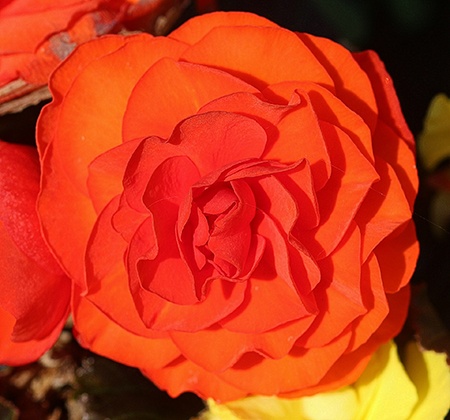 The 'Nonstop' Begonia series has produced many unique begonias; this one is one of them. It comes in different color shades like 'rose pink' or 'deep rose' and even double picotee begonia colors.
It can grow up to 10-12 inches and doesn't require much sunlight. Just provide a shade or a partial shade, and the plant will grow just fine. These varieties are great for any types of gardens where you want constant color instead of just a handful of months.
However, in order to have mass flower production, you need to remove the spent blossoms and allow the plant to gain energy and put them into creating more blooms. Be sure to keep the plant safe from wind, as it might result in bud dropping.
Cocktail Series Begonias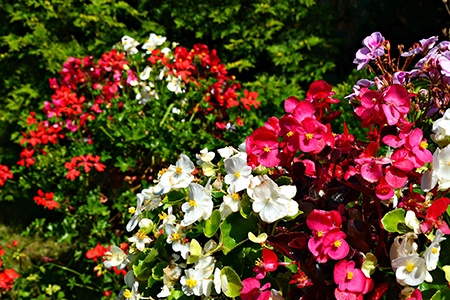 When it comes to the color of the leaves, many gardeners prefer dark-leafed begonias over green ones, primarily because of their heat-resistance abilities.
Even though the begonias in the Cocktail Series are relatively smaller, growing up to 8 inches only, they have their perks.
Categorized initially as fibrous-rooted, these begonia vareties are a tidy bedding plant that can easily find its place in between other garden plants.
Its bronze foliage isn't the only unique thing about it, though, as the Cocktail Series gives you flowers with different color shades like red, light pink, white, etc.
Boliviensis Begonia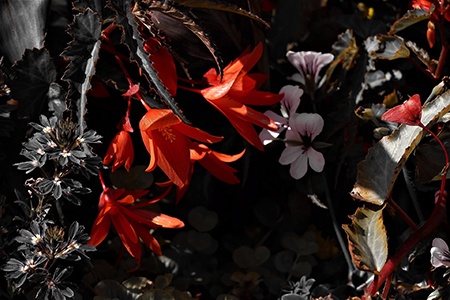 With pinkish foliage and reddish-orange blooms, this type of begonia is undoubtedly one to keep in your garden. It blooms well in fertile and well-drained soil and prefers humidity to grow.
Heat isn't any issue with this plant, but it's safe to keep it in a partial shade, away from direct sunlight. You need to keep it away from strong winds as well.
These types of begonias starts blooming from late spring and can keep doing it up until the fall.
Torch Pink Begonia
As the name suggests, it has a unique color all over it. This kind of begonia falls under the angel-wing begonia category, which itself is a subcategory of fibrous-rooted begonias, but not of cane begonias.
They have long, bamboo-cane-shaped stems and distinctively shaped leaves. Unlike many other Wax Begonias, it can withstand sunlight, so growing them in bright filtered sunlight should be no problem.
In fact, if you plan to grow them indoors, having the filtered sunlight is a must! This hybrid plant can grow up to 12 inches.
Tuberous Begonia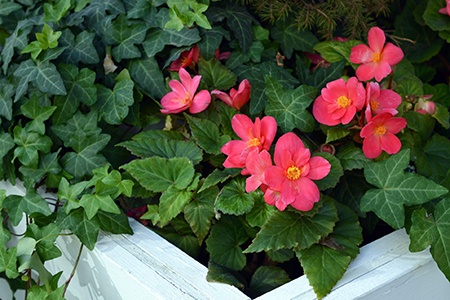 This is a begonia variety that simply cannot withstand the cold. It's so cold-sensitive that the chances of it surviving in the frost is close to zero.
So you'll have to keep these begonia types indoors in the winter season and whenever it gets chilly. As expected, it requires adequate sunlight to bloom properly.
In order to grow them properly, you will require indirect sunlight and well-drained soil. Its beautiful pinkish flowers are worth the trouble, though!
Reiger Begonia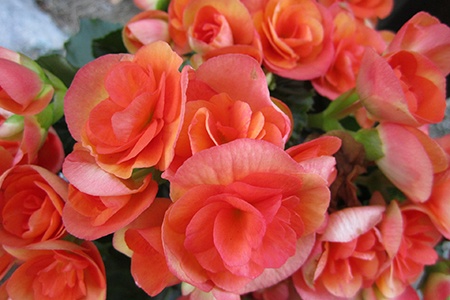 These begonia types have pretty stringent needs in order to bloom and thrive. They won't do so until they enjoy a cool temperature between 60 to 70 degrees Fahrenheit with shorter spurts of sun exposure.
Once they do bloom, though (if you can coax them into it) the flowers can last for 6 months and even longer under ideal conditions such as having well-draining soil and access to water.
Rhizomatous Begonia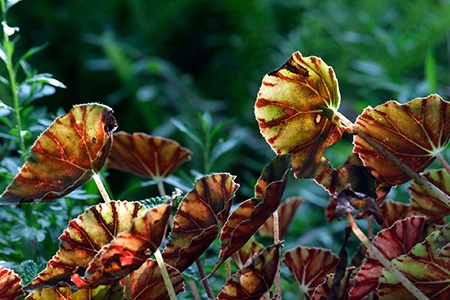 At first look, you might be surprised that we even call it a begonia. From the shape of the leaves to the color to the size, it's like any of the common begonias that we see.
However, the unique leaves and fuzzy texture are what stands out for them. They can have shades of pink, purple, yellow, green, and many more. This plant likes well-drained soil and indirect sunlight to grow well.
Doublet White Begonia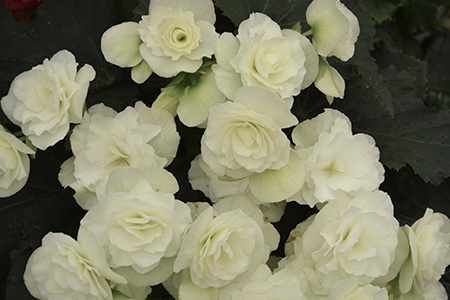 We have one of the most interesting types of begonias out here. It's one of the most miniature blossoms of all, barely the size of your toenails, but it can outshine any of the other types when it comes to beauty.
It belongs to the wax begonia category and does not produce any seeds, so you don't have to worry about deadheads.
The plant requires partial shade from the sunlight and is fibrous-rooted. The Doublet Series also comes with shades of soft pink, hot pink, red and white.
It's a hybrid plant that can grow as long as 12 inches. Since it doesn't produce seeds, you won't have to do any pinching either!
Dragon Wing Begonia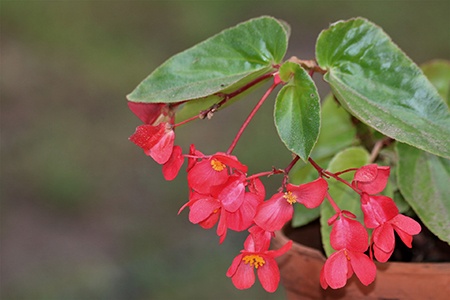 Do you like the chirping of beautiful birds like hummingbirds in your garden? If so, then a Dragon Wing Begonia should be on your 'to plant' list. It has gorgeous red blooms that attract many birds, including hummingbirds.
These beautiful varieties of begonias don't particularly do great with high heat, so you'll have to provide a full shade and partial sunlight to grow it.
You'll have to regularly water the plant when the soil seems dry, and keeping it away from direct sunlight is a prerequisite for these begonia varieties.
Rex Begonia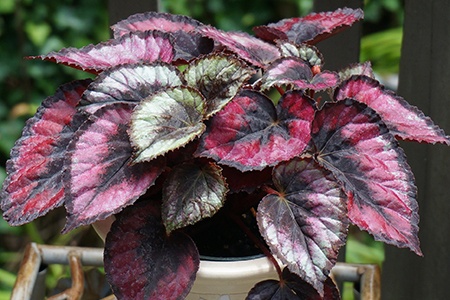 A very close relative of the Rhizomatous Begonias, this here is a very popular houseplant, famous for its exceptional color and texture.
Instead of the flowers, the most beautiful part about these begonia types is their foliage. The foliage gives you a piece of beauty as it comes with different colors and textures. From purple to green to shades of red — you're in for a surprise with their foliage!
Rex Begonias can grow from 6 inches to a mammoth 24 inches, so you can easily pick one according to your preference.
The relatively shorter ones are perfect as terrarium plants, and if you can maintain them accordingly, you don't have to do a lot of watering chores. This hybrid plant prefers bright filtered light if grown indoors and partial shade if grown outdoors.
Types of Begonias for Every Flower Bed
So, this was our list of the most common and popular begonia varieties available in the market and in gardens.
All we wish from you is not to just buy a plant for the sake of buying, do take adequate care of them as well even if they're hardy begonias. We love the different types of begonias; we wish you do too!
You'll Also Enjoy: