37 Types of Sunflowers to Brighten up Your Garden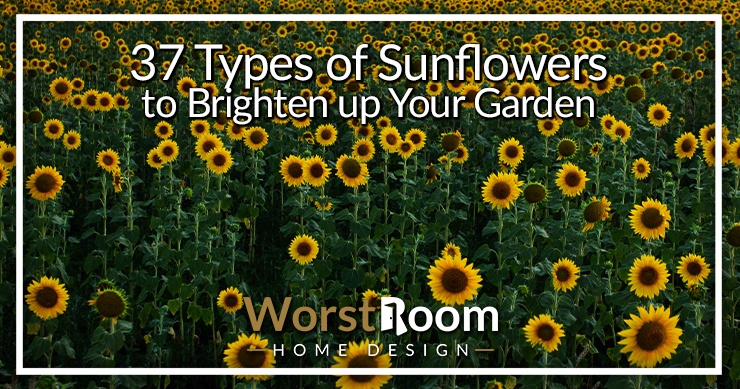 All of the types of sunflowers are one of those plants that are generally easy to care for and hard to kill. They come in a lot of varieties ranging from giant sunflowers to dwarf sunflowers and even colored sunflowers.
Despite the number of varieties that this plant can come in they all mostly have common care requirements. Sunflowers need relatively loose soil that is well draining. They prefer acidic soil, but will survive in most kinds—they are not very fussy plants.
It goes without saying that they need bright direct sunlight to produce their beautiful blooms. They are very tolerant plants that can thrive in warm and even hot climates.
Since they produce a lot of beautiful blooms they require a lot of nutrients so they do well in soil rich in organic matter.
37 Types of Sunflowers
The National Sunflower Association tells us that it was Native American tribes in North America around Arizona and New Mexico that first domesticated the plant around 3,000 BC. It was the Russians that first cultivated it for commercial uses.
Here are 37 types of sunflowers you can plant to spruce up your garden and add a bit of color. If you like the look of these, then you would also enjoy learning about the varieties of coneflower, which have a very similar appearance.
Skyscraper Sunflower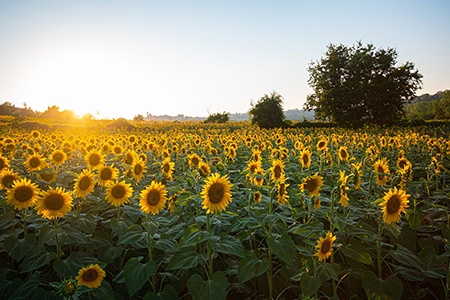 The Skyscraper is a giant sunflower variety that can reach a height of anywhere between 12 and 14 feet. They produce gigantic flowers that span at least 16 across. The flowers are a bright shade of yellow and have a deep orange center.
Their long and thick stalks need to be provided with additional support so that they don't collapse under the weight of the huge flowers. Surrounded by a base of various types of chrysanthemum and you have a gorgeous garden.
They easily sprout from seeds if you plant them outdoors after the final frost has melted. They take 75 to 90 days to bloom. Once the flower has wilted you can collect the seeds and snack on them or use them as birdseed.
American Giant Hybrid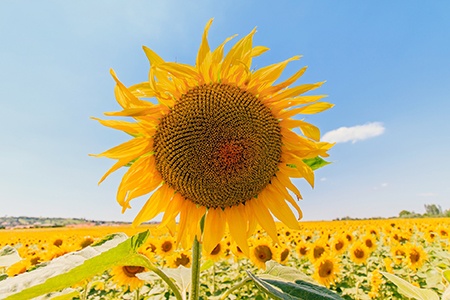 The American Giant Hybrid is one of the most popular giant sunflower varieties. They can reach heights of up to 16 feet—sometimes more. They are considered one of the tallest varieties and are commonly cultivated as competition flowers.
They take around 65 to 75 days to bloom. They produce bright yellow flowers with a dark brown center spanning 10 inches across. They have chunky and sturdy stems that are capable of withstanding the weight of the huge flowers.
They are planted in spring and bloom during the summer months. They thrive in areas that receive full sun and have well-draining, nutrient-rich soil.
Giant Sungold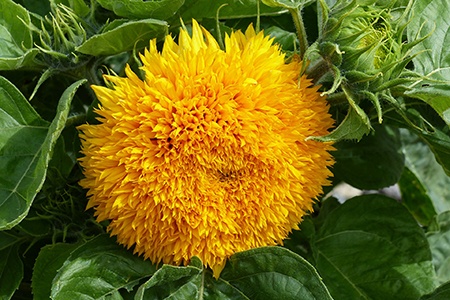 The Giant Sungold is a fast-growing giant sunflower variety that can reach around 5 to 6 feet in height.
They are different from other giant types of sunflowers as they produce fluffy golden flowers that look like pom poms. These flowers with their dense layers of petals can become as big as 6 to 10 inches wide.
They make an exquisite and sensational addition to your garden apart from attracting beneficial pollinators. They are a perennial flowering plant that thrives in full sun and moderately fertile soil.
Teddy Bear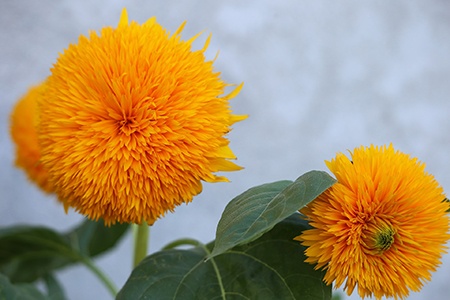 The Teddy Bear is almost a dwarf version of the Giant Sungold. They have double-layered fluffy petals. This variety won the Award of Garden Merit from the Royal Horticultural Society in 2015.
These fluffy golden flowers bloom during mid-summer months and grow on plants that can reach a height of 16 to 24 inches. One distinctive feature is that both the petals and seeds of this variety are edible. The petals are used as types of garnish for salads and cakes.
Elf Sunflowers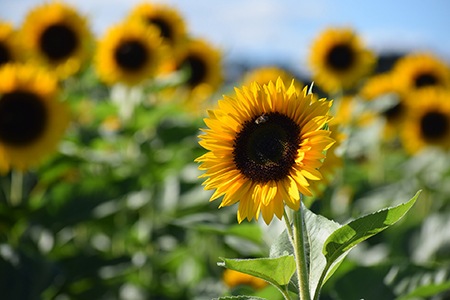 Elf sunflowers are a miniature version of the common sunflower. They are a dwarf variety that reaches a height of just 14 inches. The bright yellow flowers with a brown center measure four inches across.
They look great when planted in groups either in containers or flowerbeds. They also make great additions to flower arrangements that can be used to brighten up a room. They are planted in spring and produce blooms in late summer. Why not plant them when backyard farming and make your own little paradise?
Suntastic Yellow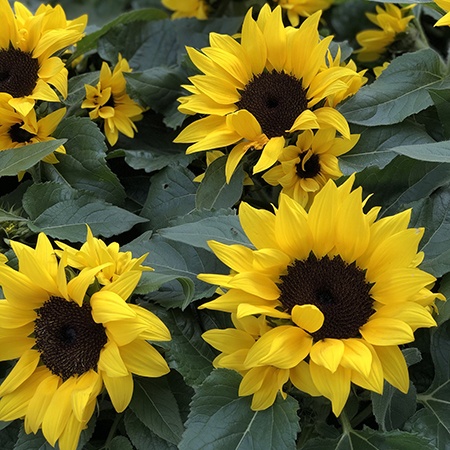 The Suntastic Yellow is a dwarf sunflower variety that is only twenty inches tall. However, it produces quite huge blossoms, with golden petals and a black center, measuring around 6 inches across.
They bloom in less than 65 days from planting and produce at least 20 flowers per plant. Since they flower early and grow in packs, they are ideal for window boxes and garden beds.
Though they won't match in height, these make a wonderfully colorful flowerbed when planted alongside the purple types of aster, as their colors blend well while contrasting just right. Aster flowers, in my opinion, look a lot like sunflowers just with much smaller centers.
Firecracker Sunflowers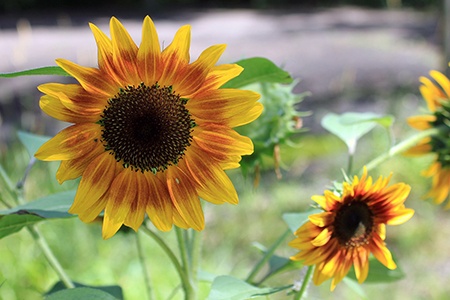 The Firecracker is a semi-dwarf variety of sunflower with double-hued flowers. They can reach heights of 90 cm making it perfect for containers or creating borders for your garden.
They produce pollen-free flowers around 4 to 6 inches wide. The flowers have petals that are a mix of orange and gold with a dark brown center. They thrive in full sun and moderately fertile soil.
Little Becka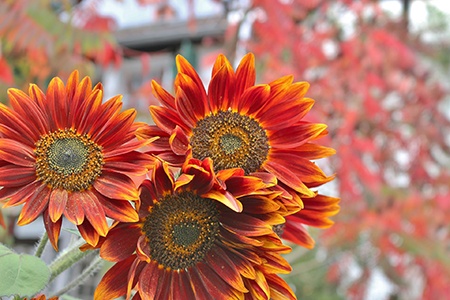 Little Becka is one of the tallest dwarf sunflower breeds reaching almost two to three feet in height. Their most identifiable feature is their multi-colored flower.
They produce flowers with a burnt orange center that fades into a deep red that ends in orange tips. These colors produce a halo effect on the flowerhead, making this one of the most unique of the different types of sunflowers out there.
They branch out and produce a lot of flowers helping add a splash of color to your garden.
Russian Mammoth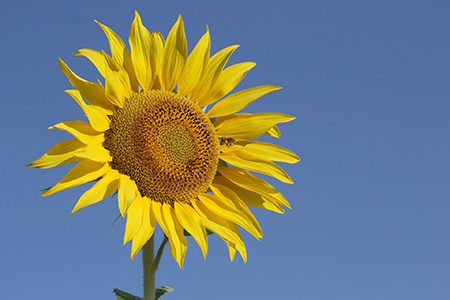 Russian Mammoth is also known as the Common Sunflower and is a low maintenance sunflower variety. This giant sunflower can grow up to 9 to 12 feet high and produce flowers that span 14 inches across.
They bloom during the late summer months and produce flowers that are bright yellow with a chocolate brown center. Around the base you can do something like growing various colors and types of celosia to help the sunflowers pop out visually even more.
They are low maintenance as they do well in most types of moderately fertile soil. However, they do need to be planted in a sheltered space as the heavy flowerheads may break off if they get caught in the wind.
This flower is great for increasing pollination as they attract birds, butterflies and bees. Birds and squirrels snack on the edible seeds. The seeds can be harvested and roasted for human consumption as well.
Italian White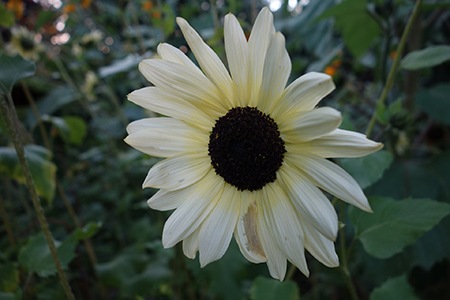 This dainty variety is one of the popular colored sunflower varieties. Their blooms are cream colored and have dark chocolate brown centers. They have slender petals that have more spacing than traditional sunflowers.
These plants can grow as tall as five feet and should be sown in early spring. They attract a lot of beneficial pollinators.
Strawberry Blonde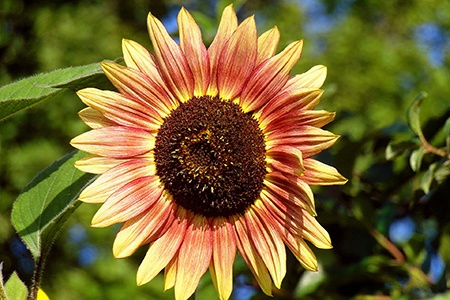 Strawberry Blonde types of sunflowers have blooms with dark brown centers and petals that fade from a reddish-pink hue to cream tips. These plants branch out and reach a height of five feet.
Moulin Rouge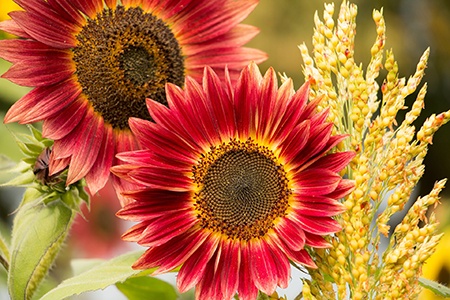 Moulin Rouge sunflowers get their name from their distinctive burgundy red petals. They produce pollen-free flowers that measure 5 inches across and do not fade in strong sunlight.
The plants reach around five feet tall. Their unique color makes them quite a popular variety that looks great in flower arrangements.
Earthwalker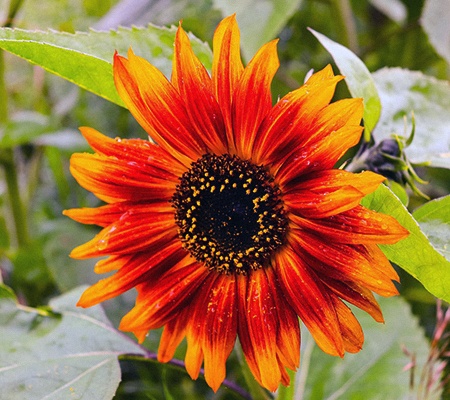 Earthwalker sunflowers got the name because their flowers come in earthy tones. The plants themselves reach around five to nine feet tall and produce huge blossoms in a mix of oranges, reds, mahogany and brown.
Chianti Sunflowers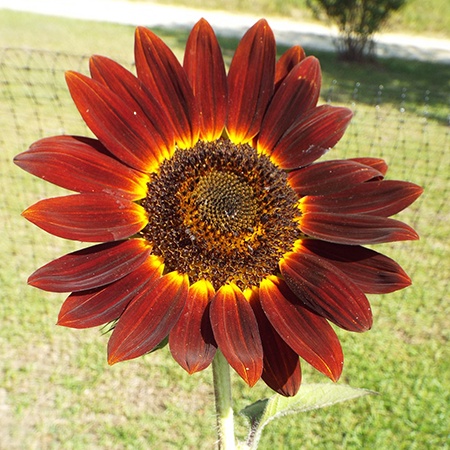 The Chianti sunflower types are the darkest sunflower variety. They are known for their distinctive highly-pigmented wine-colored blossoms.
These flowers are pollen-free and grow on plants that can grow about four to six feet tall.
Sunforest Mix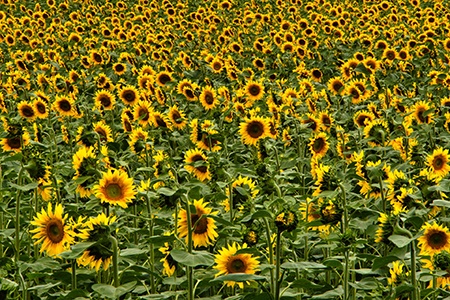 The Sunforest Mix is one of the giant sunflower breeds that can grow up to 10 to 15 feet tall. They produce gigantic blossoms that measure almost 40 inches across.
These are the perfect flowers to grow if you want to walk around in a forest of flowers.
Schweinitz's Sunflower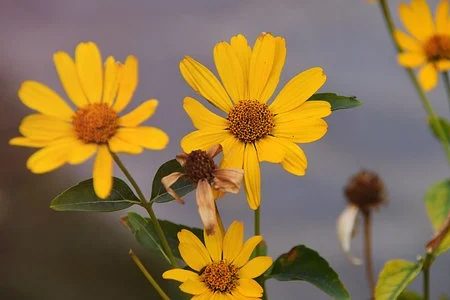 This variety is named after Lewis David Schweinitz, the botanist who discovered this sunflower species in the 1800s. It is a rare species of sunflower found in America.
The average height of these plants is 6.5 feet, but some can even grow up to 16 feet tall.
Sundance Kid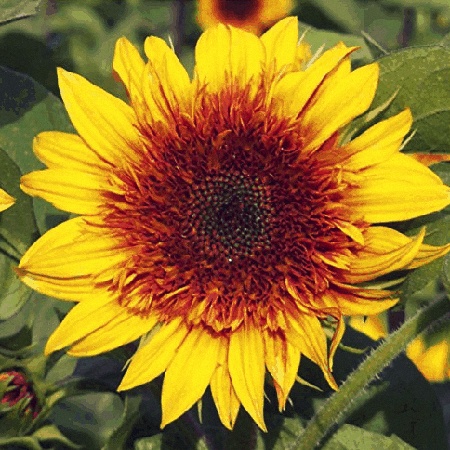 Sundance Kid was one of the first dwarf sunflower varieties domesticated as garden plants. They have very distinctive red flowers that fade to a yellow color. These plants reach around one or two feet in height.
Chocolate Cherry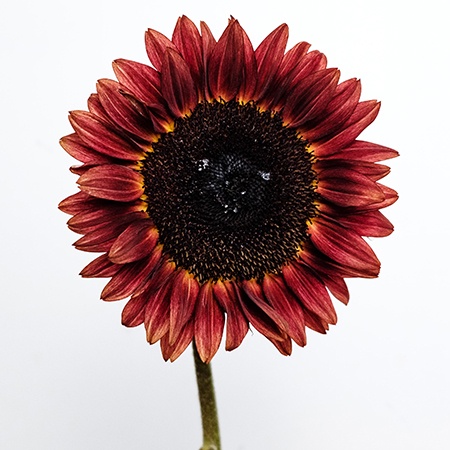 Relative to other types of sunflowers, the Chocolate Cherry variety are medium-sized. The name comes from their unique colorings, which features a dark reddish center (the cherry) with chocolate brown colored petals circling the outside.
Giganteus Sunflowers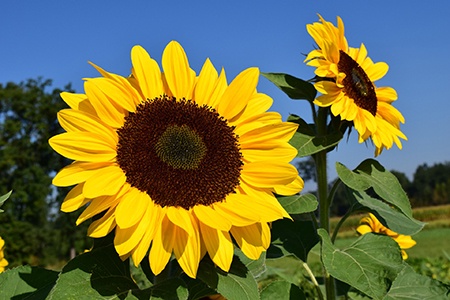 These sunflower types are massive, growing up to reach even 12 feet in height. The blooming flower can reach as wide as an entire foot in width. This giant bloom produces a vast amount of seeds, too.
The two most interesting things about this sunflower species is that, despite their height and top-heavy bloom, they can stand on their own thanks to the strength of their stalks all without the support of a stake.
Hopi Black Dye
As far as sunflower names go, this one is spot on in terms of descriptiveness. The Hopi tribe used to use this species of sunflower not only as a food source but as a way to make black dyes.
This was possible due to the center of the flower being a very dark blue to black color. The surrounding petals are a common gold to yellow, making this a very visually striking flower indeed, especially when it grows to its typical 9 feet in height.
Kong Hybrid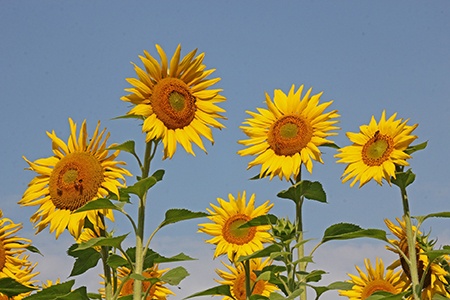 Another of the on-the-nose sunflower names, the Kong Hybrid's name is derived from the fact that it reaches 14 feet in height with massive blooms reaching 10 inches in width.
The centers of the blooms are dark, resembling the colors of Kong himself, but with bright yellow petals. These are probably the best conversation pieces of all the different types of sunflowers.
Lemon Queen
Unlike many other sunflower varieties, the Lemon Queen has shorter petals but are still the bright yellow color that attracts bees. In fact, pollination is what this flower is good at and why it's so easy to acquire. The center of the bloom is wide, leaving plenty of space for our insect friends to do their thing.
Soraya Sunflowers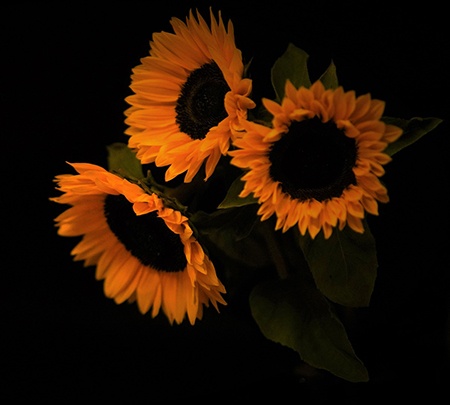 By the description of it's short but bright orange petals with a center that's dark, you'd think it sounds like any other. But when I tell you it's won a handful of international flower awards, you have to imagine something much more interesting.
These make great container flowers since they only grow up to 6 feet in height. If you're familiar with the Suntastic sunflower species, you can think of Soraya as a bigger variety.
Super Snack Mix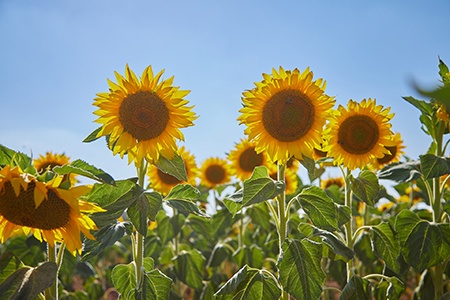 Who comes up with these sunflower names? The Super Snack Mix is named so because it's seeds are plentiful, large, and are easy to crack open. Birds and humans alike love to chow down on these.
These sunflower varieties grow around 6 feet tall and have a more loosely arranged set of petals, which terminate at a point. Pollinating insects such as bees and butterflies are really attracted to these.
Taiyo Sunflowers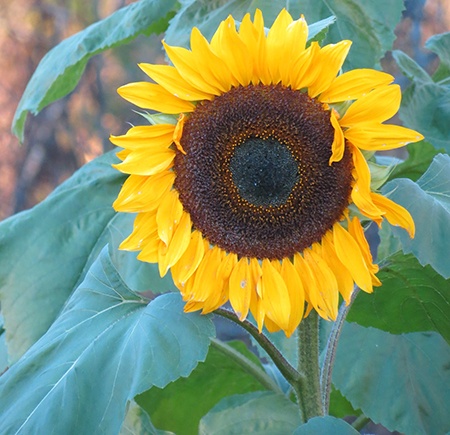 By the name you can likely tell these are Japanese types of sunflowers. You'll find them in grocery stores and, of course, flower stores due to their very standard appearance. But it's not just that, they come in a variety of colors.
Their blooms are large with a dark center that helps accentuate the bright golden petals. It's the dark center that comes in a variety of colors, where you can mix and match them in one vase for a beautiful flower arrangement.
Pacino Sunflowers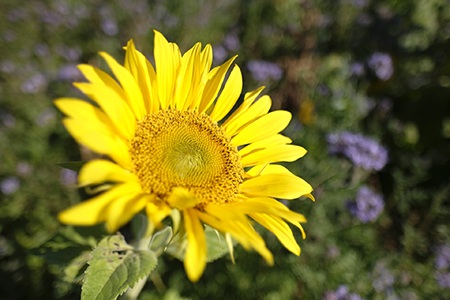 This variety is also known as Dwarf Pacino Gold. These plants grow almost two feet tall and produce bright yellow flowers. Each stem can produce multiple flowers.
Sunny Smile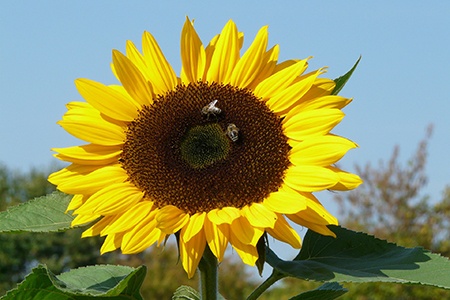 The Sunny Smile is a dwarf variety that grows around 12 to 15 inches tall. They have sturdy stalks that sport miniature sunflowers with bright yellow petals and dark brown centers.
Terracotta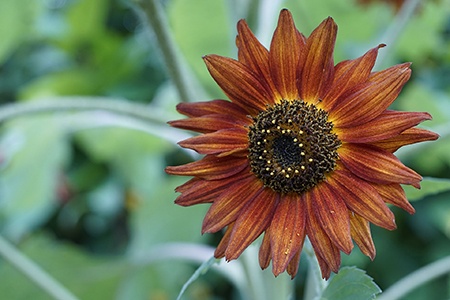 Terracotta sunflowers are known for their brown-hued flowers which are a change from the typical yellows and reds seen among sunflowers.
Ms. Mars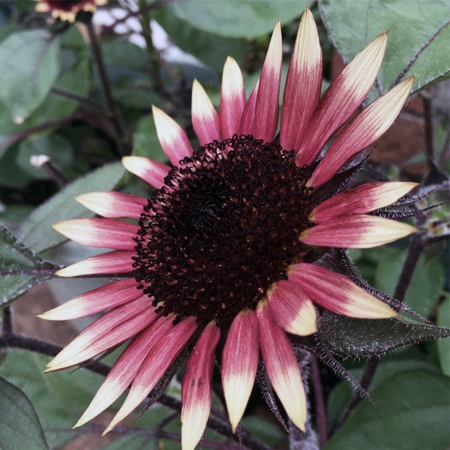 Ms. Mars sunflowers grow to be about two feet tall. They are colored sunflowers known for their multi-colored blooms. Ms. Mars flowers have purplish-red centers that fade into faded yellow tips. With them being so low to the ground they're one of the good plants that repel ticks to keep around.
Dwarf Incredible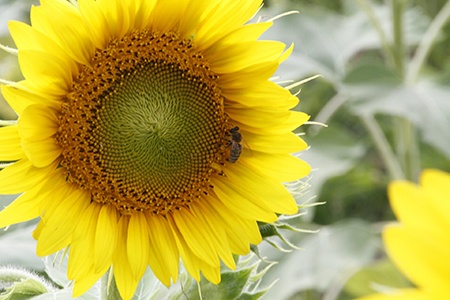 Unlike some other dwarf varieties, these types have shorter stems but still have full-sized blooms. The face of the flower heads can reach up to 18 inches in width seated atop stems that reach up to 2 feet in height. That's almost the same height as width!
These are fun to grow in containers because they're still manageable since they aren't very tall. If you grow them indoors you can sew their seeds at any time, but outdoors you need to plant the seeds about three weeks before the final frost of the season.
Big Smile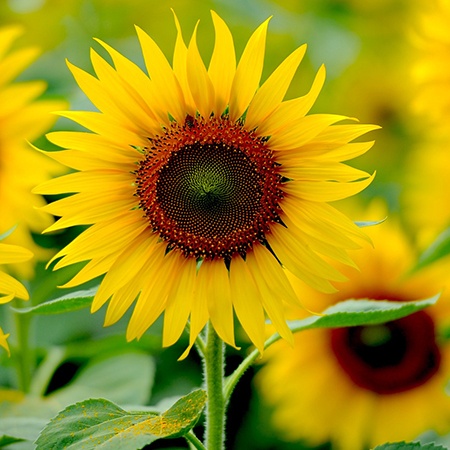 The Big Smile name is kind of inverted from reality, because these different types of sunflowers are actually smaller than most others of the non-dwarf variety, coming in around 2 feet high. They present their blooms with bright yellow petals and gold centers.
Topolino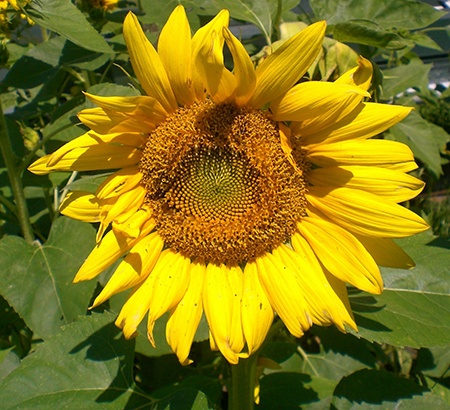 Topolino is a dwarf variety of sunflower that is known for its ability to grow an above average amount of flowers per plant, thanks to how the stem branches in various directions. Their popularity can be attributed to their hardiness in containers and pots.
Their size keeps them manageable at around 2 feet in height and of a medium size bloom. Of course, they come in your standard bright yellow color.
Sunrich Lime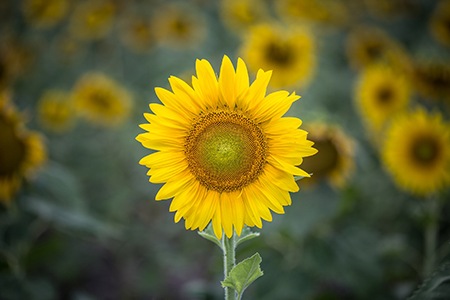 This variety of sunflower, like a few others on the list, are pollen-less. Unlike the Topolino above, these produce one flowering bloom per stem without branches. The center disc has an unusual lime green color instead of the typical dark center.
This annual flower will bloom every year, producing a spectacle that can reach 6 inches in width atop a 6 foot tall stem. If you want to watch one of the sunflower varieties grow fast this is a good choice, as they reach maturity within 60 days.
Bashful
The Bashful sunflower types, like the Junior below, are both free of pollen. The Bashful variety has a unique color palette, where instead of an incredibly bright yellow, the petals are more of a pastel shade of yellow.
You'll also find that the petals, which reach around four inches in length themselves, can come in a salmon color. That makes this 3 foot tall sunflower absolutely gorgeous.
Junior Sunflowers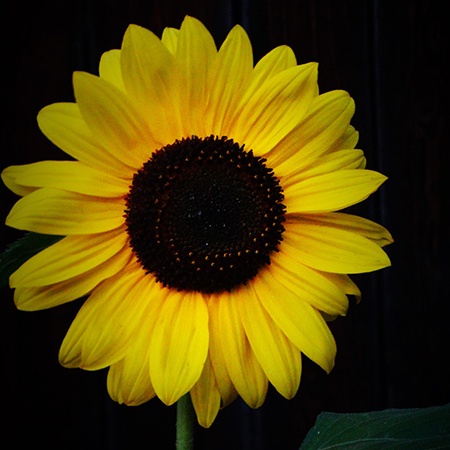 Junior, as the name suggests, is a dwarf sunflower variety. What's more peculiar is that it's a pollen-free sunflower, which means you'll get less insects around and perhaps less of the sniffles.
Being dwarf kinds of sunflowers, you won't be surprised to hear they reach about 2 feet in maximum height with smaller 5 inch wide blooms. The blooms are the typical bright yellow color.
Royal Hybrid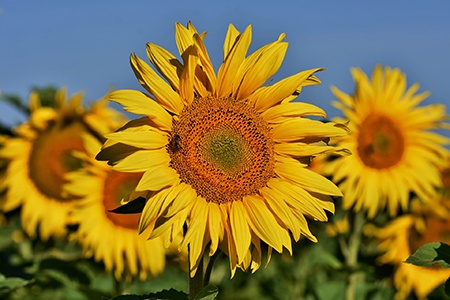 The Royal Hybrid boasts fairly large flower heads at about 8 inches in width on top of their 7 foot height. This helps them produce the massive amounts of sunflower seeds that birds and humans both enjoy harvesting.
Titan Sunflowers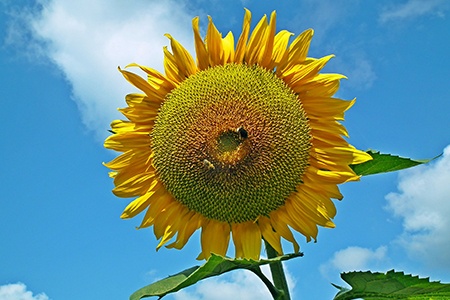 If you thought the Giganteous types of sunflowers sounded huge, wait till I tell you about the Titan. Titan sunflowers are an heirloom variety that can grow many eye-catching blooms. But what makes them so interesting is that the blooms can be as large as 2 feet in diameter!
Types of Sunflowers for Every Color & Size
Sunflowers are a great option to consider if you are looking for flowering plants that are easy to look after. They are bright and lively flowers and attract a whole bunch of beneficial pollinators as well.
Whether you want to create a forest-like garden with gigantic flowers or you want some dainty and bright flowers to fill the window boxes, you have any of the types of sunflowers to meet your needs.
You'll Also Enjoy: