10 Types of Hot Tubs & the Features for Max Relaxation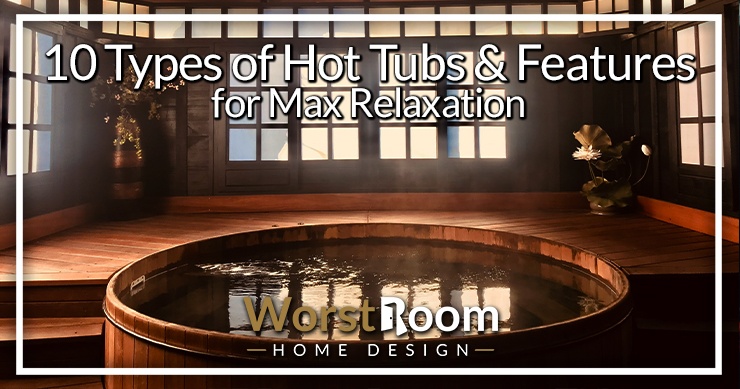 Hot tubs not only make you feel relaxed after a tiring day but even provide a new essence to your dips in water. And awesomely, there are many types of hot tubs that you can choose from.
Portable, swim or spa combo, wooden-fire, and inflatable are some of the most amazing hot tubs you can grab. Be aware that many call hot tubs a "jacuzzi", too, just so you aren't confused.
However, if you have a handsome budget and can further extend your pockets, you can definitely plan for a lavishing waterfall hot tub. It will elevate your bathing experience and give a rejoiceful boost to your moods.
10 Types of Hot Tubs
Here, in this article, we'll give you all the essential information about the hot tub types you can choose and how they can make your home aesthetic.
Portable Hot Tub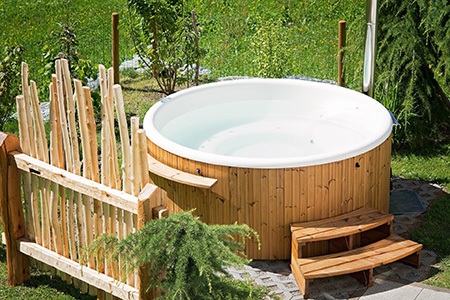 Portable hot tub styles are so much in demand because it's cheaper and easier to carry. The tub is available in various colors, shapes, and features. It also includes specially constructed jets and seating options for people of various heights.
Moreover, these features make portable hot tubs ideal for hydrotherapy. Portable hot tubs use less energy than other types of hot tubs. They can also be installed on or into the ground in both outdoor and indoor sections of your property.
The tubs often have effective filtration and drainage systems that keep the water clean. They also come with covers that help keep the water warm and dirt out.
Swim-Spa Combo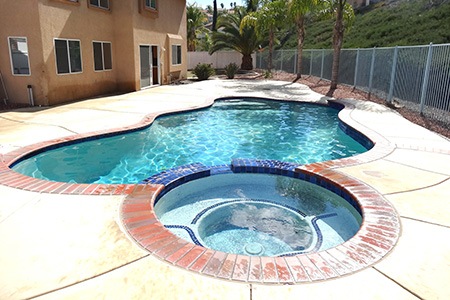 A swim or spa combo is an awesome hot tub type that can simply make your day. These hot tubs are usually built into a separate enclosure or a deck, and homeowners can enjoy a spa and a swim at the same time.
So, when you have this hot tub installed, you can float, exercise, take a spa, or simply enjoy the moment. Honestly, it can be a fascinating way to chill and stay fit while enjoying a warm swim.
Although some flaws of these jacuzzi types can't be overlooked, these tubs are pretty costly compared to any regular hot tubs. Moreover, they'll also require a considerable amount of space for installation.
That's not all; using a pool spa results in high operational costs that may rattle your pockets, and the hot tub will also need to pull off a large intake of power to get filled. So, don't buy one without knowing exactly how much utility and power it'll need.
In-Ground Hot Tub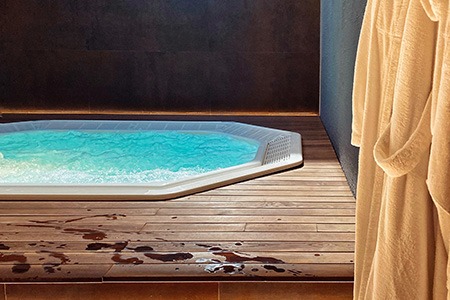 In-ground hot tubs are usually made to fit the owner's needs. It is built on the spot with concrete-like people build a swimming pool. So, in this case, it's completely up to you how you would want your in-ground tub to be in shape and size. My sister has one and her husband treats their in-ground (or in-deck) hot tub like one of the bathtub alternatives.
An in-ground pool is usually connected to a hot water supply to fill up the in-ground tub. These in-ground hot tubs come with a lot of different features, and you can decorate the interior and exterior according to your budget. You can also add lights around the tub for a posh look if you want.
Although it may cost a lot to build a hot tub in the ground, the prices may vary depending on the type of materials you choose to build your in-ground hot tub. However, your overall cost would reduce if you plan to build a pool and a hot tub together.
Rotational Molded Hot Tub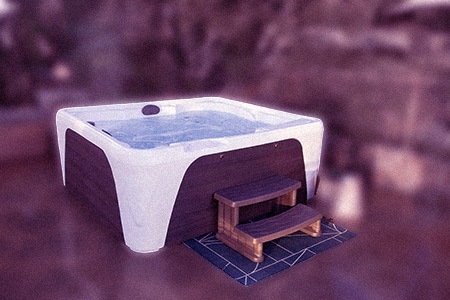 Rotationally molded tubs are built of high-density thermoplastic. These hot tubs are usually brown or gray in texture and color. However, manufacturers nowadays make smooth-finish rotationally molded hot tubs for comfort and better texture.
Molded types of hot tubs are also pretty affordable due to fewer automation features and materials. They can also be a wonderful solution, especially if you are traveling and need to bring a hot tub.
The rotational mold hot tubs have a few yet exceptional features and use less power. This keeps your electricity bill low. You can use them like types of bathtubs when all you want to do is relax rather than bathe.
Peelings, cracks, and rot aren't an issue with rotation hot tubs. They are also suitable for children because of their flexibility and stress resistance.
Unlike some traditional hot tubs, these rotational hot tubs are perfectly sealed around a solid foundation, making pests such as mice and rats unable to hide within.
This hot tub is pretty simple to maintain. And to clean it, simply drain the water and wipe it off with a moist cloth and some simple cleaning supplies. No special detergents or cleaning agents are needed.
Inflatable Hot Tub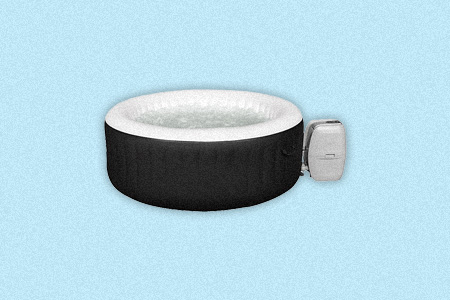 Inflatable hot tub types of jacuzzi are made of polyester laminate or PVC. Moreover, they are cheap and easy to build than traditional hot tubs. The cost also varies, so both average and high-income earners can afford it.
You will also need an air pump to inflate this inflatable hot tub. These jacuzzi types are also pretty easy to move as you can deflate and rewrap it whenever you feel like it. This feature is what most hot tubs don't have.
The setup is easy, and you won't need any expert's assistance to rebuild it. You can get a lot of different sizes and can be set up both indoors and outdoors.
Inflatable hot tubs are also pretty comfortable and relaxing since they are made of softer air-filled PVC instead of any stiff fiber. Advanced inflatable hot tubs have features like automatic water heaters and timers.
The single blower and pump that you'll get from these tubs save around 50% of electricity. Furthermore, the cleaning procedure is pretty simple and easy, and you also won't need to worry about leakage or maintenance issues.
Wooden Hot Tub
A wooden hot tub is sometimes called a barrel hot tub. The reason for that is because when hot tubs began becoming popular, people were making them themselves out of large wine barrels made out of oak wood.
What followed soon after were redwood and cedar wood hot tubs because the oak wood didn't resist natural decay as well. Being "water logged" (soaked thoroughly with water) and heated helped create insulation to keep the heat in but led to faster rot in the oak wood.
Waterfall Hot Tub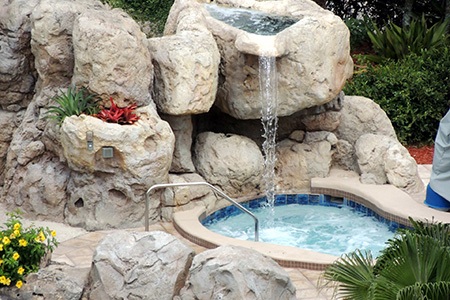 You can surely build this amazing waterfall hot tub if you can extend your pockets. It not only elevates your bathing experience but gives you a king-sized feel. Moreover, the sound of the running water also adds a different essence and beauty to your bathing.
Another astounding fact about this hot tub is the waterfall sounds can't be replicated, and every time you'll hear different and new rumbling sounds over and over again.
Obviously, you won't find this in normal hot tubs. So, now you have two options: you can build your own unique and aesthetic waterfall hot tub or buy a pre-made one. In both cases, you would need to have a good budget.
Wood-Fired Hot Tub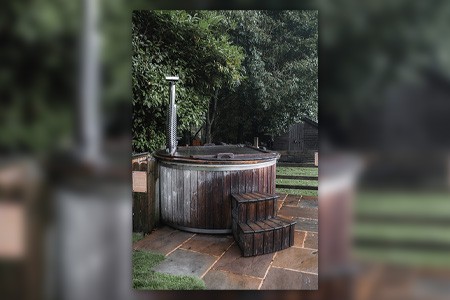 If you love all things rustic and classic, a wood-fired tub will bring back the old-world charm. Although setting up a wood-fired hot tub requires considerable preparation, the result would give you bliss.
Moreover, you won't need electricity, and it can be placed anywhere outside. It doesn't need any special or versatile area for installation.
However, you do need to know that this hot tub relies on fire. So, you must arrange a place where you can burn wood. Once you're set up though you can treat these hot tubs like types of saunas.
You're not done yet. You also need to maintain adding wood if the water cools. In the end, it may be a tiring job to set and install all these, but the comfort and relaxation you'll get will be out of the world.
Soft-Sided Hot Tub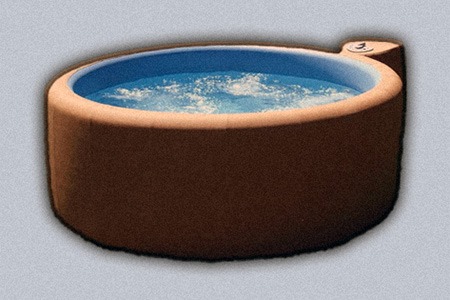 A hot tub being soft-sided is more of a feature than a type in and of itself, and even then it's more of a rare feature. The reason is the lining is more difficult to clean and can tear more easily, which can rack up the maintenance costs. But the softness is also on the outside too, where there's less issues with damage.
You'll have a hard time finding these types of hot tubs in any local showroom and will need to decide if you want them without first seeing them, because they'll be special order. They're less expensive, tend to be portable, and they're easy to deal with. You simply plug in the power cable to a standard outlet available on your back deck patio, and that's it.
But realize that the pumps and heating elements aren't as strong, so they take longer to heat up. They don't draw a lot of wattage is the issue. It's not going to be incredibly comfortable without seats, and you probably are only going to fit one or two people at most inside of it.
Custom Made & Molded Hot Tub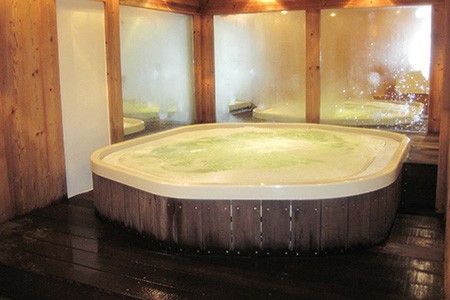 If money isn't a hurdle for you, you can consider getting a custom shape designed to fit your space. The options become even more open if you don't have them set into the ground or into a patio, because you can build the outside enclosure to take on any shape or theme you want.
I've seen custom hot tub types that look like boats, giant video game consoles, and more. Whatever you're excited about in life, you can have a custom made enclosure based around that theme. But that can also get goofy looking so think carefully.
Choosing a custom made hot tub in terms of creating a different seating arrangement inside will get expensive because you also have to reposition the normal jets and massaging, pulsating jets. If you can find a pre-made shape, that's a much more affordable option.
Hot Tub Options & Features
You have your core hot tub styles and hot tub shapes below, but what's the point of having any types of jacuzzi if you don't have some extra bells and whistles?
Massaging Jets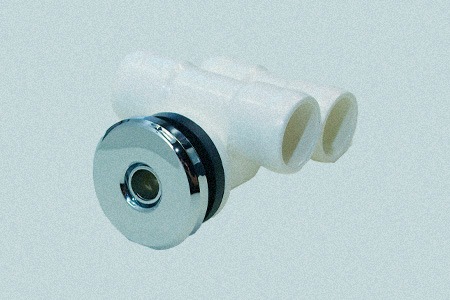 Without a doubt, the most enjoyable of the hot tub options is to have are messaging jets. The hot water is nice, but having it moving around you and shooting warm streams of water into your back and legs is really something special.
These are meant to massage your body as you relax. Many can be aimed to point in different directions to customize it to your body size. Some will have pulsating features and some will just be stronger jets of water. It just depends on the model, so be sure to investigate it.
Molded, Body Shaped Seats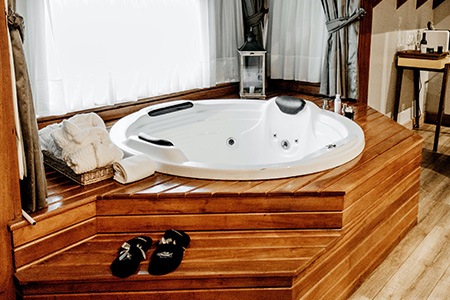 Having any types of hot tubs without built-in seats is nice if you don't know how many people you'll have in it. But having one with tons of built-in seating is extra nice. The idea is to increase your comfort while in the water.
You'll have some jacuzzi types that are shaped so you can recline in it and rest your legs. Others are made to have you sit up. Others have the seat much lower so you can sit deeper in the water and cover up more of your body.
Just consider how many people may be in it and how molded seats can be limiting. If you're into spontaneous parties with unknown numbers of guests, having molded seats may not be the best idea. But if it's mainly just you and your family, then it can be a nice feature.
Ambient Lights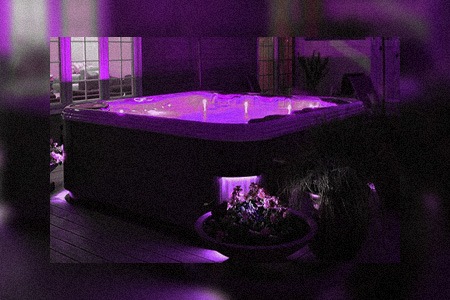 If you want to go for a more luxurious experience, having lights under the water really sets the mood. It can make the entire scene feel like it's glowing, and if you use the right colored bulbs outside of the hot tub (like purple hues) it can really become a relaxing scene. You can use any types of light bulbs but I'd recommend going with color-changing LEDs that you can control.
Built-In Speakers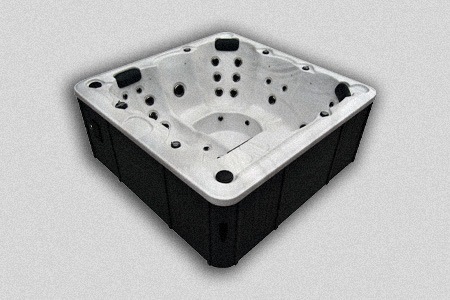 Another great hot tub option is the ability to either plug-in or use bluetooth to play music or the audio of a movie you're watching. This means the hot tub has built-in speakers that will bring the sound right to you.
Sometimes these speakers are in the rim of the hot tub pointing upwards. Sometimes the speakers will pop out of the rim and face inwards. And some will even have speakers underwater (which isn't that useful like it would be in a swimming pool). Either way, this is a luxury option that you'll enjoy having.
Cup Holders
Usually these drink holders are just molded spaces around the rim of the hot tub meant to hold drinks and keep them from sliding around and being knocked over. But some even have tables on poles that you can rotate in where you can place drinks, snacks, and even phones and tablets on them.
The table hot tub options are a nice luxury feature that you really can live without, but the cup holders are a must, in my opinion. You'll want to be rehydrating if you're sitting in hot water for a long amount of time.
Jacuzzi Cover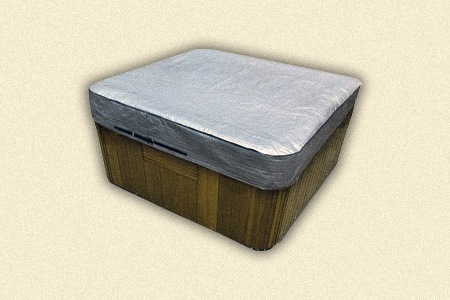 If your types of hot tubs aren't already underneath the roof of your patio or deck, then you'll want a cover to place over it. This will keep leaves, sticks, bugs, and other debris out of the water when you're not using it. It's a no-brainer, as it will keep the water cleaner, too.
Salt-Water Compatibility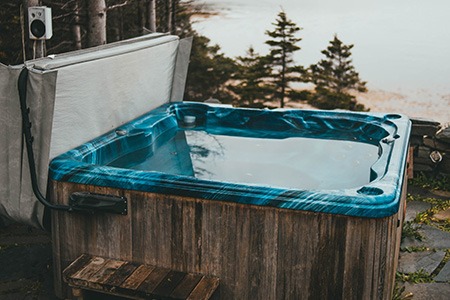 Some people want to bring the beach home to them, and some hot tubs are built specifically to be used with salt water. This is simply a personal preference where some argue about the benefits of it in terms of relaxation and health. It's your call, and the option is out there if you want it.
Cooling as Well as Heating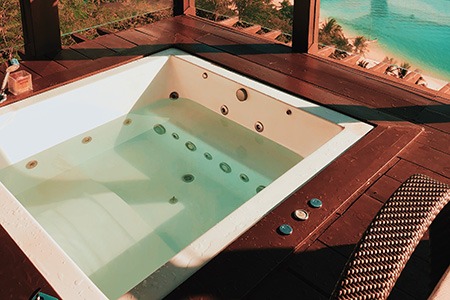 You may think this goes against the point of most hot tub types with their types of water heaters built in, but some offer the ability to cool the water down on hot days. Say you just did hours and hours of yard work in the summer heat. You go inside to rinse off and then dip right into the cool hot tub. It makes the jacuzzi useful even when you don't want to be hot.
Water Treatment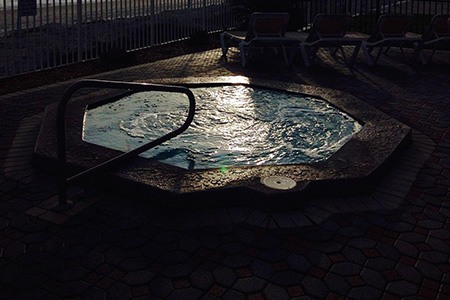 You'll need to prepare the water in some way, whether that's water softener alternatives or pool chlorine alternatives (we say alternatives because the classic options can be rough on your skin and the mechanical parts of the hot tub).
One way to get this done is to opt for the types of jacuzzi that have a built-in water treatment system hot tub options in them. This will extend the life of the jets, pumps, and motors in the hot tub, as well as creating the most comfortable environment for you skin after you get out (that's when you notice the difference).
Hot Tub Shapes
There's no need for us to type a novel to you about the basic geometrical hot tub shapes available to you. Just know that you have the following options, ordered by the most common to the leas common hot tub styles:
Circular
Square
Rectangular
Triangular
Quick comments would be that circular ones are popular because they're smaller and point everyone inward where the best conversation can be had. After that, square and rectangular are the next most popular, though they need more water and don't add that much more usable space. Triangle shaped jacuzzi types are a gimmick for the wealthy, in my opinion. They look cool, though.
Types of Hot Tubs for Maximum Enjoyment
So, if you are planning to install hot tubs, then you must know which one to choose for your needs and space. The prices vary depending on the types of hot tubs and the material they are made of. However, while choosing, ensure you go through the manufacturer's detail and see whether it suits your style or not.
You'll Also Enjoy: