9 Bathtub Alternatives to Consider During a Remodel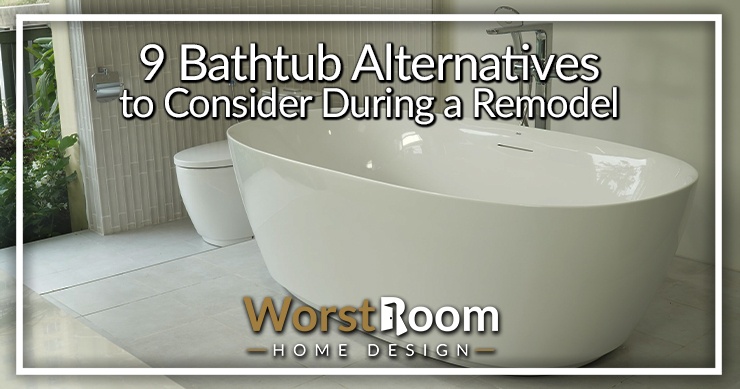 After a long and tiring day, you look forward to that dip in the tub, right? Spending some quality time in your bathtub alternatives lets you let go of all the stress, and it's a great way to pamper yourself.
Not everyone can afford a regular bathtub though, due to money and space issues mostly. At the same time, some find tubs to be unnecessary and look for alternatives.
Since you are here, you have joined the camp on the hunt for alternatives to a bathtub. We have come up with a list and tried to include almost all the alternatives possible. So, take a quick look at it.
9 Bathtub Alternatives
Below is the list of bathtub alternatives you can try out in place of all the various types of bathtubs out there that take up so much space and aren't necessarily easy to use.
Shower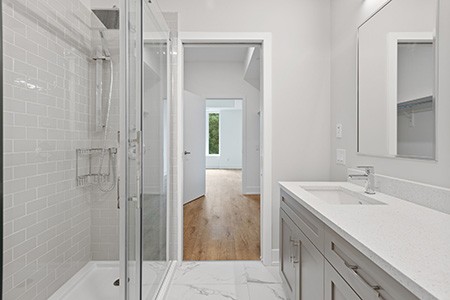 We'll start with the obvious first. Why not simply take a shower? Showers are probably the simplest bathtub alternative. Actually, they are more convenient than bathtubs as they can be installed in small bathrooms.
Taking a shower and taking a bath are both different, though. The main concept, however, is to become relaxed and get cleaned, which is easy in any of the main types of showers. If you want to know how to take a bath without a bathtub, this is the main method.
There are some who love to take baths for a long time. A simple shower is not sufficient for them. If you are one among them, you might skip this option.
Now, for the dwellers in small apartments, bathtubs aren't viable options. They, due to a shortage of options, resort to showers, the space saving baths. Showers take up less space. Unless the shower space is cramped, you can comfortably take a shower.
Shower Chairs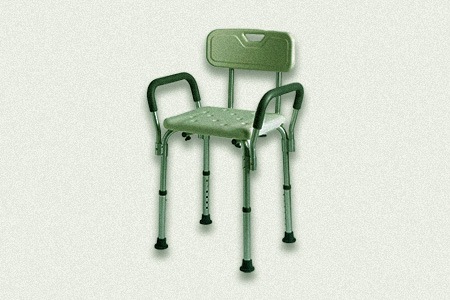 Some unpredictable situations make showers impractical for people to use. For instance, some people are burdened with injuries or issues that make it impossible for them to take a shower by standing up.
When showers are the only method for us to stay clean, the inability to take a proper shower is just infuriating.
Shower chairs are just the perfect alternative for them. These chairs are made to be kept inside showers. With the help of shower chairs, users can sit comfortably.
If you are worried about falling off the chair, fret not. Without having to get up from your chair, you can clean yourself up and do any other work.
Showers chairs can make your shower experience similar to that of a traditional shower. They make your life super easy and comfortable.
If you have any disability or medical conditions that prevent you from standing up and taking a shower, shower chairs will work as the best alternative.
Small Bathtub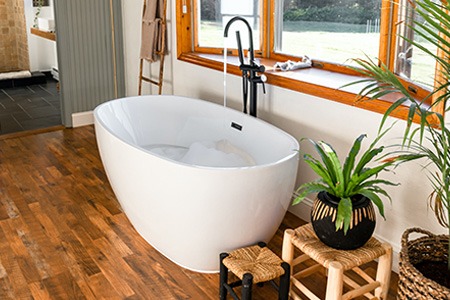 You might try considering small bathtubs, as they can be surprisingly useful. Small bathtubs are easy to install in any house due to their small sizes. Usually, these bathtub alternatives have enough space to fit only one person.
These don't provide the normal comfort that traditional bathtubs offer, and users might feel slightly cramped. Most people feel that this is way better than having nothing to take a dip in. These are the space saving bathtub you've been looking for.
Not everyone is fine with using bathtubs this small. Tall people might not feel content. However, the demand for small bathtubs is always on the high for their space-saving features. They tend to be cheaper when made out of plastic and it's not difficult to fix a crack in a plastic bathtub, so there's even more savings.
Sunken Bathtub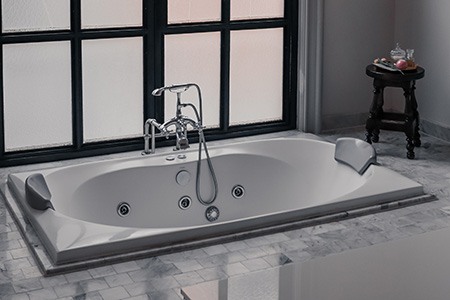 Another alternative you might try out is the sunken bath. A sunken bath is sunk into your floor. Due to this, you do not have to worry about feeling like you're losing bathroom space, though you are. Household owners come up with interesting designs of sunken bathtubs.
If you install all the components properly, your bathroom can wind up looking cool. Sunken bathtubs won't rub against the walls, as the bathtub really sinks into the concrete.
You will need to do some home renovations to utilize this method. We won't guarantee that it will be the simplest process.
However, all the hard work will pay off eventually. Also, a sunken bathtub does not happen magically. Your floor will need to have the depth to accommodate the bathtub or be built into your types of house foundations or crawlspace.
For enclosed spaces, this is the ideal bathtub alternative. It gives you comfort as well if made deep. If you are thinking of modifying your bathroom, we would highly recommend trying this one.
Portable Bathtubs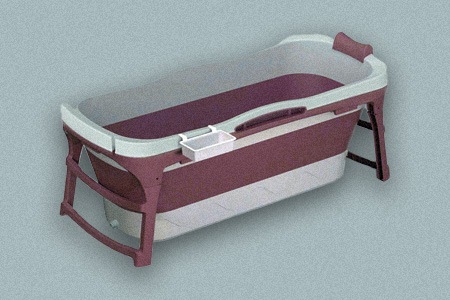 This sounds quite cool. Actually, if you think of it, it's really convenient. You might have never imagined that even a thing like a tub can be portable.
To prove you wrong, bathtub manufacturers have introduced portable bathtubs, so you can keep yourself refreshed on the go.
As these bathtubs are small and need tiny spaces to set up, they can be carried outdoors. Campers usually use this as a bathtub alternative. Worried about how much water the tubs can hold?
Fret not, as the portable alternatives to a bathtub have deflation and inflation pumps to adjust water levels accordingly.
If you're working in a limited space, this bathtub is your go-to option. Though it feels cramped, as long as it fits you, the bathtub creates a win-win situation. As this bathtub does not fit every size, we would suggest you not get too excited.
Usually, parents use these bathtub alternatives for kids. It saves them from the hassle of showers and the risk of children sinking in the tub.
Freestanding Bathtub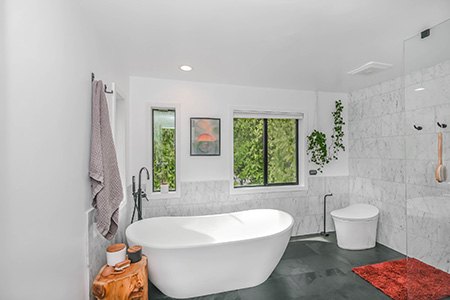 A freestanding bathtub means the bathtub can rest on its own. Unlike all the other bathtubs except portable bathtubs in this list, freestanding bathtubs can be placed anywhere. They resemble bathtubs look-wise.
They have a heat-retaining ability, allowing you to take a hot dip at any time of the day. For those residing in small apartments, the placement of a bathtub is beyond imagination.
However, a freestanding bathtub will allow you to experience some me-time and plenty of self-care hours in the tub.
They differ from portable bathtubs in composition. Freestanding bathtubs are strictly made of durable and non-toxic acrylic. As they have double walls, heat can be retained inside, whereas portable bathtubs lack any heat retaining ability.
Lastly, freestanding bathtubs hardly need any maintenance. Their price is also budget-friendly, and the maintenance cost is also low.
Inflatable Bathtubs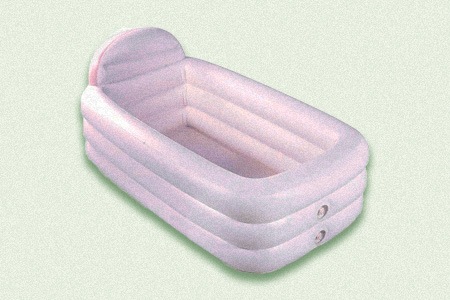 Avoiding showers for muscle pains? Well, you might be wondering what alternative to bathtubs will ease your muscle pain. We've got you covered.
Made of PVC, these bathtub alternatives offers a foldable, non-slip, and ergonomic design that offers a comfortable shower experience. Good for you, most inflatable bathtubs come with pillows, dual armrests, and backrests for extra comfort.
Oh, if you like to keep your drink close while taking a shower, some inflatable bathtubs have a cup holder for that.
You can gain a spa-like experience just by sitting at home. Moreover, PVC construction makes it environmentally friendly. Thus, this bathtub alternative is preferable by many.
Sometimes, maybe our showers and tubs are out of commission. With one of these, we can inflate it and fill it up with water outside, put on a bathing suit, and still clean ourselves with shampoo and soap all the same, then pour the water away into the yard.
Jacuzzi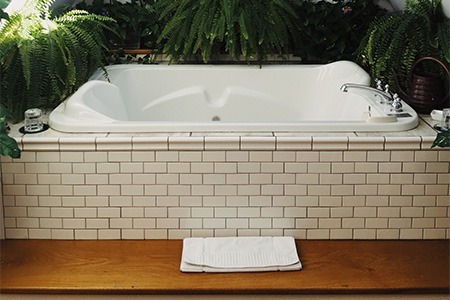 With a jacuzzi, blend the advantages of a hot tub and spa into your bathing experience. After a tiring day outside, relaxing in a jacuzzi is superior to any bathtubs. It helps to have modern types of hot tubs that don't have a lot of "lead time" to be ready for you to climb in.
It uses heated tubs to provide warm jets of air or water. These jets will eventually heat up the tube, acting as a gentle massage for the muscles and joints. What makes these tubes unique is the several perforations where the jets are situated.
There is a separate motor controlling these jets. Overall, this jacuzzi experience acts as a great joint and muscle relaxer. It offers many health perks for de-stressing.
However, when compared to other bathtub alternatives, this is the most expensive one. It has a high maintenance cost to go with it. Some users find it slightly noisy too.
Walk-In Bathtub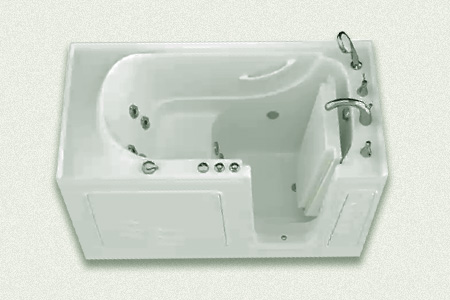 Last but not least, we bring to you the most therapeutic shower experience: a walk-in bath. It's an enclosed bathtub boasting a waterproof door. When the user closes the door, water fills inside the tub. Later, after a great shower, the person drains the bath and comes out safe.
If you are looking for options to remodel your house for a comfortable bathing experience, the walk-in bath is one good option. It has a low threshold, so anyone can step inside without any trouble jumping over the edge of a tub.
Unlike other bathtubs, this type has an accessible design, making entering and leaving the tub more secure, easier, and comfortable for the elderly or mobility-impaired. It can be used by people of every age. However, the installation costs of a walk-in bath are too high. The price can also create holes in your pockets.
As for the water holding capacity, walk-in tubs can hold more water than any normal bathtub. Various models and sizes are available to meet the demands of users.
Bathtub Alternatives to Get Away from the Traditional
Hopefully, our recommendations offered a perfect solution for your bathtub situation.
So, which option seemed the best from our list of bathtub alternatives? It'll be up to you to decide.
You'll Also Enjoy: