13 Types of Redbud Trees to Add a Splash of Spring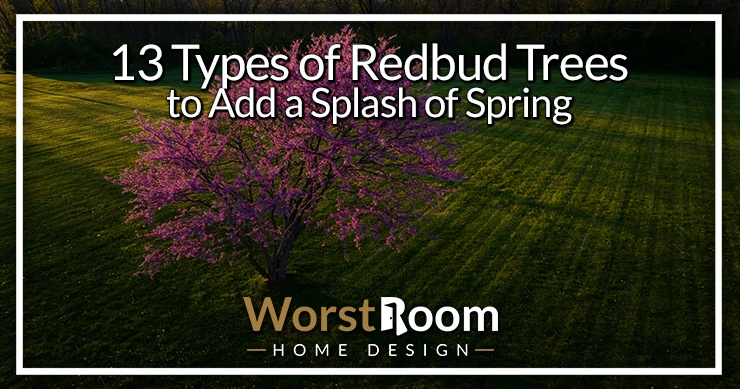 Any types of redbud trees are the best way to add spring colors to your backyard. The whimsical pink and red flowers will make any garden area look breathtaking.
While different redbud tree types are grown in southwest states like Texas and Oklahoma, they are seen in abundance in California, Arizona, Utah, etc.
Redbud trees are known as the 'telltale sign of spring." They are native to the Eastern States of North America; however, it does grow in huge numbers from the Southern states to Northern Florida.
Heart-shaped leaves of different colors provide great shade inside the garden areas, while the foliage becomes a sight to see with its tiny blooms of white and pink.
So, without further delay, let's go ahead and learn about the redbud tree that you might choose to plant next in your backyard.
13 Types of Redbud Trees
Redbud trees are members of the pea, legume, or bean family called the "Fabaceae." This flowering-plant family is renowned for its canopy-like blooms with a colorful showcase of red and pink flowers that is pleasant to all eyes. Below are insightful descriptions of the different types of redbud trees to plant in your backyard.
Hearts of Gold Redbud Trees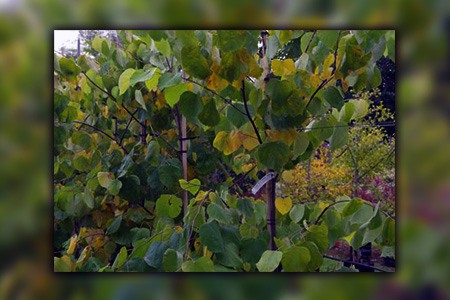 Native to North America, the Hearts of Gold Redbud tree is deciduous and famous for its golden foliage.
As described by its name, Hearts of Gold redbud trees are one of the first of their kind, showcasing golden-colored foliage. It is significantly featured because of its warm-yellow foliage, which eventually transits into pale green shades with the tree's maturity.
Pea-like violet flowers cover the tree's branches while perfectly complementing the golden foliage. In addition, the heart-shaped leaves are uniquely shiny and can tolerate the hardest of sun heat.
The tree can grow high up to 25 feet and go wide around 18 feet. Hearts of Gold grow best in well-drained land with good moisture. The foliage strongly calls bees, birds, and butterflies towards it.
Moreover, the tight structure of the tree adds more beauty when planted in small-sized gardens or hedges. These redbud types provide sufficient garden shade as well.
Rising Sun Redbud Trees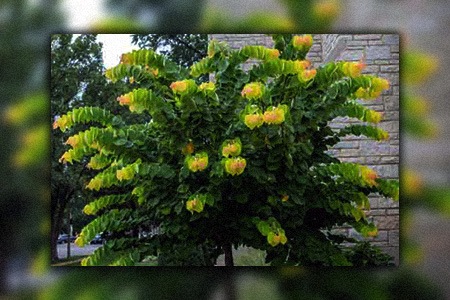 More commonly known as the "Judas redbud" or "Love" tree because of its heart-shaped apricot leaves, the Rising Sun is a beautiful deciduous redbud tree rich in warm colors. Since the warm shaded leaves plus the violet-colored flowers all grow together in the tree, it is known as the 'Rising Sun.'
This redbud tree features abundant quantities of rosy violet flowers that are pea-like. The flowers start growing with the start of spring while it is sported by the warm tinted leaves of yellow, gold, and orange.
Fuchsia flowers grow in bunches alongside the company of golden foliage. Sometimes peach and green tints are seen as well. As for the height of this redbud tree is not that tall and will grow about 15 feet maximum with 8 feet in width.
Therefore, smaller backyards and cottage houses are the most suitable locations where one can grow these types of redbuds. Soils with quality moisture are required for the Rising Sun to grow ideally. It also required lots of sunlight to stem entirely.
Texas White Redbud Trees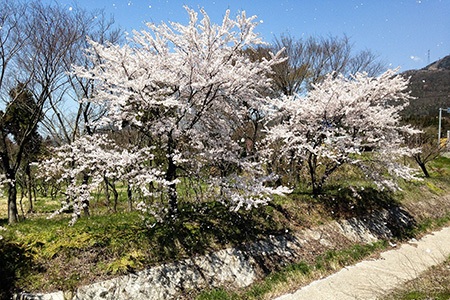 Considered an accent tree, the Texas White redbud tree varieties are grown natively in Oklahoma and north Texas. In early spring, they'll produce beautiful white flowers, and in time their thick leaves come in and mature into glossy, dark-green colors. The leaves take on a yellow tint in the fall.
If unattended the mature tree forms a round shape. The bark of these types of redbud trees can have coarse feel to the texture while the foliage comes in wispy and fine. It will grow up to 20 feet high and 20 feet in diameter.
All you need to do for these low maintenance redbud varieties is to make sure the soil drains well and that it at least gets partial sun if not full sun exposure. It's pretty tolerant to air conditions so it even works well in large urban areas of cities.
Forest Pansy Redbud Trees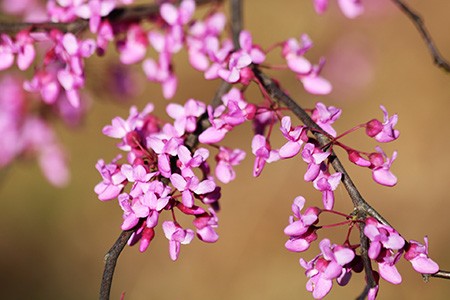 Being one of the most famous deciduous Eastern Redbuds Cultivar, Forest Pansy redbud trees are commonly found in many central and eastern parts of North America.
Forest Pansies are trees with multiple stems which produce blooms of rose-pea pink flowers. When summer arrives, the vibrant scarlet shades transit into burgundy shades giving the tree its phases of colors-which is excellent for big backyards with several blooms.
The blooming phase of Forest Pansy starts in April when the trees start with the production of flashy leaves of heart shapes. These redbud trees grow up to 20 to 30 ft and get around 25 to 35 ft wide.
These redbud tree types grow better in fertile muddy lands with sufficient moisture. Forest Pansy trees are the perfect trees to have in gardens that focus on a more wildlife visual as it creates a central focus overall.
Merlot Redbud Trees
Merlot redbud trees are hybrid trees that come from the mixed character of the lesser-known Texas White Redbud and classic Forest Pansy trees. It features the characteristics and nature of both the mentioned redbuds of the Eastern Cultivar.
Dark shades of thick purple leaves signify the uniqueness of this hybrid tree. The name of this redbud is derived from Merlot wine which has the same color as the leaves of this tree. The leaves have a metallic look and create an excellent contrast against the vibrant magenta flowers that wrap the branches.
Early spring is the best growth time for Merlot redbuds; they have a very rapid growth rate. This redbud tree has a maximum height of 12 feet and 15 feet full width. It grows in a vase shape-making. It is an excellent choice for small gardens.
While Merlot types of redbud trees grow fine in most soils, the best type of soil for the tree is muddy, moisture-rich soil. Vintage gardeners love planting Merlot redbuds in their miniature landscapes and gardens due to the dark-colored aesthetic it adds to the garden ambiance.
Ruby Falls Redbud Trees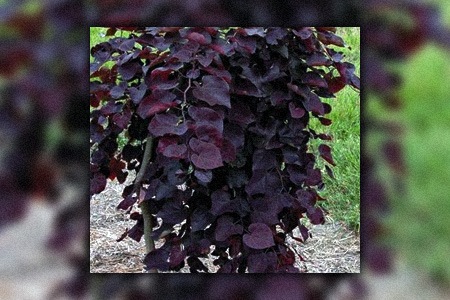 What makes the Ruby Falls redbud tree varieties stand out is that they have the "weeping" characteristic (like some types of willow trees) where the branches droop downward toward the ground. They still form a compact and dense canopy rather than being sparse and should still fulfill your visual desires for it.
These redbud types are a eastern redbud tree cultivar. People grow them directly in the lawn but since they max out at around 6 feet tall, they can fare well in larger types of planters as well. You can really spruce up your flower beds and general landscape with these.
The leaves are a deeper red-to-purple shade of color, blooming as soon as spring returns. Make sure it gets full sun or partial shade and that they receive deep watering to push the roots downwards and the tops upward. I think these look particularly nice with types of ivy plants growing around the bases in contained and maintained beds.
Covey Redbud Trees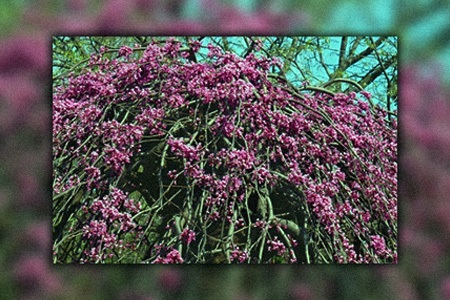 Covey is another cultivar of Eastern Redbud and is also called the 'weeping lavender twist. 'Historically, this redbud tree was a present from her parents to a lady named Cornelia Covey in the 1960s. Later, she planted the tree to line up her shrub garden only to find a blooming redbud tree after.
What distinguishes Covey from other varieties of redbud trees is that the tree's crown transits to various shapes as it matures. It looks similar to maple trees of Japan. The Covey redbud tree is characterized by small, vibrant flowers of violet, which bloom in masses against dark branches.
As the name indicates, the branches of this redbud tree are uniquely twisted with large heart-shaped leaves. Covey grows well in moisturized soils during early spring.
Covey types of redbud trees grow as high as 4-10 feet and has a broad width range of 4 to 10 feet for the height. This wide range of size and width makes it a great tree to be planted in medium-sized landscapes and backyards.
Silver Cloud Redbud Trees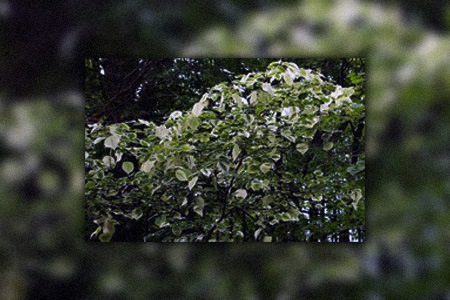 Silver Cloud stands out a bit from other redbud trees for its characteristics of being single-trunked with a bushy canopy. The Silver Cloud is a common redbud tree native to central North America, where it is found in abundance in the states of southern Ontario and North Florida.
The beauty of this tree is accompanied by fuchsia blooms which are rather pea-like flowers with light tints. On top, the foliage of Silver Cloud starts with a light pink color and eventually turns into a peachy pink.
Early spring is the peak season for the beautiful fuchsia flowers to grow. The flowers wrap themselves around the tree's branches while a spectacular contrast of lime green leaves and pink blooms are created throughout the tree's body. Additionally, the subtle white borders of the leaves make a great highlight.
Silver Cloud redbud tree types grow best in muddy soils with average moisture. It grows about 10 feet in length and 12 feet in width. These trees are a great addition to most backyards and usually more extensive gardens.
Western Redbud Trees
Characterized by its excellent tolerance of all soil types, the Western Redbud tree is deciduous. It is native to most southwestern US states like Arizona, California, and Utah.
This beautiful redbud tree stays colorful throughout all the seasons but more particularly produces flowers during spring. The blooms are signified by purple-rose-colored flowers, which contrast amazingly against shiny-grey branches.
The Color combination of the vibrant flowers attracts pollinators like bees, hummingbirds, and butterflies. The leaves of this tree are heart-shaped, which start as light green and transit into darker greens over time.
Western Redbud is a perfect tree to have in most parks, streets, and big yards since it is an ornamental plant that grows from 6-20 feet in height with a width of up to 15 feet. As for the soil needs mentioned before, the tree suits itself in most clay and alkaline soils.
Alba Redbud Trees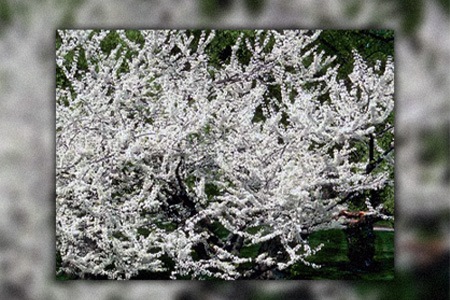 Most commonly known as the "white redbud" tree, Alba redbuds are characterized by abundant blooms of tiny white flowers that grow during the spring. Alba types of redbud trees originate from the central to the east of North America. They are specifically seen by the Great Lakes and even in some areas of New York.
This redbud tree features heart-shaped bronze leaves, which eventually turn into shades of green and then the classic yellow hues when Fall arrives. However, what signifies the beauty of the Alba redbud tree mostly is its broadly spread crown accompanied by several branches.
For its height, Albas is one of the most resourceful trees that can grow up to 15 to 20 feet and provide shade.
They grow best in moisture-rich soil but do not require much maintenance for long-term growth. The Alba tree grows to its full and best extent around open forests and stone-lined waterways.
Ace of Hearts Redbud Trees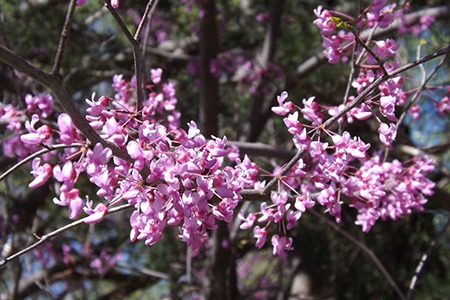 Significantly known as the dwarf of redbud trees, Ace of Hearts redbud tree types are one of the unique redbud trees that are an excellent choice for most house gardens.
As the colors of many characterize this redbud, it is often called the "arboreal treasure." The tree is complemented by classic pea-shaped purple blooms produced in spring. The leaves of this redbud are heart-shaped but with a more ace-like form which is why it is called the Ace of Hearts.
Ace of Hearts grows as high as 12 feet with a width of 15 feet. They also showcase dark green canopies and foliage, which eventually turns warmer by Fall. One unique trait of this tree is the artsy silhouettes it reveals with its branches when the leaves have fallen.
These redbud tree varieties sustain significantly in the heat and requires muddy soil to grow in. While it is suitable for most landscapes, the tree must get abundant sunlight for hours to produce blooms.
Mexican Redbud Trees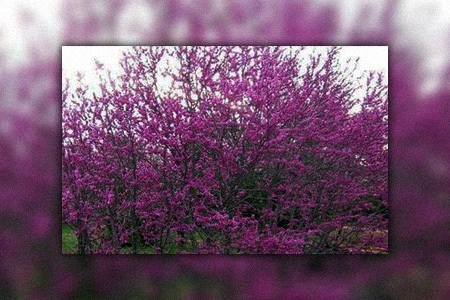 Mexican Redbud trees are the smaller kind of redbuds amongst other redbud trees like Oklahoma or Texas Redbud. These types of redbuds grow fine in drier areas as well.
The leaves of these varieties of redbud trees are exceptionally smaller and thicker with wavy ends. Rose-lavender flowers feature the beauty of the blooms of this when spring arrives, much like all the types of dogwood trees do.
On top, it becomes a fantastic sight to the eyes when these flowers contrast against the bluish-green foliage of these types of redbud trees.
This deciduous redbud grows between 5 to 12 feet with several stems for height. The Autumn seasons mark the best phase of the tree's blue foliage.
The Mexican redbud tree is pretty soil-friendly and does not require much maintenance. They have the features of a classic redbud tree and preferably are a great choice of redbud to have in any planting landscape.
Chinese Redbud Trees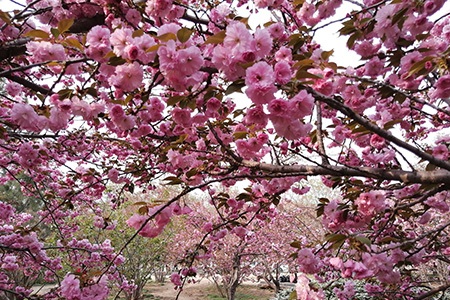 To no surprise, the native area for the Chinese redbud types is central China, though it can tolerate being grown elsewhere along similar latitudes so that the temperature and humidity are similar.
It's enjoyed by many for it's gorgeous pink and purple flowers that last all spring. Not only are these redbud varieties pretty but the petals are produced in prolific amounts.
Ultimately, it will also grow relatively large leaves that mature into heart shapes. These leaves start off green with hints of red and thne become yellow in autumn.
Types of Redbud Trees to Add Color to Your Property
Try your best to plant redbud trees in moisture-rich soils which are drained well. Additionally, sufficient sunlight will help them reach their tallest height and even spread freely to a good width. Good luck with planting these pretty redbuds!
There you go with the most common types of redbud trees that are planted in most gardens. Do not worry much if you aim to produce one, as these trees are low maintenance and resistant to most temperatures.
You'll Also Enjoy: