40 Coneflower Varieties for a Wildly Colorful Garden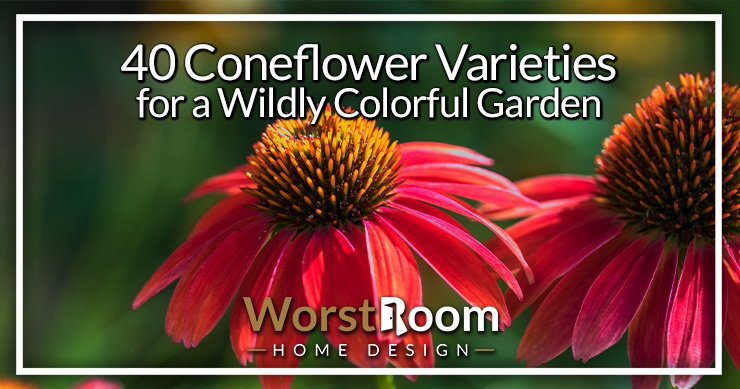 The Echinacea genus, which contain all the coneflower varieties, has several species and and sub-types in the daisy family that can help you get a better idea about what you can expect so that you can grow them at home while meeting your expectations.
40 Coneflower Varieties
Take a look at some of the types of coneflowers and their characteristics below. There are 10 species with many sub-types and hybrids found in the eastern and central regions of North America. If you want to find them in nature, look in spacious woods and well-drained prairies.
Green Jewel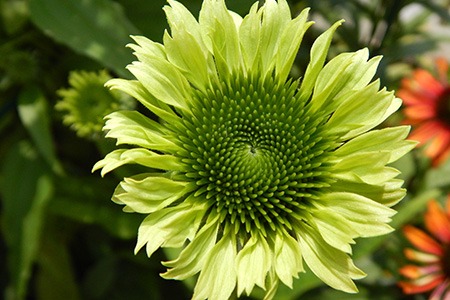 This variety can grow up to two feet in height. The flowers are glossy and green in color, while the central round head has multiple spines that are darker green in color. This head tapers down into a cone-like shape.
Firebird Coneflower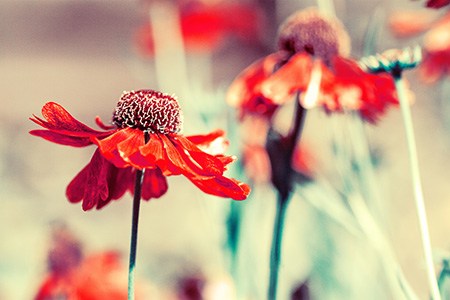 The 'Firebird' variety has rich red-orange petals on the flowers, resembling fire. The central head stands out while the petals usually face downward. Growing around 1.5-2 feet tall, this plant is quite hardy.
Secret Passion
Native to certain parts of the United States but mainly cultivated worldwide, this coneflower has a bright red central disc with layers of petals. The surrounding petals are more scattered and light pink in color.
Butterfly Kisses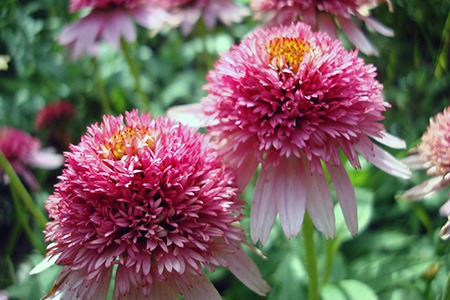 Remaining around 1.5 feet tall, this coneflower is similar to the previous one in the sense that it has a brighter center flower that is dark pink in color while the surrounding petals take on a lighter pink.
Fragrant Angel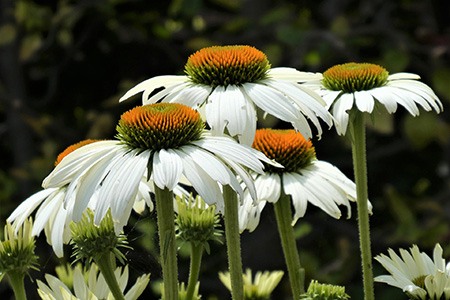 This coneflower comes closest to daisies, given that coneflowers belong to the family of daisies. It has a central yellow-green globe with surrounding white petals, often having double layers. The stems are thick and green.
Daydream Coneflower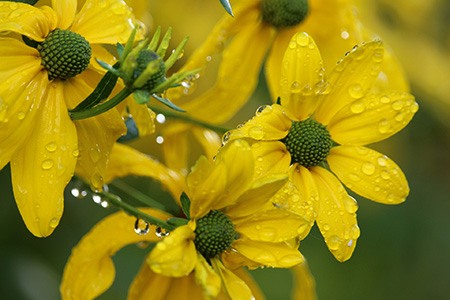 With a central round head that is golden-yellow in color like you see in many types of marigolds, this plant has surrounding butter-yellow petals that are smooth and silky to the touch. The head connects to the central stalk with the leaves being elongated and dark green.
Elton Knight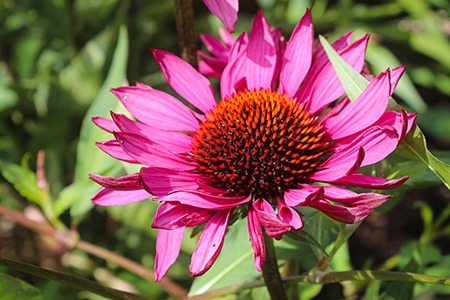 Blooming in summer and fall, the flowers of these coneflower varieties are bright pink or magenta in color. The central head is orange-red in color. The plant tends to reach a height of three feet.
Mango Meadowbrite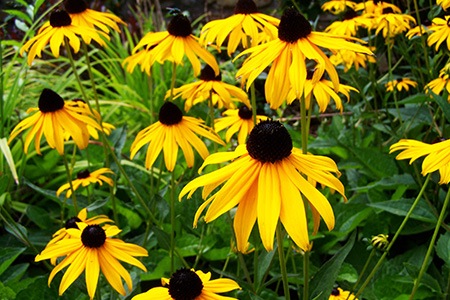 This variety has the colors of a mango, earning it its name. The petals face downward from the central bright orange cone and usually bloom fully when there is full sun.
Magnus Coneflower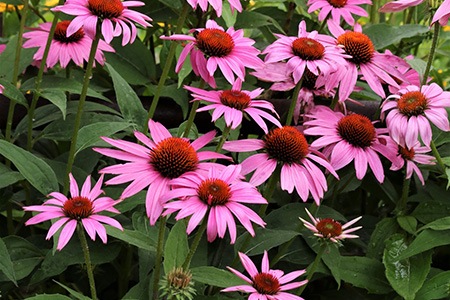 These echinacea varieties prefer full sunlight to thrive. The cone in the middle is rust orange in color, while the outer petals are light pink. They can either face downwards or upwards depending on the conditions.
White Swan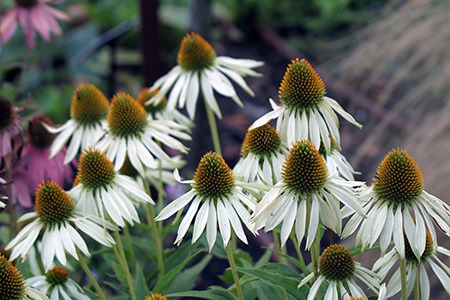 Like other coneflowers, this variety has a distinct cone with the surrounding petals. The cone is golden-green in color while the petals are white or cream, lending them a swan-like appearance.
Sombrero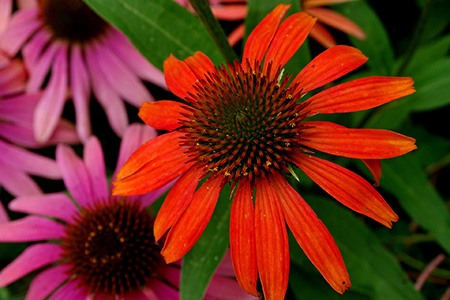 These coneflowers usually come in bright pink and red colors while having dark green foliage. They grow up to two feet in height and have a central cone that takes on a darker and deeper red-brown color.
Greenline Coneflower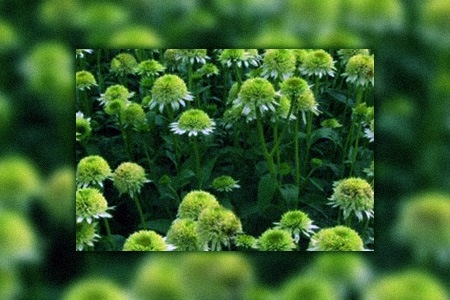 These flowers bloom in the months of spring and summer and are slightly different from other coneflowers. The central cone immediately gives way to double lime green petals and then to the outer short petals.
Tomato Soup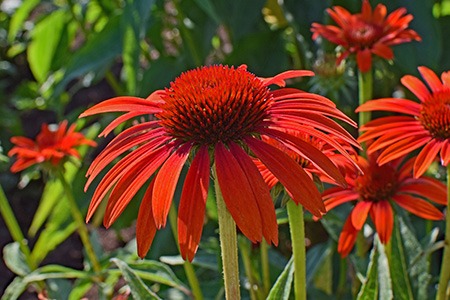 These flowers are aptly called 'Tomato Soup' given that the bright red outer petals are tomato red in color with the cone being red-brown. This plant can do well with infrequent watering.
Kim's Knee High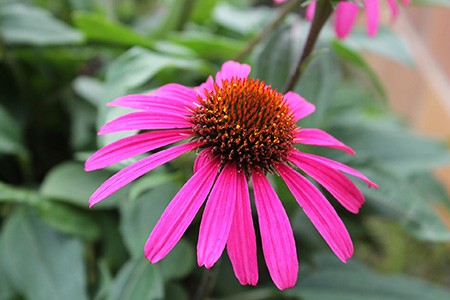 Once the thick stalks manage to become 1.5 feet tall (knee level), the flowers start blooming. The bright orange cone has surrounding pink-purple petals that face downward. The leaves are dark and toothed.
Ruby Giant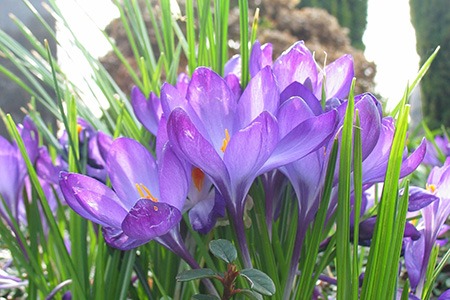 These flowers are around seven inches in size, while the plant itself takes on a height of around three feet. The cone is bright orange and the petals are ruby pink in color.
Avalanche Coneflower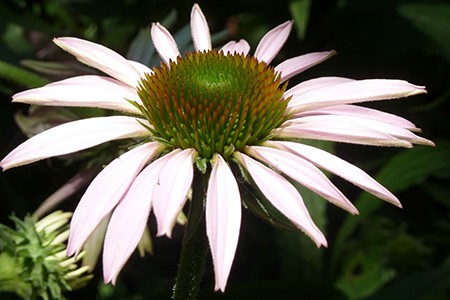 The central green-yellow mounds here are sometimes tipped, while the petals are long, thin and white. The plant thrives in well-draining and coarse soil, with the flowers blooming in summer and fall.
Solar Flare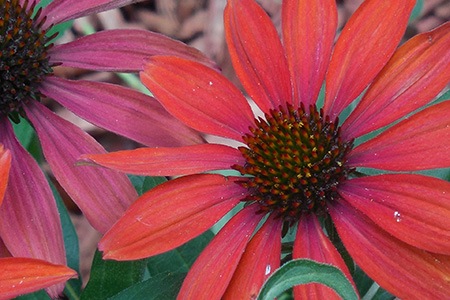 These coneflower varieties grow and remain erect, with the cones and stalks being deep red in color while the petals around the mound are reddish-pink. The plant can reach a height of three feet.
Milkshake
This is an interesting plant since the flowers have a central golden-green mound that gives way to white double blooms. The outer petals are also white and creamy and tend to droop downward.
Leilani Coneflower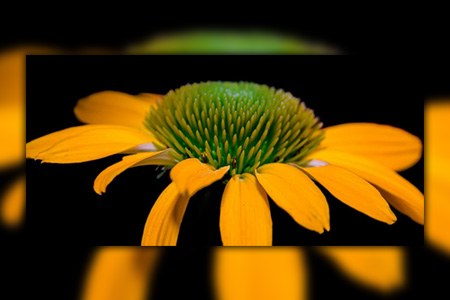 Blooming in summer and fall, this coneflower resembles many types of sunflowers with its bright yellow flowers and golden-green cones. The stalks stand erect, usually thriving in chalky and coarse soil.
Marmalade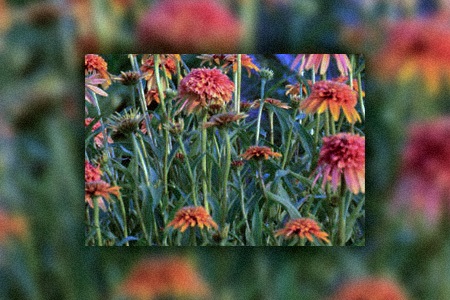 These perennials have the yellow-orange color of marmalade. The mound of these types of conflowers is green in the middle but barely visible through the orange double bloom. The outer petals are bright yellow in color.
Harvest Moon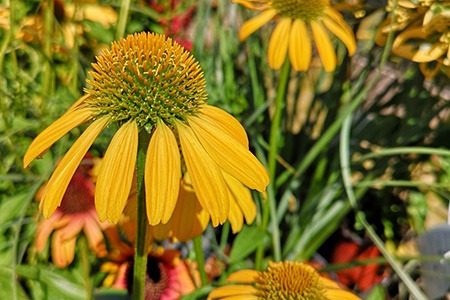 These coneflower types typically bloom in the months of summer. The flowers have a golden-bronze mound with the petals being light yellow in color, often with hues of orange. The petals usually droop downward.
Intense Orange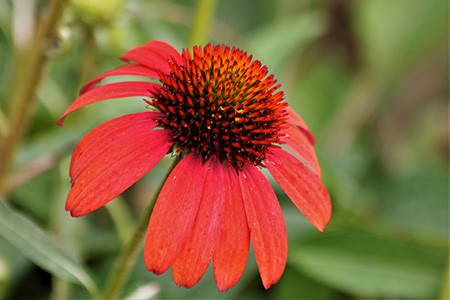 With dark green leaves, this plant variety has brown stalks and mounds. The petals are bright orange in color while also containing hues of flaming red. The flowers bloom throughout summer and fall.
Primadonna Deep Rose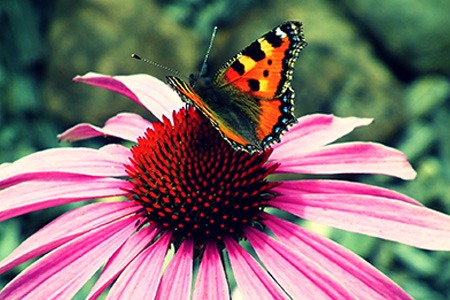 Blooming mainly in the months of summer, this variety is a perennial that loves full sun with a bit of shade. The cone is orange-brown while the petals are pink-purple in color, resembling a rose.
Cheyenne Spirit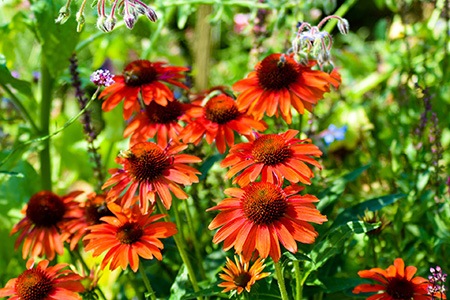 This plant contains a unique assortment of flowers, bearing all sorts of colors like red, yellow, pink, white and purple. The stalks are sturdy and grow up to three feet tall and usually bloom flowers in summer.
Playful Meadow Mama
The central mounds of these coneflower varieties are deep red in color, with the petals being the pink of certain berries. A base layer of petals is also present here. The tips of these petals are usually white.
Merlot Coneflower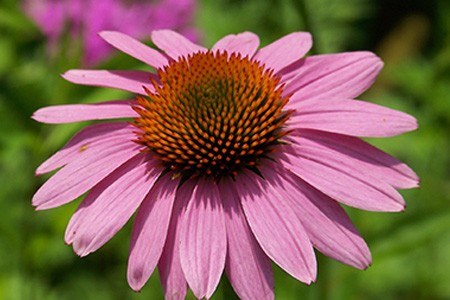 With bright red cones and stalks, these flowers are appropriately termed 'Merlot'. The petals are pink in color and tend to droop slightly downward. The plant grows up to three feet tall.
Quills & Thrills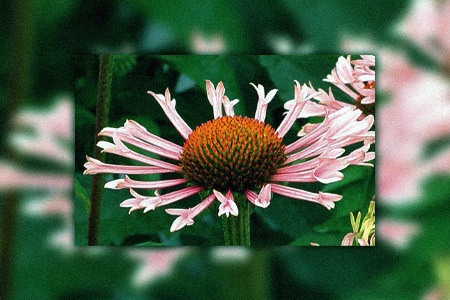 While the central mound is standard and orange-green, the petals are folded up in a cylindrical shape with their tips stretching out, making them look like quills. The petals are pink-purple in color. These can easily be confused with the purple colored types of aster varieties, visually speaking.
Pink Poodle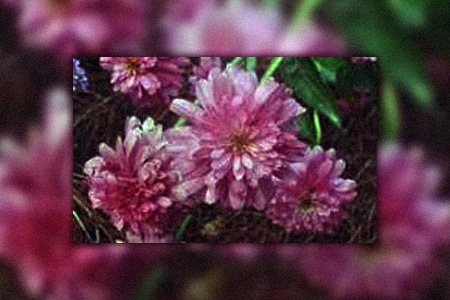 This variety looks slightly different from the others. The central portion has orange spines, while the petals are double blooms containing multiple layers carrying a pink color. The fluffiness resembles a poodle.
Razzmatazz
The central portion of these echinacea types are yellow, while the surrounding layer is a double bloom, followed by the distinct petals of this species that act as the base for the double bloom. The flowers are light to dark pink in color.
Salsa Red
If you're thinking of the bright popping red color of salsa, you have the right image in mind since the flower petals carry this color too. The cones in the middle are a deeper red-brown in color.
Cotton Candy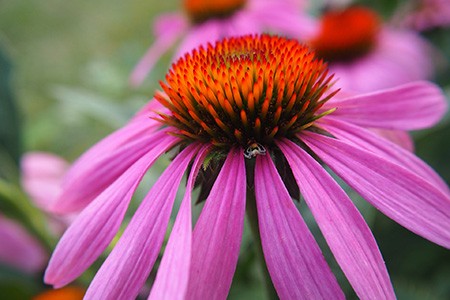 The bright pink double blooms and the surrounding light pink petals make this coneflower look like cotton candy. Growing up to two feet, these flowers do well under the full sun.
Bravado Coneflower
These plants can grow up to four feet tall, making them taller than other varieties. This, combined with their hardiness, earns them their name. The central cones are dark pink-red while the petals are a lighter pink.
Warm Summer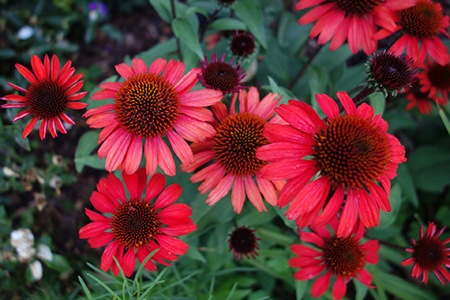 The flowers of these coneflower varieties bloom in multiple colors, such as yellow, pink, orange and red. Their mounds and stalks are typically and consistently red-brown.
Double Scoop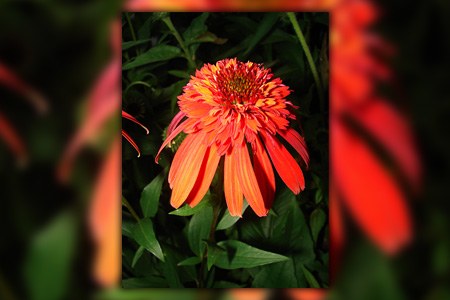 Since this plant has a double bloom with another layer of petals, it tends to be called 'Double Scoop', not to mention that both layers have differing shades of red and pink.
Pink Double Delight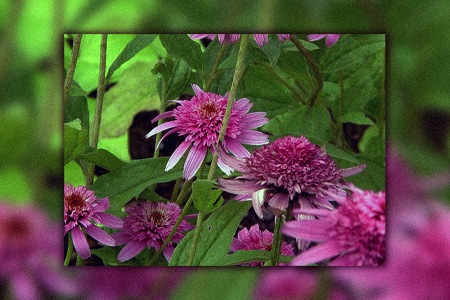 The mounds are orange but covered by dark pink double blooms. These form the center of the flower, while the exterior petals carry a lighter shade of pink.
Doubledecker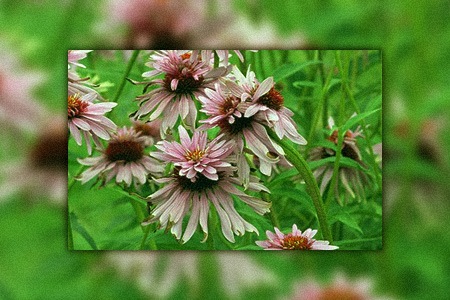 Perhaps the most unique of them all, the 'Doubledecker' has a dark brown mound with drooping pink-purple layers. On top of the mound is another tier of pink-purple blooms.
Pink Shimmer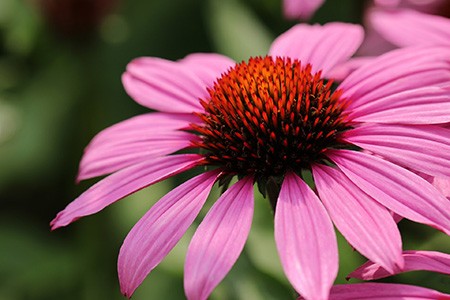 These types of echinacea stands erect through its dark green stems. The flowers bloom in summer and fall and are pink in color, with the cone being yellow.
Hot Papaya Coneflower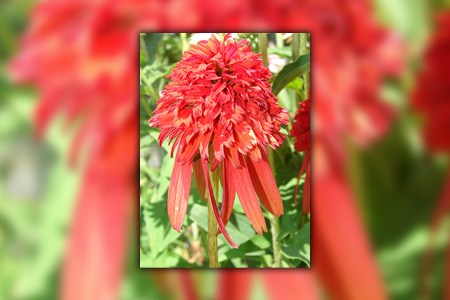 The petals on these types of coneflowers are bright red like many types of tulips and droop more than in other varieties. A red double bloom directly around the cone is also present.
Ferris Wheel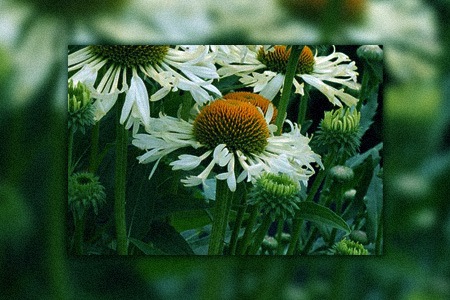 The mounds here are golden-green with the petals being creamy white. The petals of these varieties of echinacea are cylindrical with multiple tips, making them look like a wheel. These flowers usually bloom in summer and fall.
Flame Thrower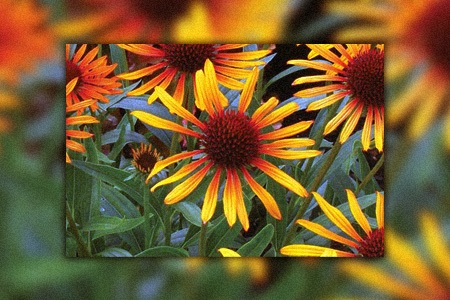 With dark brown-black cones, the petals of this plant have hues of yellow, orange and red, resembling a flame. These perennials reach a height of up to four feet and generally prefer coarse soil.
Coneflower Varieties to Spruce Up Your Garden
Now that you know briefly about each of these species, it might become easier for you to make a decision about growing these coneflower varieties at home. Remember to care for them well so that you can brighten up your garden or house.
You'll Also Enjoy: