8 Alternatives to Sliding Glass Doors That Look & Work Much Better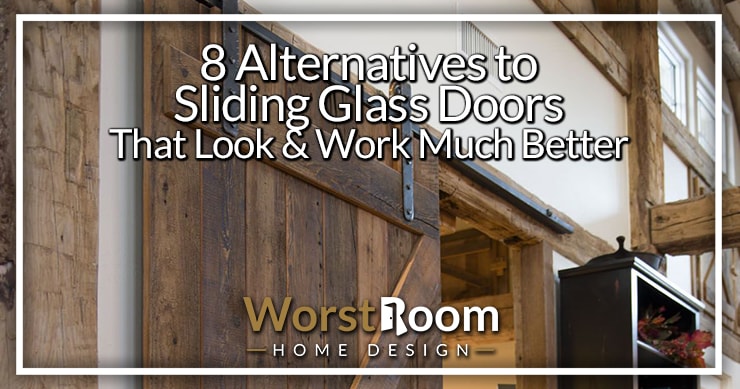 Alternatives to sliding glass doors can not only spruce up your design but can add a lot more functionality, privacy, and enjoyment to your home.
Sliding doors are commonly used as patio doors. They have two glass panels and a screen. What makes them popular is that they save space and give the house a nice look.
But they're also expensive and need more maintenance than regular doors. They're less durable and you can't cut corners with them.
8 Alternatives to Sliding Glass Doors
So it's time to look at some alternatives to sliding glass doors. No more fiddling with janky types of sliding glass door locks. No more doors not sliding well due to dirt and pebbles in the tracks. And we've got some great ones here. Let's do this...
Shoji Sliding Doors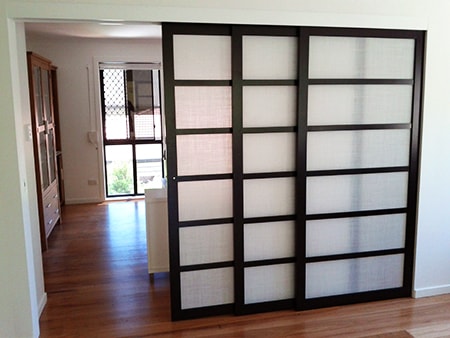 If you want to stick to the concept of sliding doors, here's one. The shoji sliding doors give your house a great new look without having to change the mechanism of the frame and such. The way you operate the doors stays the same but it's better and improved.
The name comes from Japanese architecture and shoji sliding doors were actually created to stick translucent paper onto bamboo doors. This technique has been adapted in different parts of the world and there are some Westernized interpretations of it that you might like.
You're likely to find a wooden framework with frosted glass panes and a sheet of paper between the two plates. You can learn how to frost glass and make this work even with a custom plexiglass build. These doors are useful on hot summer days. You'll have sunshade without curtains or blinds. They also provide privacy in crowded spaces.
Pivot Doors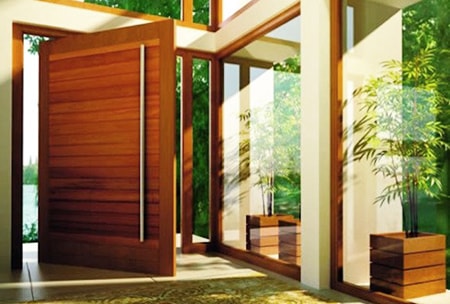 Pivot doors are quite unique but they are also not overly popular because it's difficult to install them. You must use money, time, and put in some effort to install pivot doors.
But they have a visually stunning look and those who have chosen pivot doors think they're a great addition to the house. The name comes from the style of operation. You need to pivot and push it to the left or right.
The doors are not really cheap and it takes work, but they're beautiful sliding glass door alternatives. So the cost isn't very appealing to a lot of people. What works in their favor is their aesthetic appeal.
French Doors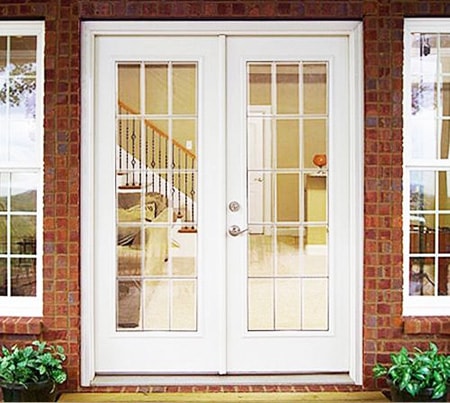 Apart from sliding door alternatives, French doors are a very famous design for homes. They're also very popular as patio doors. They are ornate and give a lush look to the house.
But at the same time, they can be simple, elegant and understated. However, they are quite expensive. So there's that. Not all options to replace a sliding glass door are cheap but they'll look and work so much better.
On the plus side, French doors are easy to get and replace should you encounter trouble or just want to redesign. But if you are going from sliding doors to French doors, you will need to get a little work done.
These doors open and shut on a hinge. So you need to add that to the door frame. That shouldn't be a problem since installing French doors is actually quite simple. And there are professionals everywhere who can work on sliding glass door alternatives without trouble.
French doors provide good insulation. They usually come with double-glazed glass and are energy efficient. They keep the house warm in winter and cool in summer.
They are practical and great lookers. So it is worth spending money on. Because they are so popular, you'll find them in a variety of designs to match the look and feel of your house.
Of the things that don't work in their favor is the price. But they are high quality and the finished product will certainly put a smile on your face.
Center Swing Patio Doors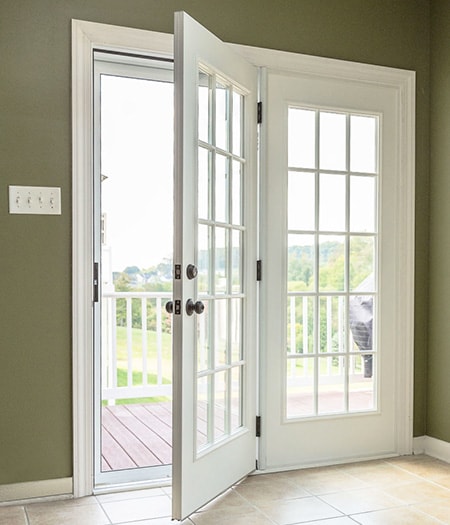 Center swing patio doors are for those of us who want something good looking but don't want to spend a whole bunch of money on it. These doors are like French doors but you can keep one of them shut while the other is open.
It's comfortable, practical, and has the aesthetic appeal of French doors and other alternatives to sliding doors if you want to entirely get away from that style.
The best thing about center swing patio doors is that they are affordable. It's easy to buy and install them. They look good and function well too.
They're durable and preferred as a patio door entrance. You can even add mesh sliding screens to these doors and get some fresh air while keeping the bugs out. It's a great alternative for a sliding glass door.
But here is the one problem. Some folks don't like being able to open only one door. And yes, sometimes it's not practical either. But if you can make that work, these are a pretty great option. They're better than figuring out how to secure a sliding glass door.
Folding & Accordion Doors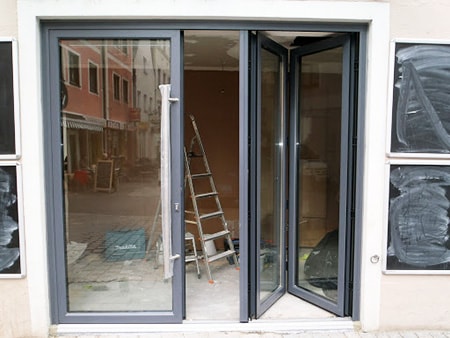 Accordion doors come in beautiful designs. They're unique in the sense that you can push them to the sides of the frame and create space between the indoor and outdoor areas.
Folding or accordion doors are good especially for large spaces that open into the patio. But they don't have to always be large. You can get smaller versions of these doors to match your needs, like the ones in closets.
They are popular because they can open up and allow you to move things in and out, especially if you are doing that with bags of groceries or setting up a picnic or moving furniture in and out. While they are not as fancy as some other options, they are pretty appealing visually compared to other sliding glass door alternatives.
These doors are practical and pretty. They are fun to install and you can start using them without any delay. But if you are chasing practicality, this is a good choice.
Glass Roll-Up Door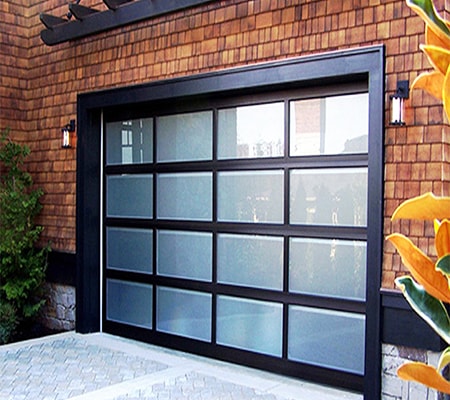 This is one of the most stylish glass doors out there if you are looking for an alternative for sliding glass doors. The design is modern, minimalist and it suits perfectly well if you have a big front to cover and want a really good design.
They're fun to own but the installation isn't easy. They look like garage doors and you can roll them upwards in the front into the frame. If you want to replace an existing sliding door, it will take some work. You will need to modify your frame a bit.
You'll also have to create space for the door inside the walls. Installing a glass roll-up door is a little DIY home improvement project. So you'll need to think about the money and time you need to put into it.
You'll also need professional help to make it happen if you don't have some experience already. So be prepared for that. This might not be a one-day job after all.
However, the mechanism of the door itself is pretty interesting. It provides the same level of comfort that a sliding door does. In fact, some customers have found it to be more useful in some ways.
With a roll-up door, you have all the space you need to move large items in and out of the house. It's quite practical and has an impressive look and feel too. You'll get a great view outside your house and it's easy to operate.
The only thing to watch out for is the difficulty in installing it. You'll need to make some changes around the house too and that might be a bummer.
Dutch Doors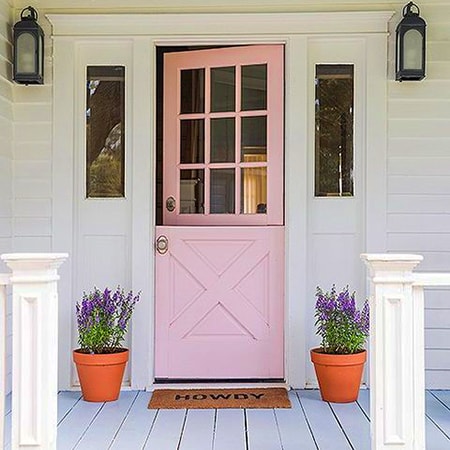 You might not think of Dutch doors as patio doors but they actually work as a great alternative to sliding glass doors. If you are unfamiliar, Dutch doors split in the middle and the upper part can be opened separately.
They usually come as a single door and are used as side doors that lead you to a backyard or the garden. But you'll also find them in the size of French doors which makes them great patio doors.
These doors are great for families with little children and maybe a couple of pets too. The design of these doors will help you keep them indoors.
Sliding Barn Door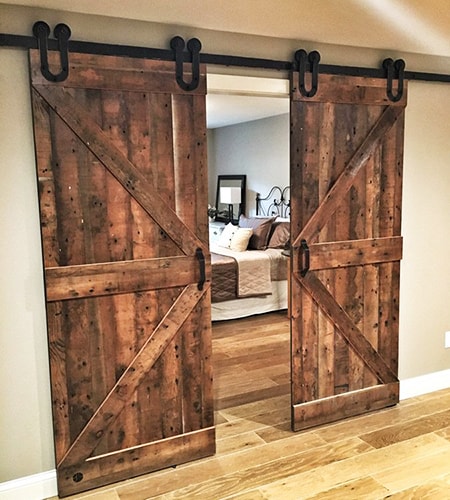 Barn doors are the last item on this list. Once again, you might not have thought of them as an alternative for sliding glass doors but they work. We are currently in the midst of a barn door revival culture.
So now is as good a time as any to think of them as fun alternatives, whether it is indoors for bathrooms and closets or outdoors leading to the patio. However, there is a downside.
You'll not get natural light like you would with the other options listed above. But you can make it work as a door for movie rooms or the bedroom where you want more privacy, and they look amazing.
Sliding Glass Door Alternatives Rock!
Replacing a door in the house can be as little or as much work as you want it to be. You must be able to answer the question: why do I want this change?
Once you know what you're looking for, your options will considerably be narrowed down. Glass sliding doors have been around for a long time and for good reason.
But we must move on to doors with better designs, unique functionalities and made with eco-friendly materials that are hitting the market. And most of these alternatives to sliding glass doors achieve that.
You'll Also Enjoy: