Can You Flush the Toilet When the Power Is Out?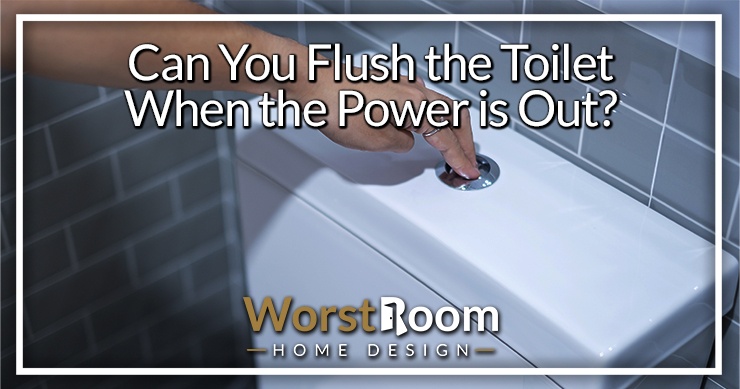 Imagine this; you finished doing your business inside the toilet, and the lights went out. You realize there is a power outage and is now faced with a big question - can you flush the toilet when the power is out?
It's a complex question to answer with a simple yes or no. There are a lot of implications in simply flushing a toilet during a power outage. But don't worry. In this article, we will guide you on how to deal with this dilemma.
What Happens When You Flush the Toilet During a Power Outage?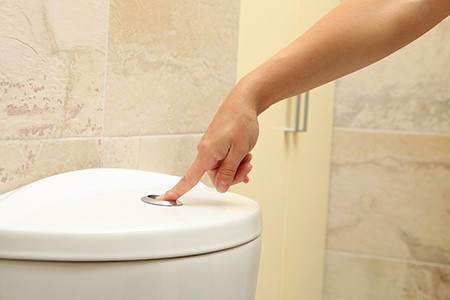 Can you use the bathroom when the power is out? Let me say first that if you have a traditional water heater (the big tank in the closet filled with water) that you can get quite a few flushes in on a standard (non-smart) toilet before you'll have any issues during a power outage.
According to a U.S. Energy Information Administration report last 2021, an average American experienced seven hours of power outages. Even within just a few minutes, it can cause overwhelming inconveniences.
Power outage causes a lack of pressure in sewage systems. Therefore, it's essential to consider a few things before you press the flush button if you know how the sewer system work will give you an idea of if it can function well even if there's no electricity.
First, consider the components of your toilet. Every toilet has two main parts - the bowl and the tank. The bowl needs to be filled with water to transport waste. On the other hand, it's the tank's job to store and releases water into the bowl when flushed. Some toilets have tanks that can be operated manually, while others, particularly newer toilets, need electricity.
Another thing to consider is the design of the sewage treatment system at your home. If you have a standard toilet, a power outage will affect its function. Standard toilets rely on gravity to pull wastewater out. It needs running water to do that. Without it during an outage, there isn't enough pressure behind it for solid waste to be removed.
But don't worry. The municipal water system uses pump stations and towers to maintain water pressure even during lengthy power outages. If you're living large city, your apartment building may have a pump that helps with the city water system.
On the contrary, flushing may result in an overflow if your home is connected to city sewers via any style of septic system, especially a septic tank. In this case, it will contaminate nearby drinking water sources like lakes or streams and damage any plumbing fixtures or appliances downstream.
Why Should You Avoid Flushing the Toilet During a Power Outage?
Can you flush the toilet when the power is out? As much as possible, it is advisable to avoid flushing your toilet when there is no power. A few times won't be a big deal in most scenarios with your typical types of toilets. Smart toilets use electricity to generate pressure and refill the tank. So, if the power goes out, you won't be able to use them. It could even cause damage to plumbing equipment or devices.
For example, water will not enter the bowl from the tank as it would in a standard toilet. Once you flush excess waste, there's no way of dispersing it through the pipes. Hence, it could result in sewage system backups and overflows. This could contaminate water sources and endanger the health of the people living near you.
Alternatives to Flushing During a Power Outage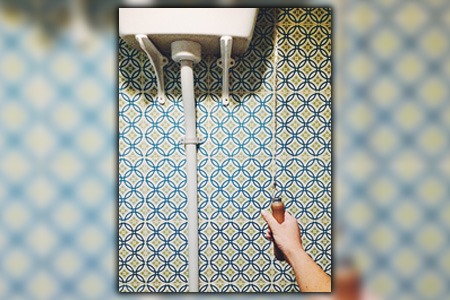 Finding a way to use the toilet without flushing can be difficult when there's no electricity. Fortunately, there are several alternatives that you can use when this unfortunate situation falls upon you. Here are some ways you can refer to;
Use Gravity Flush
Gravity flush is a trick you can pull whenever you flush the toilet. But it may sound more challenging than it may sound. You would need enough water to generate force to push down waste in the bowl. It also needs to be sudden. To do this, pour 1 to 1.5 gallons f water into the bowl. A trash can will do the work if you don't have a bucket.
Pour Water Into the Tank of the Toilet
Pouring water into the tank of the toilet is an old and simple trick. All you need to do is refill the tank with water and flush as usual. If you don't have a bucket or container for the gravity flush but have water, this will suffice.
Store Wastes
Storing your waste could be your last resort when you have no running water. You can temporarily store waste in a sealed and appropriate container. You can use a bucket, but make sure to cover it to prevent odors from escaping. Remember to empty the container when the power is restored by flushing the waste down the toilet.
Don't do things like pouring Fabuloso in the toilet tank or bowl while letting waste linger in the toilet. This can damage the seals on the flapper and fill valve, leading to larger problems.
Use Composting or Portable Toilets
Composting or portable toilets are also excellent solutions in this situation. These models need less maintenance than traditional flush toilets, saving your routine cleaning time. Disposing of waste in containers is easy because they can neutralize odors too. Moreover, They can also decompose solid waste into humus through aerobic decomposition.
How Can You Prepare Water Availability for a Future Power Outage?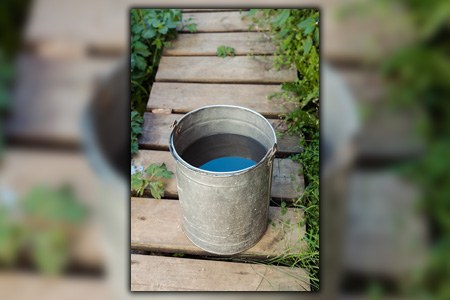 Suppose you have received advance notice of an impending storm or event that may cause power outages. Can you flush the toilet when the power is out? With some preparation, you'll be able to refill the water tank as much as you need. You can save some water for later use with these methods:
You can use outside water instead. It could be a swimming pool, a water feature, a rain barrel, a backyard pond, or gray water.
Your water heater is another excellent source of water. Depending on the size, you can drain anywhere from 20 to 60 gallons. Allow it to cool before pouring it into the toilet bowl to avoid cracking the porcelain.
Fill as many buckets as you have on hand. A single 5-gallon bucket will get you around three flushes if you pour it.
You can keep water in your bathtub. A typical residential bathtub has a capacity of 42 gallons which is more than enough to flush the toilet dozens of times.
You can plan to have some bottled water on hand for your own drinking water, as well as foods you can consume without cooking, unless you have a propane grill outdoors, etc.
FAQs Using the Toilet When the Power is Out?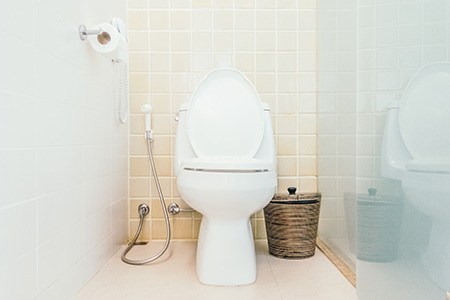 Whenever the topic of long-time power outages comes up, we always focus on the bare necessities like trying not to open the refrigerator or freezer doors, whether or not we can flush the toilet, and if the wifi will still work. Let's cover some common questions we always hear.
Do Toilets Flush When the Power is Out?
There is no definitive answer to this. If there's still enough residual water pressure, you can but only a handful of times. It is because without power, the pumps will not work, and there will be no water pressure. Unless you have a gravity-fed waste removal system, you will have no problem carrying the waste away as long as the toilet tank refills with water.
Can I Use Water in General if the Power is Out?
Yes. You can still use water if the power is out if you have water sources such as wells and springs that are not dependent on electricity will still be available for use. In some cases, drawing from a municipal water supply with a manual pump or other backup systems may be possible.
Can You Take a Shower During a Power Outage?
It all depends. Showering without electricity is possible if you use a traditional tank-style water heater types. But that would only be possible if it had some hot water on hand. A gas-powered or solar-powered water heater or an emergency generator also lets you take warm showers even if there is no power.
How Many Times Can You Flush the Toilet Power Out?
Generally, you will be able to flush only once or twice before the power of the flush is reduced. This is due to a decrease in water pressure as more and more water is used with each successive flush. So, it's best to limit flushing to no more than two or three times in succession.
So, Can You Flush the Toilet When the Power is Out?
Before you flush the toilet during a power outage, it's crucial to understand how toilets work without electricity since it can cause potential problems to arise. It can damage and disrupt your home's plumbing system, which will need costly repairs.
It could also lead to more severe issues with sanitation. Therefore, it's essential to know how your sewage works. In this way, you can determine if your toilet will normally function when there's no power at all. So, can you flush the toilet when the power is out? If you don't have a smart toilet, then sure, but you'll experience less and less water pressure to refill the toilet tank each time.
You'll Also Enjoy: