20 Types of Morning Glory to Bring Charm to Your Garden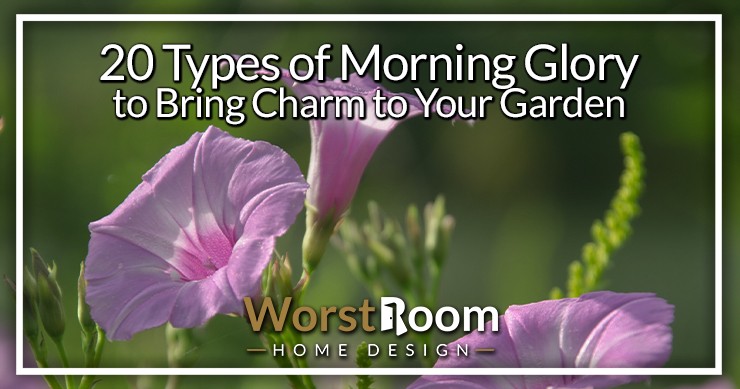 When summer comes, it brings along the stunning colors to the blooming morning glories, and we all love it. All types of morning glory are absolute charmers with heart-shaped petals, fascinating trumpet-like form, and delightful fragrance.
Apart from the most common Heavenly Blue, there are more than 1,000 different types of morning glory that adorn your garden fences, work as an excellent ground cover, are used in preparing medicine, and even make a great human diet
Let's have a look at some species of morning glory and get to know this crowd-pleaser a little more so that you can fill up your garden with all the vibrant colors from early summer to the first frost.
20 Types of Morning Glory
Morning Glory plants are to some a beautiful ornamental flower and to others a weed. In fact, the name of the genus, Ipomoea, means "like a worm that eats wood," which refers to its rapid and broad growth. The Brooklyn Botanic Garden named it their Weed of the Month at one point.
The Japanese have cultivated morning glories since the 9th century and are so good at it that they're responsible for the creation of more varieties than any other country on the planet.
Since there are more than a thousand species, it isn't easy to chat about all of them. But we did our best to find out the top morning glory species with unique features, gorgeous shades, and pleasant smells. Here are the brief details of our top picks.
Blue Morning Glory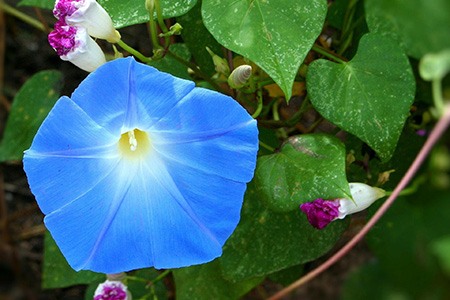 Blue morning glories (Ipomoea indica) with their stunning blue color add grace to your flower beds, hanging containers, and fences. Furthermore, butterflies and hummingbirds will pay regular visits to your place because of the delightful fragrance and attractiveness of the blue glories.
Interestingly, the flowers begin the day with blue petals, and after a short period, they turn into a pinkish-purple color.
The plant has velvety, heart-shaped leaves, and it grows 3-4 inches wide, trumpet-like blooms. To grow these lovely flowers, you'll need a location with well-drained soil and bright daylight.
Red Morning Glory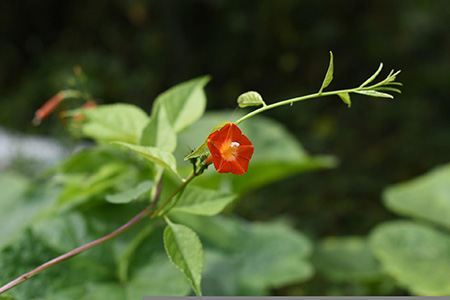 The red morning glories (Ipomoea x sloteri) are a cultivar that look very tropical. They feature very saturated red petals. The bloom is almost entirely of this fire red color if not for the white colored throats and stamens.
Mix these morning glory types and colors with nearly any types of tulips and have a color extravaganza in your garden.
Caprice Morning Glory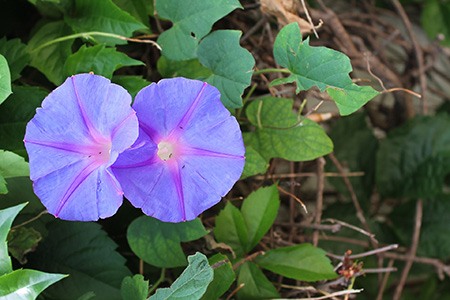 Caprices are one of the longest as well as fastest-growing morning glories. The flower has sky-blue petals with a nice touch of purple that spreads in the middle like a star.
Apart from the soft colors, this morning glory species is known and widely grown for its remarkably tall vines that climb up to 20 feet.
If you want to cover an area of your ground, plant the caprices in the moist, well-drained soil and sit back. The vines of these types of morning glory will grow in no time, even in moderately shady areas. Each summer, the plants will adorn your garden with hundreds of 2-inch wide, trumpet-shaped blooms.
Heavenly Blue Morning Glory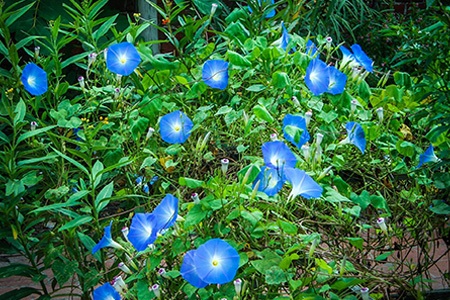 Many people regard the heavenly blue (Ipomoea tricolor) as the perfect morning glory species to grow in summer as it proudly flexes its azure blue hue against the brightest sunlight. The white or yellow color in the middle decently balances the overall look of the flower.
Heavenly blue plants grow best in sunny places and adequately drained soils. Once you plant the 10 feet long heavenly blue vines, no one will ever notice the lifeless fence or unattractive grounds of your yard. The 3-5 inches flower is resistant to deer but very attractive to pollinators.
Grandpa Ott Morning Glory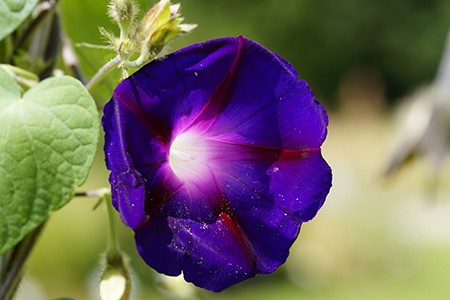 Both the name and color of this species are equally intriguing. The 3-5 inches flowers have the darkest shade of royal purple that looks even more gorgeous when mingled with the velvety petals and ruby-red starry throat in the middle.
Grandpa ott vines climb up to 15 feet along your fences and work as excellent groundcovers. The vines bloom annually and don't need any pruning. Since the plant is self-seeding, you can grow it with the least effort.
However, you need to grow the vines in full sunlight and moist soil to fill your garden with glamorous velvety purple blooms in summer. I had a neighbor once with Grandpa Ott morning glories mixed in with all types of camellias and it looked majestic.
Cardinal Climber Morning Glory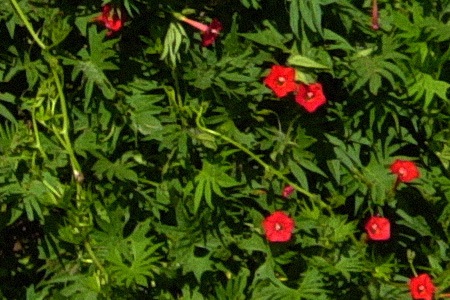 From the vines to the blooms, cardinal climbers (Ipomoea quamoclit) or hummingbird vines are unique in every way. The perfect star shape of this flower is a nice break from the regular trumpet-shaped morning glories. The flower is a superb nectar source and naturally attracts bees and hummingbirds for pollination.
With the bright green, fern-like foliage and scarlet petals, these climbers will look amazing on your walls, boundaries, and pergolas. As the 2-inch flowers bloom best in completely shady areas, they are most suitable for the dark corners of your garden.
Moonflower Morning Glory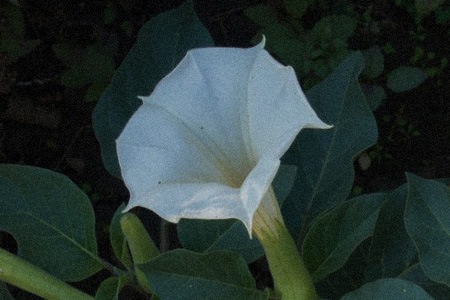 Unlike most types of morning glory flowers, moonflower (Ipomoea alba) opens up its petals at dusk, fill the air with their pleasant scent, and curl up immediately when the first ray of sun falls on them.
The heart-shaped leaves with their rich green color complement the elegant white blooms. Also, the starry faded green color on the middle adds to the elegance of the moonflower, making it ideal for adorning your moon garden, pergolas, and hanging baskets.
In warm areas, the vines rise to 15 feet in length and grow masses of 3-4 inches wide moonflowers for two or more years.
Crimson Rambler Morning Glory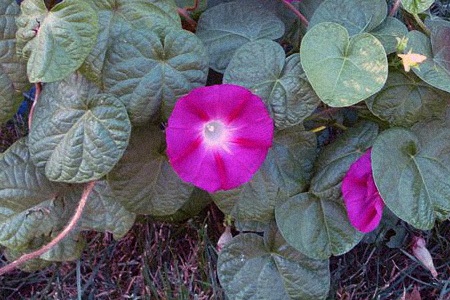 The word 'crimson' in the name should tip you off that these flowers tend towards the red color. But, in my assessment, they're largely pink with lines of red in the petals. My wife once grew these mixed with white types of zinnias in our flower bed around our metal types of mailboxes and newspaper box.
The word 'rambler' describes their tendency to grow as high as 15 feet, as long as they're given plenty of sun. They can manage being partially in the shade but they perform at their peak when given full sunlight.
Flying Saucers Morning Glory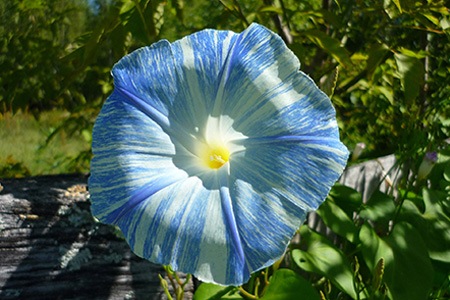 The name Flying Saucers (Ipomoea tricolor) comes from the saucer-like blossoms of the plant that flush 3 or more colors. Typically, flying saucers have faded-blue and cloudy white petals mingling with purplish streaks and yellow or green throats.
Although the plants prefer full sunlight, you can grow these morning glory types in partially shady areas as well. The vines grow up to 10 feet in length and bloom 5 inches wide in morning glories from early summer to mid-fall.
Scarlett O'Hara Morning Glory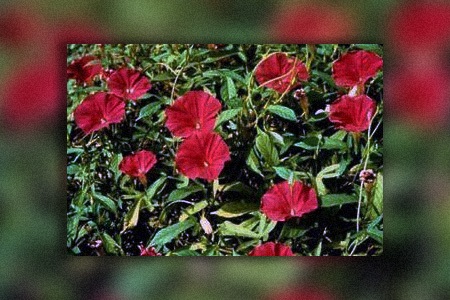 As you can guess from the name Scarlett O'Hara (Ipomoea nil), the flowers have bright scarlet petals and cloudy white throats. From summer to early fall, the flower unfurls its 5 inches wide petals in the morning and curls up in the evening.
The plant is self-seeding, and its vines grow 10 feet tall in a fully sunny location with moist soil. Also, the plants warmly invite pollinators and look fantastic in cottage gardens and hanging containers with emerald green leaves and red petals.
Knowlians Black Morning Glory
Although the flower of these types of morning glory aren't quite black, it has the darkest shades of purple that's simply gorgeous. The length of the vines ranges from 8 to 15 feet and grows much slower compared to other types of morning glories.
Slow growth can be beneficial to busy gardeners as the plants require less maintenance. The plants like sunny areas and accept partially shady ones too.
At the beginning of summer, your patience will be rewarded with large, velvety, deeply colored flowers that catch the attention of literally everyone.
Carnevale di Venezia Morning Glory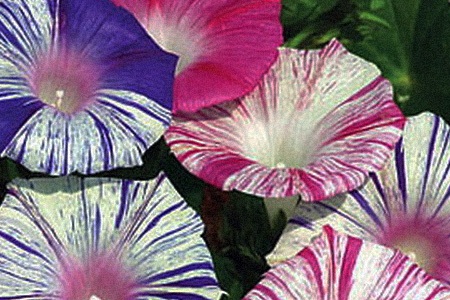 The petals of the Carnevale di Venezia have vertical streaks of purple and white where the patterns are always different, making them a beauty to behold.
The plant can reach up to 15 feet, give or take, in height when fully mature. The width, or spread, can be as wide as 10 feet. If you want to grow this morning glory, you better have some space for it.
Pairing this streaked flower with two-tone or solid colored morning glories can help tone down the sensory overload of these color striations when growing several types together in the same flower bed.
Beach Morning Glory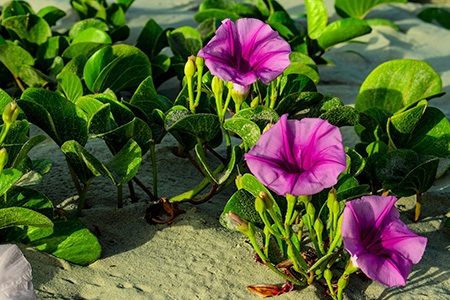 For pink lovers, there are many variations of this Beach Morning Glory species (Ipomoea pes-caprae). This variation has light to medium pink petals with dark pink streaks and cloudy white borders. Instead of climbing walls, this plant remains close to the ground by making 3-5 inches wide thicket.
You'll often notice the flowers growing on areas around the beach, and that's the reason for its name. It also indicates that you can grow the plant in salty and windy locations.
Ivy Morning Glory
Being one of the prettiest variations of morning glory, the Ivy Morning (Ipomoea nil) lavender-blue flower with its yellow and creamy white center attracts butterflies and bumblebees that increase pollination.
Ivy morning glories have characteristic ivy-shaped leaves, and it grows in almost any type of soil. The vines spread up to 6 feet in length and grow best in full sunlight.
Party Dress Morning Glory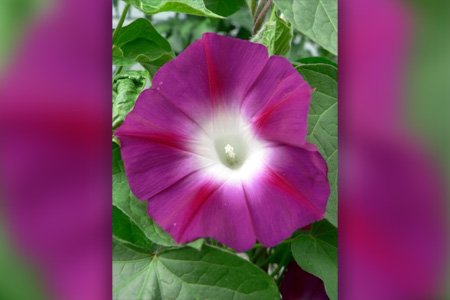 Compared to its peers, this variety reaches the summer party 2 to 3 weeks early. The plant is a vigorous climber and an excellent grower. In just a few months, the vines will start spiraling up your garden fences, walls, and trellis.
Moreover, the stunning magenta flower with the pale-red star in the middle is a treat for the human eyes and the butterflies and bees. These types of morning glory flowers can really stand out among the more standard flowers.
Mini-Bar Rose Morning Glory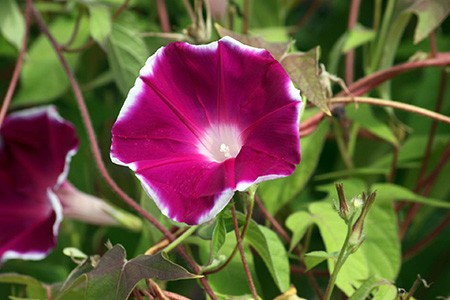 Since the vines of this variation grow only 4-6 feet tall, they are perfect for your hanging baskets and containers. The plants grow 1- 2 inches wide blooms throughout the summer with rose-crimson petals and pure white throats that shine excellently in bright sunlight.
Additionally, the ivy-shaped green leaves of this plant have splashes of creamy white color that add to the decorative value. You can grow this annual plant in areas with full sunlight and partial shade.
Inkspots Morning Glory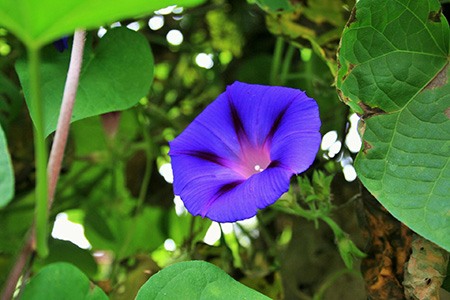 The Inkspots morning glory flowers beautiful, to put it frankly. They're bi-colored flowers come in a dark purple, a white, and a mixture which is a light purple. Each have darker purple stripes on the middle of the petals.
If you like a lot of blooms densely packed, this morning glory species is known for being prolific in that regard. The blooms unravel and reveal themselves in the shape of a trumpet, which makes it easy for them to grow so densely.
They'll grow vines up to 10 feet in length, and many people enjoy growing them up a trellis, along their living fence, or even along with climbing vegetables.
Milky Way Morning Glory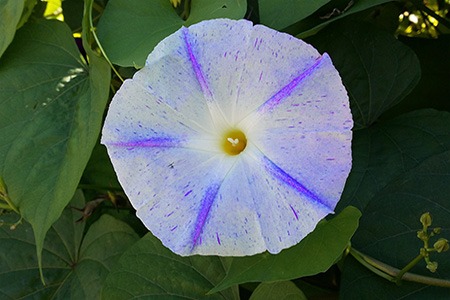 As the name indicates, the petals of this trumpet-like flower are creamy or cloudy white accented with five short carmine streaks. The 3-4 inches wide saucer-shaped blooms grow from early summer to late frost.
You can grow the 7-13 feet vines to enjoy the gorgeous white blossoms in large volumes that cover your old fences, pillars, balconies, and porches.
The blossoms will attract honeybees, butterflies, and other beneficial insects. However, you will have to prune the vines regularly as the plant is a vigorous grower.
Glacier Moon Morning Glory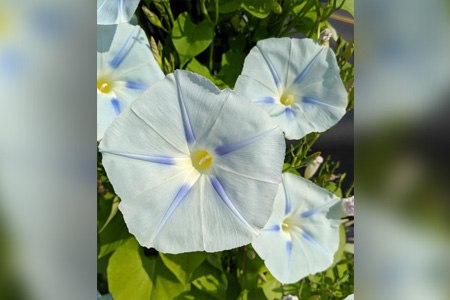 Just like the glacier ice, this white-throated flower has pale blue petals. It blooms early in the morning and curls up in the evening. Interestingly, the petals tend to close up when the sun is brightest.
When maintained well, the vines of these types of morning glory can reach up to 8 feet in length. The plant has velvety green heart-shaped leaves, and they produce masses of blossoms annually. You can grow this variety to attract pollinators and adorn the boundaries, posts, fences, and balconies.
Seta Morning Glory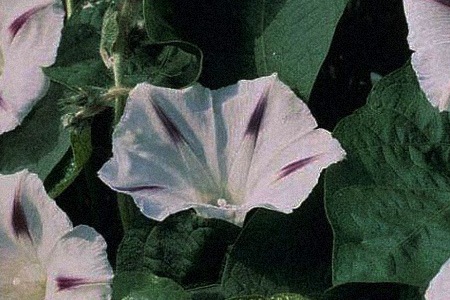 Seta types of morning glories have white blooms with purple stripes that don't quite reach the end of the petal. The result is that they five stripes end up looking more like a star pattern, which is unique and interesting.
These purple star-shaped specks aren't domineering or distract you from the beauty of the white background. They make a great backdrop to more colorful morning glory varieties for this reason.
More Morning Glory Types & Mixes
We can't list every possible cultivar or variety out there with full descriptions and images. But if you want to further explore and find more options to satisfy your insatiable desire for morning glories, check these out:
Celestial Mix
Fieldgrown Mix
Early Call Mix
Harlequin Mix
Mt. Fuji Mix
The mixtures are always fun because it's kind of like a grab bag. You won't know what colors you'll get and where until they grow and begin to bloom. And after that, if you keep collecting seeds you can end up with your own new morning glory mixture.
Venice Blue Morning Glory
Tie Dye Morning Glory
Japanese Morning Glory
Wedding Bells Morning Glory
Rivea Corymbosa Morning Glory
Pearly Gates Morning Glory
Rose Silk Morning Glory
Scarlett Star Morning Glory
Chocolate Morning Glory
It really does go on and on. Even with just lists we have to stop listing the types of morning glory flowers. Fortunately, any that we didn't mention aren't unique enough for you to bother with.
Types of Morning Glory Varieties to Satisfy Every Gardener
Morning glories are the best choice to serve all these purposes as they are fast growers, varied in colors, and suit almost all soil types. So, keep growing the stunning morning glory types above to brighten up your yard every summer.
Among all the types of morning glory, here you have the best-looking ones. Every gardener prefers multipurpose flower vines that enhance the beauty of a garden and cover the old, ugly walls, rails, and fences.
You'll Also Enjoy: