Garden Hose Stand: The Freestanding Stake Solution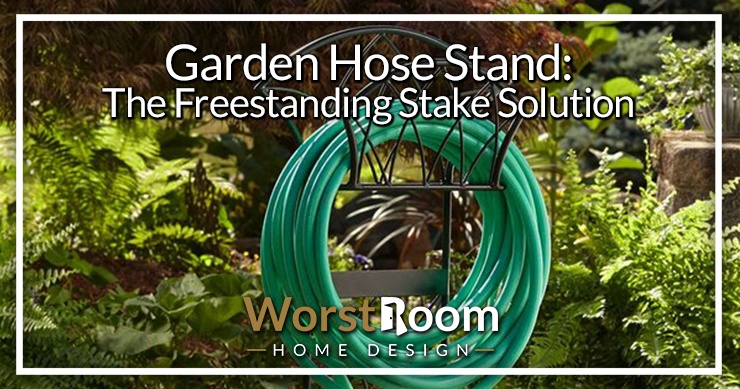 If you have a garden, you probably have garden hoses. We mean, those things kind of go together. So, how do you store them? Is proper storage even necessary? Well, that's exactly what we'll be talking about in this hose stand guide.
We'll give you a complete breakdown of the benefits of having a hose stand for storing your hoses, plus, the pros and cons. Also, we'll talk about whether you even need one in the first place.
Although there are different kinds of ways you can store hoses in your backyard or garden, not all can match the versatility and convenience of a freestanding garden hose holder stand. So, let's get started.
What are Hose Stands?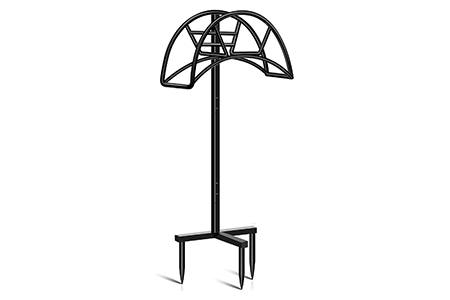 A hose stand is exactly what it sounds like. They're convenient stands that'll help you to neatly store your garden hoses. Freestanding ones are particularly helpful due to their mobility. Firstly, you can place them almost anywhere, even move them around depending on where you're working.
This makes it super easy to place the stand exactly where you need quick access to your hose. When storing them, you'd generally have the hoses coiled up on the stand to ensure none of it's dangling on the ground.
And that means these stands need to be sturdy. Garden hoses can get quite heavy. So, these aren't just some dinky little cheap stands. These are built for the job and are pretty convenient. Stands are a great way to store your garden hoses. Or any hoses, for that matter.
There are also hose stands that don't have a pole and feet that stick into the ground, but mount directly to a wall. They can be mounted to brick walls, wood fences, the side of a shed, and much more.
Do You Even Need a Hose Stand?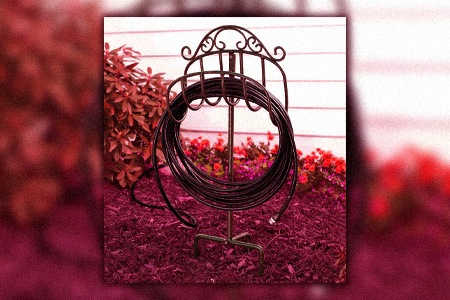 Garden hoses can make your garden quite a mess if you don't store them properly. A lot of people just have the habit of placing their garden hoses in the corner after using them. But the problem with that is they can get damaged.
And more importantly, it's just not a good way of storing them. You might forget where you put them. Plus, they'll cause a mess in your gardens. People who're proud of how their garden looks and feels definitely don't want that.
So, if you want a garden you'll be proud of, then some hose storage is necessary. A freestanding hose hanger can do the trick and keep it all clean and organized.
Trust us; if you've always had your hoses just lying around the garden, you'd be surprised how much difference a hose stand makes—allowing you to store them easily and conveniently. Not to mention, you'll know exactly where they are when you need them. This brings us to the pros and cons of a hose stand.
Pros & Cons of Garden Hose Stands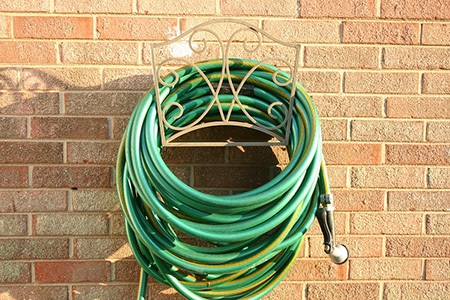 Just like many things, hose stands also have their pros and cons. There are just mostly pros, but some minor cons are also there.
The interesting bit is that the cons are related to aesthetics. This is counter-intuitive since you'd use a hose stand to clean up the place. Anyway, let's dive in to see what we mean.
Pros
Let's start with some of the pros of having a garden hose stake. Fortunately, there're tons of them. And if you love DIY projects, you'll love it too!
Convenient Storage & Safety
This is hands down the biggest pro of a garden hose stand. You get a seamless and easy way to store all your hoses. This isn't trivial, though. If you've never owned a garden, or have a large backyard, then you wouldn't know how annoying storing hoses can be.
They're heavy, to begin with. And they just look ugly if you lay them down on the ground at some corner somewhere. Not an ideal solution. As in-ground hose holder gives you the perfect way to store all those heavy hoses in a single, convenient location.
Plus, hoses lying on the ground can be a safety hazard. Someone can trip on them and badly injure themselves. Definitely not something you would want. The next time you need to use your hose for anything, you'll know exactly where they are.
Affordable
The second-best thing about hose stands is that they're pretty affordable too. You can get a decent one for as low as $50. And if you like getting hands-on, you can DIY it. Building a hose stand is pretty easy, and with the right guidelines, you can actually cut down your price by buying one.
Keeps Hoses Accessible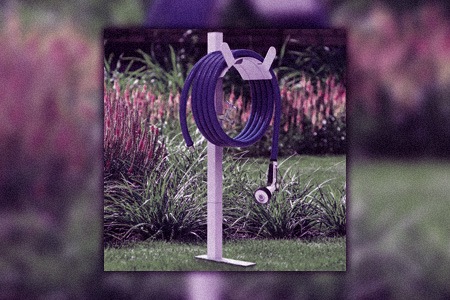 This one might not apply to all. Maybe you always keep your hoses adjacent to your house. Or you have a small shed where you store the hoses. The problem with this is you'll need to walk back to the shed or your house to get it.
With a hose stand, you can place it anywhere, and you'll have easy access when you need them. The hoses won't even take up space on the ground either since they'll be neatly stored on the stand. It's a win-win.
Cons
Alright, so we checked out the pros. What about the cons? There's one gripe that some people have with hose stands that is actually a positive for me.
Aesthetics
Honestly, the single downside is looks and aesthetics. With a hose stand, you'll have a not-so-flattering sight of a large hose stand with a heavy hose wrapped around it. That might not be the best look for your garden.
But it isn't that big of a deal. First of all, you can buy decorative hose stands. And there's practically no limit to the things you can do when it comes to storing a hose stand.
You can figure out tons of creative ways to place the in-ground hose holder out of sight. Or it can be seamlessly integrated with your garden or backyard's overall design and feel.
I have one and I like the way it looks, honestly. I like it a lot better than a giant, rectangular plastic box with a crank handle on it to reel a hose in. I just know some don't like the look of a stand but I honestly prefer it. I think, if you wrap your hose neatly, that it looks better than many alternatives.
Are Hose Stands Stable & Secure?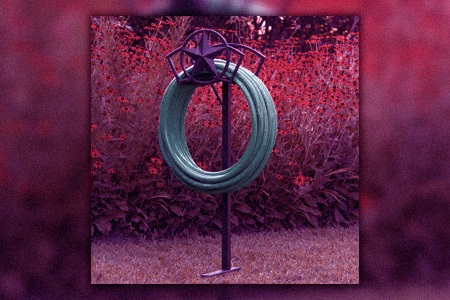 Hose stands are primarily designed to be freestanding and endure sustainable weight so that it doesn't topple over. Most also come with spikes at the bottom, giving more ground stability. You don't need any types of digging tools either, just step on the base to push the spikes into the soil. If you have rocky soil or overly compact earth underneath you, it might help to spray it with water first to loosen it up.
If you want, you can also permanently attach these hose holder stands on the ground through DIY projects. All you have to do is create a solid concrete base to hold these stands. This will make your stands more stable and stay fixed on the ground no matter what!
That's not all; You should also check whether the stand is made of metal or not. Remember, metals are the most reliable and can easily withstand stress without any dents or breaks. Just make sure you're buying a high quality option because some will come with weak welds that will break.
Also, plan to spray paint these again after some time because the paint will chip off and allow rust to settle in. Unfortunately none of them will last forever since they're left outside in the rain and snow and sun all year. Thankfully they aren't so expensive that replacing one every 5 years isn't that big of a deal.
Are Hose Stands Suitable for Long-Term Storage?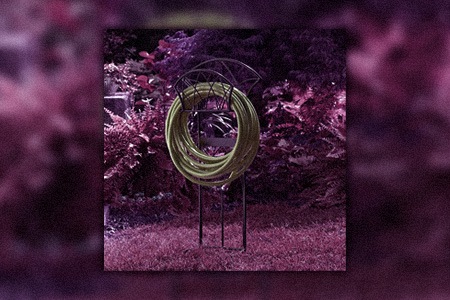 A hose stand will be one of the best investments you can make. But if you're looking for a long-term storage solution, these aren't the best for that. When you keep your hose on a hose stand in your garden, it's pretty exposed.
That's fine during gardening seasons when you'll be using it regularly. But if you're on vacation or gardening season is over, then your garden hoses being out in the open and exposed to all the elements isn't the best thing for it.
So, one of the most effective methods to ensure your hose stands aren't exposed to these elements would be to keep them in a plastic wrapper. This way, it'll stay protected while you're away.
One thing to remember is that you need to spray out the remaining water in the hose if you plan on leaving it out throughout the winter. Follow this whole procedure, even if it seems like an annoyance. Otherwise the water inside will freeze and bust the hose as it expands, which is a greater annoyance.
Things to Consider When Choosing a Hose Stand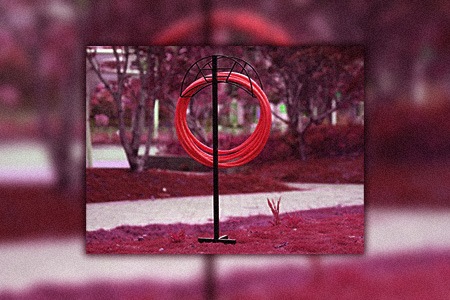 Here in this section, we'll let you know all the ins and outs of the factors you need to consider to ensure you pick the right hose stand.
Quality
Quality is important for any product you pick. Therefore, the quality of your hose stand comes from how long it lasts and how well it operates. So, you can say a garden hose holder stake is not of good quality if it only lasts a short period. Rather than buying a cheap or fragile stand, it's better to buy one that'll stay long-lasting. You should be able to get many years out of a stand.
Cost
Different hose stands have different prices based on many factors like how well known the brand is and how reliable it'll be. If money isn't an issue, then it's highly recommended that you go for the expensive hose stands. These usually last longer and tend to have more features than any average hose stands.
On the cheap end these can cost around $25 to $40 dollars. The upper range can reach $75 dollars but they usually look better and hold up much longer.
Longevity
Well, the longevity depends a lot on how well the stand is put together. The most effective way to get an understanding of longevity is to go through customer reviews. Moreover, also ensure that the material composition is well-structured and obviously of good quality.
Some have issues with weak welds, thin metal that buckles under the weight, and bad paint that allows rust to take hold. Others don't suffer from these issues. You often get what you pay for.
Features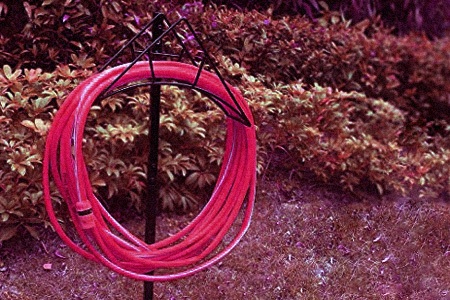 It's obvious that before you go on buying a freestanding garden hose stand, you need to run through some research. Compare the features of the different brands and decide which one will be your best pick. If you're going through online sellers, ensure you read through the descriptions to understand the products better.
The main feature is the look of the stand. Past that, I would ensure they have ground spikes to help stabilize the stand. Some will feature slots that allow you to hook the hose on after wrapping it up on the stand so that it doesn't slip off. This works by leaving your spray nozzle on the hose and sticking that in a slot so it can't fall out.
User-Friendliness
It might not be worth buying if it takes me a long time and a lot of work to start using my new item. Make sure that anyone can use any hose stand you buy without needing a lot of help after you buy it. They will come with the screws, nuts, bolts, and wrench needed to assemble them and it only requires about 15 minutes of your time. It can be done by one person.
You should also ensure you're using this with standard garden hoses without any customizations going on. Things like any types of hose clamps can make winding and storing your hose difficult (or at least annoying) when wrapping it around the hose stand.
A Hose Stand is Better Than a Hose Reel
A hose stand is a pretty convenient way of storing all your hoses. It ensures that they're always reachable, and not to mention it'll keep your garden or backyard tidy as well. Just make sure you buy a quality one that's made of metal.
You'll Also Enjoy: