11 Keurig Alternatives to Make Coffee Interesting Again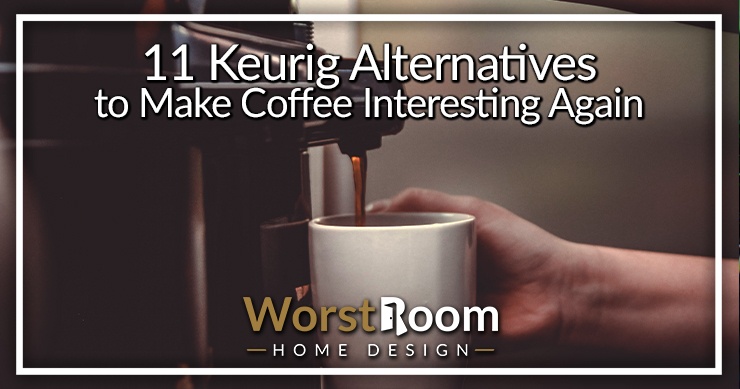 If you're an avid coffee drinker and can't start your day without a cup, then it's a great idea to invest in a coffee machine. In fact, any coffee fan knows that when it comes to single-serve coffee, Keurig is the world leader, even if we desire Keurig alternatives to spice things up again.
Keurig enjoys the status of being the original single-serve coffee maker, which took the coffee world by storm with its enormously famous K-cups.
Keurig has become hugely popular for its easy-to-use, quick and convenient options of producing delicious coffee at a convenient push of a button.
11 Keurig Alternatives
However, if you want to move away from a Keurig and are looking for other types of coffee makers, today, there are plenty of other fantastic alternatives you can consider.
In this article, we will explore the various Keurig alternatives available that still don't require you to have any types of coffee grinders or to even deal with scooping coffee grounds.
Hamilton Beach FlexBrew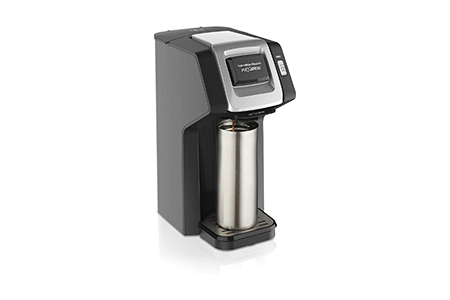 If you're looking for a high-quality single-serve coffee brewer, then the Hamilton Beach FlexBrew Coffee Maker is an excellent choice.
This is a solid choice among the Keurig-type coffee makers that have very easy-to-use controls, a variety of features and are competitively priced, apart from making great brews.
The coffee maker features a 40 oz reservoir and you can choose your brew size. 8 oz, 10 oz and 14 oz. You can have a choice of the brew strength between regular and bold. The drip tray can be removed to accommodate travel mugs and taller cups.
However, the biggest limitation of the Hamilton Beach FlexBrew Coffee Maker and similar models is that it takes around 3 minutes to brew a single cup of coffee.
Nespresso Vertuo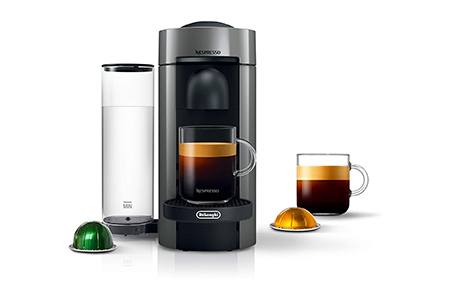 Made by Breville, the Nespresso Vertuo is a top Keurig alternative and has become quite popular in the world of single-serve coffee. The coffee maker has an ultra-modern design which is quite easy to use.
The Nespresso Vertuo offers 5 different brew options from 1.35 to 14 oz and you can choose between the various options—Alto, Coffee, Fran Lungo, Double Espresso and Espresso.
You can choose from a wide range of 16 types of coffees and around 10 varieties of Espresso. And, if you like cappuccino-style coffee, then you can add the Aeroccino milk frother.
The only limitation of the Nespresso Vertuo is that it uses specialized Nespresso pods, which can be quite expensive and may not be so easily available.
Mueller Ultima K-Cup
The Mueller Ultima K-Cup from Austria is a compact and stylish coffee maker, which is easily one of the best Keurig alternatives.
The coffee maker has 4 cup size options and is compatible with K-cup pods. Quite inexpensive in terms of the price, the Mueller Ultima K-Cup is very easy to use and durable too.
While it may be a bit difficult to clean, the compatibility of the coffee maker with the K-cup pods and its other features make the Mueller Ultima K-Cup a decent option to consider.
Black & Decker CM618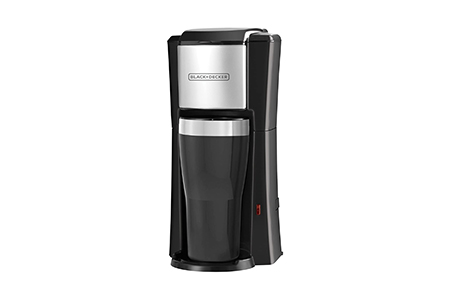 The Black & Decker CM618 is a compact and convenient coffee maker if you're tight on space. The sleek, space-saving design and rounded edges of the machine make it convenient to tuck into your countertop or cabinet.
The coffee maker can brew 16 oz of coffee into the travel mug that comes along with the coffee maker, which fits comfortably under the nozzle and has a lid to prevent any spills.
This coffee maker is among the most basic and simple Keurig alternatives, which is very easy to use and doesn't require a lot of maintenance.
The machine has a removable, reusable, dish-washer safe filter and the preset temperature of the machine makes it perfect for your coffee.
The coffee maker has an auto-shutoff feature which cuts the power when your coffee is ready. The drip plate has a non-stick coating which prevents coffee stains.
The best thing about the Black & Decker CM618 is that it is very versatile and can be used with K-cups, as well as loose grounds.
Chefman Instabrew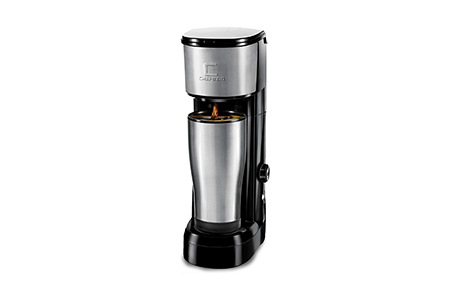 The Chefman Instabrew is a versatile coffee machine that is great to make barista-style coffee right in your kitchen. The sleek and slim coffee maker is an excellent space saver, which you can tuck away in any nook of your kitchen.
The coffee maker is super easy to use and you can make cold or hot beverages. The Chefman Instabrew also works as a milk frother and produces thick and creamy froth for your cappuccinos and lattes.
The maximum capacity of the coffee maker is 14 oz, which may be small for some people and can be cumbersome to fill. Nevertheless, the Chefman Instabrew coffee maker is a cheaper and more compact alternative to the bulky and expensive Keurig.
Sboly Single-Serve Brewer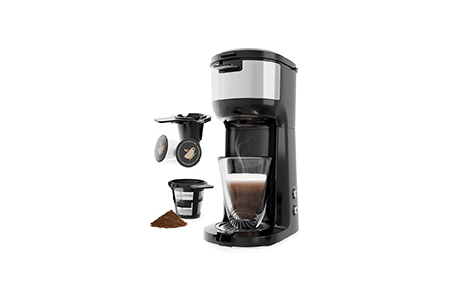 If you're tight on space, then the cute and compact Sboly Single-Serve Brewer is an excellent option. Don't be fooled by its toy-like size, the well-designed machine is lightweight, yet is long-lasting to provide you with your coffee for several years.
The water reservoir of the coffee maker has distinct levels that let you monitor the capacity from 6 oz to 14 oz. and you can brew in 3 cup sizes of 6 oz, 8 oz and 10 oz. this off brand Keurig works a wonder.
The machine is completely safe and will shut off after the brewing is complete and the handy self-cleaning feature makes it very easy to clean the machine after use.
The coffee maker is compatible with K-cups of various brands and it also comes with a filter if you want to use coffee grounds. If you're hunting for coffee makers similar to Keurig if not better than Keurig, give this one a fair chance.
Although the coffee maker takes around 3 minutes for a single cup, its affordability and reliability make the Sboly Single-Serve Brewer a good buy.
Cuisinart SS-10P1 Premium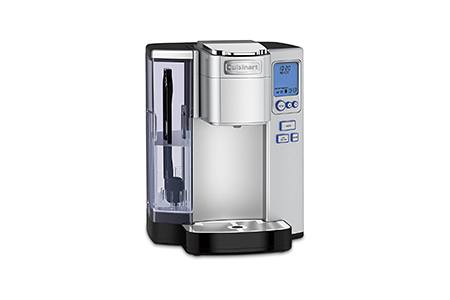 The Cuisinart SS-10P1 Premium 72 oz capacity and large size make it a great option for a large family or an office enjoying various types of donuts every day.
While the coffee maker is a much bigger alternative to Keurig and other coffee maker models, its elegant looks are sure to win your heart.
The brewer is compatible with K-cups of different brands and you can select from 5 brewing sizes—4 oz, 6 oz, 8 oz, 10 oz and 12 oz. The in-built charcoal filter makes the coffee even more smooth and delicious.
Convenient and quick, the coffee maker makes your cup of coffee in under a minute without any fuss. The auto-clean reservoir makes the maintenance of the coffee machine very easy.
Mixpresso K-Cup Coffee Maker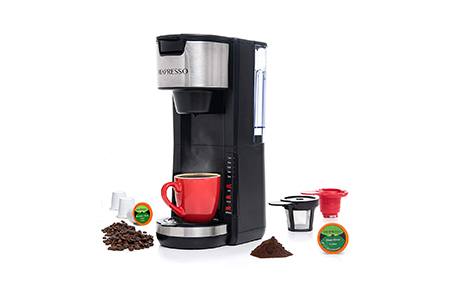 If you want your coffee super quick, then the Mixpresso K-Cup Coffee Maker are excellent K-Cup alternatives that takes around 30 seconds to preheat and less than a minute to brew the coffee.
The beautiful two-tone colored coffee maker is lightweight and has an adjustable drip tray that can be removed to fit taller mugs, a feature you can find in many Keurig alternatives.
The Mixpresso K-Cup Coffee Maker has a BPA-free, removable water reservoir at the back with a wide, no-spill brim. The automatic shut-off feature turns off the machine when not used for more than 2 hours.
The coffee maker is compatible with various K-cups and reusable cups and allows you to brew coffee in 5 sizes—4 oz, 6 oz, 8 oz, 10 oz, or 12 oz. Overall, these stylish Keurig-like coffee makers have plenty of class and brews your coffee smoothly and quickly.
Hamilton Beach 49981A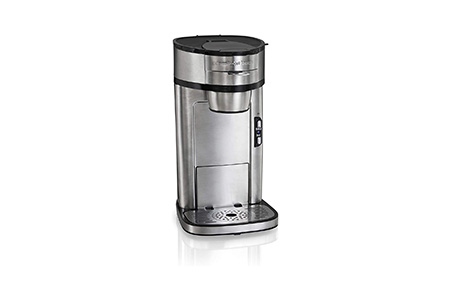 Made completely of stainless steel, the Hamilton Beach 49981A is a great option for coffee addicts because, in one go, you can brew up to 14 oz of coffee.
You can get hot coffee in a jiffy and the measuring scoop that comes along with the machine helps you get a nice and balanced brew.
The simple coffee machine is quite handy and the inexpensive price makes it a great option for coffee lovers who are always on the move. It's a worthy alternative to Keurig coffee makers.
Chulux Coffee Maker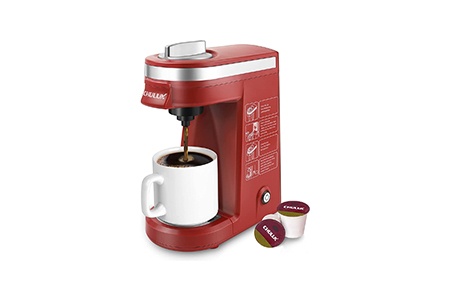 If you're on a tight budget, then these alternatives to Keurig are a great buy. The compact, yet stylish coffee maker is a great option for small spaces such as your dorm room, RV, office or home. Cook a cup and enjoy whatever types of bagels you picked up at the shop and that's the start to a great day.
Made of BPA-free plastic, the Chulux Coffee Maker is available in a variety of vibrant, fun colors. The coffee machine is compatible with any K-cup brand and it also has a reusable pod if you want to use ground beans.
Using the Chulux Coffee Maker is very simple. All you need to do is add the water and press the button. The machine features a 12 oz water tank and a removable drip tray to accommodate taller cups.
The coffee maker takes around 3 minutes to brew the coffee and it also has an automatic shut-off that turns off the machine when the brewing cycle is complete.
The machine is equipped with an illuminated brewing switch that allows you to see clearly in the dark.
Adirchef Grab N' Go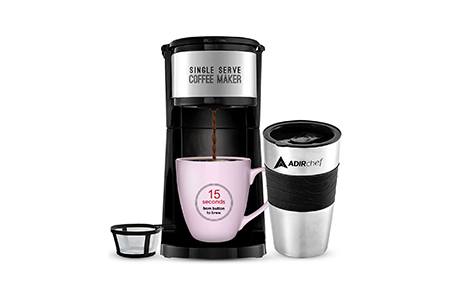 The Adirchef Grab N' Go coffee maker with its permanent mesh filter is a good eco-friendly option. The machine comes with a 15 oz stainless steel travel size mug that it brews into directly.
Once the brewing is complete, the machine will shut off automatically. The compact coffee machine is lightweight, which makes it perfect for small spaces and to carry along on your travels.
The coffee maker doesn't use coffee pods; however, you can use grounds or beans and you can make up to 14 oz of coffee.
If you want a fancy Keurig alternative, then the Adirchef Grab N' Go may not be for you; nevertheless, the machine is a simple and portable option for people on the move.
Keurig Alternatives for the Coffee Lover
While there are many options on the market, it is a good idea to do your homework and find a good, high-quality coffee maker that is durable, long lasting and more importantly makes a delicious brew to brighten your day. While you're at it, look at our coffee table alternatives so you can set up an actual coffee station, too.
So, that brings us to the end of the roundup of some popular Keurig alternatives. Please enjoy your adventures in the world of coffee!
You'll Also Enjoy: