4 Screen Door Alternatives Without the Huge Annoyances
Screen door alternatives beat the traditional sliding option big time. There's nothing worse than your cats climbing up the screen, bugs dying in the tracks, and it popping off of the guide rails constantly.
Spiders. Flies. Mosquitoes. Bugs are cool in movies. They make for intriguing plots whether it's a radioactive spider bite that leads to superpowers or giant, inter-dimensional bugs released by a rogue scientist.
Now, Hollywood might very well love the bugs but we don't want them anywhere inside our homes or screened in patios. And more often than not, we use screen doors to keep it that way. Unfortunately, not everyone loves the sliding or swinging doors.
4 Screen Door Alternatives
The traditional screen door comes with a lot of headaches that we tolerate for some reason. But we can reject that totally. So here is a look at some relatively cheaper and easy-to-install alternatives to screen doors.
Retractable Door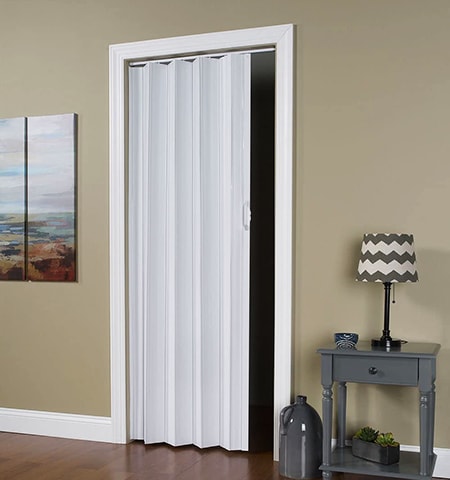 A retractable screen door has a lot of advantages. It's always visible whether it's open or shut. Since it's retractable, you can roll it up and get it out of the way when you don't need it.
Retractable doors usually have a very clean look and come in many varieties. For instance, you can buy retractable doors that are designed to reduce glare and heat from the sun. They're a great addition to spaces with tropical weather for this reason.
These doors allow you to keep your opaque doors open and allow the right amount of sunlight and fresh air into your home while keeping yourself insulated from the heat.
If you have a great view, you also don't have to compromise looking out at the vista. Retractable doors are easy to use and not at all obstructive, especially if you're walking in and out with goods in your hands.
These doors are also made of durable materials that help avoid wear and tear due to the act of slamming them shut. In fact, they are said to outlast traditional (even if expensive) screen doors. They create a tight seal when in use and keep insects from flying into the house or crawling through the cracks around the border.
You can even get a retractable door custom made while traditional screen doors come in only a few sizes. You can remove them and store them in the winter when you don't need to block the sun and its heat.
This will keep them in business for decades on end. They can easily be rolled up and stored in the same position. Bad weather, UV light, and dirt have nothing on retractable doors even in storage.
But there are a few problems with it. They are slightly more expensive than fixed doors even though they will last longer. There is very little margin for error during installation. So make sure nothing goes wrong there.
You can do it yourself or get professional help. If you yank it down from the rolled-up position in storage, you might damage the door.
As a thumb rule, let's just say that yanking things unless you are explicitly asked to do so by the manufacturer is a bad idea. With retractable doors, you might have to teach your kids how to use the handle correctly. If you can manage these little things, you have a great screen door alternative at your disposal.
Storm Door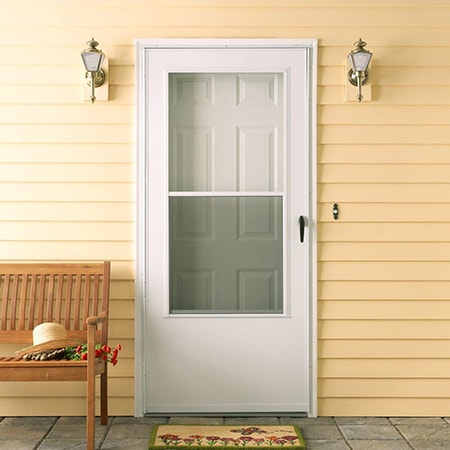 This is a popular and yet oddly refreshing product. Storm doors usually have a lock that makes life easy for homeowners in terms of securing the house and the door itself.
Typically, the door has a glass panel that you can leave open for fresh air. The size of this glass panel is flexible. You can choose the size depending on how much of the door you want to leave open for fresh air.
If you are the kind to enjoy fresh air, the smell of flowers and the sound of birds chirping and leaves rustling, you can get all of it without even entering your balcony or front porch or backyard.
You can shut them to keep the hot summer air out of the house or to protect the house and the main door from rain and storm. Flexibility is written all over it. They're great window screen alternatives as well as for screen doors, obviously.
You'll be protected from bugs but also allowing natural light into the house. We've all seen screen doors rip and allow a few bugs in. One mosquito is all it takes (try these plants that repel mosquitos if it's a problem for you)!
Storm doors, on the other hand, are sturdier than screen doors and can handle a little extra wear and tear in comparison while achieving the same goal.
With storm doors, when you close the glass panel the door creates a pocket of insulation between itself and the opaque main door of the house, keeping your home cooler in the summer and warmer in the winter.
These doors are available in a lot of finishes and materials like wood, vinyl, fiberglass, and aluminum to name a few. They can also be used to improve the look of the house from the outside, which is vastly important when it comes to appraisals.
You can paint them or install blinds between the panes for security and styling purposes. They do very well to protect your expensive and ornate main doors from all kinds of weather like rain, snow and wind.
You can pick fancy hinges and handles for your storm door to match it with the decor of the rest of the house. As far as screen door alternatives go, this is a great way to enhance the look, while others are honestly kind of ugly if the rest of the aesthetic doesn't match the country feel.
Storm doors do allow a lot of heat to build up between the two doors which is not a great thing in extreme summers. It can also cause damage to the doors. It's also tricky to find the right storm door if the door frame of your house is large. But other than that this is a good one to have.
Magnetic Screen Door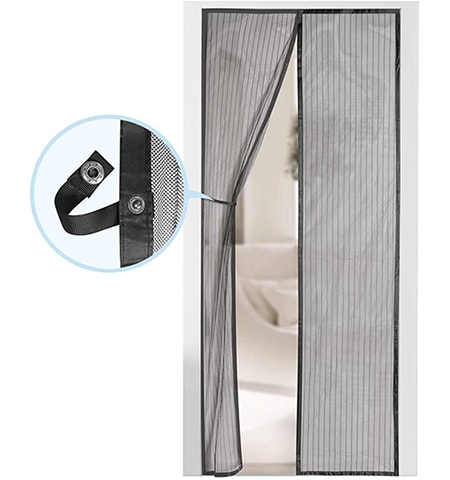 If you are not crazy about screen doors, (or your present screen doors are driving you crazy) magnetic screens might be a solution. You don't even have to use your hands to open them. In that regard, they serve better than regular doors.
This is a gift when you are walking into the house with arms full of grocery bags. These screens can be installed on both sides of the door and homeowners can decide if you want the outer screen to be visible at all. Sneaky, isn't it?
These screens are great if you have pets that like to move in and out of the house quite a bit. Magnetic screens make pet doors easily possible. This kind of works for children too because they don't have to struggle with a handle. Kids and pets blow through them and they automatically close right back.
But if you have infants who you'd rather stay indoors, you might have to keep an eye out. They shut automatically behind you which is a huge relief if you are worried about bugs. They can literally be installed within minutes. So you might be able to do it on your own even if you are bad with tools.
These screen door alternatives are available in many sizes. They go well with anything from standard doors to French windows. It is also quite easy to find companies that do custom fits. The screens do not damage the frame of the door which works greatly in favor of people who are in rentals.
In all likelihood, you don't need approval from your landlord either. You can carry it to vacation spots like a cabin or to an RV as they are extremely portable. Comfort is the only aim here.
You can even get them with printed designs which means you can either match them with the existing decor or try something new. They are a bright addition to the home and in some tricky spaces, remind people that there is a screen after all.
But it is not without its set of disadvantages. Children can move in and out of the house if left unsupervised. It's a bit tough to find them in a local store. If your baby or dog yanks on it hard enough, they might be able to pull it down. This can also lead to injury. So be careful.
You can cut some sizes to a smaller size to fit your door but not all sizes can be flexibly rearranged. Cutting them against expert advice might lead to wear and tear and increases the chance of your screen coming apart.
They can't always be hidden well like retractable doors, either. But they're perfect sliding screen door alternatives and even garage door alternatives at big enough sizes..
Fly Blind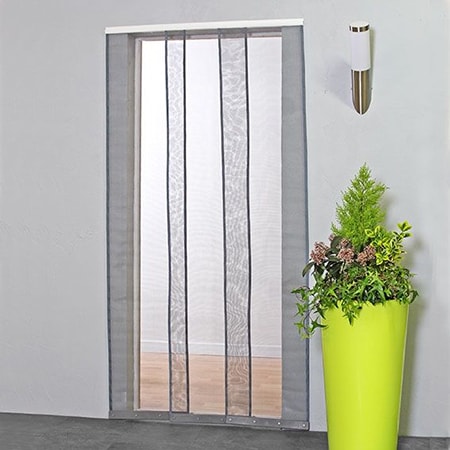 Your last option is to get a fly blind. It is a thin strip made of several materials that you can hang from the door frame. It's very inexpensive and has been around for a long time. It is easy and fast to install (more like put up).
Fly blinds are very convenient in terms of usage as you don't have to open or unzip anything to go in and out of the house. Now, it is not a piece meant for decoration. So you might not have the best look. And despite the name, unfortunately, flies can't be sealed out, nor many other bugs.
But they look great. I've seen them made of strings and beads, chains, and many more materials. This is more of a decorative option that still provides privacy than one to protect from flying insects.
Screen Door Alternatives are Superior!
There are many more options in the market that can help you keep insects and bugs out of your home. These are the easiest to install and maintain. All of these options are perfect screen door alternatives that give you the comfort of enjoying the view outside.
You'll Also Enjoy: