5 Screened-In Pergola Pros & 5 Screen Design Tips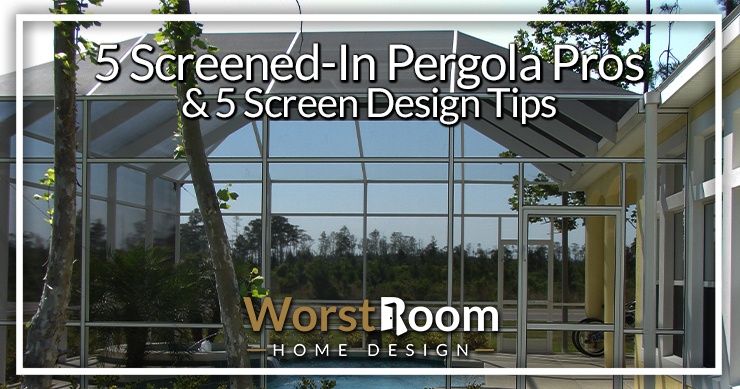 If you are someone who values the aesthetic of your house and the surrounding, then you've probably thought about adding a gazebo or a pergola. Especially a screened-in pergola can be a very striking outdoor addition to anyone's property.
It not only provides accommodating space for the people, but the partial shade can also provide mesmerizing light play in your yard. Adding vines to the wooden structures can make the appearance more beautiful. We advise you to get screened-in pergola in case you are looking for optimum protection.
In this article, we discuss pergolas and how adding screens can benefit your way of living. Without further ado, let's dive in. Let's cover the very basics as a reminder because they do come into play later.
What Is a Pergola?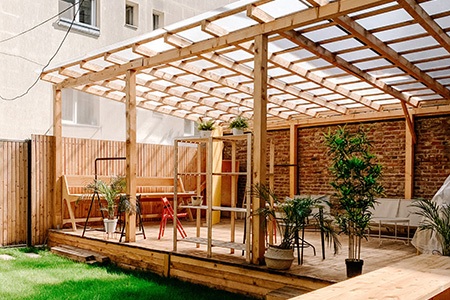 This is a structure that is made to be erected outdoors. The main purpose of the pergola is to provide shelter and add beauty to the surrounding area. A pergola is cementing upright columns on the floor that support the roofing system (rafts and beams).
Pergola can either be crafted in the middle of your outdoor ground, or it can be attached to the house structure just like a porch. Keep in mind that the pergola doesn't have a fully covered top. There are open grids on the upper structure to make way for sunlight.
What Makes Pergola Different from Other Structures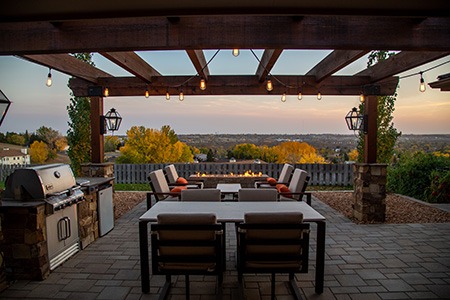 A common misunderstanding is that people confuse a pergola with a gazebo or arbor. Well, we don't blame you for this. Gazebos and Arbors are similar outdoor structures like a pergola but do differ in size and shape. Let us see how a pergola varies from others.
Pergolas are bigger structures than arbors in terms of length, height, and width. A pergola's height is usually defined by the height of the surrounding structures.
Arbors come with curved arch, whereas pergola has a flat top in the majority of cases.
Vinyl variants are used to create arbors, whereas pergolas can be built using a wide range of materials.
Arbors are not attached to the house; they are freestanding. Pergolas can be both. Rarely will a gazebo be attached to a house but they can be built that way beautifully.
Gazebos have a closed top, meaning there is no way sunlight can enter the interior. In comparison, the pergola has spaced-out rafts and beams.
A gazebo has a turret or octagonal shape in most cases and is raised to a certain height from the ground. Pergolas don't need any raising plank at the bottom though they do need pergola footings.
In terms of cost-effectiveness, pergolas are comparatively cheaper to construct than gazebos.
Now that we've got that sorted out, lets look at the real topic which is screening in a pergola and whether or not it's a good idea.
What Is a Screened-In Pergola?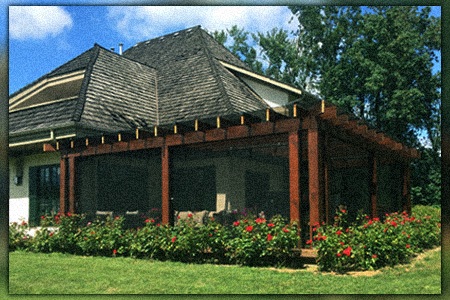 This is what the name suggests, a pergola that has screens. Why is a pergola with screens getting popular? As you already know, a pergola is a useful and aesthetical structure in your outdoor setting. It is made for people to enjoy, sit back and relax on their landscape.
What if we tell you that a pergola can be even more beneficial when you add window screens to it? Well, a screened pergola is something that has screening materials to keep away bugs and withstand weather if necessary.
You've heard it right. Pergola with screens! It might not sound interesting at first, but it does protect and enhance the beauty of your home. Custom-made screening systems can undoubtedly provide a high-end look to your precious place.
Can You Screen in a Pergola?
Yes, you can put screens in your pergola to keep pests at bay. You might not see screened pergolas that frequently, but they are there. Mostly screened pergolas are seen in areas where there are uncontrollable insects to deal with.
You can screen the pergola with permanent fittings or opt for customized screens to make the place stand out and not be monotonous. All in all, a pergola screen is a pretty cost-effective method to repel bugs and add a touch of privacy without blocking the view completely.
Type of Materials to Use for Pergola Screening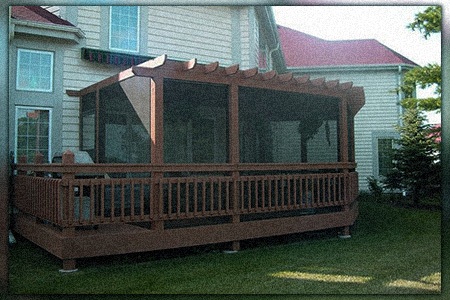 If you are wondering what type of materials to use for a pergola screening, keep in mind that screening will not only shield you from bugs but it can also make your house look ravishing if you pick out the right materials for it. Here are some screen options for you.
Polyester Pet Screens
This one is for pet owners or those who have small kids. Pet screens are way stronger compared to regular mesh screens you find on the market. These polyester screens are resistant to scratches, wear, and tear; thus, they will last for a longer period.
The only drawback is its visibility. In comparison to standard mesh screws, the visibility of the pet screen is pretty low. If you are in search of a sturdy protective screen to keep everyone safe, then you can certainly overlook its poor visibility.
Fiberglass Mesh
Talking about regular mesh, here it is. Fiberglass is the most used screen material in the world, even in a screened-in pergola. It is decent in terms of strength but does tend to tear off with extensive use. The nice thing is it's cheap and easy to replace.
What makes it special is that this material is flexible and doesn't crease like other products. Also, fiberglass is known to exhibit low glare when sunlight hits the surface. People install fiberglass screens because of their excellent visibility.
Copper, Bronze, Steel, or Monel
In terms of sturdiness, you won't get anything better than a copper or bronze screen. It is extremely durable and will take on the harshest of weather. The color code on these materials is what makes them a crowd-pleaser.
Although the visibility is compromised to some extent with such materials, we love the fact that it can last for ages without needing any change, such as stainless steel. These do well near the ocean as well where there's a higher salt content in the air.
Aluminum Mesh
An aluminum screen is known to be hardwearing and will resist damage at will. It is expensive and can be tough to install due to its weight and structure.
But it does have a better aesthetical aspect because you can get different screen designs if you pick aluminum. One thing that you might not like is the glare it produces when it contacts light.
Sun Control Screens
These specialty screens won't be made of any specialty metals and have all the benefits that come along with those. Their main attribute is their ability to reflect a large majority of the sun's heat so that it doesn't reach inside your pergola and make it a sweltering environment.
They still let light pass through but keep out bugs and a majority of the heat. Don't expect a miracle though. It's still going to be hot outside during the summer no matter what kind of screen you use.
5 Advantages of a Screened-In Pergola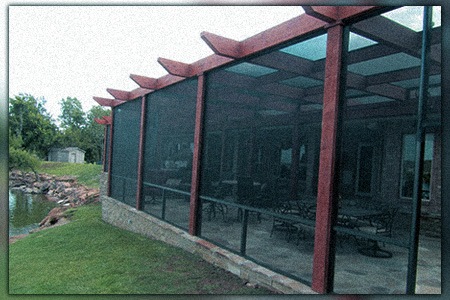 There is nothing wrong with changing the appearance of your house only to make it look better. People have been creative enough to add various architectural structures to make the living place and its environment stand out from their neighbors.
A good way to start the new renovation is to go for a screened pergola. Let's find out what makes it so convenient, especially if you already have a pergola and are looking to convert it to more of a screened-in porch.
Keeps Bugs & Rodents Away
Flying insects and rodents can be a pain in the neck if you have an open pergola. Worse if you live in wet and humid conditions. The bugs are prone to enter the housing for their shelter.
Screening in a pergola here can save your day. We suggest you get aluminum mesh screens if you have the budget and enjoy the view without any disturbance.
Withstands Weather
Imagine sitting under the pergola and getting damp from a slight rain drizze. Irritating, isn't it? This is one reason why screens are pretty handy. Adding screens to pergolas can keep away rainwater to a small degree, as well as minimize sunlight, wind, dust, and debris.
Motorized adjustable pergolas can be the best option to keep yourself safe from weather changes. Such installations have a motorized swivel function that opens and closes the ceiling/side compartments using switches.
Gives You Privacy
The grids on pergola screens come in different thicknesses and clusters. If you plan to install fiberglass fittings, the chances are people will see you from the outside.
On the other hand, a copper screen or aluminum screen can block the view of your peeping neighbors especially when viewed from an angle rather than straight on.
Adds to the Aesthetics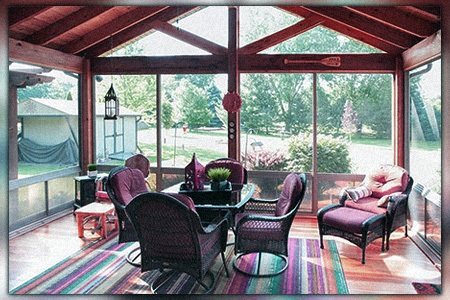 Screen pergolas are known for their protective traits, but with creative fittings, you can enhance the overall beauty of your living space. If done right, the pergola will get a refined look rather than just act like mosquito netting.
What we love is that pergolas can accommodate vines. Adding some greenery on top and the edges can bring you close to nature, which you'll enjoy as you rest with your outdoor sofas, chairs, and tables.
You Can Customize It
The good thing is that you are not restricted to just the conventional mesh grids. Nowadays, you can get pergolas with customizable options. This allows you to select the color, design, shape, size, and even necessary automation as per your preference.
A Screened-In Pergola is a Relaxation Paradise
If you've been wondering whether it's worth having screened in a pergola, then you know the answer already. We say yes; it is quite functional and will give you better protection than an open version.
Some people might shy away from a screened pergola because it somewhat blocks the view. This is true, but how about tackling the weather and bugs in that case? This is where automated pergolas with screens come into play.
You might want to check the Exosysteme motorized screen and louvered pergola. The decision to add screens solely depends on your taste. Whatever you plan to do, just don't compromise safety. Happy living in your screened-in pergola!
You'll Also Enjoy: