Why are Adirondack Chairs so Expensive? Here's Why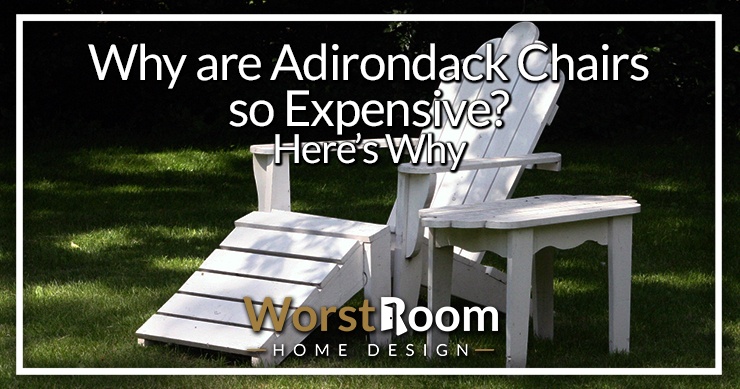 Adirondack chairs are a nice piece of furniture to add to your outdoor space, and you want to get them. But you're shocked when you learn about the hefty price tag associated with it and want to know why that's the case. So, why are Adirondack chairs so expensive?
The main reasons that make the Adirondack chairs so expensive are their comfort, durability, and stylish design. Moreover, the customization options, lifetime warranty, and other unique features of these chairs also attract customers when looking to get a chair for their outdoor space.
However, you'll learn about what makes Adirondack chairs so special and popular among people in this guide. We'll also discuss a few tips that can help you save money if you decide to get an Adirondack chair. So, let's dive in!
What is so Special About Adirondack Chairs?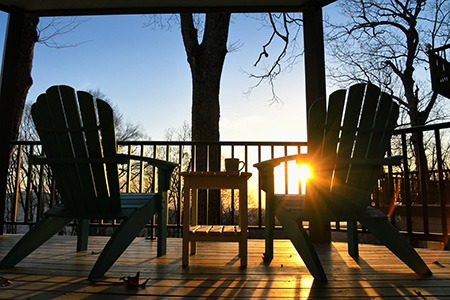 Adirondack chairs command a high price, and they're still used by many people. So you may wonder what's so special about them. The reasons are:
High-Quality Materials
First of all, Adirondack chairs are made from the finest materials on the market. The original Adirondack chairs have always been made from wood. Since these are outdoor chairs, a lot of care and attention goes into selecting the wood, as regular timber won't be strong enough for them.
The ideal choice of wood for making Adirondack chairs is teak. But not all are made from teak as its supply isn't commonly available. The other materials used for making these chairs are white oak, cedar, white pine, and mahogany. Adirondack chairs are also made from recycled plastic these days.
The use of high-quality materials in Adirondack chairs makes them last for ages. The resistance of these chairs to harsh weather and their durability are what make them unique.
Special Design
The design of the Adirondack chairs makes them super comfy compared to the other chairs on the market. The most commonly seen design of Adirondack chairs these days was made by Irving Wolpin in 1938, though they're all building off of the original design by Thomas Lee, known as the Westport chair. Lee's friend Harry Bunnell improved upon and patented the design and began manufacturing them all the way back in 1904.
These chairs have a wide arm and super inclined back, which makes anyone feel comfortable in them. So when you're out on the beach or on rough terrains, you can easily relax by sitting in your Adirondack chair.
Manual Construction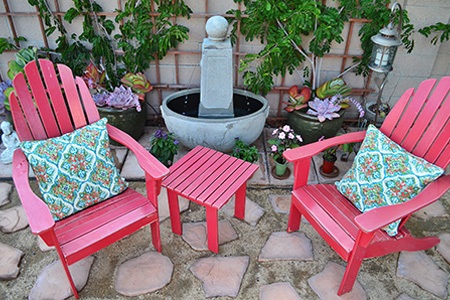 The unique shape these chairs come with demand handcrafts than an automated process. For which, many manufacturers make these chairs by hand, which takes time and increases the cost as well.
Hence, the wood needs shaping before it can be assembled with the other components. Moreover, sourcing the materials take time if something doesn't fit properly. Because of the manual labor they put into making an Adirondack chair, that makes them special.
Lifetime Warranty
When was the last time that you got a lifetime warranty when purchasing a chair? Well, there are many Adirondack chair manufacturers that are confident about their work and provide a lifetime warranty with the chairs.
It shows that the chairs are made to last, and you can use them for a long period. If something happens otherwise, you can always claim the warranty.
Low Supply & High Demand
Since Adirondack chairs aren't mass-produced, they're always in short supply. That's because it takes special labor to make these chairs, and most of the carpenters who make them live in the United States.
The job of manufacturing these chairs can't be outsourced to countries with low labor charges, like China, India, or Vietnam, as it takes expertise. As a result, homeowners, condo owners, restaurants, hotels, Airbnbs, and resorts are always in search of Adirondack chairs to make their place nicer.
It's also a status symbol for many people. They buy Adirondack chairs because they're expensive and want to show that they're rich. All these factors raise the demand for the chair while the supply is limited. That makes the Adirondack chairs exceptional, almost like limited edition products.
Customization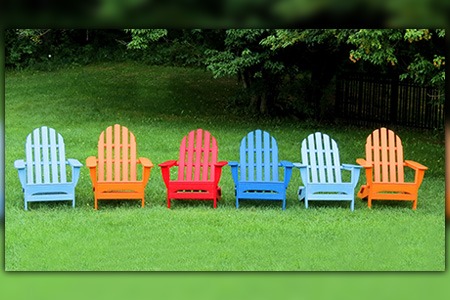 Even though the unique design of the Adirondack chair is appealing and reason enough to buy it, you can take it further by customizing the chair. While the cookie-cutter chairs come at a lower price, certain manufacturers customize the chairs according to your favorite football team or Marvel character, etc.
Another common Adirondack chair customization option that many people take is shaping the back of the chair with their home state. Everybody likes customized products as it's one of a kind and nobody else has them. Though it adds to the cost of the chairs, it makes the customized Adirondack chairs even more special.
Why Are Adirondack Chairs So Popular?
Adirondack chairs have been around for over a century, yet it's one of the most popular types of chairs in the world for patios, porches, and on the lawn. There are many reasons behind the unmatchable fame of these chairs, but here are the main ones:
Comfort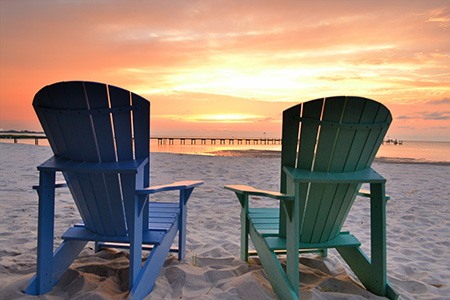 Is that even a surprise? People look for comfort in outdoor chairs, and Adirondack chairs provide just that. These chairs come with a high back and low recline to create a highly comfortable seating position.
The comfort people can enjoy when using this chair justifies the extra price, which is why they continue to be popular today. Besides being super comfortable, these also look nice and make your outdoor space look great.
Durability
Another reason behind the popularity of Adirondack chairs, despite the high price tag, is that these chairs last for generations. They can easily last for 15-20 years with minimum maintenance while providing great comfort to the users.
The fact that Adirondack chairs last so long makes them a once-in-a-lifetime investment. In fact, many of the high-quality Adirondack chairs come with a lifetime warranty. They're made to last, and people hardly have a problem with these chairs.
As we have mentioned, they're made with high-quality materials that are capable of withstanding harsh conditions. Therefore, you can leave these chairs outside without worrying about them. And they can hold up well in soft, rocky, rainy, sandy, or firm terrains.
Style
Besides the abovementioned ones, they're so popular because they look great. Even in terms of looks, these chairs have separated themselves from outdoor chairs. Many Adirondack enthusiasts use these chairs just for their beauty.
You can find these chairs in a wide range of designs that are simply unmatched by other types. So, having Adirondack chairs on your lawn will surely make it look better than your neighbors.
Are Adirondack Chairs Comfortable?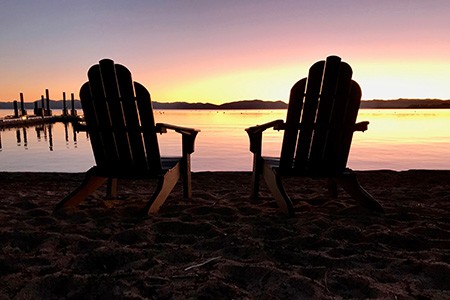 Adirondack chairs aren't just comfortable but arguably the comfiest outdoor chairs. You could easily fall asleep in them (though sleeping in a chair has dangers associated with it). The contoured design of these chairs provides great back support and also provides enough room to put cushions in there.
Although an Adirondack chair is pleasant and comfy as it is, you can make it cozier by adding pillows. You can tie the four straps of the cushion to the pillow so that it doesn't fall apart while sitting on the chair.
You should use the pillows for better back support if you relax in your chair for more than one or two hours every day. There are many cushion manufacturers that offer cushions of different sizes and colors for Adirondack chairs.
The only complaint I've ever heard about these chairs is that people can have a difficult time getting out of them do to the reclined state of the seat and back. But that says nothing regarding their comfort, which is supreme.
How Can You Save Money When Buying Adirondack Chairs?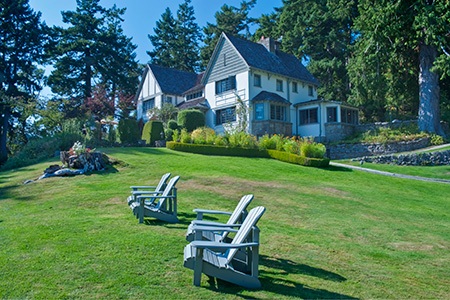 You shouldn't give up on buying Adirondack chairs even if you're on a slight budget deficit. Though these chairs are expensive, there are a few ways in which you can save money if you decide to buy them. Why are Adirondack chairs so expensive? Now that we know the answer we can skirt around those issues to lower the price.
Buy From a Local Carpenter
Companies that make Adirondack chairs on a regular basis aren't likely to cut you a deal. If you find a local builder making such chairs, you can buy them at a discounted price, but be realistic. It'll still be pricey because they have to make all of the parts of the chair from scratch.
But don't expect a heavy discount, as the materials for making Adirondack chairs are expensive, and even your local builders need to eat and all. You can also get added discounts if you buy multiple chairs at a time.
Make Your Own Adirondack Chair
You can either source expensive materials to create a DIY Adirondack chair, or you can build an Adirondack chair from pallet wood or other cheap, discard lumber. This, of course, does assume you already have access to all the tools needed or the price will increase drastically.
Buy Used Chairs
This may not seem like an ideal option, but if you're looking to save money, this is the best thing you can do. As Adirondack chairs last a long time, many homeowners who're looking to downsize and try to sell them at a low price.
You can look up used Adirondack chairs online or go to thrift shops and garage sales. There's a high chance that you'll find Adirondack chairs in garage sales that are located next to a lake. Strike a deal if you get it at a good price.
Buy Them During the Fall
In the summer months, the demand for Adirondack chairs goes through the roof as more people like to spend time outdoors, which also increases its price. But if you get it during Holiday sales or the fall season, you can get it at a much lower price as companies will be looking to empty their inventory.
That's Why Adirondack Chairs are so Expensive!
If you decide to get an Adirondack chair for your lawn or outdoor space and you're on a budget, follow the tips we shared so that you can save some money. An Adirondack chair is a good investment as they're likely to last a long time.
Now you know why are Adirondack chairs so expensive and why they live up to their price. The unique features of these amazing chairs truly make them stand out from their competitors in the outdoor space.
You'll Also Enjoy: