14 Types of Boxwood Shrubs to Spruce Up Your Lawn & Garden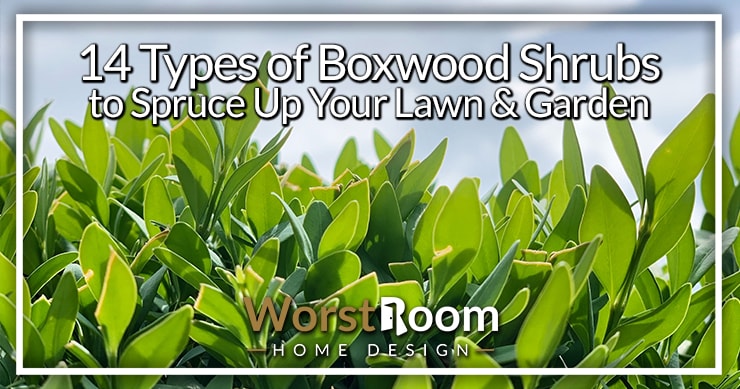 All the types of boxwood shrubs have an eternal artistic appeal that perfectly represents nature, whether for room divider or door wreaths. They elevate the beauty of any space, whether it's your interior or your landscape.
When it comes to picking a boxwood shrub, there are several factors to consider. Other than beauty, you must also think of convenience and easy management. Again, the weather and the area are other huge factors.
Learning about different types of boxwood shrubs will give you an upper hand while making a selection. The more you know about your options, the better it is. So, let's get started!
14 Types of Boxwood Shrubs
There are countless variations of boxwood shrubs used in landscapes. Here are some of the most popular varieties of boxwood for your enjoyment, and here are some tips to help you trim and shape your boxwood shrubs when you're ready.
American Boxwood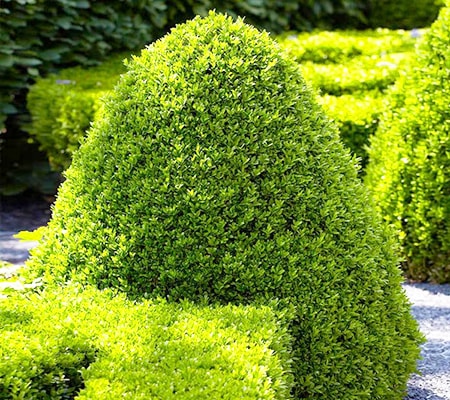 American boxwoods are deep green, pointed, and extremely long. A regular American boxwood can grow between the range of 10 feet to 20 feet.
Since these kinds of shrubs can resist extreme cold, they are primarily used in cooler countries. Other than cold, they can also withstand many plant-based diseases and attacks from herbivores.
The taxonomical naming of this boxwood is Buxus Sempervirens. It is often carved in a twisted tree shape with a pointed tip and used as decoration.
Dee Runk Boxwood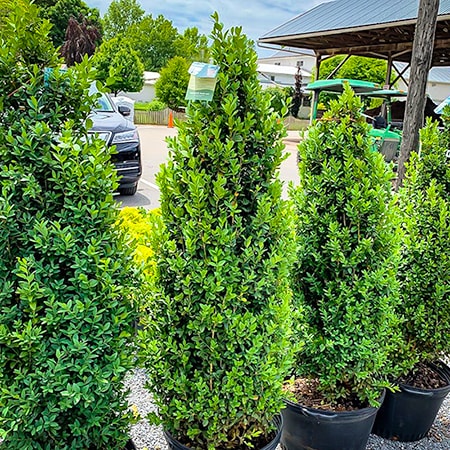 Dee Runk Boxwood is a variety of shrubs that falls under American boxwoods. This boxwood species has a similar deep green color and pointed growth.
However, the leaves have more of an oval shape resembling the English boxwoods. If you don't have much space to place your shrubs, these different types of boxwoods could be your ideal choice.
Because of their tall growth, they fit perfectly in slimmer areas. Most people use these shrubs at the end of their housing territories as a statement. Save the clippings from your pruning to use on your various types of wreaths for spring and summer.
English Boxwood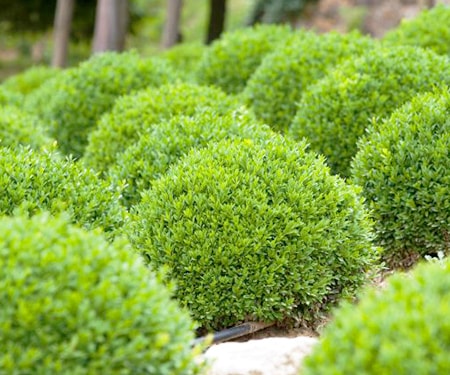 English types of boxwoods are well-known for their slanted growth and rounded shape. Because of their small stature, they are known as dwarf shrubs.
They have fresh-looking, light green leaves that add an appealing charm to them. A common sight in aristocratic lands, they are also found in important landscapes and many notable gardens.
Although its appearance is different from the American boxwoods, the one similarity is its evergreen nature. It is pretty hardy and rarely loses its color.
Fastigiata Boxwood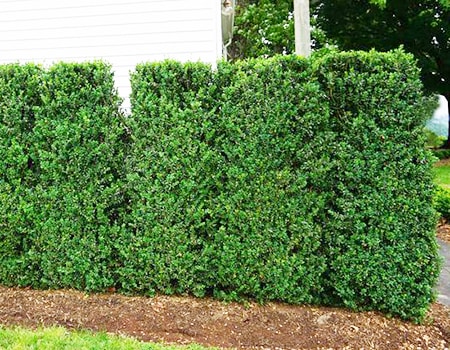 This one, too, is an American boxwood. It bears dark green foliage that tends to glimmer. Although their leaves are oval, the shape isn't as distinct as the Dee Runk boxwoods.
The shape of Fastigiata boxwoods may vary. Although they seem to have a somewhat trilateral shape, they can also turn into an amorphous structure.
Even their width is more significant than average Dee Runk boxwoods. For this reason, they are placed in singular spaces or corners rather than being put up in rows.
Glencoe Boxwood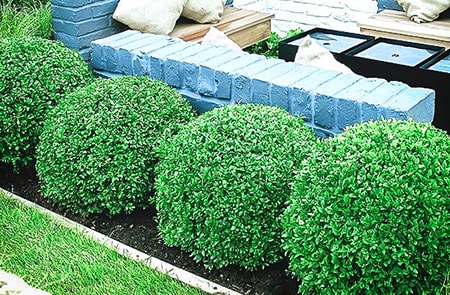 Extremely popular in botanical gardens, the Glencoe boxwood shrub is a hybrid variety of boxwood. They can form a great base for a living fence, too.
It is significantly short, ranging from 3 to 4 feet in height. Its growth rate is also relatively slow, ranging from 1 to 2 inches in a year.
If regular pruning is a hassle for you, this can be an advantage. The Glencoe boxwood is one of the most resistant shrubs in cold weather.
During the summer, however, you will need to water these types of boxwood shrubs frequently to ensure proper care. These also produce minute, white flowers.
There's a hybrid between Buxus and Glencoe boxwoods called Chicagoland Green boxwoods that are attractive. They grow wider and taller and are cold-hardy, compared to the types of boxwood shrubs from which they're a hybrid.
Japanese Boxwood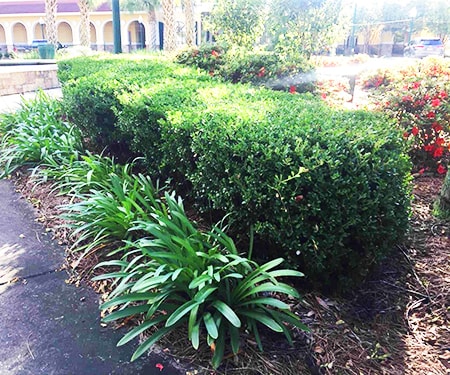 Despite having extremely slow growth, these boxwood shrubs are preferred by many to enhance the beauty of their establishments.
Their small shape is alluring by its own virtue and is often used to complement other, bigger, boxwood types. They are usually placed very close to one another in rows and columns.
Their appearance is very similar to regular trees, with the roots peeking out. Above all, the reason why they are so popular is that small flowers bloom from them.
Green Beauty Boxwood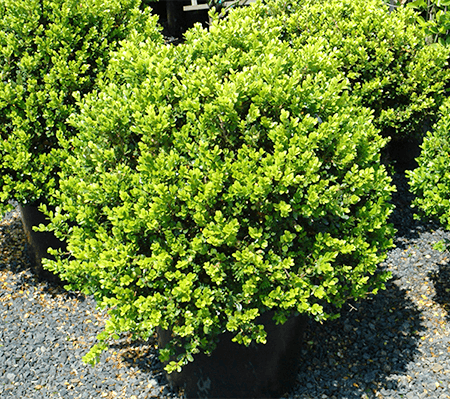 While most of the boxwood shrub varieties mentioned so far are cold-resistant, here's one that can withstand heat and humidity. Areas where rainfall doesn't occur regularly are the abode of these shrubs.
They are usually placed in pots or used for decorative mazes. To help these shrubs grow fully, you need to provide them ample sunlight. Partial shade can do the job, too but isn't well-recommended.
Their dark green foliage complements the walls really well. For this reason, people often place these shrubs adjacent to their outer walls.
Vardar Valley Boxwood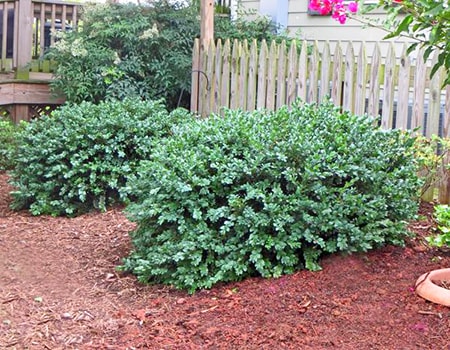 One last noteworthy member of the American boxwood family is the Vardar Valley Boxwood species. Compared to Dee Runk and Fastigiata, this is relatively smaller in size.
The name "Vardar Valley" comes from the fact that these shrubs mainly grow in mountainous regions. Although some country homes tend to plant them, it's a rarity.
Since it's not that tall, you can prune it without changing its shape much using the right types of scissors. But it is not as cold-resistant as the other American boxwood varieties. So, the pruning should be done during springtime.
Morris Midget Boxwood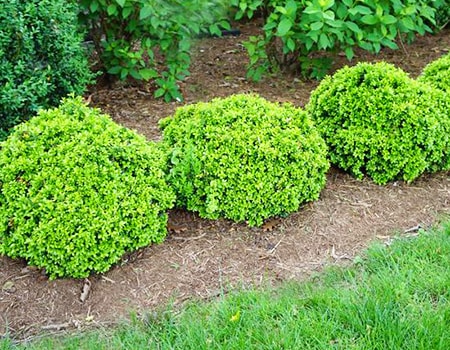 As a part of the slow-growing Japanese boxwood family, Morris Midgets are ideal for office spaces, alleys, and gardens. These shrubs are often planted to complement a bigger plant, usually a flowering one.
Whether you place it in a pot or out in the garden, you will have to water it regularly. Full to partial sunlight is adequate for this shrub.
Since it has thicker leaves, pruning it is a little tricky. Gardeners usually let these shrubs grow on their own, pruning only when absolutely necessary.
Green Gem Boxwood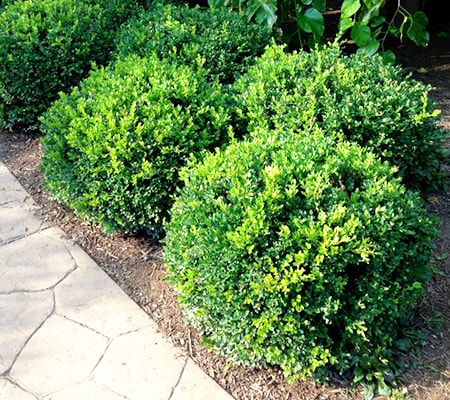 Green Gem is one of the popular hybrid varieties of boxwood shrubs. Since their roots have little depth, it is ideal for growing them separately.
If they are raised with companion plants, their growth might be hindered. Compared to Japanese or Korean types of boxwoods, the hybrid varieties have broader leaves.
This plant requires little to no pruning as it naturally bears a rounded shape. Although it has a weak root, it starts to withstand snow and wind to some extent once it matures.
Morris Dwarf Boxwood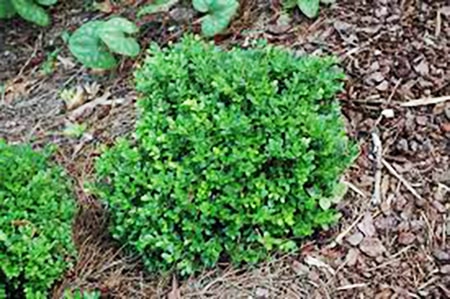 The Morris Dwarf types of boxwood shrubs are quite interesting. Its structure consists of both sensitive and hardy areas. In the winter, the color of its foliage deepens up a little.
But it reverts to the original color during spring. You won't need to clip it often if you plant it in your garden. It requires organically rich regions to grow in.
Although they're abundant in rain forests and tropical forests, don't be surprised if you spot them in dumping land!
Green Mountain Boxwood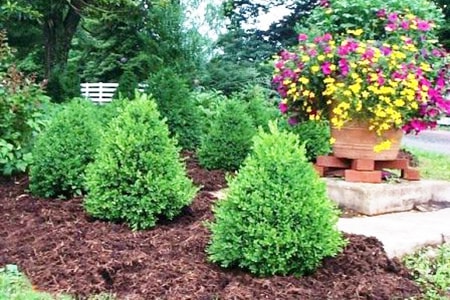 Green mountain boxwood types are extremely popular as decorative shrubs, the most common choice for Christmas trees. Their foliage is truly green, glossy, and uniform.
Managing these shrubs is also relatively easy as their leaves have an unvarying shape. But since their growth rate is somewhat faster, you might need to clip them often.
Korean Boxwood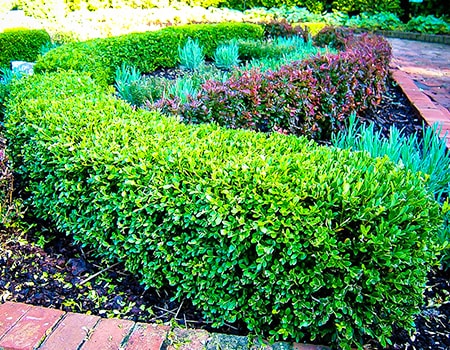 Out of all the types of boxwood bushes, the Korean variety is the only one that can divide into branches. This phenomenon occurs as these shrubs reach a mature stage. They can only grow up to 2 feet in height.
The tree-like branching of Korean shrubs is rather spread out. So, when the branching begins, shrubs that grow in the open take up a lot of space around them.
In the spring, these boxwoods produce flowers. Extremely resistant to all weather conditions, these are ideal for planting all year round.
Wintergreen Boxwood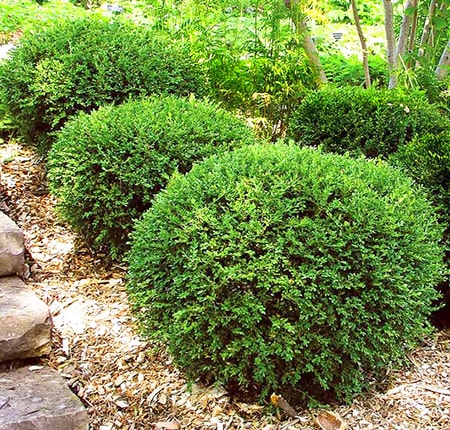 Out of the Japanese varieties, the wintergreen boxwood is relatively taller. It grows up to 4 feet, spreading out to a similar width. As its name suggests, its color barely changes in the winter.
Because of their impressive growth rate, they are often used to fill empty spaces. Once they're pruned and shredded, they act as a highlight to the greenery of a location.
Types of Boxwood Shrubs for Every Lawn & Garden
Make sure you choose the perfect shrub fit for your space and climate. May your garden blossom throughout all the seasons! All the very best!
So, these were the common types of boxwood shrubs worthy of adorning all beautiful locations. Now without wasting any time, decorate your garden using these.
You'll Also Enjoy: