15 Types of Wreaths Perfect for Every Season, Holiday, or Event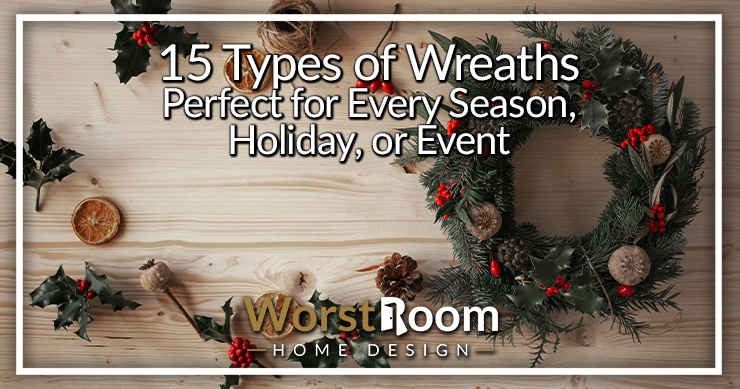 Trying to find the right types of wreaths can be a tricky pick because there is no one wreath that fits all requirements. From holidays to funerals, there are a lot of events that call for a wreath.
So, be careful which one you are shopping for. But the good news is that whichever it is, there are a ton of options because of this object's popularity.
While there are many DIY options, if you are old school you can still take a look at a selection and get confused. So, here's a primer on the subject.
6 Types of Wreaths Based on Style
As we said, there is a time and place for all different types of wreaths. This category is about purpose. Even as far back as ancient Greece were olympians adorned with wreaths when they won or were given crowns made of wreaths. We've been using this for so long, and now in the present there's many types with many meanings. Let's explore those now.
Rustic Wreaths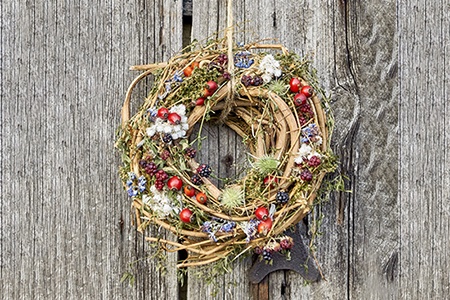 Those who like to keep it real and distinguish themselves from a neighborhood of glamorous and flashy wreaths, rustic choices are perfect. These are largely celebratory and match traditional and farmhouse interior design styles.
Rustic wreaths are made of branches, leaves and pine cones of different styles. They are known for their natural appeal.
These wreaths are certainly a great choice for the holidays but also work as a decorative on the front door right into the new year.
And, if you want to add just a touch of bling to it, a little ribbon or a bow made of natural materials will be just perfect.
With rustic wreaths, you can have it both ways. You may also want to add a few glass balls and a hint of red to show off some Christmas spirit.
These wreaths are well known for their festive and traditionalist look at the end of the year. In fact, they can be used as a decorative item on fences and windows too.
Holiday Wreaths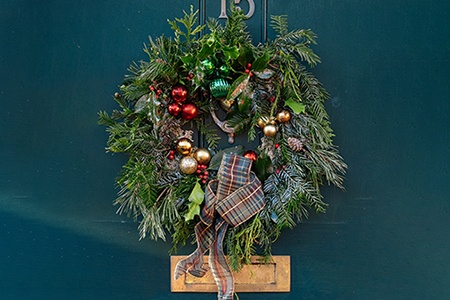 One of the most festive and jolly things to do during Christmas is to hang a wreath on the front door. It is easy and brightens the entrance.
Holiday wreaths are typically made of fresh and fragrant green leaves. And they do last longer in dry indoor conditions and hot weather.
These types of wreaths are a great choice for Christmas. You can also find artificial wreaths in many designs that will stay fresh without the pressure of weather conditions.
Funeral Wreaths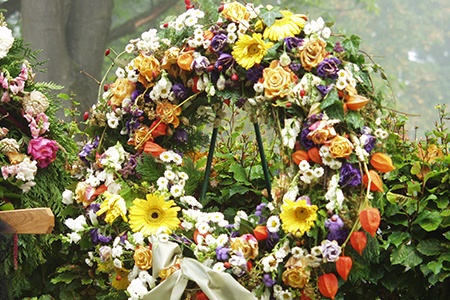 On the polar opposite of Christmas are wreaths that are chosen for funerals. Since they are a popular choice even for this solemn occasion, you will find them in many shapes, colors and sizes.
They are used to express condolences the same way they are used to show joy in the holiday season. The trick is to pick the right flowers and design, much like when dealing with funereal types of bouquets.
Rose Wreaths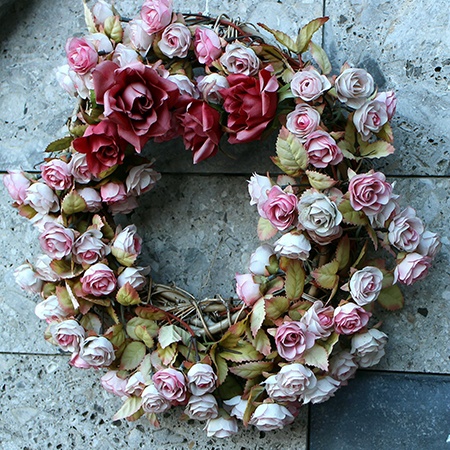 Roses come in many colors and all of them evoke various emotions like love, friendship and respect. When it comes to funeral wreaths, crimson roses are the best choice. Yellow roses are a sign of friendship. So, those work too.
A single rose is a sign of everlasting love for those who don't walk the planet anymore. You can also get a wreath made of a collection of flowers with a few roses in the mix.
Lily Wreaths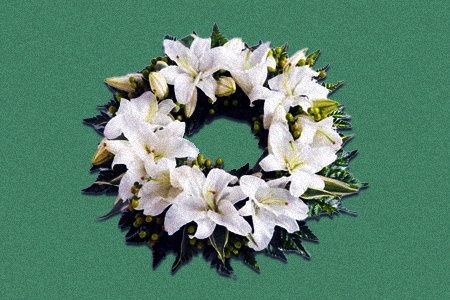 These are a go-to choice for funerals even otherwise. So, you are likely to find many wreaths made of lilies. Funeral wreaths may have other flowers too but you will see that one with lilies is meant to convey sympathy.
Lilies are quite aromatic and they signify restored innocence which is a powerful message after a death. If you are religious, you should note that lilies are a symbol of purity and radiance in Christianity.
Carnation Wreaths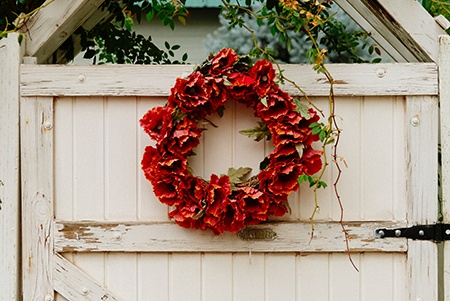 Like roses, you will find carnations in hues of red, pink and white. The color of these flowers also has great significance and it must be kept in mind before picking a funeral wreath.
Pink is for remembrance, red is for respect and white is for innocence and love. So, the color you pick will reflect the relationship you had with the dead. These flowers also last a long time and are very aromatic which makes them a great pick.
4 Types of Wreaths Based on Season
Seasonal wreaths are also used according to the season and the style is decided based on the mood of the weather. Let's see which one is hot right now.
Summer Wreath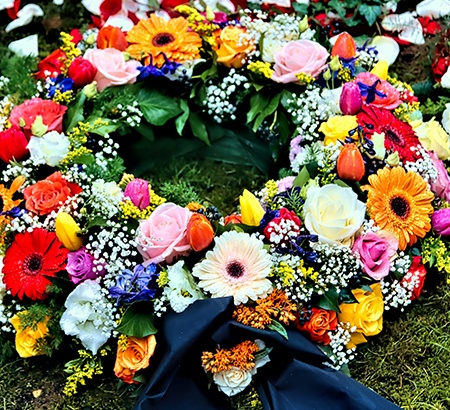 In summer, you will find a nice variety of simple and stunning designs. You can even make these wreath types yourself, but if you want to get one ready-made, consider one made with hydrangea flowers that are bound with grapevine.
You can also add some artificial flowers if you want some depth. The colors yellow and white are very popular for summer wreaths.
And you cannot miss with daisies because they have a fresh visual appeal. Various types of sunflowers are also an excellent choice because of their happy disposition.
You can also make summer wreaths without using any flowers. For that, you can look at artificial turtle or butterfly showpieces.
Spring Wreath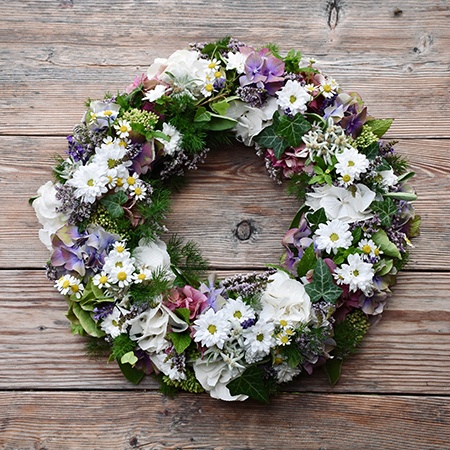 A spring wreath is an excellent way to signal new beginnings. This is the time when buds start to bloom and birds and animals come to life.
It is a beautiful season and you can get a range of flowers and leaves to brighten up the front door. It is a great time to look for fresh-cut flowers like tulips, any types of daffodils, all types of hyacinth, and bluebells for your spring types of wreaths.
Fall Wreath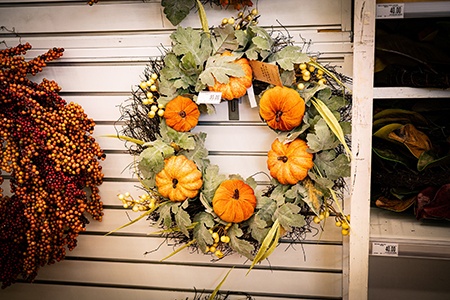 Then there is the season of transition—fall—when the leaves turn yellow or orange and fall to the ground. This is the season of Halloween and Thanksgiving which means it is about having fun and celebrations.
You will be planning lots of exciting activities and you probably have loads of guests coming home for each event. Show your creative side with a collection of DIY wreaths.
You might also want to consider white pumpkins with burlaps and large autumn leaves for your wreath. With a touch of berry sprigs and make it bright.
Winter Wreath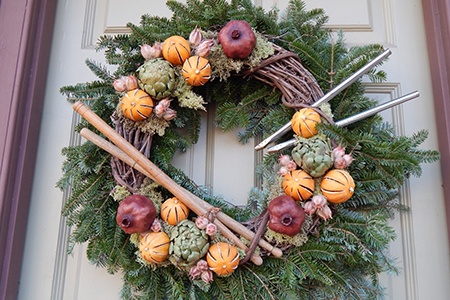 After Christmas and before spring is a tricky time for decorations. It might look like too much after the holiday season but removing all of it makes the home look empty.
But winter wreaths make the balancing act quite easy. There are different types of wreaths for winter that convey warmth and coziness.
Whether you use snowballs or pom-poms or ruffled burlap, you will not regret the choice. Make the pom-poms with yarn or pieces of cloth and pick Styrofoam for the snowballs. A little glue and some Epsom salts make it look shiny.
5 Types of Wreaths Based on Material
The other way to pick a wreath is to figure out the materials you have or want to get. This is important information especially if you want to make your own wreath.
Wire Form Wreaths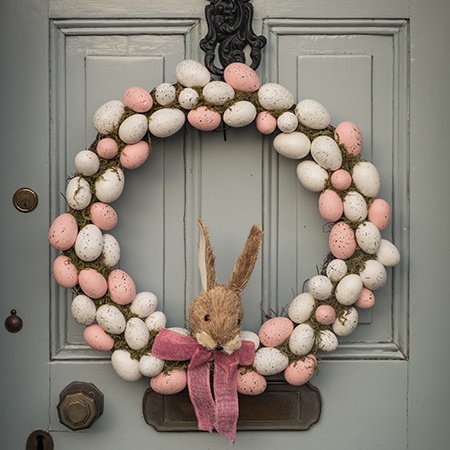 Wire form wreath shapes come in very handy when making wreaths with fabrics like mesh or burlap. The various types of wreath forms go around and through the materials which makes connecting the different elements a piece of cake.
Vintage Ornament Wreaths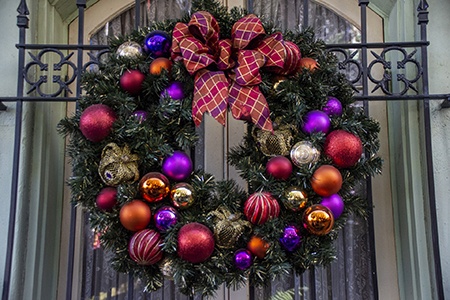 If you are a fan of period pieces, you will be happy to know that wreaths of this theme come in all shapes and sizes.
These are typically a sign of fun and festive season decorations that even kids can make and have a blast while they are at it. They're especially popular around Christmas time.
Bottle Brush Wreaths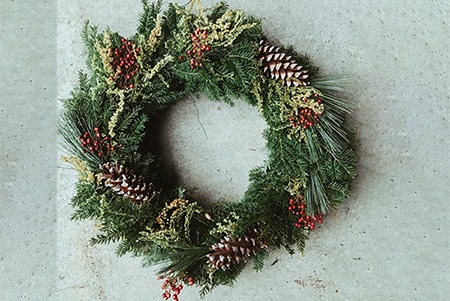 The dark green wreath types that look like they would be great scrubbers are excellent materials for a wreath.
These types of wreaths are typically made of plastic that is quite coarse and are one of the most preferred designs because of how durable they are.
A little fake snow makes them look winter-y and a few ornaments can give your home the much-needed festive cheer. If the days are gray, well, you can always add a couple of warm colors.
Floral Wreaths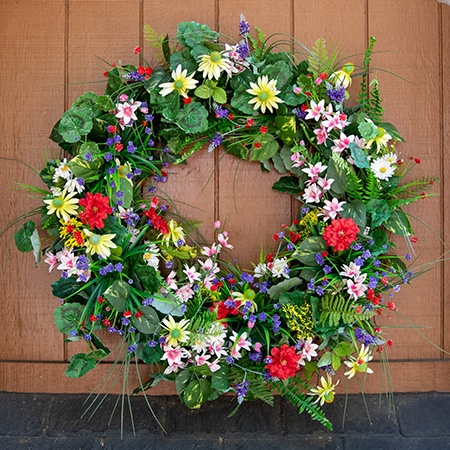 These are possibly some of the most popular wreaths. They are made only of leaves and a single type of flower.
But if you want to mix things up a bit, you can get leaves of different shapes and the same flower in different colors, like various types of chrysanthemum.
That will keep the symmetry and consistency while making it visually appealing. These are also the choice for funerals because you don't want to be too decorative for that.
Candy-Based Wreaths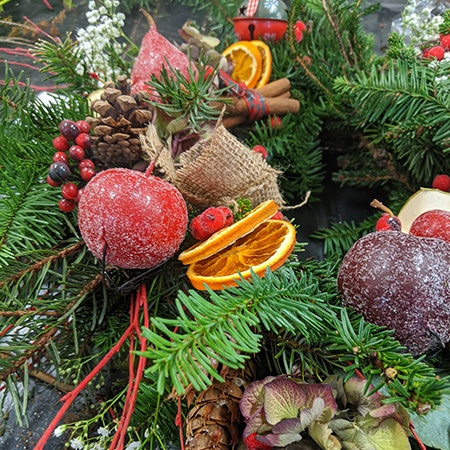 This is a variety that kids and grown-ups love equally. Using candy-striped balls to make huge, twinkling wreaths is the best way to wake everyone out of slumber.
These wreaths are easy to make and make everyone happy (and satisfy their hunger later on if required).
For sparkle, add a little glitter and turn it into the envy of every neighbor with a sweet tooth. Get a green or red ribbon and announce that the holidays are here.
This piece will go very well with whatever other decorations you have in the room, no doubt. If you use fake candy, make sure you tell your guests that the wreath is not edible.
Types of Wreaths for Every Occasion & Festivity
There was a time when wreaths were exclusively for festivals and funerals. That was also the time when it was all about flowers and leaves.
But today, you are limited only by your imagination and we are here to give it wings. Happy holidays and enjoy whatever types of wreaths you make or end up with!
You'll Also Enjoy: