20 Types of Lavender to Beautify Your Flower Bed & Garden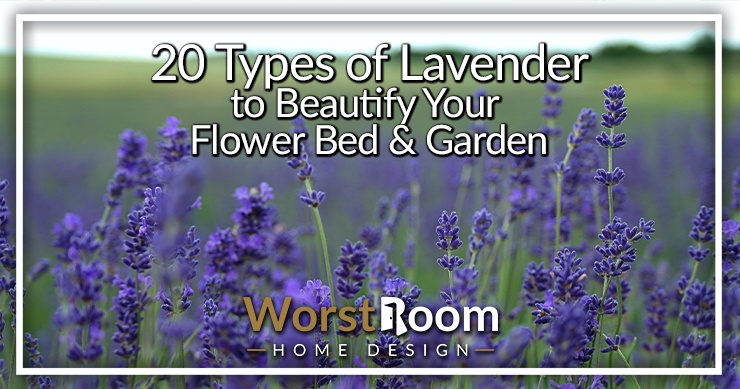 Lavender is a sun-loving plant and is pretty popular for landscaping gardens, lawns, and yards. So, if you were thinking, "How many types of lavender are there," the answer will surprise you!
Okay, here it goes! There are 47 lavender species with over four hundred varieties as we speak.
They naturally grow in the Mediterranean, where the summers are hot, and the winters are cool. Hybrid lavender species have a sweet aroma, flaunting lush green foliage over the seasons.
Now, if you're big on colorful, sweet-scented bouquets, make sure to read this article to the end! We'll introduce you to twenty different lavender types, most of which are easy to care for and thrive beautifully in dry soil!
20 Types of Lavender
It wasn't easy, to sum up, all varieties of lavender since there are so many. From pink-blooming lavenders to beautiful Betty Blues, these gorgeous plants just keep you guessing! As an aficionado, you may interesting in the Lavender Growers Association.
We came up with 20 different lavender blooms that will give you a good idea of the Lavandula genus. Let's get started, shall we?
English Lavender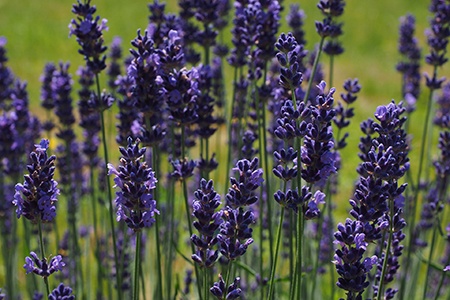 The English lavender (Lavandula angustifolia) grows in beautiful small clusters and exudes a sweet scent. You can find them in different shades of blue, pink, and purple. They grow up to 3 feet tall in milder climates in the South and need lots of sunlight to thrive.
The lofty purple bloom gives English lavenders their name! Plus, they have light green foliage that stays mainly at the ground level.
Little Lottie English Lavender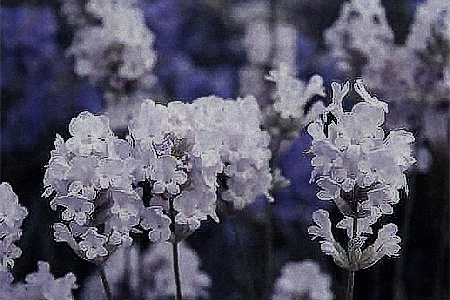 This is a highly aromatic dwarf lavender plant. You'll like it for its mauve flower spikes, but you'll stay for the fragrance! We've always found Little Lottie shrubs interesting. They bloom in masses and grow up to only 30 centimeters tall.
Impress Purple Lavender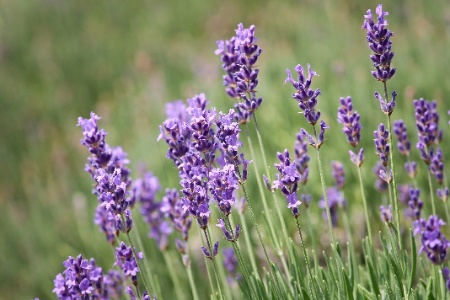 Behold, we have another strongly-scented lavender shrub that's waiting to be discovered, the Lavandula x intermedia. Impress purple is a hybrid lavender. It grows well in sunny areas and alkaline soil. Impress purple is famous for attracting butterflies.
So, if you want to switch up your landscaping game, plant these hybrid types of lavender in the garden. They're of the same height as the English and Portuguese varieties.
Are you looking for short lavender shrubs with a strong fragrance? Then you don't want to miss out on Hidcote Giant! Just make sure to keep reading!
Hidcote Giant Lavender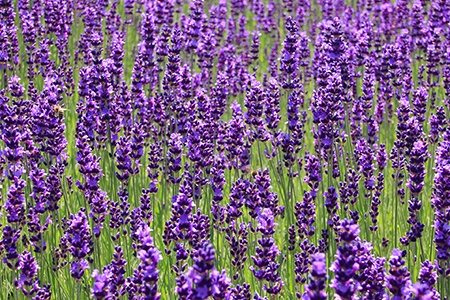 If you want to be blown away by the natural scent of lavender, Hidcote is the way to go! First of all, it's an aromatic shrub with slender stems of purple-blue flower spikes.
They don't spread as wide as Munstead English lavender. So, you can plant the shrubs 35 centimeters apart. They bloom in the summertime and love dry soil and drainage.
Egyptian Lavender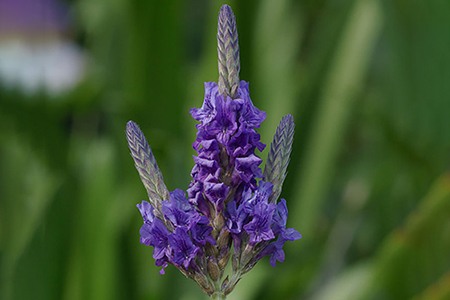 Also known as Fernleaf Lavender (Lavandula multifida), this variety has a special place in our hearts for its sweet, aromatic bloom. Some people find their scent to be a little pungent.
Their silver-green foliage looks feathery in groups so that you can use them as an ornamental piece for your garden.
Egyptian lavender is one of the easiest varieties to spot on a lavender farm. They have small stems and bipinnate leaves. Plus, they can grow in the shade! Mixed with a chamomile lawn, it's a beautiful sight to behold.
Portuguese Lavender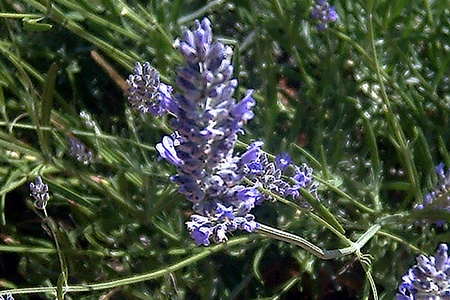 If you're looking for a slightly more fragrant type of lavender, the Portuguese variety (Lavandula Latifolia) is an excellent place to start. Portuguese lavender shrubs can be 1 to 3 feet tall. They look very similar to their English sisters and bloom mainly in the late spring.
You'll find them blooming in the late summer in some areas. The long stems have lilac-colored blooms at the top. They have broad, coarse leaves so that you can tell them apart from English lavender.
White Provence Lavender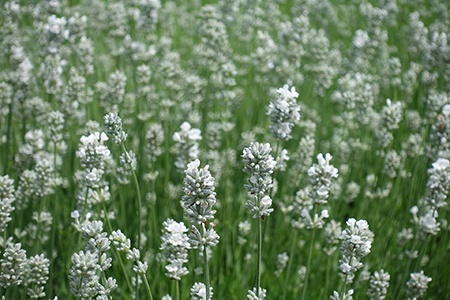 Did you ever think to yourself- "Can lavenders be white?" It turns out yes, they can.
It's one of our favorite lavender hybrids because of its pale white color.
Provence lavender is amazingly fragrant and can give any landscape a serene look. They're not as tall as English lavenders, but they spread about 45 centimeters wide. Compare them to your typical types of lupine and you can imagine how great these would look together in one field.
Cathy Blac is another excellent example of white types of lavender plants. It's a brighter shade of White Provence lavender and grows up to 4 feet tall.
Munstead English Lavender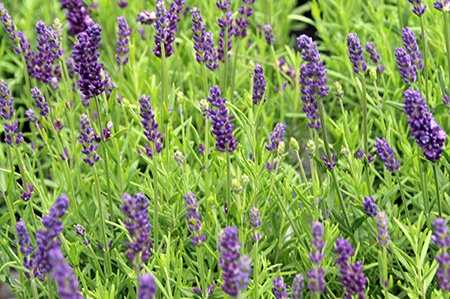 Looking for a darker shade of Hidcote lavender? Well, what about Munstead? These lavender shrubs look beautiful and smell fantastic. They can add a sweet punch of color to your garden and stay all the way to late springtime.
Munstead lavender plants have long stems and narrow leaves, showing off a rosy-purple bloom throughout the season. They grow well in sandy, neutral soil, thriving the best in the USDA Hardiness Zones of 5 through 9.
French Lavender
This species of lavender (Lavandula dentala) is known as butterfly lavender in France, where it's used in restaurants and perfumeries. But French lavender is actually native to the Mediterranean countries.
It has a light yet distinctive fragrance, and some days it will remind you of rosemary. It's less hardy than other plants and requires a sunny climate for growth. Visually it looks so beautiful when grown next to any of the types of irises due to the matching shapes and colors.
Regal Splendor French Lavender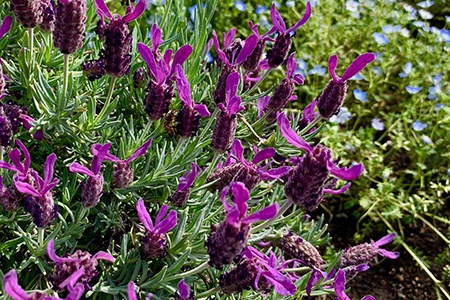 Many landscapists consider Regal Splendor to be the best hybrid French lavender. Its velvety flower spikes stand tall against the light green foliage. These different types of lavender can excite adventure in kids and pets alike.
You can compare it to Anouk lavender, which is a similar French variety in a deeper purple shade. Mix these in with the bright, deep, and richly colored types of marigolds and you'll have an amazing flower bed going.
Fathead French Lavender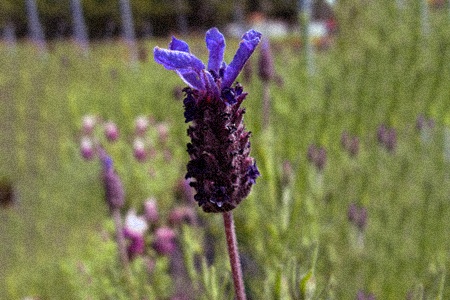 We certainly weren't expecting the name Fathead French right after the fabulous Regal Splendor French lavender. Take one look at this lavender shrub, and that's what you'll name it too!
For one, they have short stems with parted leaves. You can see little purple spikes on the oval-shaped blooms. They sure love the sun and grow in plenty from zones eight to nine!
Anouk Lavender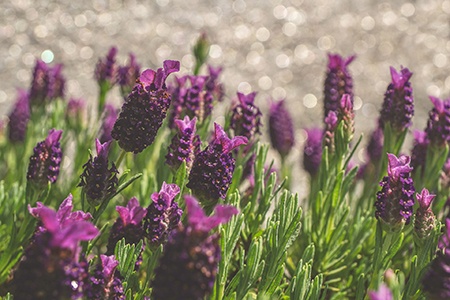 If you ever fancied plum-colored blossoms in your garden, pick this French variety over the English lavender. Their flower heads are of a dark purple shade.
Plus, it's an evergreen shrub with a calming fragrance from up close. Anouk kinds of lavender plants can be surprisingly small. They look tidy for their upright foliage.
Spanish Lavender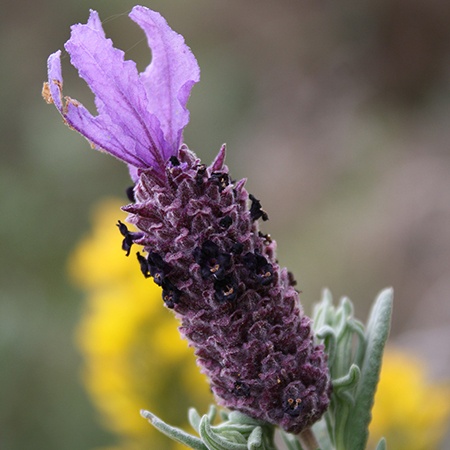 These particular varieties of lavender (Lavandula stoechas) thrive better in hot climates. Spanish lavender grows up to 2 feet tall. It's an ideal lavender shrub to grow in Southwestern regions. The flowers are less aromatic compared to English lavender.
Its petals showcase a unique formation- resembling rabbit ears for the most part. You can recognize Spanish lavender from far away for their rabbit ears and gray-green foliage.
Seal Lavender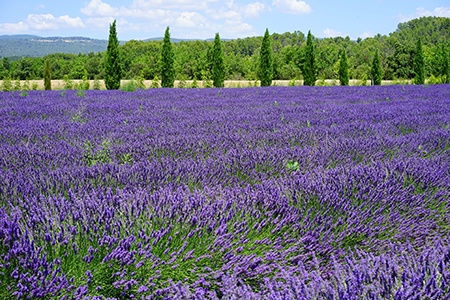 If you're not a fan of long-stemmed lavender plants, something tells us you'll love Seal lavender and its mauve bloom. They have a majestic spread, growing about 3 feet wide in spring.
Moreover, these plants bloom comparatively early than most natural varieties and hybrids. They stay for up to four months and deliver a sweet fragrance to your front porch.
Provence Lavender
Well, well, well. If it isn't the largest lavandin of all! Provence lavender flaunts tall stems and smells sweeter than most types of lavender plants we know.
They make great lavender wands and potpourri. You can make an exceptional flower arrangement with their sweet-scented stems.
Moving forward, they have grey-green foliage like the Spanish lavender. We love this variety for its flower spikes. It's actually a French variation and a popular choice besides Anouk and Fathead French!
Betty's Blue English Lavender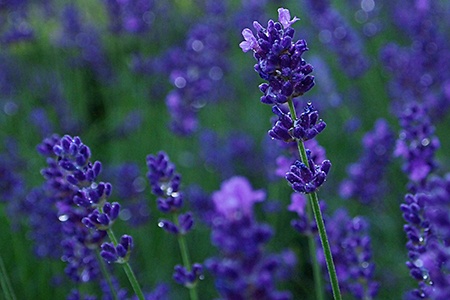 It's a medium-height shrub with low water needs. This English variety grows mainly in wintry climates. It features purple-blue blossom and faded green foliage.
Betty's Blue became popular for its long stalks and stiff stems. They're a staple to luxurious flower arrangements.
Thumbelina Leigh English Lavender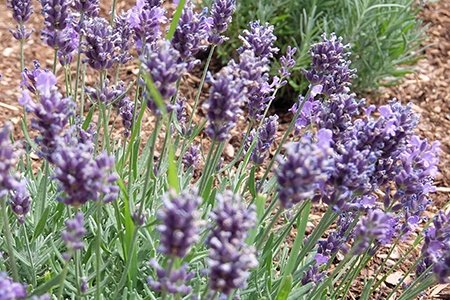 Who doesn't like purple-blue flower spikes and collected foliage? We all do! And when it's a sweet-scented dwarf lavender, you know you have to give this Thumbelina Leigh a chance!
They are no more than 12 inches tall. You can grow these English lavender types in a small flowering pot on the balcony!
Loddon Blue English Lavender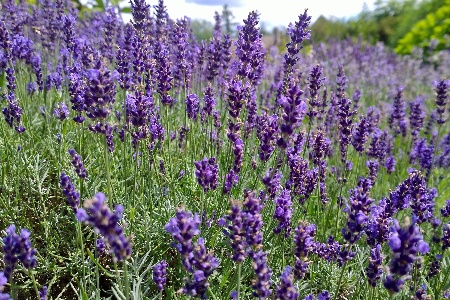 It's one of the most-loved varieties of English lavender. And we understand why! Its purple blossom looks beautiful in the bushy green foliage. Keeping the plants tidy is easy because the leaves will only grow half as tall as the plant.
Rosea English Lavender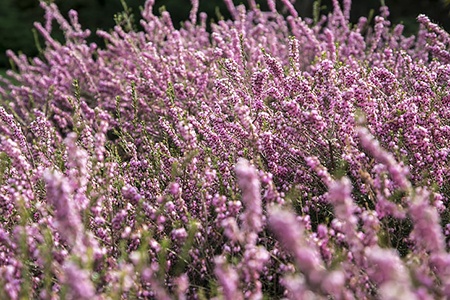 It's the last English variety for today. But it's nowhere near purple. The flowers are actually a pale shade of pink.
Rosea looks similar to Little Lottie lavender, but they're more of a sensitive kind. They don't grow well in humid areas. So, good luck growing Rosea in British weather.
Grosso Lavender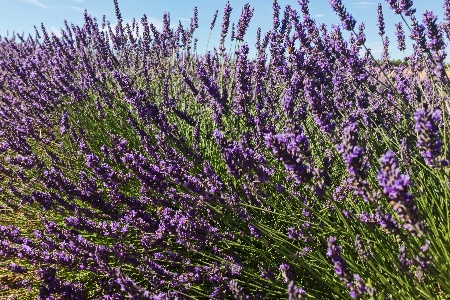 This is another variety from the Lavandula x intermedia cross. It's an excellent pick for making various types of bouquets and potpourris. Grosso is a high-yielding plant with a magnificent spread.
Although it's a commercial plant, Grosso lavender can look pretty elegant in a suitable landscape. Currently, Grosso is one of the most widely used lavender shrubs for making essential oils.
Types of Lavender to Bring Beauty to Your Home & Garden
That's all about lavender for today. Now that you know about so many types of lavender, which lavender shrub did you like the most? We hope it's an English lavender or any of those sweet-smelling hybrids.
Our three personal favorites are French Lavender, Hidcote Giant, and the good old Lavandula angustifolia. Last but not least, it's easy to grow lavender in a sunny, well-drained spot.
So, if you want to enjoy the beautiful sight of various types of lavender blooms from your porch, get ready for spring and start making the beds right now! Best of luck!
You'll Also Enjoy: