15 Types of Hedges That Form the Perfect Lawn Boundary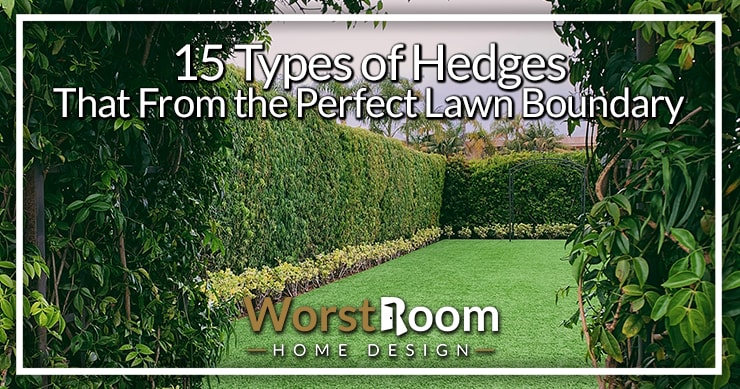 If you own a garden, you must have considered creating any types of hedges at one point if you have not already. Hedges have a variety of uses – from acting as a privacy screen to serving as a decorative piece in your garden.
Now, the question is, what kind of plant to choose for your hedge according to your need. To help you with that, we have crafted this article to list specific types of hedges, and dig deeper into their details, such as how they bloom throughout the year, what type of soil is needed, etc.
So, to get the answers to all your questions, keep reading and enhance your gardening knowledge.
15 Types of Hedges
Hedges can be mostly categorized into 2 types – evergreen and deciduous. All hedges have different uses and can add varying degrees of beauty to your garden.
So without further ado, let's dive into each one to know a little bit more about them:
Evergreen Hedges
If you plan to plant hedges for privacy, then evergreen hedges are your best bet. As the name says, these hedges grow all year round and provide you with a screen of greenery.
These trees add beauty to your garden and look great in both the summer and winter seasons since they do not turn into brown leaves.
However, these hedges need maintenance at least once a year, so make sure you get these only if you can set aside some time each year to prune and cut them.
Fertilizing yearly or twice a year is also a requirement with these plants. Some great evergreen hedges that you can look into are...
Conifer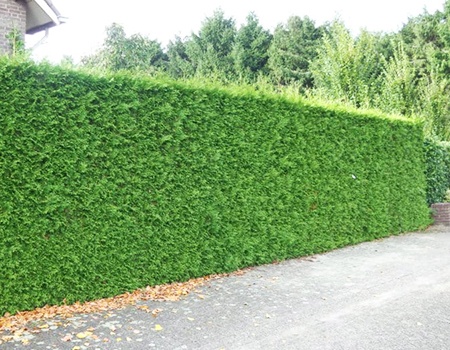 Conifers are amongst some of the most popular plants used for hedging. They typically come in different sizes and shapes, and that makes it easier for you to choose one according to your garden needs.
You can even get them in the size of potted plants, if you do not want to build any different types of hedges full of this all the way around your property.
Portugal Laurel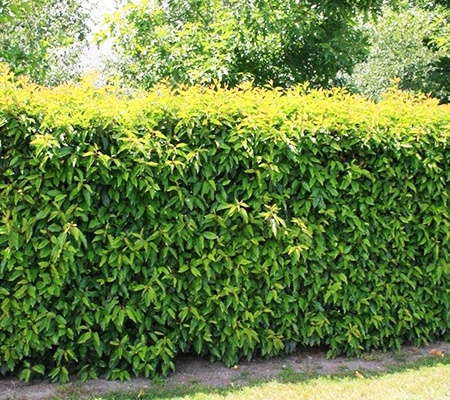 Portugal Laurel, also known as Portuguese Laurel, are characterized by dark-red stems and small white flowers that have fragrance.
The beautiful appearance of this plant makes it a good addition to any hedge. Besides, it has a neat and tidy look, which is quite easy to maintain.
Viburnum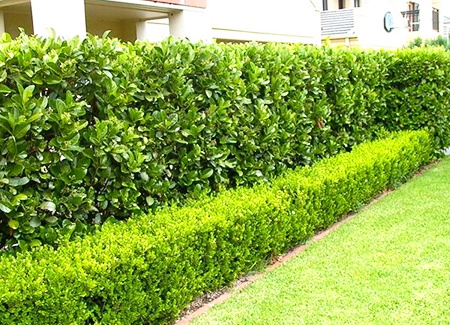 Viburnum hedges can be either evergreen or deciduous, so we stuck them here. It grows thick and tall, giving you plenty of options about the height and the shape.
You can even choose how much space you want within your hedge by spacing the plants at 50% of their mature width for closed privacy, and at about 75% for a more airy and see-through appeal. These can form a living fence quite easily, either way.
After the viburnum hedge flowers in the spring and drops the petals, this is your cue to consider trimming and pruning the hedge if you desire.
Cherry Laurel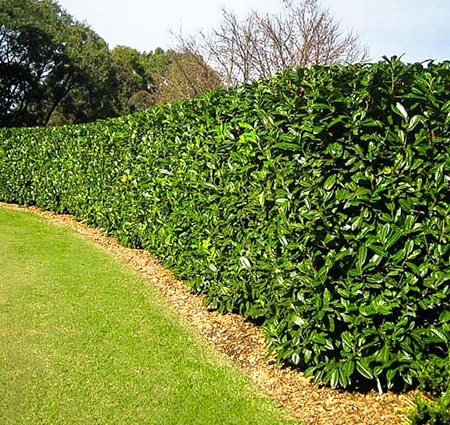 You can grow Cherry Laurel in both super sunny and cold climates, which makes it among the most popular types of hedges in all regions. Please be careful though, this hedge plant has a high severity poison rating to humans (don't consume or burn and inhale).
This plant is quite similar to Portugal Laurel, except that its leaves are a bit larger. It also grows much thicker and can give a lush appearance to your garden.
Western Red Cedar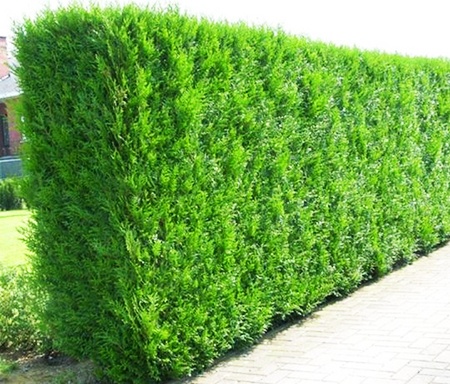 If you live in a windy region and need a plant that can tolerate strong winds, then the Western red Cedar might fit your needs. Since this plant is extremely robust, they will provide you with a privacy screen no matter how bad the weather gets.
They are also one of the fastest-growing plants for hedges. Moist, wet soils work as ideal grounds for this plant.
However, if the soil has been waterlogged for too long, then that works as a hindrance to the plant's growth. It can grow up to 100 feet if left untrimmed, so remember to prune it according to the size you want.
Cypress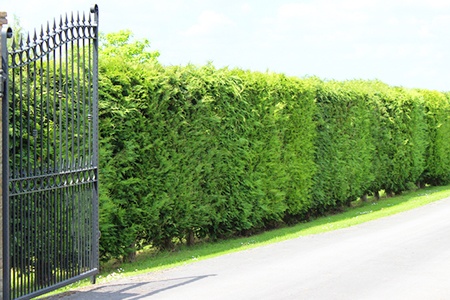 Evergreen Cypress trees can be kept to size by pruning and make wonderful hedge types. You've likely seen a Leyland Cypress before. Heck, I have one in my front yard. They're everywhere.
If you use them to form a hedge, make sure to plant them at least five to six feet apart so they can grow healthily, because they are still trees after all. They won't need your intervention with watering or fertilizing, either.
Golden Leylandii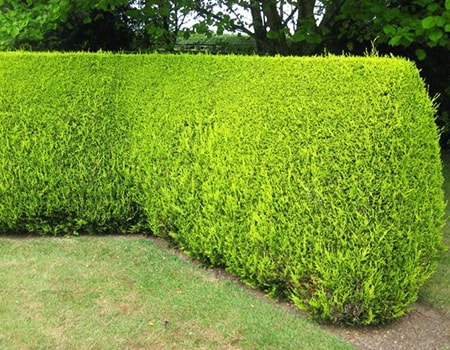 Are you bored of hedges that stay green all year? Then you can look into plants such as the Golden Leylandii, which turns to a beautiful bright yellow gold color during springs and summers.
During autumns, it retains its usual bright green appearance and turns into a striking bronze in winters. In terms of attractiveness, this plant is the most popular among consumers for its changing appearance throughout the year.
However, keep in mind that this change of color also means that the plant is slightly more expensive than other evergreen plants.
Red Robin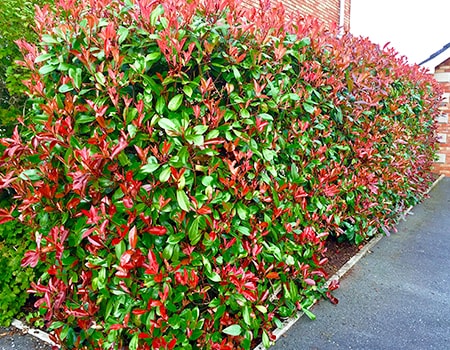 Red Robins are known to produce absolutely brilliant red leaves in the spring, which will definitely make your garden stand out amongst others. This is mostly used alongside other evergreen plants to create attractive patterns of green and red throughout the garden.
You need to give some extra care to this plant and trim it at least twice a year to give it its best shape. Maintaining any types of hedges can be a pain, but luckily Red Robin can be grown on any kind of soil, which is a large advantage.
Boxwood Shrubs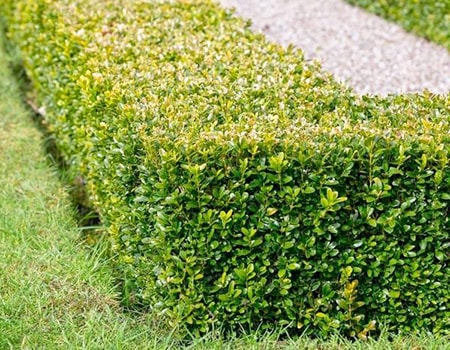 The main features of boxwood hedges are their short leaves, which give them a very well-maintained appearance. It produces small cream-colored fragrant flowers in the spring, making it even more pretty to look at.
You can grow it on any kind of soil, as long as water drains easily. Various types of boxwood shrubs grow well in both sunlight and shade and can thus be grown in various areas.
One of the things plant lovers like about this type is that it is completely deer and rabbit resistant, so you do not have to worry about your beautifully maintained shrub disappearing overnight.
Deciduous Hedges
These are different from evergreen options in the sense that they do not have leaves in the fall and winter seasons. However, they usually look prettier when in full bloom, owing to the various sizes and shapes of flowers they produce.
For this reason, many garden owners love to use these hedges for their ornamental value. Deciduous hedges do not need to be trimmed as frequently as evergreen hedge types.
Hence, they work quite well as informal hedges. But if trimmed correctly and maintained with some patience, they can look extremely formal as well.
The most popular kind of deciduous hedges are listed below to help you choose for whatever types of hedgerow you come up with -
Flame Amur Maple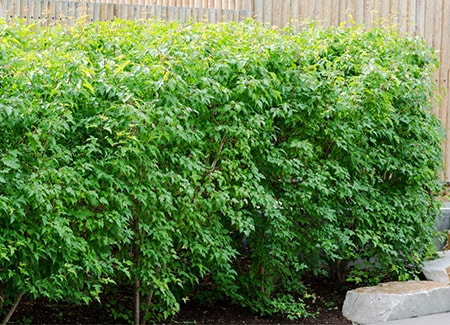 Flame Amur Maple, as the name implies, gives a beautiful red flame like color in autumn. This plant grows mostly in locations that have a lot of sunlight and do not require much maintenance.
These types of hedges retain their original green leaves during summer. One of the best things about this plant is that it is drought resistant, so harsh hot climates are not usually a problem if you want this tree.
They can grow up to 20 feet tall if you do not trim them yearly. Most garden owners like to keep them well trimmed according to the size of the wall they want to cover.
Purple Beech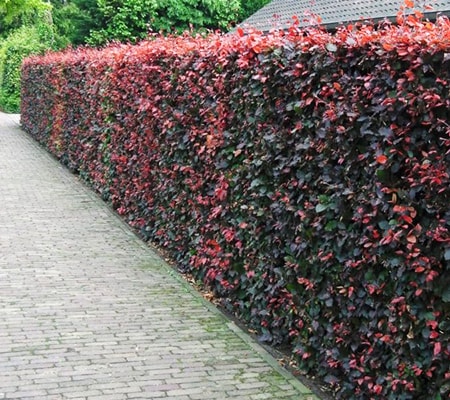 Purple leaves can add an instant dose of prettiness in any setting. The purple beech is, therefore, a must-have in your garden if you want a splash of color among the usual green and golden brown leaves.
The purple color also varies among the species, from a light purple with green hues, to a bronze-ish purple, and a really dark purple that almost looks like ink. You can already imagine these kinds of hedges from the description, I'm sure.
This plant has a general neat appearance, so maintaining it does not require much time and effort. It grows best in climates that have full sunlight and can have a height of 12 feet. This plant is mostly used in large lands and gardens for decorating purposes in various patterns.
Glossy Abelia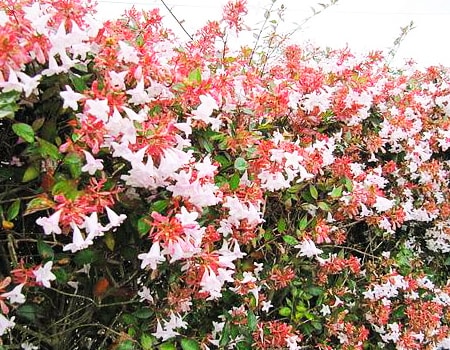 These types of hedges are medium-sized bushes that produce beautiful bell-shaped white colored flowers when in full bloom. They're a hybrid of Linnaea and Grandiflora.
They can make your garden look exceptionally pretty but also a bit messy owing to the large size of the flowers. Therefore, they work best as informal varieties of hedges.
Sweet Mock Orange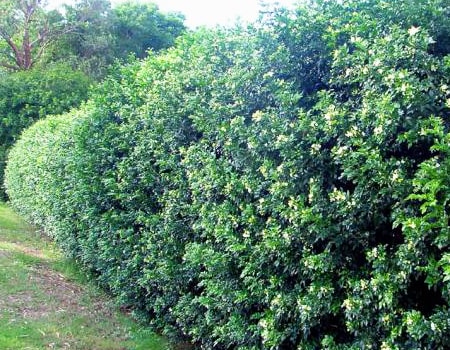 Amongst hedge varieties that look good while also creating an atmosphere of sweet fragrance around them, Sweet Mock Orange is definitely mention-worthy.
This plant is also known as English Dogwood. It works best as an informal hedge, and the dark green leaves create a plush look in your backyard.
These hedges can grow well in any kind of soil and hence are good for all climates. Make sure, though, to keep the soil well drained during heavy rains.
European Hornbeam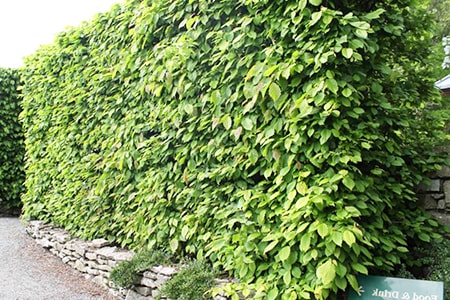 European Hornbeam has distinct characteristics that make it stand out among other plants used for hedging. It has grey bark, and its leaves change colors between a bright green and a striking golden yellow over the year in different seasons.
It can work as both formal hedges and also as informal hedges used as privacy screens around your home. You can grow this on all kinds of soils.
Korean Lilac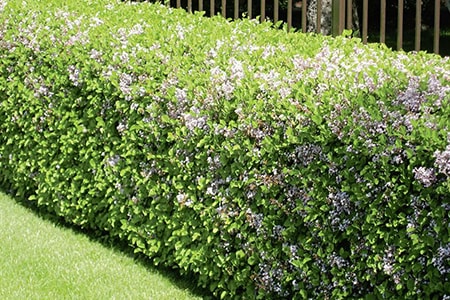 If you want to have some beautiful lilacs in your garden but do not have much room, then simply plant Korean Lilacs as a hedge on a wall.
These types of lilacs are compact and thus works great as a hedge. The lilac flowers create a beautiful contrast against the dark green leaves and add to your garden's beauty.
18 More Types of Hedges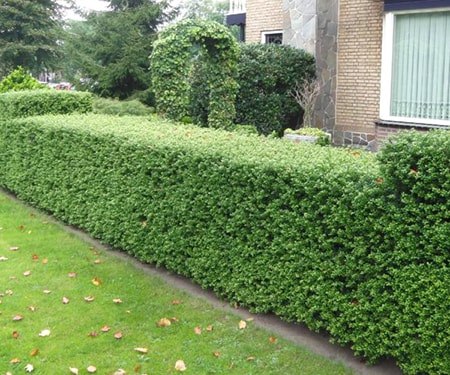 While we can't cover every single possible option out there, we have touched on the most popular. And they're popular for good reason, so following the wisdom of the crowd isn't a bad idea.
But if you want to venture off further, here are some more types of hedges that people have success with, including some types of holly, with varying levels of effort involved:
Spruce
Wax Myrtle
English Holly
Japanese Holly (pictured above)
Rose of Sharon
Flowering Quince
Most Types of Azaleas
Yew Bushes
American Arborvitae
Canadian Hemlocks
Privet Hedges
Juniper
Forsythia
Barberry Bushes
Euonymus
Mountain Laurels
Privet
Some people even use types of bamboo to achieve a privacy or boundary hedge. More types of arborvitae work than were mentioned, too. The options can truly be endless, but there's a lot to say for being able to shape the bushes and choose the right height for your property.
Types of Hedges for Every Lawn & Garden
Using this as a guide, you can now decide what kind of hedge you want and how it would add to the aesthetic of your garden.
Getting the perfect type of plant for your hedge can drastically improve the look of your garden. Which is why our article on the types of hedges will be of great use to you.
You'll Also Enjoy: