14 Types of Bouquets to Make Your Event Simply Magical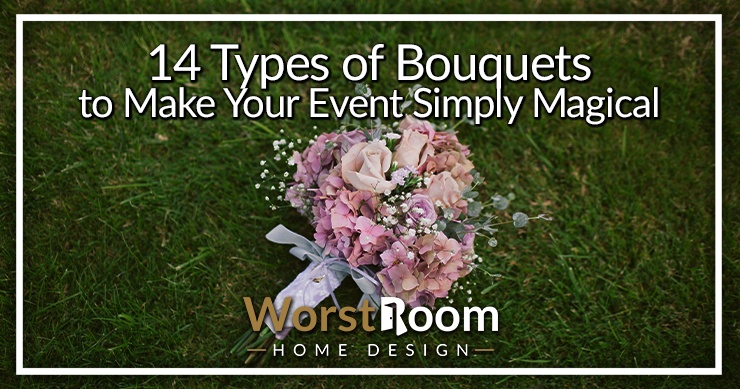 Anyone walking into a party with a bunch of flowers looks really classy and in the know. And if they get the right types of bouquets for the event, aiming to please the host, well, mission accomplished.
It helps to know just a little about flower arrangements to really get the right bouquet. And since it is our pleasure to help you out, we put together a list.
14 Types of Bouquets
Whether you're setting up a fancy dinner for your friends, decorating for a wedding, or sending flowers to a special event, this list of the types of floral arrangements and bouquets will help you make your decisions and know your options.
Cascade Bouquets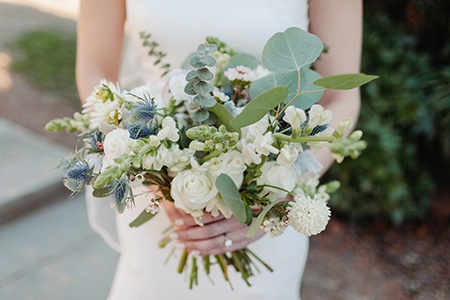 This is a classic setting. You will often recognize bridal bouquets to be in this bushy form. The foliage and flowers are placed in a waterfall setup such that the bouquet looks full at the top and carries on to the bottom.
Cascading bouquets contain leaves, flowers and stems. But you will also see a lot of green grass in this arrangement.
Various types of ivy and orchids are a popular choice because they have a natural cascading look and accommodate the shape of this style of arrangement.
This setup is meant to look rich and romantic. Hence the choice for weddings and anniversaries globally.
Posy Bouquets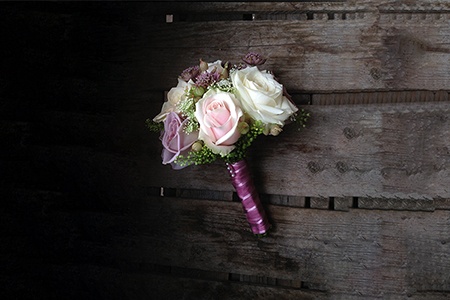 If you are looking for a bridal bouquet and the bride is petite, this one will look the best in her hands. In this arrangement, you can use a single flower or go for a combination. Just make sure that the petals are more pronounced than the greenery.
Flowers like types of peonies, roses, gerbera daisies and ranunculus are used for a posy. The stems of your choice of flowers are tied together with a ribbon or a fabric because it is supposed to have a loose visual appeal.
These types of bouquets are small in size and are meant to be held with one hand which makes them easy for brides who need their hands free on their big day. This style of bouquets is typically chosen for minimalist weddings with a sweet and simple theme.
Round Bouquets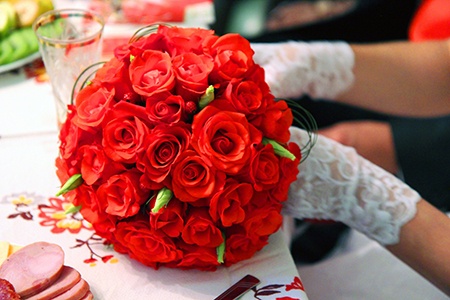 Round bouquet types are very well known and not difficult to picture because they look exactly what the name sounds like. In this arrangement, the flowers get more importance than the foliage around them.
The fully bloomed flowers are arranged in the shape of a dome which is a classic. It works for traditional occasions and those who are opting a more modern approach.
So, whether you are planning a casual event or a formal one, round bouquets are definitely to be in the running. Not every flower fits into this arrangement but round bouquets do come in many sizes and color combinations.
If you are going to make the bouquet yourself, be sure to use only one kind of flower so that the shape stays symmetrical from all angles. Try to go for roses or anemones which have a bulb-like shape and structure.
Round bouquets look bigger than a posy and are often monochromatic so that the overall look has a sense of harmony. Anemones, garden roses, chrysanthemums, types of dahlias, and ranunculus are all excellent choices.
Crescent Bouquets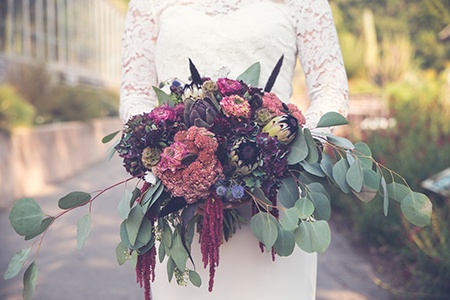 Crescent bouquet types are a sight to behold. Much like one of the types of wreaths, a crescent bouquet may form a full circle using vines, ferns, and ivy, but only part of it (the shape of a crescent moon) is decorated with flowers.
Nosegay Bouquets
When it comes to weddings, it's hard not to come across nosegay types of bouquets. They also look round in shape and are compact in size. But a variety of flowers are wrapped neatly and given a tidy look.
All the flowers are cut to the same length and wrapped together with a fancy piece of fabric or a silk ribbon. If you are trying to draw all the attention towards the flowers, a simple wire wrapping will also work just fine.
These bouquets usually have a large flower that is the center of all attention and a mix of other flowers complement the main piece.
This arrangement is the opposite of round bouquets in the sense that the foliage becomes a priority. The greenery is meant to stand out more than the flowers.
This is an elegant bouquet that has been around since the Victorian times. But they fit right into your chic wedding setup too.
Fan Bouquets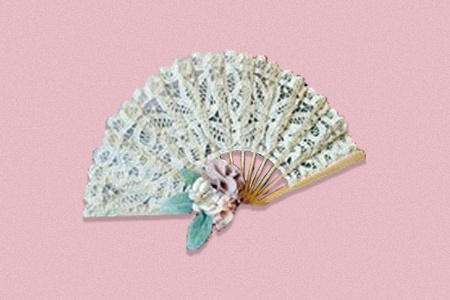 These smaller types of bouquets are simply flowers arranged in the shape of an Asian hand fan. An easier way to think of it would be a taco shell with flowers placed in it with the stems pointing inward and the petals just along the rim.
The arrangement doesn't open and close, and may feature a handle at the bottom center to assist in carrying the bouquet. It's a very classy look if done correctly, since the fan portion will also be decorated in some fashion.
Biedermeier Bouquets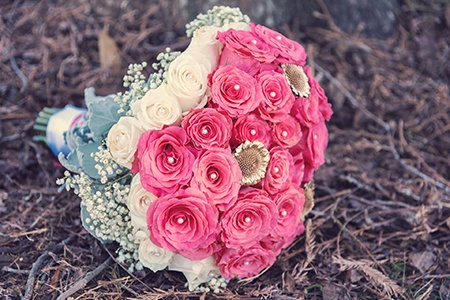 If you see a bouquet where the flowers are arranged in concentric circles, you are looking at the Biedermeier arrangement.
Named after a German style of interior design, this is an excellent choice for perfectionists because it has many different types of flowers but they are all arranged in rings following a color theme.
You can also ask the florist to arrange the flowers according to size. It is all about creating an elegant bouquet with multiple layers following a theme. Some of the biggest Biedermeier bouquets have 8 to 10 rings and are used as centerpieces.
Dahlias, roses, orchids and types of tulips coupled with some leaves and ferns for texture look magnanimous in this arrangement. The best choices, however, are dahlias, roses, and orchids.
This is a visually stunning arrangement of symmetrical circles that are meant to look like they are spiraling from the center.
The Biedermeier arrangement is definitely meant for those who have a flair for the dramatic and want to make a bold statement.
Presentation Bouquets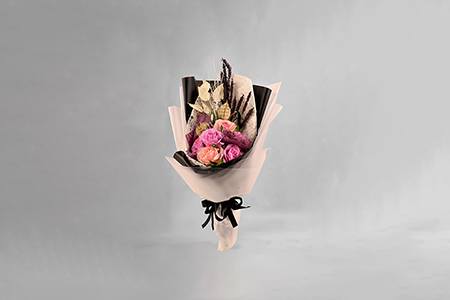 You've likely seen these types of bouquets before at pageants or ballet recitals, where the performers are given a bouquet of flowers. That's why they're sometimes called pageant bouquets.
These are handheld flower arrangements that can later be easily placed into a vase to enjoy for as long as possible. They're often fairly large and are made to order at flower shops.
Pomander Bouquets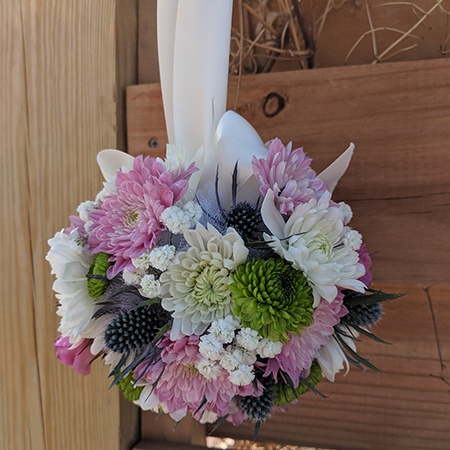 In a wedding setup, this is the arrangement that looks perfect in the hands of the flower girls and other younger guests. But if your florist can tweak it a little and put a unique twist on it, this is a pretty great bridal bouquet too.
The Pomander arrangement is rather unique and deviates from all the other traditional styles. It is a round ball of flowers that are brought together with twine or a ribbon which is why you can carry it like a handbag.
You can also wear it on your wrist. If it is an outdoor event, this style works great to hang flowers on trees or around the venue.
Carnations, types of sunflowers, roses and gerbera daisies are all excellent choices for this bouquet. It can be created with a single flower or a mix of many.
Just ensure that the flowers are not drowning in greenery and the stems are kept inside the ball arrangement. The stems of the flowers hardly have any importance in this arrangement and are not supposed to carry the flower arrangement.
This is a youthful pick that oozes charm and romance. A lot of couples like to add jewels and gems to it to make the bouquet look unique. And it works too.
Basket Bouquets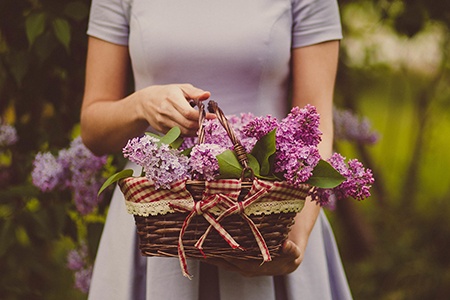 There's not a lot extra to say about basket bouquets that the name doesn't already communicate. These are you typical types of floral arrangements all mentioned here, but placed in a basket to pull off a more rustic feel (or not!).
It's a common choice for weddings and open-sky events under a tent outdoors where you can place these arrangements on the tables or on pedestals around the grounds.
Composite Bouquets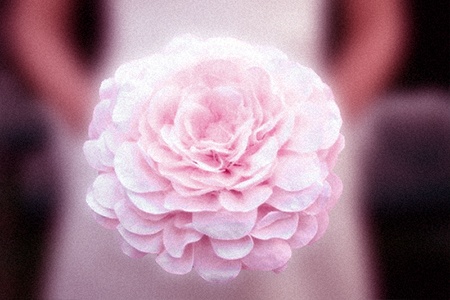 Also known as glamelia, the composite bouquet is all about glamour. This flower arrangement is used for many occasions that are not weddings because they make a lasting impression.
This bouquet is actually made from individual petals rather than fully-bloomed flowers. These petals come from many flowers, preferably ones that are thick and large. They are arranged radially so that the bouquet looks like one big circular bloom.
Composite bouquets are also called Carmen Rose and are most certainly a modern style of arrangement. It takes hundreds of petals to get the bouquet to look like one big flower.
But, the end product is very elegant and might just be the star of the big event. Because it takes a lot of work to design and execute this arrangement, it is also an expensive one and takes a lot of talent to get it right.
Any flower can be used to make these types of bouquets but lilies and orchids are preferred because they are likely to stay fresh for a longer period of time.
Shower Bouquets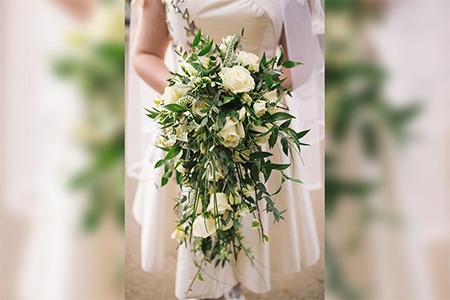 Ever since Princess Diana was seen carrying a long, flowing floral arrangement, these bouquet types became wildly popular. The reason this happened is because many people saw her shower bouquets because it was her wedding day.
These are handheld bouquets that feature all of the beautiful orchids, hydrangeas, lillies, and other flowers, but also leafy aspects that all dangle and droop down on the front much like the shape of a tear drop.
Hand Tied Bouquets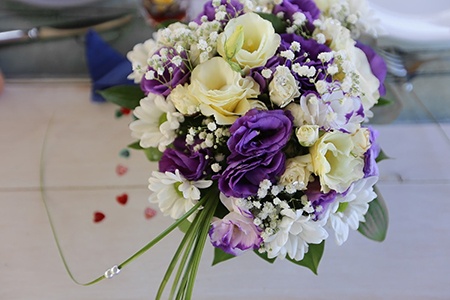 The last one on this list is possibly the simplest one. If you are not into glamour or presentation, if your event is all about being casual and yourself, this might be the arrangement for you. As the name suggests, this is just a bunch of flowers brought together with a simple ribbon.
Brides who want to look as natural as possible popularly go for this arrangement. This bouquet is easy to create and fits the profile of DIY fans.
You can follow some order and start with one flower that draws the eye. Then, add a few more flowers, preferably in a spiral style. You can also go for a few long-stemmed flowers like peonies or delphiniums and wrap the stamps with a floral tape.
The best way to execute these bouquet types is to pick fresh flowers and wrap it with a string or wire or a ribbon. If your event has a rustic or bohemian theme, hand-tied flowers will fit right in.
Hand-tied bouquets are very popular for their casual nonchalance and go with events that are meant to look a little messy. It is an assortment of fresh flowers with stems of different lengths.
If the flowers of your choice come with greenery, well, let it stay. They add color and texture to the effortless look.
Tussy Mussy Bouquets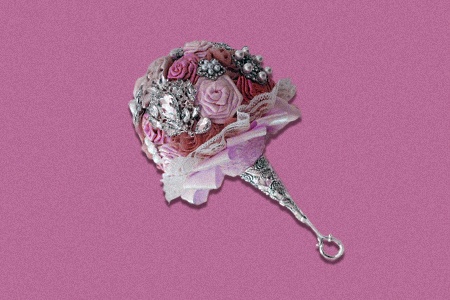 Like a basket bouquet, the tussy mussy is a nosegay bouquet that's placed in a cone-shaped vase. Sometimes they're see-through and the flowers are arranged in such a way that you don't see the stems, but simply more flower petals.
The vase will reduce down to a thin neck on a wide foot so the bouquet can be placed on a table or carried by a lady comfortably by the neck, similar to a wine glass.
Types of Bouquets for Every Event
If we talk about types of flower arrangements, there are many more to cover. A lot of florists come up with their own style thanks to how highly skilled they are.
You will find varying combinations of color, size, and patterns for different types of bouquets all over the world. There is no one-size-fits-all answer to which one is the best. That really depends on you.
You'll Also Enjoy: