17 Types of Camellias for Flowering Evergreen Shrub Lovers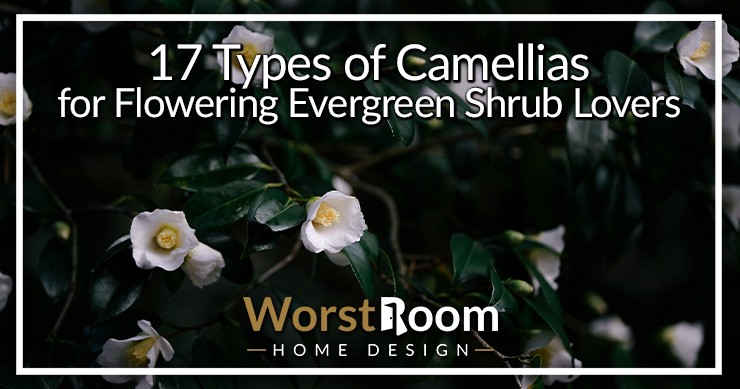 All the types of camellias are known for their ease of planting and bringing a splash of color to the gloom of winter anywhere. They can live through very difficult conditions and award you with beautiful blooms as well as delicious tea.
Perhaps the most difficult thing about planting this flower in your garden is to choose which variety to get. According to scientists, there are at least 300 different types of camellias available, and almost all of them bring their individual flair to your garden.
But what are these variants? Keep reading our article, and you will know about some of the most common varieties of these flowers belonging to the Theaceae family. Let's start, shall we?
17 Types of Camellias
Single, semi-double, formal double, rose form, peony form, and anemone form are all types of camellia blooms. Here are the varieties of camellias:
Setsugekka Camellia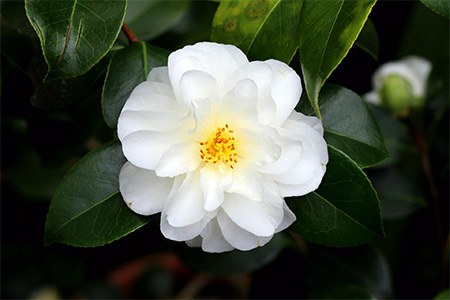 From the looks, you might mistake this variant for a boutonniere made of tissue paper. But that is not to say the white petals of setsugekka look cheap by any means. Camellias are known as tsubaki in Japan, meaning "tree with shining leaves", and this particular breed shows you why.
It is wavy, and the stamens in the center are a shade of bright yellow. Overall they are a super classy-looking flower that gives your garden a posh look. A person who isn't experienced could confuse this camellia as one of the types of petunias in shape and color.
You can grow these plants along the fences or walls of your garden, and the stark contrast of bright white flowers and dark green foliage is a look to die for. Additionally, the fragrance is so captivating that visitors might not want to leave at all.
Camellia setsugekka grows well on acidic soil and loves moisture. But like most other camellias types, you'd want to keep it in the shade as the warm sunlight is slightly harmful to them.
Chansonette Camellia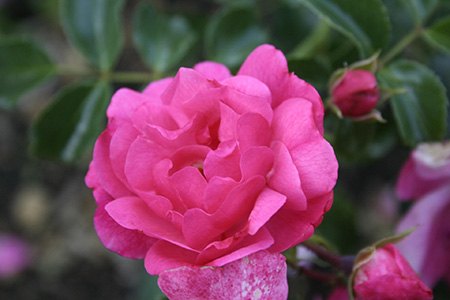 For its lovely lavender-pink petals, glossy green foliage, and long-lasting nature, this variety of camellia is one of the most popular. The Chansonette may reach a height of 3 feet and is classified as a medium-sized evergreen. It's an excellent choice for hedges or borders.
Debbie Camellia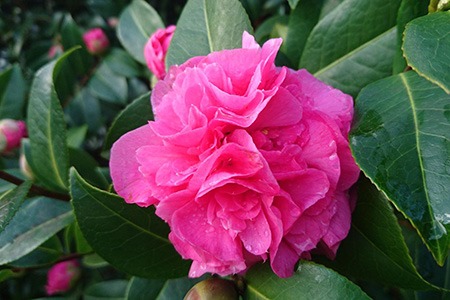 This is perhaps the easiest camellias varieties to grow. Coming in a delightful pink shade, Debbie is a hybrid between camellia and williamsii. This makes them exceptionally resilient against the cold weather.
If you love the color pink, Debbie is the camellia for you. Their bright, somewhat matte pink petals will create a beautiful contrast with the glossy green leaves. And as they were bred to be strong, you will get away with little care. They look fantastic growing with the various types of poppies, too.
Camellia Sinensis
These types of camellias is literally known as the "tea shrub." If you want to enjoy green, black, or oolong tea, plant Camellia Sinensis in your backyard today.
This shrub takes almost 3 years to mature and be ready to harvest the leaves for tea. However, that is not to say they are hard to grow. Once you manage to take care of them for the initial 3 years, they live a long life of up to 50 years. You can also harvest the tea for as long as it lives.
All of it is not to overshadow its flowers either. They come in two shades. Pink and white. They are small and also have a pop of bright yellow in the center. Camellia Sinensis can really be described as a perfect mix of taste and aesthetics.
Lavinia Maggie Camellia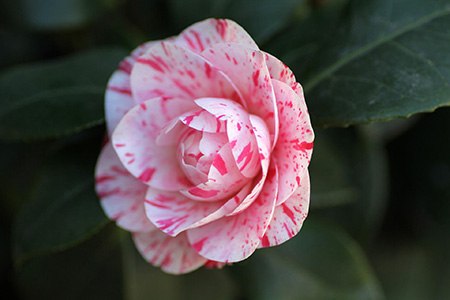 Coming to a camellia variant that has large flowers, Lavinia Maggie is as eyecatching as it gets. A good flower can grow up to 5 inches width-wise, and the stark combination of rich pink marks on a white flower is as sophisticated as it gets.
With the beautiful flower comes a difficult care scheme. This type is not as hardy or resistant to cold as others, and you need to plant it wisely. Taking proper care over its lifespan is also mandatory.
If you get all of that right, these camellias types will quickly thrive and grow into a 10 feet tall, beautiful shrub filled with some of the best flowers you've ever seen.
Drama Girl Camellia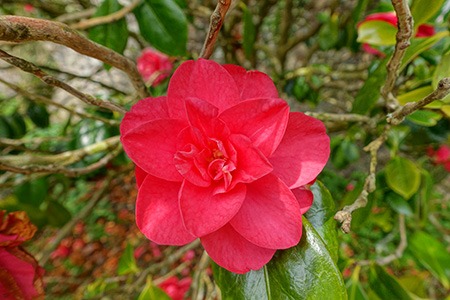 Large, deep salmon-rose petals of Drama Girls are typically striped with a softer shade of pink. This variety of camellia is pretty small and may grow up to 5 inches wide.
Because it must be trimmed in order to maintain a more compact growth pattern, it is one of the most distinctive varieties. It's a great choice for pots and tubs, and its glossy leaves look stunning throughout the year.
Cinnamon Cindy Camellia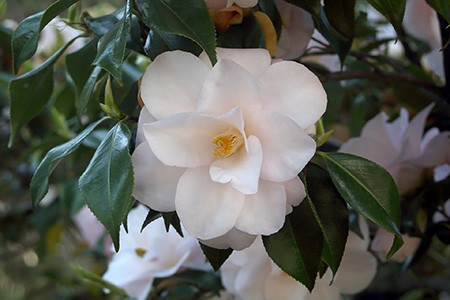 Coming off the back of a large flower, how about we talk about a small one now. Cinnamon Cindy has cute small 2 inch flowers that come in a shade of bright white. Some of these flowers also have stripes of electric-neon pink;
The petal count on each of these flowers is a staggering 22. But since they are really small, it keeps the flowers looking neat and tidy on these different types of camellias.
With blooms that last for four months straight and lovely, glossy, crimson leaves that last the rest of the year, Cinnamon Cindy is a plant that will be around for a long time.
Likewise to our last entry, you also can't grow them in very cold weather. They also happen to be a slow grower, taking their time to reach the potential of 10 inches. So grab whatever types of shovels you have and get ready for the spring.
Australis Camellia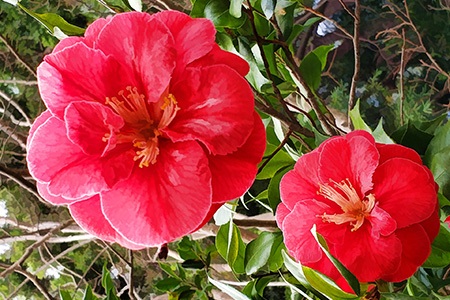 The petals of Australis Camellia are a bright shade of red. Even when the blooms aren't blooming, their dark green foliage stands out.
The Camellia Japonica variety of this plant does well in both full sun and moderate shade, depending on the amount of time it gets each day.
You can maintain its ideal size by pruning it after it blooms each year. However, it is also particularly vulnerable to cold and wind, so be cautious where you plant it.
Pink Icicle Camellia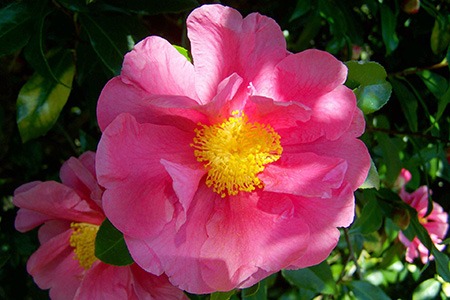 If you love the combination of bright pink and yellow, this is the camellia for you. Awesome name aside, Pink Icicles have peony-form bright petals in pink that wrap around yellow stamens.
This variant is also incredibly fast-growing while being bred for hedges. Unlike our last few entries, they thrive in the cold and give you happiness for years, growing well with most of the mulch alternatives too. They're just hardy and easy to deal with.
Les Jury Camellia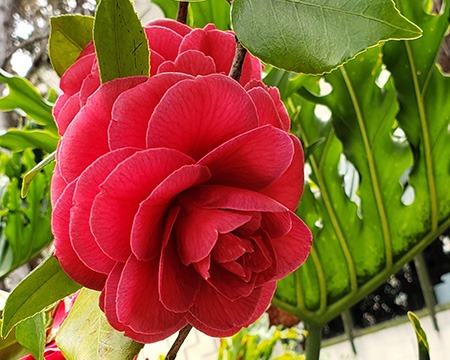 This Camellia x Williamsii hybrid is a rose-lovers dream come true. A double-bloom arrangement of its crimson-red petals resembles that of a rose. With the ability to reach a height of up to 6 feet, it makes a magnificent container plant.
These camellias varieties have bushy, golden leaves that eventually become a dark green hue that stays with the plant all year round. A feature that definitely sets it apart from other plants. Les Jury is a pretty simple plant to cultivate and has a long growing season.
Yuletide Camellia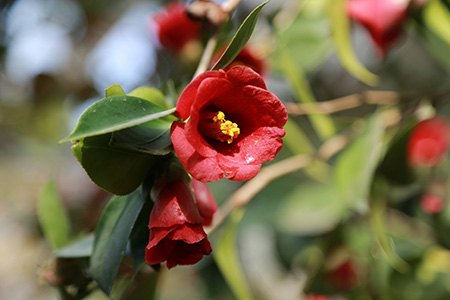 Yuletide is a beautiful and traditional camellia that will enchant you. The blossom resembles that of an open flame with rich red petals and a bright yellow center. They bloom in winter and happen to be just the thing you need to bring lively color to your backyard.
Growing ten-foot-tall, the Camellia Sasanqua or Yuletide is very hardy. So frequent trimming is necessary to keep an eye on the growth and form of these types of camellias.
Bonanza Camellia
While some of the shrubs in our list grow up to 10 feet vertically, bonanza does that horizontally. A healthy plant can take up a space of 8 feet squared while being almost 6 feet tall.
The flowers are also something to write home about. With their lush red blooms and deep yellow stamen, bonanza gives you the classic camellia look in a different arrangement.
Keep them in either full sun or moderate shade. It should be kept wet at the base of its stems. This autumn blossom also has a lovely scent and is a great alternative for other container plants.
Crimson King Camellia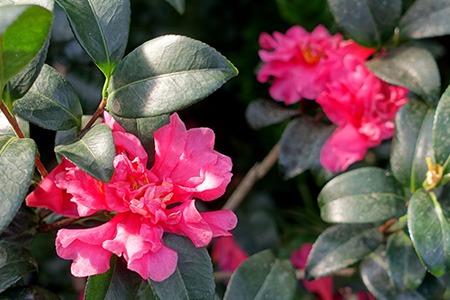 The Crimson King has masses of enormous, 5-inch-wide petals and a bright-yellow core that contrasts well with its petals. And it blooms in either March or October, depending on where you live.
It has won several international floral prizes and may reach a height of 12 feet. As long as the roots are well-watered, they may thrive in full sun and also in a wide variety of containers.
Spring Mist Camellia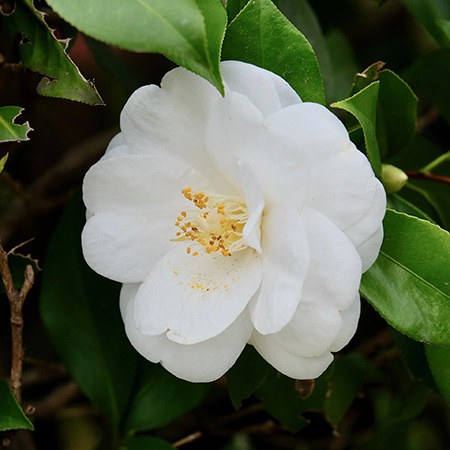 The petals of this camellia hybrid are tinged with a hint of blush pink, making it seem like a delicate spring mist (duh). Flowers of spring mist are around 2 inches wide and have little semi-double petals.
These varieties of camellias also have a brilliant yellow core that contrasts well with the pale petals. This magnificent plant's glossy leaves, which are green with distinctive golden hues, only add to its allure.
Spring mist is a robust plant, despite its modest size and gentle look. Additionally, it blooms for a very long time.
Desire Camellia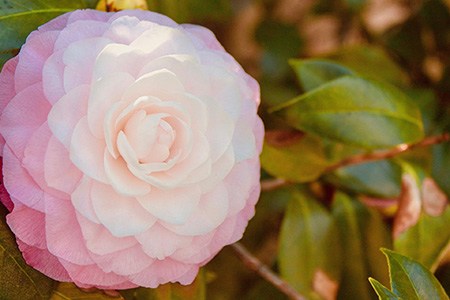 This Camellia Japonica's faint bluish-pink double petals will be one of the unique varieties you can get. Despite their very pale hue, Desire's blossoms have a delicate but stunning appearance because of their faded pink edges.
These types of camellias may reach heights of up to 10 feet and is quite hardy. When it's in full bloom, it may last up to three months.
Hagoromo Camellia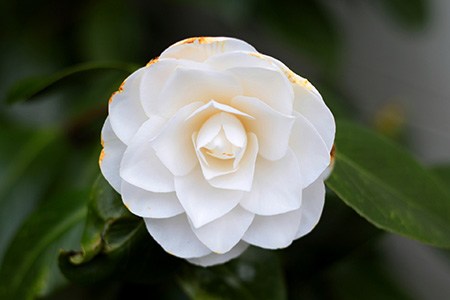 Camellias are known for their long-lasting blooms, and this one is no exception. The medium-sized, semi-double petals of this camellia are light bluish-pink in color with a yellow center.
These camellias types feature glossy, twisted foliage that wonderfully matches its delicate flowers. Acidic soils are ideal for Hagoromo. When it comes to potted plants, Camellia Japonica Hagoromo is an excellent choice.
Japanese Camellia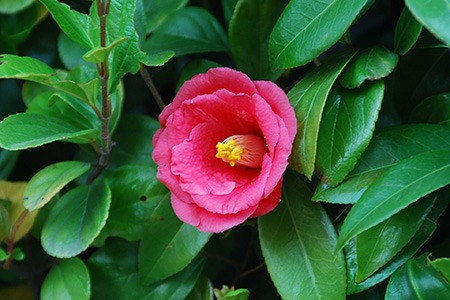 There's a lot of colors, shapes, and cultivars of the Japanese camellia genus out there, but the Camellia japonica is the dominant species. These plants can live a long time. It's said that the ones surrounding the emperor's palace in Japan have survived for over 500 years.
The colors range from completely white, through the pinks, and on to the deep reds. The sizes of the blooms can be as small as one and a half inches and up to five inches in diameter.
Types of Camellias for All Evergreen Lovers
Whichever one you pick, though, a camellia plant in your garden will give your place a distinct, classy look, and you can't ever go back to not having one. You'd probably enjoy reading about the history of the camellia trade for tea leaves, too.
Now that you're equipped with knowledge about the most striking and unique camellias varieties, making a choice should not be as hard. Always pay attention to the climate conditions of your location before picking from the many different types of camellias.
You'll Also Enjoy: