20 Types of Zinnias for Varieties of Pretty Shapes & Colors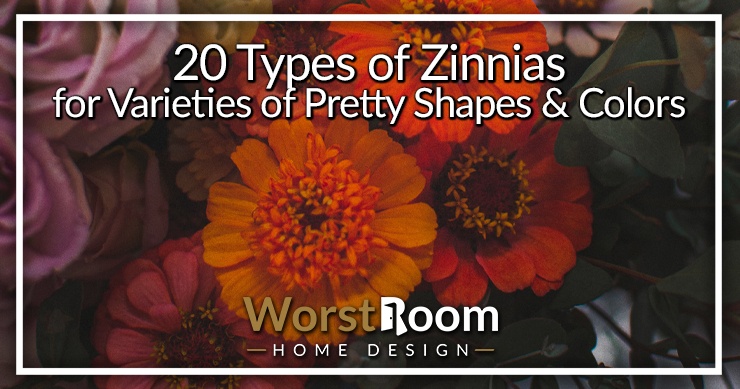 All the types of zinnias are living examples of easy-maintenance flowers. This is why they are so popular among new hobbyists. After hearing all these, you can fall in love and want to grow them in your backyard. To make zinnias grow as expected, knowing about their types is essential.
So, how many zinnia types are there? There are a main set of zinnia varietiess that are popular among hobbyists. Each zinnia has its unique outlook and mesmerizing color, yet they are easy to grow.
They are suitable for beginners because of their low maintenance. But all these different colors, shapes, and sizes might confuse people who aren't familiar with them. To ensure that doesn't happen, let's look at the types in detail.
20 Types of Zinnias
Native to Central America and Mexico, the Aztecs name for zinnias is roughly translated to "plants that are hard on the eyes" due to their bright colors. The current name comes from Johann Gottfried Zinn who was the German botanist that brought the flower back to Europe in the 1700's.
Here is our short and detailed description of each zinnia to help beginners find the one suitable to their taste. When you're done, you'd probably enjoy perusing the types of morning glory flowers as well, as they can match with zinnias in your flower bed.
Zinnia Sprite Mix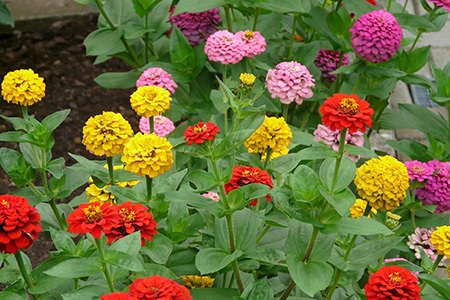 The sprite mix is smaller than the natural ones, yet it is more robust. Like other zinnias, this is also easy to grow and can thrive in a range of environments such as cold-ish and wet summers.
It comes in various colors, such as deep pink, red, and sunflower yellow. As it's related to sunflowers, there's a yellow center. An uncultured sprite mix will grow to about 70 to 75 centimeters.
Queen Red Lime Zinnia
The Queen Red Lime Zinnia gets the name from its blooming colors. Its outer petals have a maroon slash red color and gradually turn lime to the center. Each of the petals has a light lime color at its borders, which is very unique among the different types of zinnias.
These zinnia types grow about 40 inches or 100 cm in height and has long stems with bi-color blooms. They are perfect for filling gaps and are suitable for borders. It is a cut-and-come-again flower which means it can take a lot of cuts throughout the season.
Early Wonder Zinnia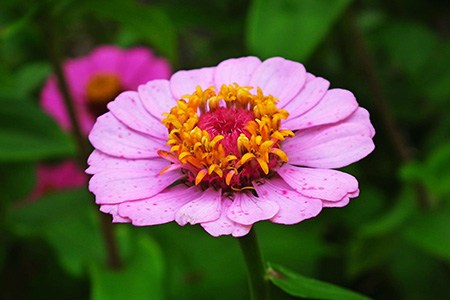 Early Wonder Zinnia looks somewhat similar to the Queen Red Lime. But, it does not have any noticeable gradient border like the Red Lime Zinnia. It has a bright pink color with a mix of red shades.
The inner petals are deep pink, while the other is bright or faded pink. Also, the center of the flower has yellow blooms. It grows about 75 cm in height and 20 cm in spread. The front and the middle part of the garden is where it belongs. They look stunning growing alongside purple types of aster flowers, with their visual similarities.
Zinnia Red Spider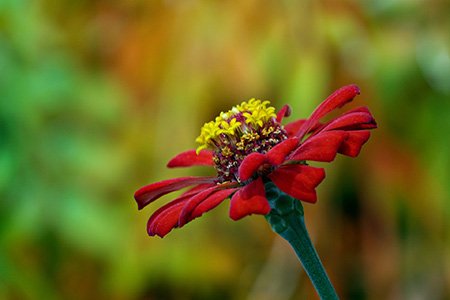 Unlike most zinnia varieties, the red spider is very small and delicate. It has deep red petals. Each of the petals has a gap between them. The stamens are golden, which contrasts well with the red-hued petals.
Red Spider Zinnias only grow to about 18 inches in height and spread about 1 inch. If you don't grow them in large numbers, the leaves/stems will be more visible than the flowers.
Aztec Sunset Zinnia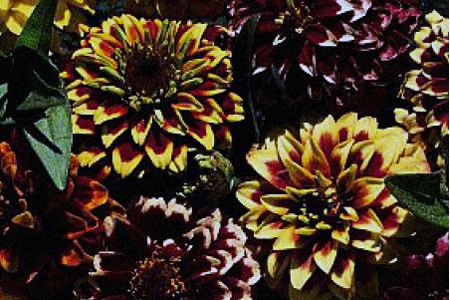 The Aztec Sunset Zinnia offers shades different from others, and they grow on relatively dense, bushy dwarf stems. This zinnia variety comes in unique colors such as orange-red, deep red, maroon, and yellow.
All of these petals of these types of zinnias have contrasting colors on the edges. It is also the most heat resistant as it can even thrive in Texas' scorching heat.
Soleado Zinnia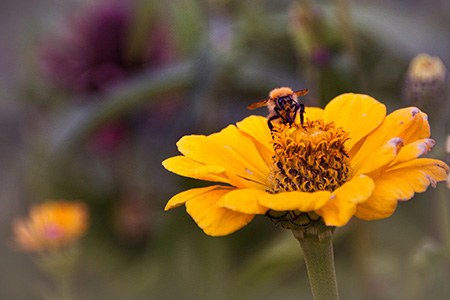 Well, Soleado Zinnia looks similar to sunflowers. They grow on single bright orange-yellow blooms with solid stems. The edges have a yellow shade, and the center ring has a reddish-brown color.
These Zinnias reach about 20-24 inches and can tolerate a lot of rain, making them very easy to grow. But, they do require full sun.
Purple Prince Zinnia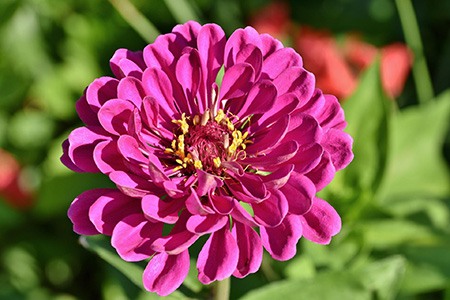 As the name suggests, the Purple Prince Zinnia is 95% purple/magenta and has double blooms. All the petals and shades are of purple hue. The stamens are, however, bright yellow.
Other zinnias have this yellowish color in their center. This one, however, has a deep purple center disk. If you want to mix the Purple Prince Zinnia with other purple flowers, take a look at the types of lavender, who's shape and shades can offset the zinnias while still matching.
Envy Zinnia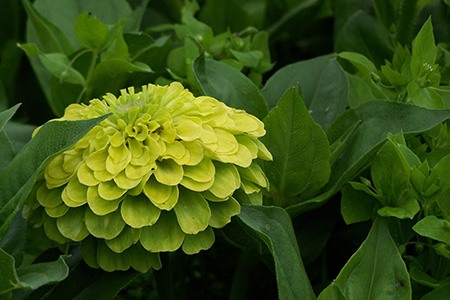 Envy is hands down the most unique-looking zinnia on the planet. The whole flower boasts a bright green color, but they are not that big, though. This zinnia only grows about 3 inches and has double or semi-double blooms.
There are no shades. The light green center disk is surrounded by small yellow stars, which gives it a nice contrast of green and yellow.
Pop Art Zinnia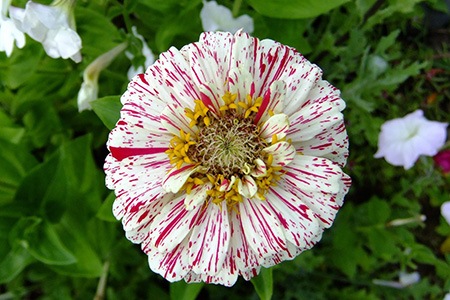 The Pop Art Zinnia boasts off-white color with artistic splashes and stripes. It is also available in bright yellow color. In both of the variants, the splashes and stripes are red.
Sometimes the cherry-red stripes are so massive that the double blooms look absolutely out of the world. These types of zinnias are resistant to diseases. Once it fully grows, it can withstand the dry weather just fine.
Zinderella Lilac Zinnia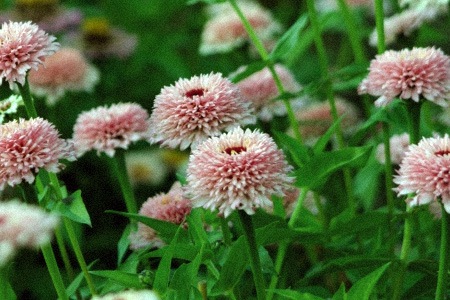 This zinnia variant looks like a fluffy, pompom flower. It comes in either semi-double or full double blooms with slightly pinkish or lavender-ish white color. While it's obviously not one of the types of lilacs, it's the color that gives it the name.
The edges of the petals have a strong lavender shade with dark lavender center complements. As they look similar to mini-Gerbera Daisies, they are perfect for bouquets.
Big Red Zinnia
The Big Red Zinnia is known for its color-changing ability. In its early stage, it will have an intense red coloration. But, once it matures, it will slowly turn into a deep orange.
These 6-inch flowers with fully double blooms and a similar appearance to many types of dahlias have no shade on the edges.
Zowie Yellow Flame Zinnia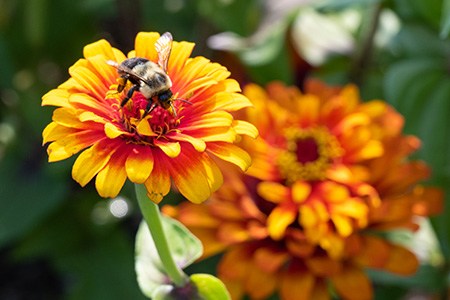 Like its name, the Zowie Yellow Flame Zinnia looks like a burning flame. The tips of the petals are bright yellow, and the center is red. You may confuse them with Aztec Sunset, but they are surely different zinnias.
As the yellow flame zinnia types grow older, it produces a yellow star-like ring around the center. The stems are sturdy, and the flowers look like they are floating on top of the greenery.
Swizzle Ivory & Cherry Zinnia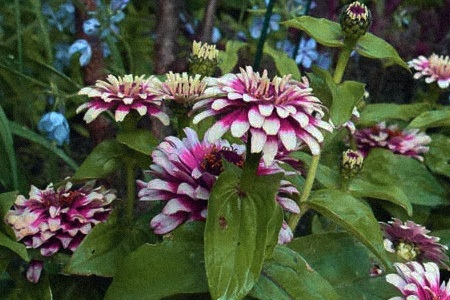 Well, Swizzle Ivory and Cherry Zinnia look almost like the Yellow Flame Zinnia, except the tips or edges are off-white instead of yellow. The inner portion of the petals is cherry-red.
Like the Yellow Flame Zinnia, this one also produces a yellow star-like ring around the center disk. The flower is much fluffier than the yellow flame and has fully double blooms.
Zinnia 'State Fair Mix'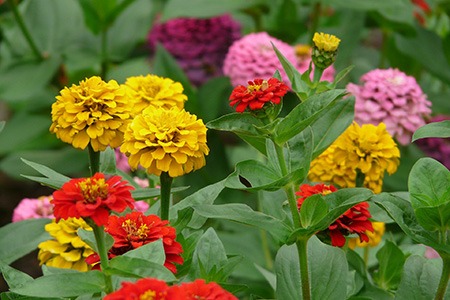 The State Fair Mix Zinnia is an explosion of colors. These different kinds of zinnias feature a wide range of colors, such as red, purple, yellow, orange, pink, rust, and gold.
This zinnia can grow very tall if you provide fair light and nutrition. It is also one of the biggest zinnias, growing up to 5 inches. Also, it can handle the heat pretty well.
Profusion Cherry Zinnia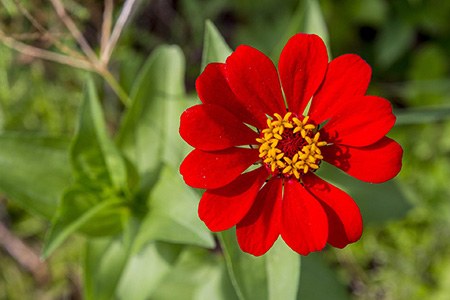 This Profusion Cherry Zinnia is one tough fellow. It's resistant to heat, drought, humidity, and many foliage diseases.
Also, it is the second hybrid types of zinnias on this list. Zinnia Elegans and Angustifolia were crossed together for this hybrid. Planted with the right types of geraniums you can have a real exciting color explosion in your flower bed.
These bushy flowers grow to about 18 inches in height. The petals are deep cherry red with a slight pink tint, and the center is bright yellow. This beautiful coloration attracts butterflies.
Zinnia Crystal White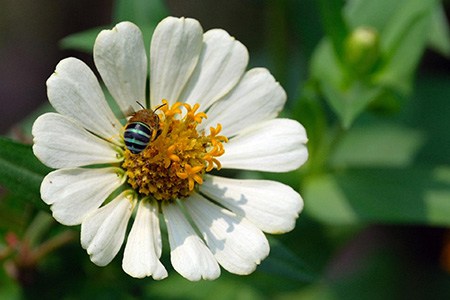 As the name says, the Zinnia Crystal White is a fully white daisy-like compact flower. This zinnia does not grow very tall. It only grows to about 12 inches, covering the bottom side of the garden.
Also, it is a single bloom flower with bright white petals and a yellow center. This one grows very fast and needs very low maintenance.
Zinnia Double Zahara Mix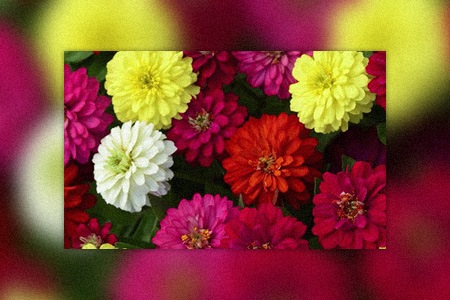 The Double Zahara Mix offers plenty of colors to the garden. These zinnias come in deep red, bright yellow, white, orange, and pink.
Each flower boasts fully double glove-type blooms. The stems are tall as well. These attractive colors and shapes lure tons of bees and butterflies.
Zinnia California Giant Mix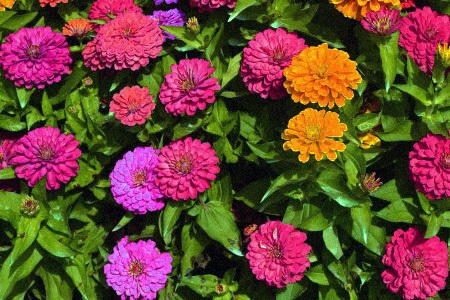 Like any other mix, the California Giant comes in various colors. These flowers grow quite big, measuring 5 to 6 inches. The blooms are double and semi-double.
Their uniqueness comes in the form of the center disk. It is surrounded by a thick layer of stars visible from far away. Colors include purple, red, orange, yellow, lavender, and white.
Color Crackle Zinnia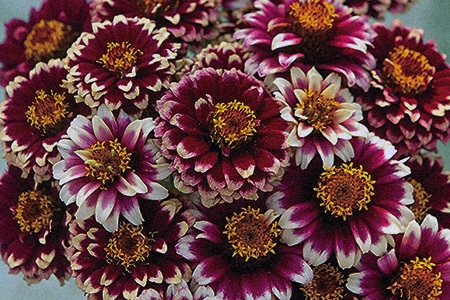 Well, the Color Crackle Zinnia is a bi-color zinnia that features deep maroon-red petals with faded white edges. It grows in double blossom form and has a yellow center disk. Also, it can grow about 18 to 24 inches in height and 2 inches in spread.
Zinnia Cactus Flower Mix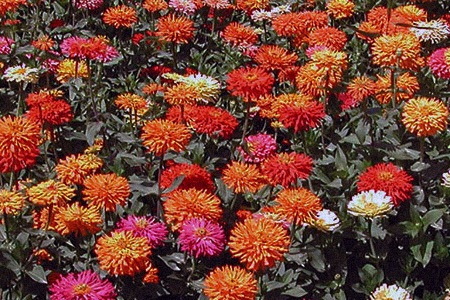 Zinnia mixes are generally unique in color. But the Cactus Flower Mix is unique for its shape among the different types of zinnias.
These flowers have long, narrow, and pointy petals and come in several colors: lavender, red, orange, white, pink, and scarlet. The 5-6 inch blooms are available in semi-double and double, giving bouquets an intricate look.
Other Zinnia Varieties to Explore
While we can't describe and include a picture for all of the different kinds of zinnias out there, we can list off a handful more notables for you to explore if you still desire. These are separated into mixes and more regular varieties. The mixes include:
Sunbow Mix
Thumbelina Mix
Lilliput Mix
Dahlia Flowered Mix
Ruffles Series
Lollipop Series
Profusion Series
Other types of zinnias that aren't mixes or cultivar series include:
Crystal White zinnia
Star Gold zinnia
Star Orange zinnia
Rose Pinwheel zinnia
Peppermint Stick zinnia
You may find different kinds of zinnias you enjoy more here. The mixes are always fun because you won't know what colors you'll end up with until the seed grows and a bud begins to grow.
The 4 Main Zinnia Types & 3 Species
The types of zinnia flowers can be classified into four main categories based on the rows of petals on the flower itself. These are:
Single Flowered - Single flowered zinnias will only have a single row of petals around their circumference. This results in the center throat being easily visible with the pistil and stamen exposed.
Semi-Double Flowered - Like the above, the center of the flower here will still be visibly exposed, but the difference is that there will be more than one row of petals (and not necessarily just two).
Fully Double Flowered - The change in fully double flowered zinnias is that, while there are still multiple rows of petals, the center of the flower is no longer visible but hidden from sight by the density of the petals and their growth direction.
Cactus Flowered - The cactus flowered zinnia features multiple rows of petals, with the defining characteristic being that the petals curl up towards the underside, creating a "cactus" shaped look to the flower.
Now that we know how to classify zinnias based on their petal patterns, let's take a look at the 3 main zinnia species that all others fall into. They are:
Garden Zinnias (Zinnia elegans) - The typical garden zinnias are known for giving your flower bed or garden a beautifully colored (except blue, which isn't available) variety of large blossoms. Many varieties fall under this species that can grow from 6 inches to 60 inches high. The only issue is that they're susceptible to disease.
Spreading Zinnias (Zinnia augustifolia) - These zinnias will sprawl along the ground at only 8 to 18 inches tall with small 1 to 2 inch wide flowers. They don't have as much variety to them as the garden zinnias do, but they're way more drought and heat tolerant and can resist foliar diseases much better.
Interspecific Crosses - By cross-breeding garden and spreading zinnias, people have created a "best of both worlds" in terms of looks and durability. They'll have the disease and weather resistant attributes as well as the larger, prettier flowers.
Types of Zinnias to Brighten Up Any Flower Bed
From the early 80s till now, Zinnias have been the most prioritized flowers for beginners and veterans alike. The reason is they are one of the, if not the, easiest annuals to grow.
Also, the explosion of color lasts from mid/late spring to early fall. It is as if the intense and mesmerizing display of color doesn't stop. As several mixes and hybrids are introduced now and then, the counts on types of zinnias keep growing with new varieties.
You'll Also Enjoy: