10 Types of Treadmills for Unique & Comfy Workouts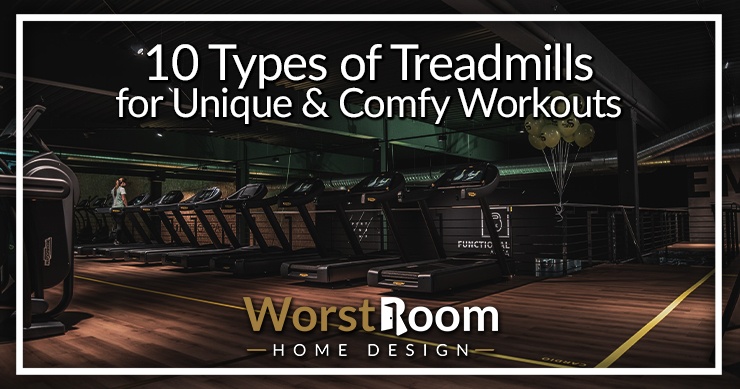 So finally, you've decided to give your TV and burgers a break and are thinking about doing some cardio. Now, you'll definitely need at least one of the types of treadmills; no doubt it's the best gym equipment for your cardio.
But which type should you go for? Now, the market has different kinds of treadmills available, and we know how it might overwhelm you if you want to get on some serious research to achieve your ideal body.
No worries; we are here to help. Not with the fat burning, of course, that's something you must do, but we are surely going to lessen the hassle of the treadmill research for you.
10 Types of Treadmills
As a quick trivia item, did you know treadmills were invented 200 years ago in England as a punishment device for prisons to make them mill corn or pump water? In 1818 they were created by William Cubitt who called them treadwheels. By 1900 it was banned as cruel and inhumane. Now we all want one in our home!
Treadmills come in different forms, designs, materials, and features. Below we have gathered and compiled information about the most common types of treadmills out there.
Manually Run Magnetic Treadmills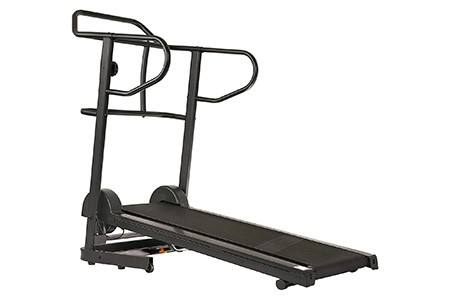 Manual treadmills (also known as magnetic treadmills) don't work until the person does. These treadmills require no electricity and completely rely on human effort and magnetic tension for movement.
The treadmill has a belt and rollers underneath, which will only move when someone gets on the treadmill and puts enough energy to walk on it as they go. They come in many sizes but are comparatively lighter than other treadmills.
Heavy-duty steel frames, PVC belts, handrails of foam, and LED-operated panels are what manual treadmill types include. Manual treadmills waste zero energy since it is completely battery operated.
They are comparatively cheaper and even has fewer chances of incurring workout accidents since it goes per your pace. I think of these like pushing along the types of lawn mowers that aren't self-propelling. You have to do a little extra work compared to normal walking, but that's what makes it good.
What's best about these manual treadmills is that there is no cheating involved in this equipment, you have to have enough strength and willpower to make the most out of this treadmill.
Motorized Electric Treadmills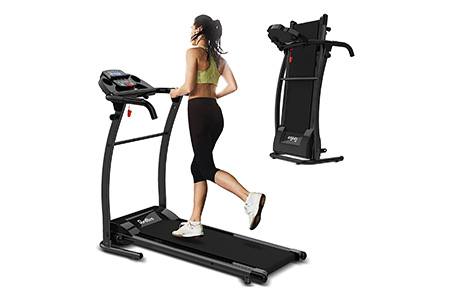 Motorized treadmills are the classic treadmills you see everywhere – be it at a gym or someone's place. As the name suggests, these treadmills run on electricity.
Unlike manual treadmills, you would not have to make this treadmill move; rather, this treadmill will make you move. They run with the aid of a motor and are comparatively more expensive.
These motorized treadmills are bulkier in size as well and cannot be folded to fit into your house space; you must make a fixed space for it.
Motorized treadmills come in different types and are very much technologically advanced. They'll let you incline and decline the treadmill platform with touch buttons that you can click.
These treadmills have screens that will show you the number of laps, calories burned per minute and the speed of your walking motion on the treadmill.
Additionally, they come with built-in MP3 ports, AUX ports, screens, and self-cooling options as well. While each brand makes the materials of these treadmills differently, durability is always ensured.
Folding Treadmills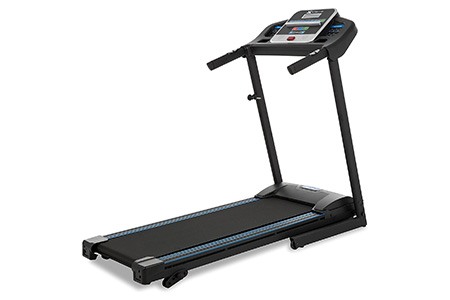 Not all types of treadmills are fold-up treadmills. If you do not have much space inside your house to accommodate this gym equipment, this is a good option.
As the name gives you a hint, you can fold the folding treadmills, or shall we say the front of the treadmill and keep the whole machine in a tight space.
People who live in not-too spacious apartments or condominiums prefer these treadmills for their compactness.
Except for this convenient feature, these treadmills have all other functions just like the regular ones (and of course the good ones). Some electric treadmills are fold-up treadmills as well.
Commercial Treadmills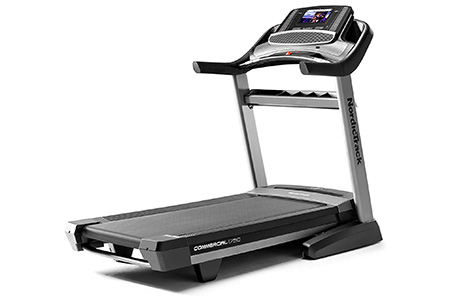 The treadmills that you see on sports complexes or gyms are commercial treadmills, designed for public use, of course in return for some money.
Since gyms have a lot of traffic in them, taking this fact to priority, the manufacturers usually build these different kinds of treadmills bigger with heavy-duty material.
They are constructed for professional use and are built to last. You can buy them for your house if you can accommodate them. It'll probably offer more than what you would require from it.
Hybrid Treadmills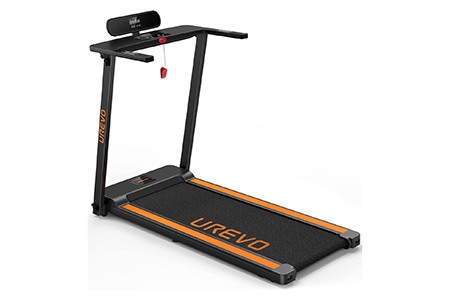 Hybrid treadmills, as the name suggests, are combined with the features of a tread climber, a cycling machine, and a treadmill. While typical treadmills have a single belt, these hybrid treadmills have two separate platforms to enable the features of the three-gym equipment.
The wide platform can be used as a normal treadmill base, whereas a padded seat with pedals enables the function of using this hybrid treadmill as a cycling machine. Additionally, the decks serve the function of a stair climber by moving in a circular movement.
Transitions between the three purposes of these hybrid treadmill types take place with the help of an LCD console. Belt speed and heartbeat rates are also measured with it.
Hybrid treadmills are constructed with stainless steel, seats have cushion materials, and they're built to last.
These treadmills are a creative innovation. They're perfect for people who want to perform their intense workouts just by using one treadmill. But here you get functions that provide the combined features of a cycling machine, a treadmill, and a climber.
House Treadmills
If you are looking for different types of treadmills to bring into your house and use it alongside your daily house chores to keep yourself fit, you can opt for these home treadmills.
What makes them different from other treadmills is their dimensions. They are constructed to fit into a corner of your house easily without taking up much space.
The chassis of these treadmills are 3 feet wide and 6 feet in length. They can be inclined as well and are also suited for the most obese people. Some of them even have Wi-Fi connectivity options, therefore, making the home gym fun.
Under the Desk Treadmills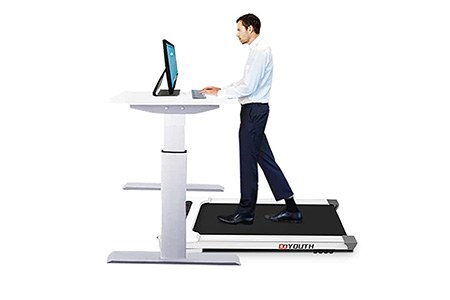 Desk treadmills are one of the most resourceful treadmill options out there. If you wish to work from home or write documents on your laptop while burning fat, this is your perfect option.
Their construction enables you to keep walking while keeping your device on the treadmill tray. Speaking of treadmill trays, in these treadmills, the trays are comparatively bigger than the ones you'll find in regular treadmills. In fact, the tray stays stable no matter how fast you are going on the treadmill.
The belts of the treadmills can speed up to 4 miles per hour. For which, they're a safe option for those who want to keep typing, reading, or working on anything that's kept on the tray.
These treadmills are perfect for multi-taskers and people who are not able to manage gym time in their tight office or school schedule, or like me, someone who wants to but never has time for backyard farming.
Walking and working together sounds like the perfect plan to keep both the body and your life healthy, and this is exactly what these treadmills are there for.
Curved Treadmills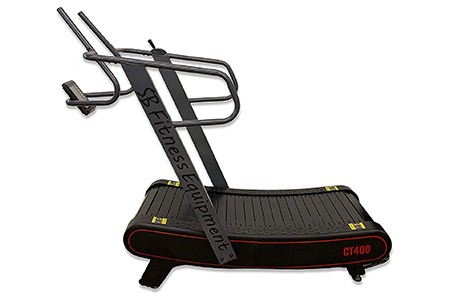 The key difference in these treadmill types is that the base you run along has a slight curve to it to help accommodate the stride of your walk or running gait. Some will be manual and magnetic while others will be electric, though they're mostly manual for safety reasons.
You gain two methods of propelling the belt manually. Not only does your feet push the belt backwards like normal but now the downward motion aids you. It's not just gravity but your downward force as your land your forward foot that helps.
These can reduce some impact on the knees and ankles as you master the smoother motion. These different kinds of treadmills can help you run up hills in natural areas, but otherwise it can teach you a method of running that could interfere with your outdoors exercising.
Medical Treadmills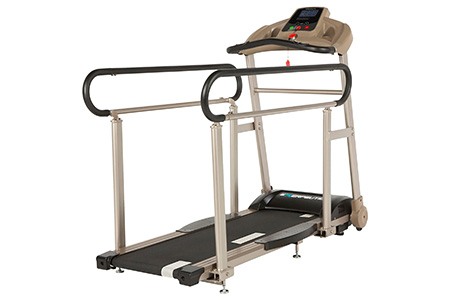 Medical treadmills are the types of treadmills that are specifically used for medical purposes in the medical industry to run stress tests or rehabilitation therapy on patients.
Especially, the treadmills allow people of all types of bodies, weights, and ages to use them based on their accurate comfort level to produce medical reports. The treadmills are used for medical purposes while doctors or physicians direct the patient accordingly.
They are constructed with premium quality materials, an automatic belt system with smart alignment, high technology handrails, and with parts that are ISO 9001 certified. Patients use a lesser force of body weight on these treadmills while the AC-driven systems provide accurate test results.
These treadmills work with reduced noise as they are used in test rooms. They are comparatively bigger than regular treadmills as they are built to provide ultimate comfort to the patients.
The handrails have easy grips and stop buttons made for emergencies serve convenience for patients.
Anti-Gravity Treadmills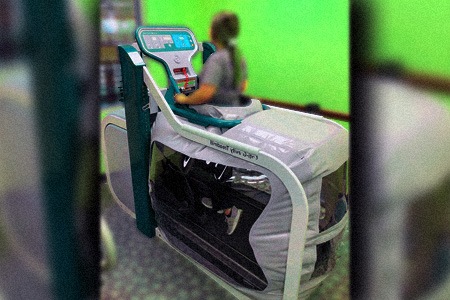 Anti-gravity treadmills, a.k.a zero-gravity-treadmills are considered medical treadmills as well. They are used both in hospitals and fancier gyms for physiotherapies.
Patients and even the regular people can work out with these treadmills without putting too much pressure on their bodies.
Not a lot of muscle stress or force is required to use these treadmills. This means, if you experience slight joint paints, you can still keep yourself fit with the usage of this treadmill.
The construction is complex but convenient for patients. A room is formed when air is blown into the plastic case that these treadmills come with. The bag then gets zipped up, and the patient stands on the treadmill with the bag covering their body waist-down.
Next, the airtight zipper bag reduces the weight of the patient, and the exercise is then made comfortable for them.
People who have been subjects to recent injuries or accidents can utilize these treadmills the most as it helps them get back to their regular body movements.
Types of Treadmills to Exercise at Home, Work, or Elsewhere
Treadmill types come in different styles from different brands, and we hope you choose the type that best suits your purpose.
We tried our best to enlighten you about the different types of treadmills that are out there. You are hopefully now familiar with the treadmill options you have.
You'll Also Enjoy: