8 Decking Alternatives That are More Friendly Than Wood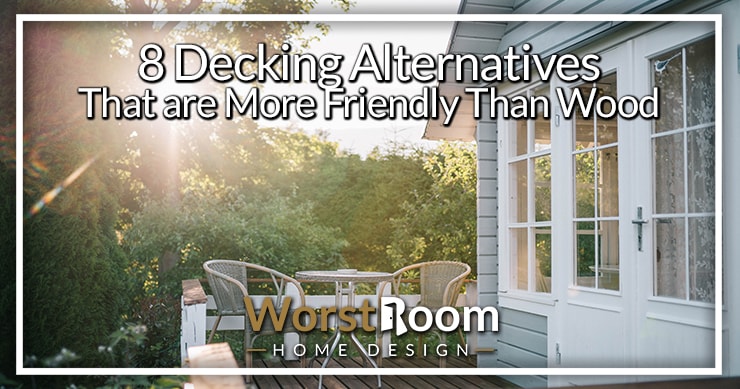 Decking alternatives open up the world of back patios for all of us. Having your own little backyard deck is a great way to enjoy the outdoors without really having to step fully outdoors, you know?
You have your own private space to enjoy those sunny summer days, host fun Sunday barbeques, or just curl up with your favorite novel. It only helps that a backyard deck immensely increases your property's value, should you ever want to lease, rent, or sell it.
Earlier, many homeowners shied away from decks owing to the hefty price tag on these, but today, many alternatives exist that provide all the benefits of a traditional wooden deck sans the sacrifice of an arm and a leg.
Cheaper materials and low maintenance keep these alternatives affordable. Additionally, these are more durable than wood and are not given to warping or rotting despite all the exposure to natural elements.
8 Decking Alternatives
If you're looking for an alternative to decking boards, the most visible parts of a deck, you're in the right place. Here's our list of the top decking alternatives that will fit well within your budget.
Concrete Decking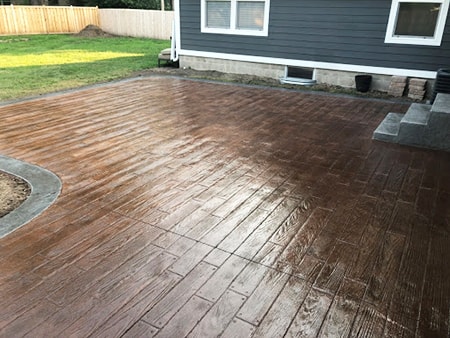 Concrete decking is an excellent alternative to traditional wood decks; pattern-imprinted concrete, especially, not only presents itself as a cheaper and more durable material but also a more aesthetic one.
Ultimately, you get the best of both worlds—the benefits of strong concrete and the beauty of wood decking. The concrete is made to look as similar to wood as possible, though you can just as well get it in any color that you want, with a wooden pattern.
Concrete decking is a great option for the many benefits it provides—there's no discoloration, no need to treat it regularly and the lack of splinters that wooden decks are infamous for, let alone the boards warping.
You can top your concrete deck with a matte or gloss finish and include an anti-slip additive to prevent any tripping or slipping. Since concrete is easier to work with, you can also add extra features to your deck, such as pits or mounds, and your deck won't give up on you even if there's a ton of water around.
All of this makes concrete decking a low-maintenance, low-effort, low-investment, long-lasting, good-looking, strong, and flexible option. The savings on maintenance will pay it off over time, too, making up, in time, the cost of hiring someone or buying the materials and building the concrete patio yourself.
Composite Decking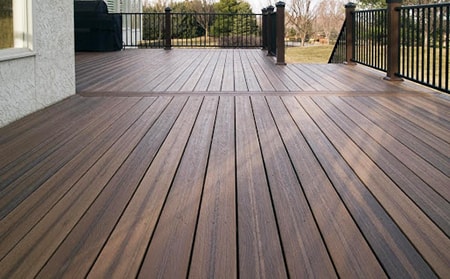 Another option that's quickly gaining in popularity is composite decking, thanks to the strength and durability of the material. Composite decking is built using a mix of wood fibers and recycled plastic, making it resistant to UV rays, pests, slips and rotting.
Whatever your decking needs are, composite decking can satisfy them. However, composite decking can work out to be quite expensive—substantially higher than even traditional wooden decks.
Costs apart, composite decks are known for being strong, durable, easy to install, and low maintenance. Additionally, though the final product is itself non-biodegradable, the fact that it is made from recycled materials earns it some brownie points as far as a wood decking alternative goes.
Ensure that you pick your composite deck carefully—some tend to fade over time, or look extremely artificial and tacky, while some don't adhere to building codes. To prevent bowing or sagging, remember that the joists need to be put close together; correct construction is important.
Vinyl Decking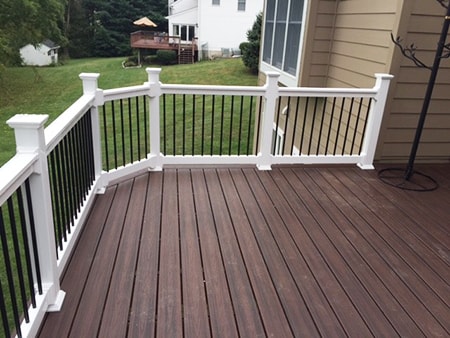 After conquering kitchens worldwide, the humble vinyl is set to take over decks. Similar to kitchen vinyl tiles and planks, vinyl decks are making waves in outdoor decor and you can either opt for a waterproof membrane to cover simple plywood decks, get DIY kits, or have professionals install it for you.
However, bear in mind that the cost keeps increasing with each respective option. It is still among the cheap decking alternatives, price-wise, though.
Vinyl is extremely hardy, resistant to water, wear, sun damage and UV rays. Many companies offer options for vinyl decking, including brands that offer shock-absorption comfort coating, resistance to staining, fading and scratching and a surface that remains cool despite the heat of a sunny day.
Additionally, vinyl can also be used to cover up an already-existing deck that's long past its prime. That being said, vinyl can work out to be quite pricey, is not biodegradable, collects dust, and can get brittle or fade over time, if you don't invest in the right brand. It's a convenient wood substitute for decking, in terms of cleanliness for sure.
PVC Decking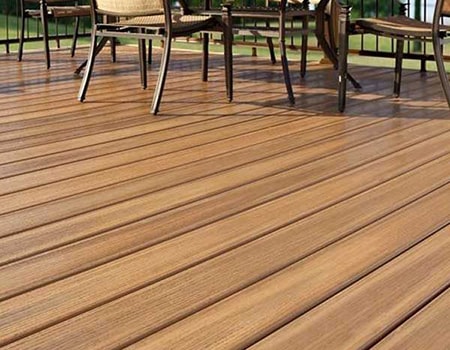 While many of us aren't fans of plastic and even putting 'plastic' and 'decking' in the same sentence, PVC decking seems to be here to stay. An increasing number of homeowners are turning to PVC for its easy-to-install nature, strength (thereby no splinters) and how quiet it is (no creaks and noises).
Most people even find PVC decks easy enough to install on their own. PVC decks are also resistant to rot and bugs, made of plastic as they are. This is the ideal wood alternative for decks if you're concerned about price and ease of installation.
While the fact that it's plastic isn't so great for the environment, it's great for many wallets, costing around $4 a board, making it one of the cheapest decking alternatives out there.
It also looks similar to wood, so you get all the benefits of plastic with the loveliness of wood. However, PVC may fade over time, especially on prolonged exposure to direct sunlight, and even become warped, bowed, or brittle if it's not thick enough.
Bamboo Decking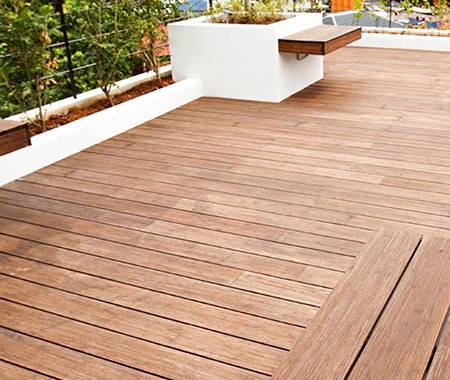 Bamboo decks are an excellent alternative to traditional wood decks and possibly our favorite too. From cotton to pillows and quilts, this wonder material has taken many industries by storm, of which the decking industry is one.
Not only do the many types of bamboo withstand moisture, feature strong fibers and pulp, and is extremely handsome, but it's also the most eco-friendly of the decking alternatives.
When it comes to bamboo decks, there are two types of decks—non-woven and woven fibers, with the latter being the stronger type. However, like traditional wood decks, bamboo also requires some amount of maintenance (though not as much as traditional decks).
You'll need to stain, pigment, or seal it from time to time to prevent fading. Additionally, bamboo isn't the best option if you live in an area that sees much puddling and flooding or is marshy; such areas will lead to quick deterioration and mildew growth in the bamboo.
Though woven bamboo does a better job of withstanding this, it's not waterproof, so you may want to go with bamboo only if you live in an area that sees standard moisture or is hot. Also, bamboo can be a little bit on the expensive side, and you don't want to shell out big dollars if your bamboo won't last you.
However, the natural beauty of bamboo, along with its lightweight-yet-durable nature, strength, and the ability to hold form (it doesn't expand or contract) has gained the material many fans.
Aluminum Decking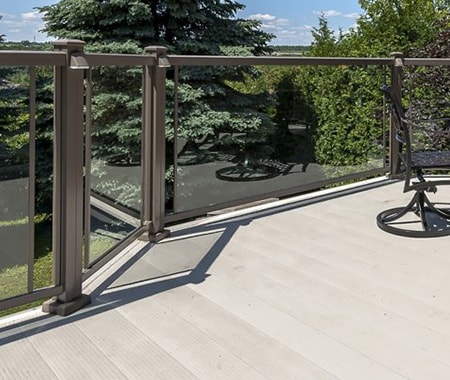 Not only is aluminum rot, termite, mold, and rust resistant, but it's quite the affordable option, too. Not dealing with any types of termites is a big relief. Crowned 'the most durable decking material available', aluminum offers hard-to-beat durability and strength, and quite a classy finish.
Owing to its lightweight nature, it's also super easy to handle and install, and requires very little maintenance. Additionally, the fact that it's recyclable earns it some major brownie points.
However, if the aesthetic of wood is what you're after, aluminum won't come anywhere close to offering you the same look. It can also be quite noisy (especially with rain), hard to find, and more expensive than other materials, with very limited choices with respect to color.
Rubber Paver Tiles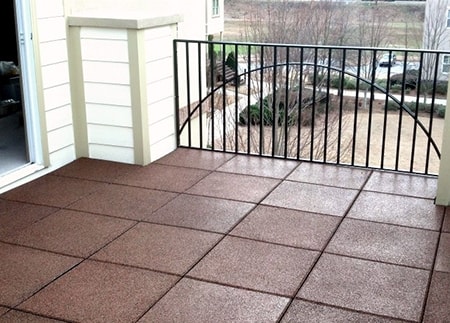 Rubber paver tiles are interlocking tiles made of micro-porous granular material, which is itself made of high-density rubber. What this means is that rubber paver tiles are super resistant to wearing out, durable, and offer great elasticity, making them comfortable on the feet while on your porch.
These tiles are also water permeable and are non-slippery surfaces even in a torrential downpour, making them ideal for outdoor usage. The smart interlocking design means that you can easily install these tiles without any adhesive, letting you make quick work of the installation.
However, remember to even out your ground or trim it before installation; loose ground can lead to uneven end results. Also bear in mind that you cannot use rubber paver tiles with thinners, gasoline, engine oil, and other solvents that are petroleum based. It'll probably become the king of decking alternatives in the future though.
Interlocking Grass Deck Tiles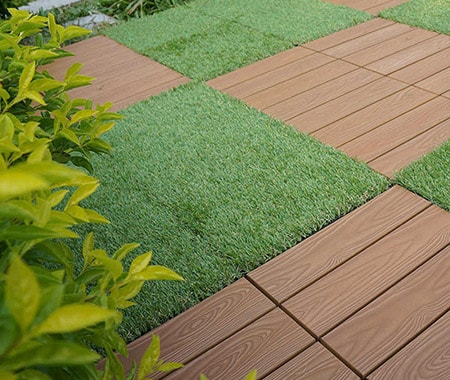 If you want a deck that looks like it's a part of your lawn, without the maintenance an actual lawn requires, interlocking grass deck tiles are an excellent idea. These artificial deck tiles feature high-quality, durable fake grass that doesn't need mowing, fertilizers or pesticides, and can instantly beautify the space.
Some tiles come equipped with excellent drainage systems too, making them easy to clean. The fact that these tiles are environmentally friendly (they're recyclable) and non-toxic (making them great for households with pets and children) only adds to the allure.
The only con with these tiles is that you may have to use back-up gluing to keep them in place. That apart, these tiles are great for all weather and climate conditions, can relieve pressure and shock, and are flame retardant, making them a superb investment.
In the picture above you can see the person decided to use some types of artificial grass for the grassy sections, which is fine if you don't want to do any maintenance and you're only covering a very small backyard area or something.
Decking Alternatives Rock!
From vinyl to aluminum to rubber, a variety of options exist to satisfy decking needs of all sorts. Some options work out cheaper than others, while some offer better aesthetic value than others.
If you don't want to consider any of the options listed above, you may also want to consider options such as marine flooring synthetic sheets, interlocking garage tiles, or fiber cement decking—the world is your oyster and you can choose any decking alternatives you want.
You'll Also Enjoy: