9 Drop Ceiling Alternatives to Get Away From That Stale Office Look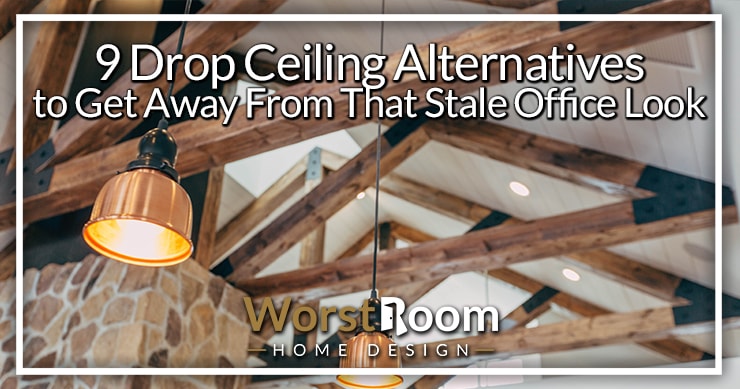 Drop ceiling alternatives are a must for anyone that cares about interior decorating. Nothing is more stale and energy-deadening than those boring, breakable tiles that soak up moisture and mold.
That drop ceiling probably looked like a million bucks when you initially got your house or office done, but has its appeal "dropped" as hard as the writers' grips on the GoT final season storyline?
Drop ceilings are extremely common in a range of properties, popular for being a one-shot way to quickly cover up an unsightly top portion of a room, as well for their ability to easily conceal pipes, ductwork, and wires while providing sound absorption.
However, drop ceilings can take away quite a bit of your room's height and tend to deteriorate quite quickly over the years, leading to an unstable and unsafe ceiling.
If you've been toying with the idea of replacing your drop ceiling, you literally don't have to sweat it; swapping it out turns out to be easy and cost effective. And in the long run you don't have to deal with problems like any types of cracks in the ceiling, either.
Whether you've lost your liking for this particular aesthetic and want to replace its existence on your basement ceiling or in an office space, or want a whole other aesthetic on your brand new ceiling, here's a list of drop ceiling alternatives to consider.
9 Drop Ceiling Alternatives
Some of these types of ceilings require more effort than others (and cost), and it's those that end up looking much better. Find the balance between that and your personal tastes and then it's time to get to work!
Drywall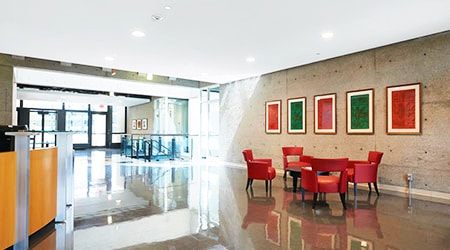 Drywall is an excellent option that almost always improves the appearance of any room thanks to it's simplicity and ease of decorating. You can achieve the same look with drywall alternatives as well.
Drywall gives you a smooth and finished look on the surface and are a favored option among most contractors, which means that plenty of contractors regularly work with them, and finding someone to install drywalls for you won't be an issue.
In addition to the improved aesthetic that they provide, drywall allows you to easily install any type of lighting on your ceiling, too; you can easily attach them to the drywall itself or drill holes if you want your lighting to sit flush against the surface.
Drywall also doesn't take away much from the height of your ceiling and you can have them painted (and repainted later, should you change your mind or aesthetic sense!) in any color that you wish.
Lastly, drywall aligns evenly with all surfaces, even curved ones, which means that you can hide all those tiny imperfections in your pad without too much effort.
Drywall is also excellent for soundproofing, so you don't have to worry about the neighbors breaking your door down to yell at you for all the noise!
Wooden Planks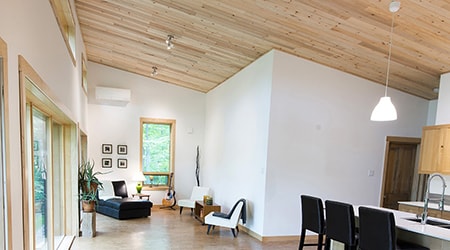 When you go with wood, there's very little margin for error—wood brings a classic, timeless aesthetic to all spaces.
You can stain your wooden planks any color that you want, to contrast or match your floors and other wooden components in the space; either way, you're assured of a truly unique and customized ceiling.
By playing around with the length and width of the planks, you can also make your room appear longer or wider without altering any of its actual physical dimensions.
These planks are also, generally, super light, so you can install them without the need for professional assistance and with some degree of practical knowledge. Depending on the kind of wood you choose, you can also stay extremely efficiently within your budget.
For a rustic finish, especially if you live in a cabin, wood is a great choice; just ensure that water doesn't pool in large amounts in your ceiling, to keep the wood protected.
Beadboard
Beadboard comes in a variety of finishes and colors, making them a go to for those looking for customized ceilings that stand out from the decor.
They're also incredibly inexpensive and hence, are a DIY favorite; many hardware stores also sell beadboard kits that help normal folks install them without any dependency on expensive professional help (again, you require some technical/practical knowledge of carpentry, though).
With beadboards, you don't even have to remove your existing ceiling to install them; you can easily and quickly install them over your current ceiling, giving you a makeover in relatively no time.
Ceiling Tiles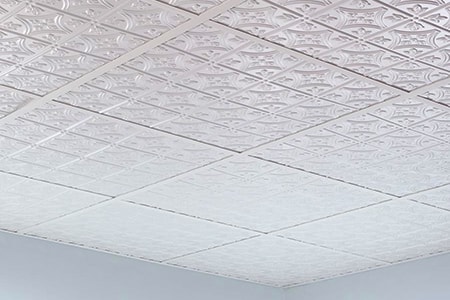 Agreed; your drop ceiling may have existed to hide your ceiling tiles, but with the awesome new types of ceiling tiles in the market, you won't want to hide them anymore.
Nowadays, ceiling tiles are available in a range of colors and designs, including generic and customized stamped designs (you can hire a company to do the latter for you and it won't cost you much).
You can get anything from faux leather tiles to ancient Romanesque copper tiles to mosaics.
Ceiling tiles are often made of nonporous material that won't soak up stains; that water leak won't seep into your tile and damage it from the inside—your carpet may be the only casualty.
Additionally, these tiles are extremely attractive and are sure to make heads turn (or tilt up, as the case may be).
You can also find hand-painted ceiling tiles (though these are expensive) or tiles that can be easily painted over, so that when the mood and preference demand, you can set up a new look.
Ceiling tiles are also probably the most durable of all drop ceiling alternatives and will last you in the long run, braving even floods and fires.
Their non-porous make also ensures that they're mold and rust resistant. You may want to lightly dust them regularly to ensure that they're always looking their best—this is the only maintenance that they require.
Plywood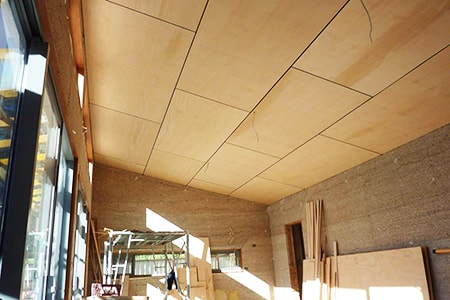 Probably the most inexpensive of all the options, various types of plywood can be stained and painted various colors.
Extremely durable, plywood is an excellent option if you intend to hang heavy chandeliers from your ceiling as well as if you're worried about easily accessing the electrical work or plumbing in your ceiling—the pieces can be easily and quickly removed and replaced.
Plywood is also super easy to work with; you can cut it into any size and shape, as the space demands, just like you can with any of the plywood alternatives.
Corrugated Metal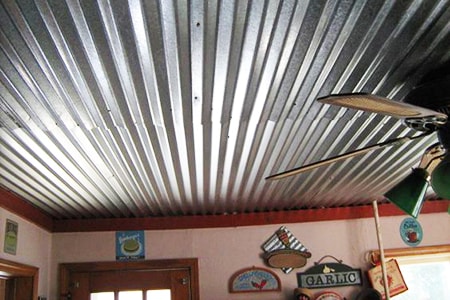 Industrial decor has been all the rage for some time now, and ceilings haven't been spared in its conquest, either.
Corrugated metal is becoming an increasingly popular choice across living rooms, thanks to the green building boom and interest in European and Latin American cultural aesthetics.
Corrugated metal ceilings lend an old-world look to the spaces they adorn and are extremely inexpensive, easy to handle and extremely effective in protecting and beautifying.
Stained Glass Ceilings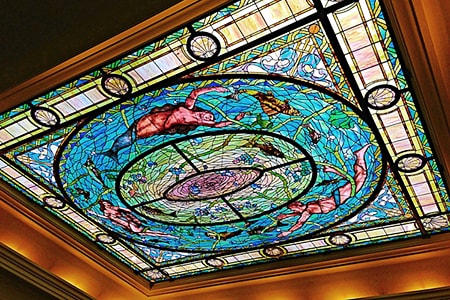 Paned stained glass may be quite a bit of maintenance but the final result is well worth the mental and physical investment.
Opt for stained glass ceilings in basements or play areas or any other room that acts as the hangout space.
You could pair your stained glass ceiling with traditional types of floor lamps and tables and set up your own relaxation room.
Faux Wooden Beams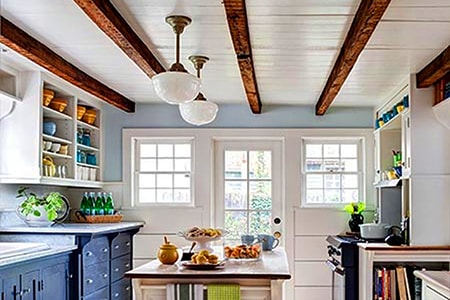 Faux wooden beams are hollow, equal-sided beams that resemble a squared-off 'U' and are as effective as drop ceilings in hiding exposed pipes, wiring, and other unwanted-yet-existing elements on your ceiling.
The hollowness of the beams does the concealing, while the wooden finish on the exterior beautifies the space. When viewed from the ground, distinguishing these faux beams that span the room's length, from actual solid timber beams, is a hard task.
Additionally, faux beams are lightweight, as opposed to real timber beams that have been hollowed out; the latter will still weigh hundreds of pounds and require a professional crew to set it up.
Faux beams, on the other hand, are constructed using natural softwood that's lightweight and features a composite exterior texture. These beams can go good with any ceiling texture types but look best with planks of wood running the opposite direction for realism.
High-density PU foams are joined together to make these faux beams that are generally coated with fire-resistant resin. One 12-foot-long beam requires only 2 people, at the most, for installation.
A faux wooden truss is also a great idea, especially in rooms with high ceilings. Many types of trusses enhance the vertical space in a room; made of the same material as faux beams, they're also extremely easy to handle and install.
Acoustic Tiles
Letting your drop ceiling be as it is gives you a huge benefit, too—it enhances the acoustics of the room. If you live in a noisy building, decorating your ceiling with acoustic tiles will help dampen the noise.
Acoustic tiles are made of thick material, generally absorptive melamine foam and compressed types of fiberglass (often called "rigid fiberglass"). You can find tiles with metal, pattern, fabric and wooden facing; you can also get them customized to meet your specifications.
In addition to the great aesthetics, these tiles provide excellent thermal insulation, thanks to their adsorptive properties.
However, not all acoustic tiles are created equal, so test out a variety of them on different spots of the grid to find the right balance. After that, it's just a matter of slipping the tile out of its grid and replacing it with an acoustic tile—all by hand!
Draw Attention Away
Last but not least, if you don't want to physically change anything about your drop ceiling, your best bet is to draw attention away from it! How do you do this? Improve the other aesthetic aspects of the room, such as the curtains, furniture, ceiling fan alternatives, and overall decor.
Drop Ceiling Alternatives are Plentiful
As you can see, you don't have to carry the burden of a drop ceiling for life just because you decided to go with it all of one time.
Plenty of cheap options exist in the market, with a quality and an aesthetic end result that truly belies their price.
Your local hardware store is a great spot to look for the material you need; many stores also stock DIY ceiling makeover kits and if they don't, you always have Amazon.
Take your pick of these drop ceiling alternatives and get cracking—a brand new ceiling awaits!
You'll Also Enjoy: