15 Types of Floor Lamps to Suit or Define Your Decor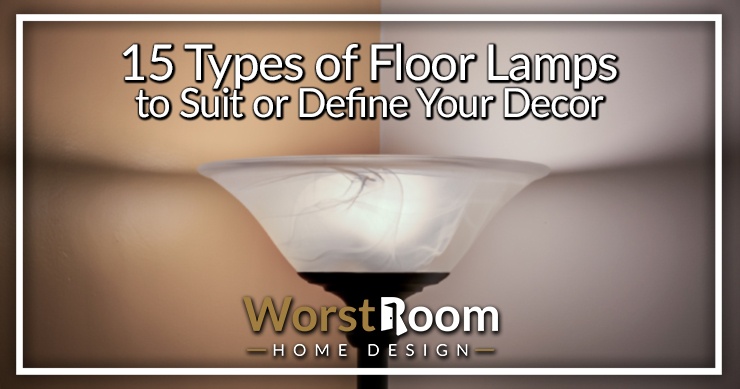 The various types of floor lamps do more than just lighting up the space; the right floor lamp can add a whole new level of aesthetic appeal to the area and be that one element that really ties up all other elements together, resulting in a neat, comprehensive finish!
If you're planning to invest in one of these home decor staples (and you should, for a lovely blend of functionality and design statement!), you'll probably face a possibly-slightly-overwhelming multitude of options.
Well, this is not only because there are that many brands offering floor lamps—there are that many types of floor lamps too!
15 Types of Floor Lamps
Worry not, though, because we've got just the thing for you—from spotlights to ambient lights, here's a quick 101 on the different types of floor lamps that you will most probably encounter in your search, based on the type, style and design.
Read on! It's time to graduate from various types of candles and use the modern candle alternatives, the electric floor lamp.
Torchiere Lamps
These lamps look as elegant as their French name sounds, with a torch-like shaped lighting fixture mounted on a straight column, pointing upwards. Torchieres beautifully enhance the room's ambient lighting with the uplight that they create, with light spilling out of the top of the lamp.
Torchieres are extremely space efficient, with an unobtrusive shape and very minimal floor-space occupation—two factors that lend immensely to their popularity. Additionally, thanks to their design, light spills out and diffuses in a very pleasing manner, covering the whole room.
Torchiere lamps are great choices for accent lamps and the perfect choice if you're looking for an accent lamp that increases the overall light in a room! What this also means is that if you're looking for task lighting, you won't find it in the torchiere floor lamp styles.
If you're buying a torchiere, you may find that some models come with dimmer switches and other types of light switches. These floor lamp types come in all kinds of styles, so keep your eyes peeled.
You'll also find them in a range of designs, from modern to traditional, so it's easy to find exactly the torchiere you want. Buying one with a weighted base is recommended, so that it doesn't tip over easily.
Swing Arm Floor Lamp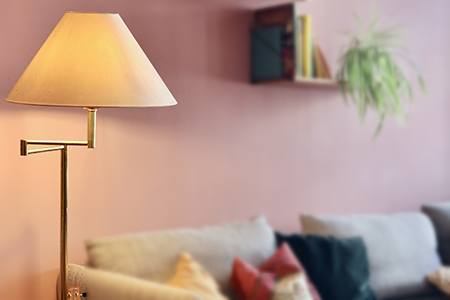 A swing arm floor lamp, as the name suggests, comes with a swinging arm that lets you adjust the position of the lamp as per your lighting needs, negating the need to pick up the entire lamp and move it.
This makes swing arm floor lamps among the most convenient and practical floor lamps out there, especially if your ceiling won't accommodate a fan and light combo. Floor lamps are the perfect ceiling fan alternatives.
Club Lamps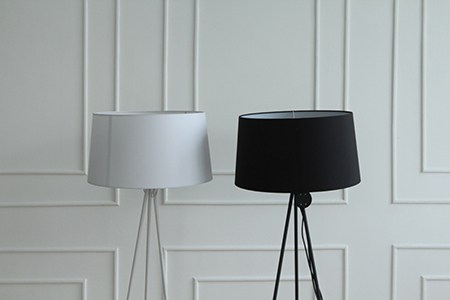 They may not have known what it's called, but the chances are that everyone in the world has probably seen a club lamp somewhere—from movie scenes to houses to 'Tom and Jerry', these lamps feature everywhere and are among the most commonly bought and used floor lamps.
This could also be because they are one of the (if not "the") oldest, most traditional types of floor lamps.
Designed for area lighting, club lamps look similar to torchieres, with a base, a stick and a shade to soften the light that spills out, except that the light isn't aimed upward.
Club lamps come in a range of designs, just like torchieres. You also get adjustable club lamps that are height adjustable and great for area lighting.
Tower Lamps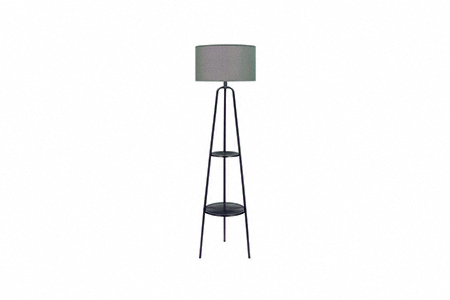 Tower lamps are a win-win—lovely sculptures by day and excellent sources of light by night!
These lamps are a great option to consider if accent lighting or a gentle glow to set the mood is what you're after.
Generally, tower lamps feature tissue-wrapped or extremely thin fabric-wrapped wire frames.
Table Lamps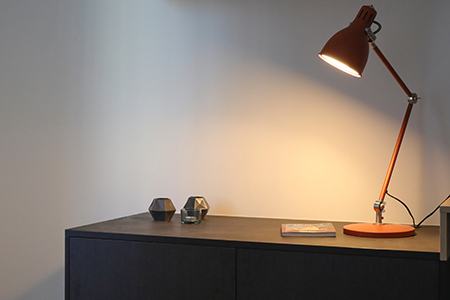 Table lamps are the epitome of functionality, featuring a floor lamp with an attached table. Therefore, not only are you killing two birds with one stone, but you're also killing a third one thanks to the amount of space you're saving.
Table lamps can be made of glass or wood. These are less intrusive than having an actual table lamp seated on an end table. These floor lamp types are very versatile.
Multi-Way / Tree Lamps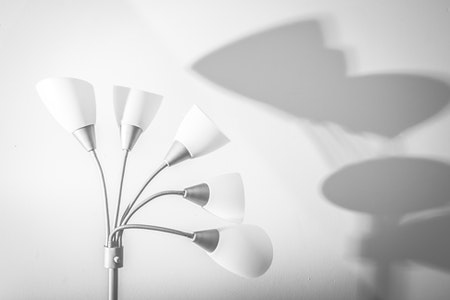 Multi-way lamps or tree lamps feature multiple lights on a single pole, much like a tree! These lamps are an excellent choice if you're looking for one source to light different directions, as you can position each lamp in a range of angles and illuminate what you need.
Multi-way lamps may take you back to your dorm room days, but enough sophisticated, elegant, "grown-up" models with multi-arms are available to decorate your home! These are a great way to make a living room cozy.
Glass Tray Lamps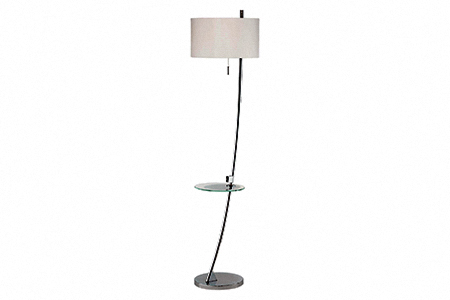 At the very heart of it, glass tray lamps are essentially club lamps, the only addition being the glass tray that's inserted at the height of the table.
Glass tray lamps are great for area lighting and are super-useful in small, tight spaces where end tables don't fit, take up too much space or seem clunky. Even visually, a glass tray lamp looks less busy than an end table with a lamp on it.
Task or Downbridge Lamps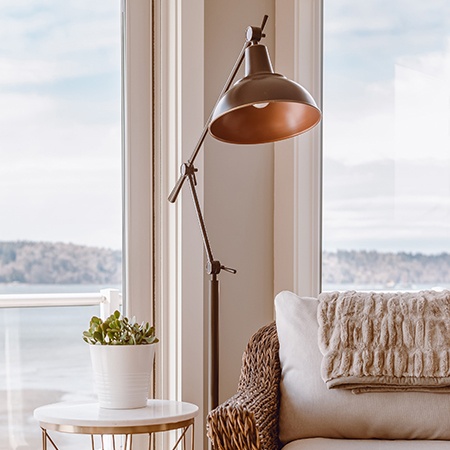 Task or downbridge types of floor lamps have adjustable lights that can be moved to specifically point towards and light an object. This makes them a great option to have in your reading corner.
Task lamps and downbridge lamps are often deemed to be the same; however, downbridge lamps don't feature adjustable lights and direct light downwards.
Candelabra Lamps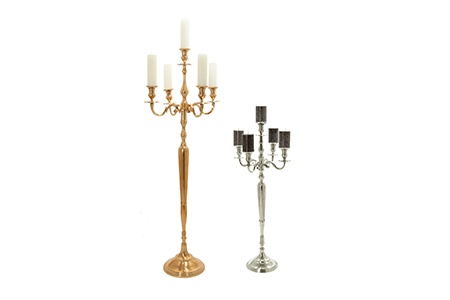 Candelabra lamps, as the name suggests, are similar to candelabras, featuring many types of light bulbs on a single pole. This also means that they're essentially the same as tree lamps, the only difference being that the latter generally has bigger bulbs.
Additionally, where tree lamps are more modern, candelabra lamps strive to recreate the look of a traditional candelabra. Match them with older types of curtains and you can elicit an more sophisticated style of decor.
Arching Floor Lamps
If you want to add a dramatic flair to your living space, arching kinds of floor lamps are the answer! These styles of floor lamps feature a long, dramatically arching arm that is attached to the lamp's base, designed to extend over furniture and objects. Explore a wider selection of elegant arching lamps available at The Archiology and other high quality artisan shops.
It's like your very own spotlight, except that the light is more diffused and hence, arching floor lamps are the ideal solution for lighting up entire areas, such as couches or your dining table, especially if you don't want a traditional chandelier or overhead light. These types of lamps look great in more modern living rooms.
Pharmacy Floor Lamps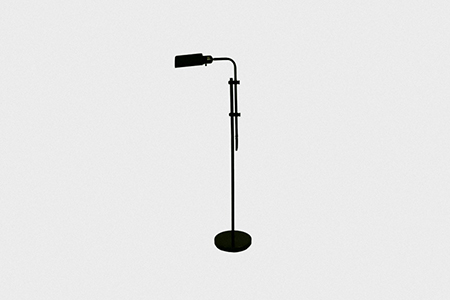 Pharmacy floor lamps are more about functionality than style or design statements. These lamps have very small profiles and provide light that can be very specifically directed, with a height-adjustable body and a head that you can swing towards or away from you, as required.
Though pharmacy lamps focus on functionality over aesthetic appeal, many brands do offer extremely good-looking pharmacy floor lamps, so don't dismiss these yet for your home decor needs.
Novelty Floor Lamps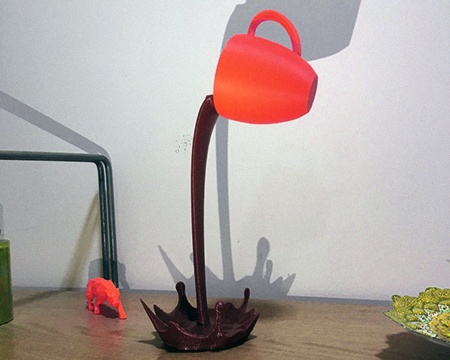 Novelty types of floor lamps are quirky, unusual lamps that don't adhere to any of the standard descriptions above or have something additional to offer, such as lamps that convert into vacuum machines or fans!
Six-Way Floor Lamps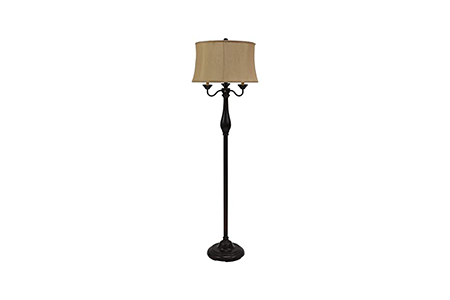 Also known as Mogul lamps, six-way floor lamps are like an evolved version of tree lamps. These lamps, with their many bulbs, can provide quite a tremendous amount of light, making them a great addition to big rooms that need lots of lighting.
Generally, six-way lamps have a central three-way bulb surrounded by additional bulbs, as many as three. One of the biggest advantages is that these bulbs can be used simultaneously or separately, as required.
Tripod Floor Lamps
The tripod styles of floor lamps don't sit on a single round base with a lower center of gravity. It creates its stability by being situated on three separate legs, starting out from the bulb and lampshade and spreading until they form a wide triangle on the floor.
While these floor lamp styles are typically far more stable, they're easy to accidentally kick one of the legs, so I recommend placing in the corner behind a couch or somewhere that has very low foot traffic.
Tiffany Glass Lamps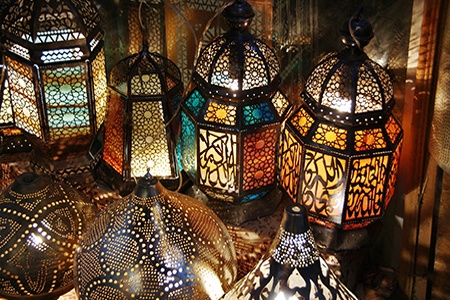 These gorgeous kinds of floor lamps, having been around since the 19th century, are more about the style than the type, but deserve a special mention just for their beauty and uniqueness!
Tiffany lamps feature elaborate lamp shades of stained glass and are the brainchild of Louis Comfort.
A genuine Tiffany lamp has the ability to set you back by over a million dollars, but of course, unless you're Jeff Bezos and have more money than you know what to do with, you can consider getting a version that only sets you back by a few thousand dollars!
For the more budget conscious, there is a range of Tiffany-inspired floor lamps out there—the shades are just as decorative, the light just as functional and the end result just as beautiful, but you're only paying a fraction of what a genuine Tiffany lamp would cost you!
Types of Floor Lamps for Every Decor Style
There are many types of floor lamps, as you can see, but in most cases, the design elements lend very obvious characteristics to the lamps, making them easy to distinguish from each other.
Some times, floor lamps are also differentiated based on their style—in this case, floor lamps can be mid-century modern or Scandinavian, with clean lines and excellent functionality, Craftsman-furniture-movement inspired Mission Shakers that celebrate clean lines and geometric shapes, rustic country-style lamps or raw industrial ones.
You can also go contemporary or Bohemian—the former features neutral colors and clean lines while the latter generally has a fun vibe, with patterned shades and other textural elements.
With such a wide array of options to light up your space, the sky's the limit, so don't hold back. However, apart from your lighting needs, keep in mind the available space, dimensions, color tones and of course, your budget.
That apart, aided by our guide, finding the right types of floor lamps from your dreams—one that perfectly suits your home decor needs—has never been easier.
You'll Also Enjoy: