16 Types of Ceilings to Elevate & Enhance Your Space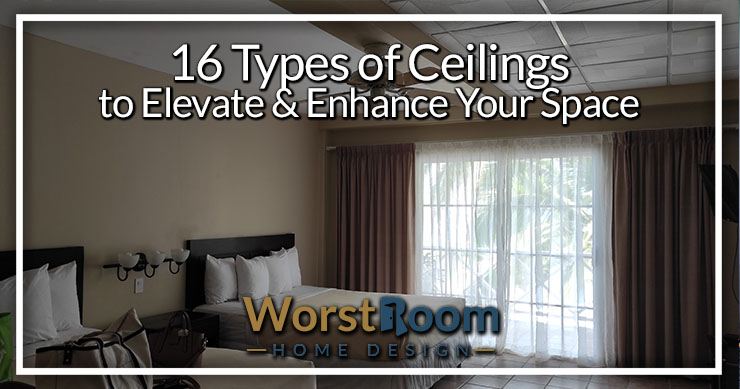 All of these types of ceilings are more of a finishing element than a structural element in a building as its main function is covering up the underside of a roof or an upper story.
You might not give a lot of thought to the ceiling types you want in each room when you are building or renovating a house but different types of ceilings can change the look and feel of any space.
16 Types of Ceilings
Do you just want your space to look better or do you want to increase the utility of the space? Whatever it may be, we have 15 ceiling design types to suit your purpose!
Conventional Ceilings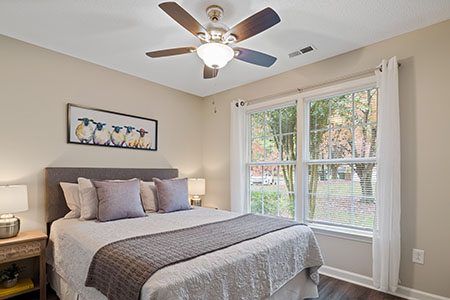 Conventional ceilings are the most common ceiling styles seen in residential spaces. They are usually eight to ten feet high, and they are structured in a way tailored to fit typical construction material sizes.
They are plain ceilings that do not have an aesthetic purpose, they are minimal and functional. You can add some molding or trim on a conventional ceiling to make it visually appealing.
This ceiling design usually has a standard drywall finish. Since the materials used are standard sizes that do not have to be customized, installing a conventional ceiling works out much cheaper.
Suspended Ceilings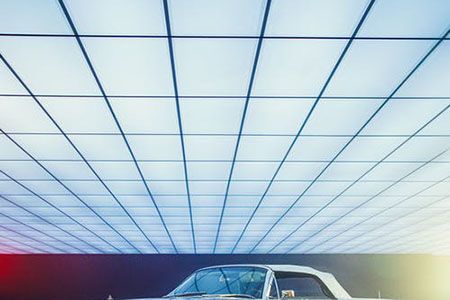 Suspended ceilings are also called dropped or drop ceilings because it's usually hung a little lower than the structural elements of the roof. They make it easy to install lighting, manage wiring and cabling, and are extremely simple to install.
If you have central heating and air types of air conditioners, you probably have a drop ceiling in a basement that hides the duct work that guides the air all throughout the home.
They are installed at least six inches below the height of the normal ceiling, held in place by a metal grid or cables. This grid can be exposed or hidden depending on the ceiling styles you are going for.
There are a handful of pros and cons of drop ceilings. They are functional as they help hide pipes, wiring, or ducts and other building infrastructure. You can also create a neat and minimal look by installing recessed lighting in a dropped ceiling. There's drop ceiling alternatives as well if you want a similar but different look.
Tin Ceilings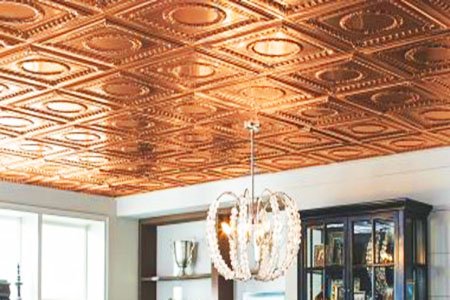 You only find tin ceilings in the oldest of houses these days. They were chosen because they were invulnerable to the damage that could occur from open-flame cooking or candles catching the drapes on fire, etc. These are very safe, but different types of ceilings if you want a unique flair.
The coolest thing about these was that they had repeating patterns pressed into the tiles of tin so that they were decorative. They could be painted any color you wanted and were very resistant to rust. You won't find any more luxurious ceiling texture types than you do on tin ceilings.
Coffered Ceilings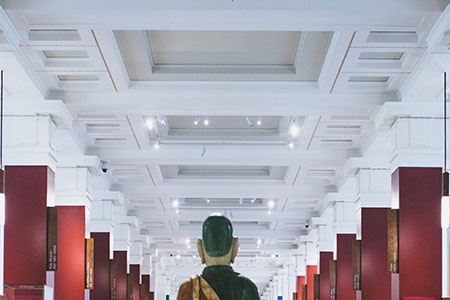 Coffers are sunken panels usually shaped like a rectangle or a square. Stone coffers were prominent aspects of architecture right from ancient Greek and Roman times.
Coffered ceilings have a gridwork of such panels. These panels are often accented with molding to further enhance the elegance of the structure.
These luxurious and elegant coffered ceilings are usually found in high-end homes, libraries and hotel lobbies. To install coffered paneling you need a ceiling that is at least nine feet high.
Tray Ceilings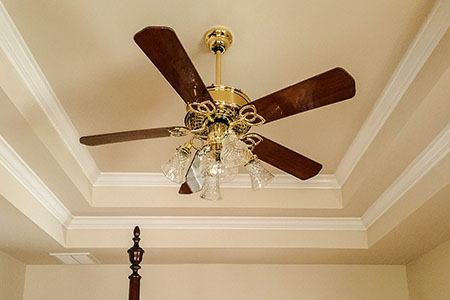 Tray ceilings are also called recessed ceilings because the central part of these ceilings is constructed a little higher than the rest of the ceiling.
They are constructed in multiple levels, usually two or three, and each level is five or ten inches below the previous one.
These ceilings look like an inverted tray when viewed from below. If this style is used efficiently, it helps open up small spaces as the center has more depth than the sides.
However, since it has multiple levels, you need to start with a ceiling that is at least eight feet high to create this spacious effect.
Barrel Vault Ceilings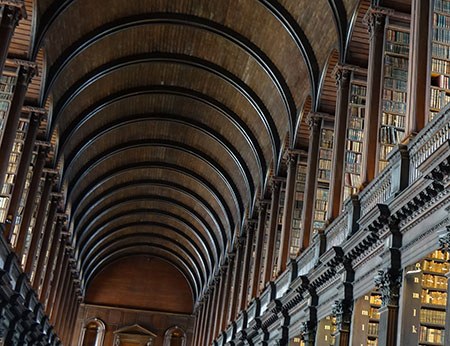 A barrel vault ceiling is an arched ceiling. This concave arch runs across the length of the ceiling and lends a European style to your space. It is built under the existing rafters and usually sports an uncemented brick finish to add a rustic charm.
These ceilings are called barrel vaults because they look like the inside of a barrel cut in half when viewed from below. Apart from its aesthetic appeal, the barrel vault ceiling also has acoustic applications. They are structured in a way that beautifully amplifies sound.
Barrel vault styles look best if you have a double height or tall ceiling space. You should probably consider ceiling fan alternatives if you opt for a barrel vault ceiling.
Coved Ceilings
Arched ceilings were a prominent feature of Middle Eastern architecture and the modern coved ceiling style draws inspiration from these architectural designs.
A cove ceiling has curved edges between the ceiling and the wall that help create a dome-like effect. The cove begins from the top of the wall and joins the ceiling.
These coves can be very round or shallow depending on the style that you choose for your room. Coved ceilings are used to enhance the look of formal rooms, theaters and churches.
Cathedral Ceilings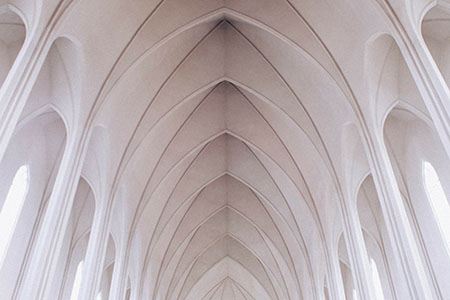 Cathedral ceilings are known for their elegant and symmetrical structure. Two symmetrical slopes meet in the middle of the room at its highest point to form an inverted V-shape.
They are named so because these ceilings are usually found in churches. Since the highest point of the ceiling is almost always double the height of a normal ceiling, cathedral ceilings create a more spacious and airy look.
Though they look elegant and classy and instantly elevate the grandeur of a room they do have drawbacks. Since the highest point is so high it becomes difficult to change broken light fixtures or burned out types of light bulbs.
You might also have to spend more on heating or cooling such rooms as they are twice the height of regular rooms. But it's worth it for these different types of ceilings for the spaciousness they provide.
Vaulted Ceilings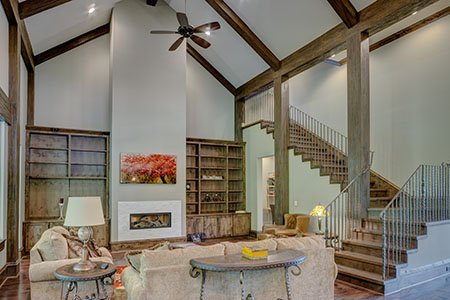 The vaulted ceiling also features two slopes that begin from the walls and join together. However, they are different from cathedral ceilings as the slopes need not be symmetrical.
Vaulted ceilings can feature uneven slopes that need not necessarily meet in the center most point of the room. Expect to use an extended rod to help you change the bulbs in whatever types of ceiling lights you install unless they dangle down quite a bit.
Just like cathedral ceilings, vaulted ceilings also lend a more spacious and airy feel to your room. Vaulted ceilings are great for attics and bedrooms on the first floor. However, you need a high enough ceiling to pull off this style.
Shed Ceilings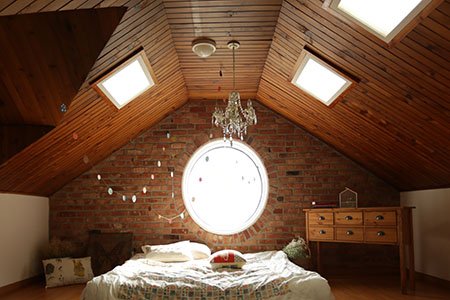 If your house has a sloped roof, you can add a shed ceiling in an attic or upper story bedroom to change up the look of the space. Shed ceilings have a single slope that begins at the highest point of one wall and slopes downwards to the opposite wall.
The slope of the shed ceiling is not as steep as the slopes of cathedral or vaulted ceilings which makes heating these rooms easier. These ceiling design types lets us make rooms out of space that are otherwise unusable.
Beam Ceilings
Traditionally, beams were installed in the ceiling infrastructure to bear loads and support the roof. But nowadays, they serve more as an aesthetic addition rather than as a functional element. Exposed beams add a traditional and rustic look to your room.
These faux beams, crafted from plywood and miters, are usually installed in spacious corridors, dining rooms and living rooms. The beams run across the length of the ceiling. They're a great way to make your living room cozy.
You can stick to a few beams that are widely spaced out or you can even incorporate a dozen or more closely-spaced beams depending on the effect you are looking to create. These types of ceilings look very sophisticated, in my opinion. You can go with natural wood or even decide what color to paint your ceiling beams to enhance your overall decor.
Tall Ceilings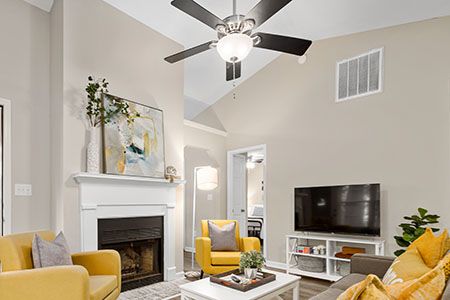 Tall ceilings are also called double-height ceilings. These ceilings are usually featured in the living rooms of a two-story house or bungalow connecting the two levels. They make the area appear more spacious and airy.
Regular ceilings are around eight feet high, so tall ceilings will be around double this height. One major drawback is that you will have to spend more money to heat or cool spaces that feature tall ceilings.
Dome Ceilings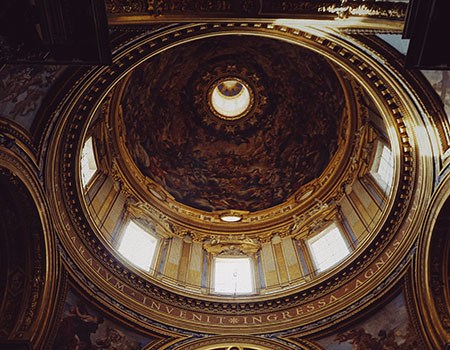 A domed ceiling resembles a dome or a half sphere. These ceilings are quite common in monuments and old governmental structures. The dome can take up the entire room or you can restrict it to a certain part of the ceiling, either way, they are a dramatic addition to liven up your space.
Dome ceiling styles are usually installed in spacious common areas like lobbies, entrance foyers, dining rooms and living rooms.
Groin Vault Ceilings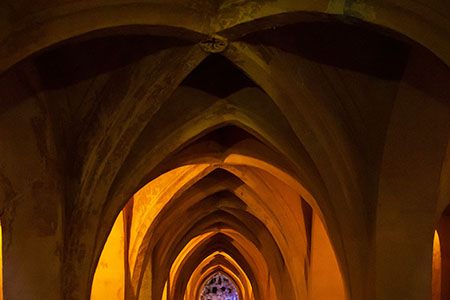 A groin vault ceiling is formed by two barrel vaults that intersect at a 90-degree angle. This architecture style was first used by the Romans. It was a difficult structure to create hence it fell out of style quickly.
A groin vault ceiling looks like four convex curves that intersect with each other in the center of the room.
Exposed Ceilings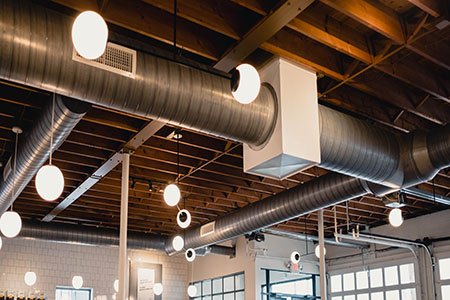 The exposed ceiling look is a favorite among modern interior designers. In this style, the structural elements like wiring and air ducts are not covered up using standard types of drywall or other ceiling materials.
These elements are painted in the same color to give an intentionally unfinished look to your space. Installing types of track lighting here really can help bring out the industrial feel.
Exposed ceilings, that create an industrial or warehouse style, look great in wide and open loft-like spaces. They are also cheaper than other ceiling types as you only need to spend money on painting.
However, since they have less insulation or virtually no insulation, you will have to spend more on heating and cooling.
Decorative Ceilings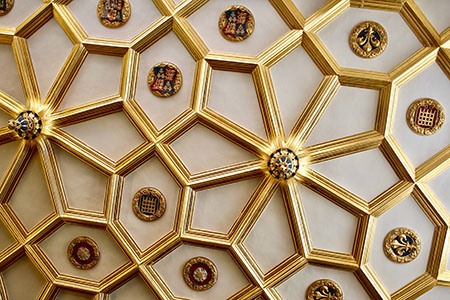 Decorative ceilings are quite common in monuments and churches. The most famous example of a decorated ceiling being the ceiling of the Sistine Chapel painted by Michelangelo.
You can decorate ceilings with the help of fresco paintings, mosaic tiles, or even plaster of Paris molding or trims.
Types of Ceilings for Every Decorative Style
Ceilings can enhance the look of your room or house even if they do not have any structural functions. In fact, each type has its own acoustic as well as aesthetic value.
The problem is, many of these need to be considered before the construction of your home even begins, because it's very hard to gain height in a room after the fact. So really, you need to decide what types of ceilings you want in your home before you build or before you start looking for a new home.
You'll Also Enjoy: