Organizing Socks & Underwear in 10 Unique Ways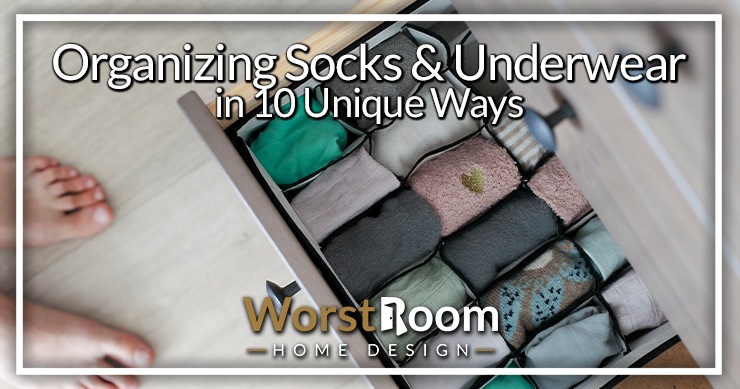 Do you have a messy sock drawer? If you're tired of the clutter, it's time to do something about it. If you're new to organizing socks and underwear, it's time to teach yourself the best strategies to keep things tidy.
If you're moving into an apartment for the first time, or you're a student going away to college and staying in a dorm, you have limited space in your closet. Fortunately, we have 10 ideas for how to store socks and underwear without a dresser that help you save on space beyond just stuffing them in a dresser drawer.
Why is Organizing Socks & Underwear a Necessity?
Many people are under the impression folding underwear and socks is a waste of time. However, there are several benefits to neat and efficient sock and underwear storage.
Save on Space – If you have a small closet and no dresser, learning to store your socks and undies efficiently lets you free up space for other garments.
Owning Items That Spark Joy – Organizing things lets your purge your old socks and underwear you never wear anymore, freeing up space while making things organized and easy to find. Never waste time hunting around for that other sock to match the pair.
See What You Own – You get to see everything in one space in an organized fashion. So, you don't have to reach the back of the shelf to find that pair of socks or underwear you forgot you even owned.
How to Store Socks & Underwear Without a Dresser in 10 Ways
Our goal here is to move you beyond the basic concept of turning every pair of socks in the same direction and stacking them in your dresser drawer next to your semi-neatly folded underwear. There's much better ways to get it done using some neat dresser alternatives. Let's look at those now.
1) Portable Dresser Organizers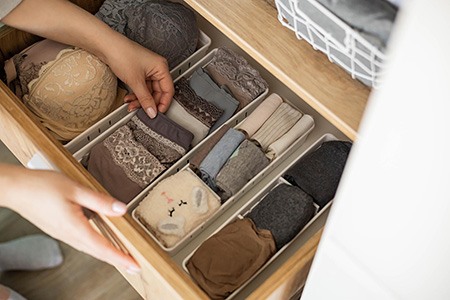 A portable dresser-style organizer is the closest thing to a real dresser. However, it's lighter and easier to carry around. This lightweight dresser usually comes with a folding design, making them easy to set up anywhere in the room where you have space. They're ideal for small apartments and dorm rooms that have a space premium.
2) Desktop Storage
You can add a tower organizer to your desktop to help you save on space in small rooms. If your desk has more space than you need, it's the ideal solution to get more clothing into areas you don't use often. They come in various fabric designs to suit your room's design motif; they're lightweight and easy to handle.
3) Fabric Drawer Organizers
Fabric drawer organizers give you an insert to add to your portable closet or desktop drawer storage system. These are awesome for organizing socks and underwear. You can get different sizes to suit any drawer and a range of colors. The fabric inserts don't damage your clothes, keeping everything tucked away neatly in a separate compartment.
You don't have to worry about items buried under each other, and you'll always have a clear indication of what's clean and ready to wear. These organizers come in 12, 16, or 24-compartment designs to suit your drawer size.
They're a handy choice for doing laundry, just bring the whole drawer with you to the laundry room and pack it as you fold your socks and underwear after pulling them out of the dryer. Just know that he more you pull your drawer in and out, you may risk having to learn how to unstick a drawer eventually.
4) Hanging Shoe Organizers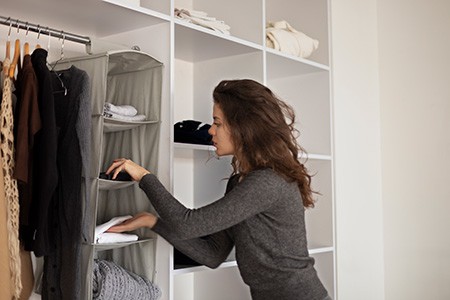 If you're low on space, make the most of what you have with a hanging shoe organizer. These hangers come with a vertical design, allowing for easy installation on the back of your closet door with adhesive hooks.
Instead of using the pouches for your shoes, use them to stuff away your socks and underwear. The pockets can accommodate two or three pairs of socks and two pairs of underwear or a single bra. It's a good alternative to the desktop organizer in tight spaces like dorm rooms.
The hanging shoe organizer is removable. You can do the same as your fabric drawer organizer, taking it to the laundry room to fold everything and place it in individual pockets. Roll it up, take it back to your bedroom, and hang it on the door when you're done.
5) Hanging Closet Organizers
The hanging closet organizer is another option for small rooms with minimal floor space. These systems hang from the ceiling and are easily set up in corners. You don't have to give up space for your couch or desk since there's plenty of room underneath. Most models come with three to five drawers and you can multiple, even one dedicated for storage for socks and underwear.
Hanging closets usually feature designs with lightweight materials, and they come with all the hardware you need to hang them from the ceiling. Don't worry about them pulling out from the ceiling boards. Socks and undies are lightweight items, and the fixtures have enough strength to accommodate the weight.
6) Utensil Organizers
Unlike the fabric organizers discussed earlier, utensil organizers have solid compartments featuring design and construction with wood or plastic. The original purpose of these storage systems is for kitchen wear, but you can repurpose them to accommodate your socks and undies.
They're heavier, so you can't use them in hanging closet systems, but they're a great choice for drawers. Like the fabric options, they come in different capacities, with up to 24 compartments for your socks and underwear. However, they're less portable since they're heavier.
7) Storage Hooks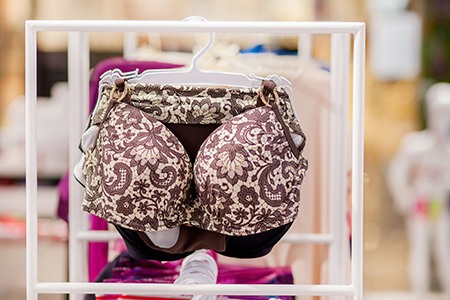 If you have bras that you can't store anywhere, use adhesive hooks mounted to the back of your closet door to accommodate more storage space. Use them to hang your bras and underwear. Organizing socks and underwear is easy once your bulky bras are out of the way.
Usually, you can get around 24 to 36 of these types of wall hooks on the back of the door without any hassle. It's a cheap fix and ideal for students and first-time apartment owners. You can also hang bags for the hooks stuffed with your socks and underwear.
8) Under-Bed Storage
Some beds come with under-mattress storage accessed from the side of the base. These drawers pull out, giving you the entire mattress area for storing your clothing. There's more than enough space to accommodate all your socks, underwear, and other clothing.
You get designs with two or three drawers, allowing you to segregate your clothing as you please. Fit the drawers with fabric organizers, and you have a neat space to keep your socks and underwear.
9) Shelf Baskets
If you have shelves in your closets, good for you. Grab some shelf baskets and use them for storing your socks and underwear. It's way more efficient than just spreading them on the shelf or stuffing everything into one corner.
You can add organizers to the wire bins to tidy up even more, giving you efficient access to the socks and underwear. They're also lightweight, meaning you can carry them to the laundry room. Best of all, they're cheap and make an affordable organizing system for students and apartment owners on a budget.
10) Hikidashi Boxes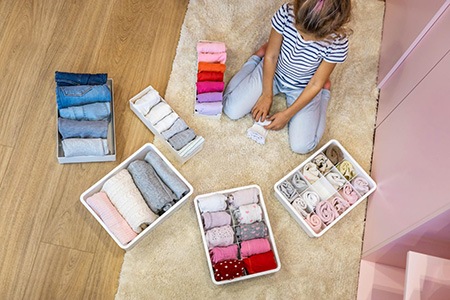 Marie Kondo is a popular author and the worlds leading authority on keeping spaces neat and tidy around the home. She's the author of several books explaining the benefits of organizations and a celebrity in the eyes of minimalists in cultures around the globe.
One of the items she discusses in her books is the "Kondo Box" or Hikidashi boxes, which simply means "drawer boxes" in English. These boxes are great for organizing your socks and underwear. Kondo boxes are easy to make from DIY methods, like using old shoe boxes. They're the ultimate in storage ideas for socks and underwear, because you can create all the compartments you want.
It's also a great way to upcycle waste you normally throw away and send to the landfill, so you're being environmentally responsible with this strategy.
Add DIY organizers to the box interior, and wrap the outside in decorative paper to give it an eye-pleasing aesthetic. If you use the Marie Kondo folding style, you'll get plenty of socks and underwear in each box, freeing up closet space for your other clothing.
Storage for Socks & Underwear Like Marie Kondo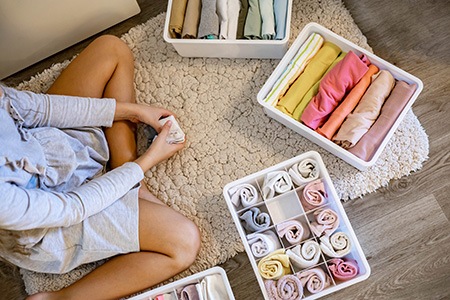 So, how do you fold the Marie Kondo way for organizing socks and underwear? Use this guide, and you'll never fold your undies and socks any other way again.
Step #1 – Clean Up & Clear Out
It's time to spark some joy. First, go through your underwear and socks and ask yourself if you need them anymore. Do you wear the item, or has it been months since you last set eyes on it? If you don't use it, throw it out or donate it to a charity shop. You'll feel super-satisfied after completing this exercise.
Step #2 – The Folding Method
Place pairs of socks together and fold them in half, thirds, or quarters, depending on material weight, length, and size. For bras, fasten the bra and tuck in the arm straps. For boxers & panties, lay them out flat and fold the two-thirds along the waistband. Fold up the bottom third, followed by the top third.
Step #3 – Create Sections
Use old shoe or tissue boxes and create cardboard dividers for your panties, socks, and bras.
Step #4 – Store Them Away
Place all your folded socks and underwear in individual compartments. Store them vertically with the seams facing up. You'll find everything easy to identify as soon as you open the Kondo box.
Key Takeaways Regarding Storage Ideas for Socks & Underwear
Here's a summary to re-emphasize all you've learned above:
Use our ideas for portable and compact storage units and organizers to free up more space in your closet.
These strategies are ideal for anyone with limited space in a closet or room.
Kondo boxes let you keep everything organized, and you can make them from upcycled materials.
Learn to fold and store like Marie Kondo and keep everything neat, tidy, and readily accessible.
The main idea is to have everything neatly folded, and not only organized but displayed in such a way you can derive joy from viewing your collection and easily choose your outfit for the day. And that, my friends, is how organizing socks and underwear without a dresser is done.
You'll Also Enjoy: