9 Types of Wall Hooks to Reclaim That Unused Space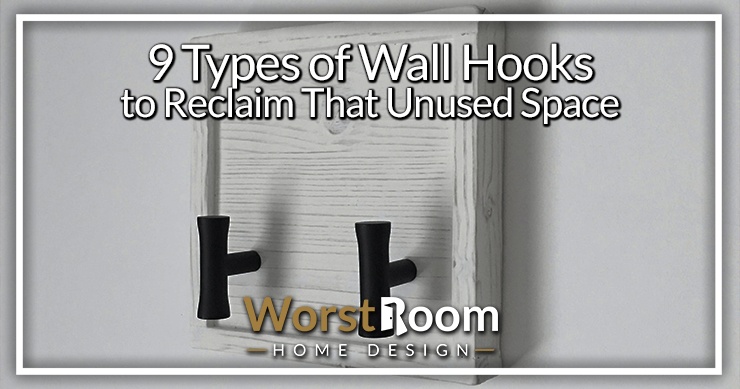 Wall hooks are essential in every household, but their value is often overlooked by a lot of people. There are different types of wall hooks, and each one is made for a specific purpose.
Hence, if you use one type of wall hook for everything, it might make your room look bad. Although it is a very small detail, you should definitely give it some attention, so your room fits the aesthetic you envision properly.
The functionality of wall hooks is something you should definitely utilize, and once you do, you will be surprised to see how much easier they can make your life.
9 Types of Wall Hooks
Wall hooks are made of different materials and come in different designs so let us take you on a journey to discover the 8 main types of wall hooks.
S-Shaped Wall Hooks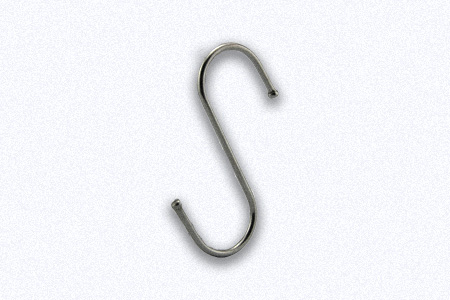 This hook sticks to its name with the distinct S-shape that sets it apart from all the hooks on this list. The S-shaped hooks have been used for a very long time now, especially in butcher shops.
However, they now have many more uses in your daily life, and of course, your kitchen. S-hooks are a must-have in the kitchen. They are great for hanging the pots and pans that you use every day, so you can access them more easily.
Additionally, they can also be made useful by installing these wall hook types in your utility closet to utilize more space. You may also find these hooks useful for hanging your shower curtains.
You can find these S-shaped hooks in several different materials, including stainless steel, plastic, forged iron, and more. Another great thing about this item is that it is readily available, and is very cheap, so you can easily find them in your local hardware store.
There are numerous uses for this hook, and it is also easily portable, so you can take a bunch of them with you if you are someone who regularly moves houses. They make decent kitchen cabinet alternatives to hang your pots from over your kitchen island.
Peg Style Wall Hooks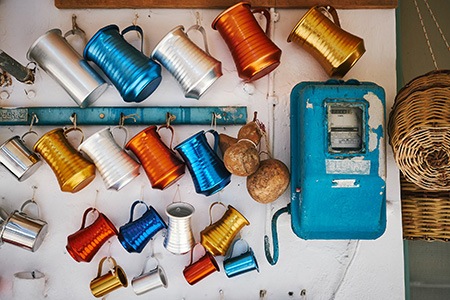 For people reading this article who are familiar with storage options, you may have heard of pegboards and how great they are for storing and organizing your essential items. It's true. Pegboards of the typical 3/16th's inch width can hold about 100 pounds of weight, too.
However, they aren't the same as peg style hooks, unlike what a lot of people may think when they first hear the name of this hook.
With another name of shaker peg racks, these peg style hooks are a simple solution for organizing and storage. They come in two different forms, you can get the individual pegs or the hooks on a wall rack if you want to hang multiple items close together.
The best thing about peg style types of wall hooks is that they do not pop out much and ruin the look of your room. In fact, they blend in very easily with any space regardless of the aesthetic you choose. You will have to secure them to whatever types of drywall you have in the home, though.
Peg style hooks are usually made from wood which can add a nice touch to your room, but you can also find them in other materials such as plastic or stainless steel.
Bright Bathroom Wall Hooks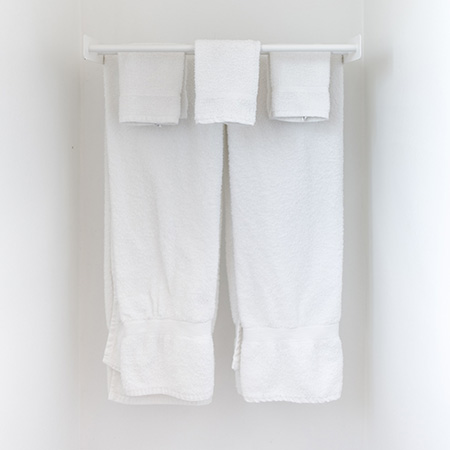 There is no denying that most of us could use some extra space in the bathroom to store our essentials. Although we might not be able to do that, bathroom hooks can certainly help you utilize your space more.
The first thing that might come to your mind after seeing these bathroom hooks will probably be that they are too colorful. Well, it is true, and that is why it does not go with most adult bathrooms.
However, if you have a child at home, their bathroom would not look too bad with a pop of color. In fact, your child will probably find the colored bathroom kinds of wall hooks as something decorative.
Despite being very cheap, these bathroom wall hooks are surprisingly durable and can even be used to hang backpacks.
They also have a safe powder coating, which makes them both garment-friendly as well as kid-safe. Hence, you will be able to hang anything from towels, clothes to backpacks from these hooks.
Lastly, these bathroom hooks are very easy to install, which is a relief because it means you do not have to go through the hassle of having someone over to install them for you.
Over-the-Door Hooks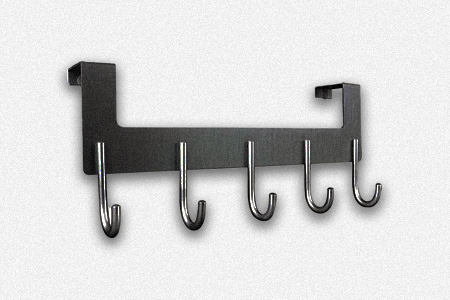 You've likely seen these types of wall hooks in bathrooms used to hang bathrobes and whatever types of towels. I've seen them in bedrooms quite often to be used to hang clothes that aren't dirty enough and can still be worn.
What they are are hangers that go over the top of a door, still allowing it to be closed fully, that then hangs hooks further down for your use. They utilize space that is otherwise wasted in a very effective way.
You can consider these for broom closets to hang tools and cleaning supplies, bathrooms or bedrooms as described above, and even pantries to add more shelving for canned goods. You can even hang types of wreaths off your front door with these.
The nice part is they're not permanent and don't cause any damage. So they're perfect for people moving from apartment to apartment, for example, and can't otherwise make major changes.
Reclaimed Wood Wall Hooks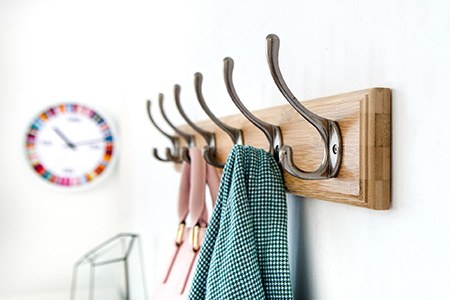 As rustic interior decoration is becoming more and more popular, the demand for objects made of reclaimed and recycled wood is also growing, which is a great thing.
If you are looking to bring a slightly rustic style to your home, then you might want to look at some reclaimed wood hooks.
These different kinds of wall hooks aren't as weak as you may think. You can easily hang your grocery bags and even your over-shirt from these, and they won't break.
The durability of these reclaimed wood hooks largely depends on the quality of wood used, and so it actually varies from manufacturer to manufacturer.
In addition to the functionalities of regular wall hooks, these reclaimed wood hooks will make your house look more impressive with their trendy touch.
Furthermore, you even help the planet a bit by reducing the little amount of wood that would have ended up in a landfill site if it wasn't used to make your hooks.
Installation is generally not a problem either. Most reclaimed wood hooks come with a very convenient option, such as a fresh cleat system, so you can install them right away.
Utility Hooks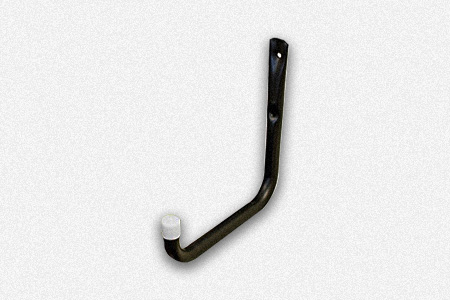 The first time you see these types of wall hooks, you probably won't want to install this in your house because of its poor looks.
However, as you can tell from its name, the utility hook wasn't designed to be a showpiece for your house; rather, it's for utilizing space. These different types of hooks for hanging are perhaps the most dependable for heavy-duty tasks.
Utility hooks are very strong, so they are commonly used to hang heavy objects, which is why they are most often installed in the basement or the garage.
You can hang your heavy gardening equipment or your bike parts and chains by using utility hooks. Although this hook has a few styles, the most common design is the one with the vinyl coating.
Most utility hooks are permanently installed into walls or ceilings by screwing, but there are collapsible options.
Coat Hooks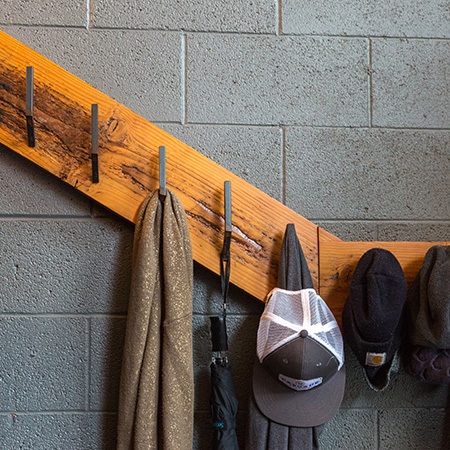 A lot of the time, people do not use coat hooks to hang their coats. Rather they hang their coats with any other types of wall hooks that they might have already installed, but that isn't particularly a great choice because it just doesn't look nice.
Since people often hang their coats on peg style hooks, these two hooks are commonly mistaken for each other.
Coat hooks have a distinct design, and the ones made of wood have a classy look to them. In terms of functionality, coat hooks can do way more than hanging coats.
As they are quite durable, you can easily hang your grocery tote bags or even your backpack from them.
If you own an old cupboard or a storage locker, you may notice that you have a metal coat hook with it. They have been and still are great options for hanging your clothing items in storage lockers.
Removable Wall Hooks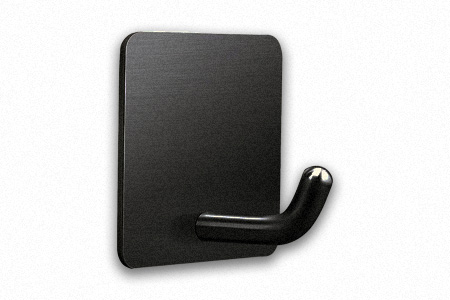 When you hear removable hooks, the only thing that may come to your mind is cheap hooks that stick with suction cups. Well, if this was 2010, you would have been right, but now there are many more options in removable hooks.
Although the removable types of wall hooks are still commonly used, you shouldn't be hanging anything too heavy from them as they aren't very heavy-duty.
Removable hooks are a phenomenal option for people who live in a rented house and can't drill any holes into the walls and ceilings. The removable hooks that were used in the past were a bit ugly and cheap to look at since they were made out of plastic.
However, there are removable metal hooks in the market now which look far better than the plastic ones, and a lot of the time, you won't be able to tell the difference between the permanent hook and the removable one.
You can find these hooks in different materials besides metal and plastic, with some even being made from mixed materials.
Some removable hooks aren't very heavy-duty, while some are now designed to carry more weight; hence, when you are buying removable hooks, you should buy one which suits the weight of the objects you will be hanging from them.
Ceiling Hooks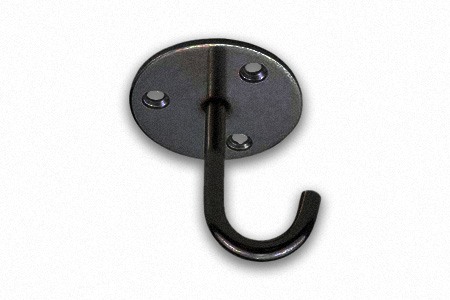 The ceiling is a wall, too, and that's a lot of bare space we can otherwise use. Among the most popular uses for ceiling hooks are to hang potted house plants or to drape lights across the room.
You don't want to take risks with hanging things above your head, so most ceiling hooks are made of metal and are designed to screw directly into joists to best manage any weight load they're expected to carry.
Be careful about hanging these too close to your fans unless you have ceiling fan alternatives. You may not think about it as you mount things to these hooks and eventually turn on the ceiling fan and have a disaster on your hands.
Types of Wall Hooks to Better Use Your Space
As we have mentioned, some hooks are better than others in each case, so before buying them, you should note down the criteria you need your hook to meet.
Hooks are a great way to store and organize the items in your house, but it's also very important to understand which types of wall hooks you need for specific purposes.
You'll Also Enjoy: