Standard Shower Bench Dimensions & Size Guides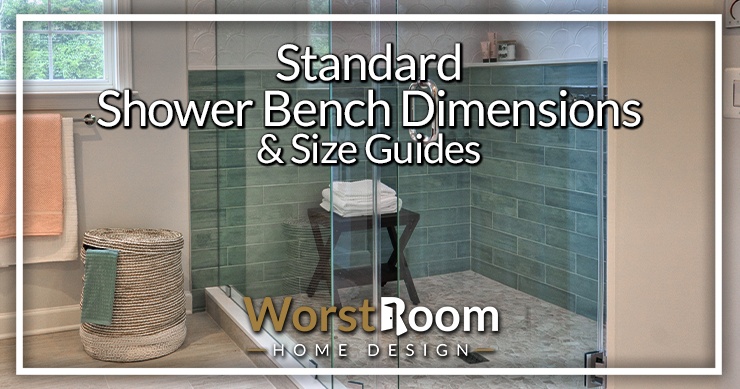 Adding a shower bench to your stall is a great idea to upgrade the space and make it more appealing for homebuyers. It's also a great way to turn your shower into a steam room or make it more appropriate for disabled access with the proper shower bench dimensions.
What size shower bench suits the stall? You don't want to make it too big or too small, or it defeats the purpose of having it. There are several benefits to installing a shower bench, but you need to ensure it fits properly in the space.
This guide gives you everything you need to know about installing a bench and the right dimensions to use for the project.
The Standard Shower Bench Dimensions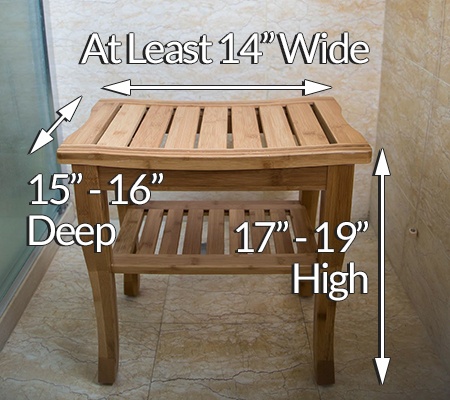 While there are plenty of different sizes for shower benches, the standard depth is usually 15 or 16 inches deep and anywhere from 17 to 19 inches high, with a minimum width of 14 inches. These measurements give you plenty of comfortable seating room.
Factors like depth, width, height, length, and corner position are important considerations when planning your shower bench design. You'll also have to consider the volume it takes up in the stall and its benefits in terms of comfort and utility.
Top Considerations for Assessing Shower Bench Dimensions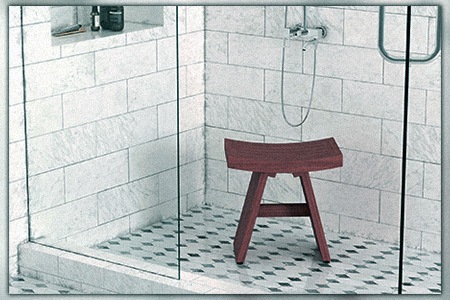 Here's a list of considerations before planning and building your shower bench.
Shower bench dimensions measuring 36 x 36 inches are the best choice for standard installations. Consider a folding model if you have a smaller shower stall that can't accommodate a bench this size.
These types of benches clip up against the wall when showering and unclip to form a bench. If you go this route, ensure you get a model that can support up to 350 pounds of weight.
An L-shaped or corner shower bench is the most common design choice for homeowners with shower stalls big enough to accommodate it. If you don't want to complete an expensive built-in design, consider adding a portable plastic bench to the shower for an affordable alternative.
Portable shower benches come in various wood materials, from bamboo to teak, cedar, cherry, and oak. Teak is a great choice for your shower bench because it offers easy maintenance. All you have to do is oil it occasionally for a waterproof seal.
Standard Shower Bench Dimensions & Sizes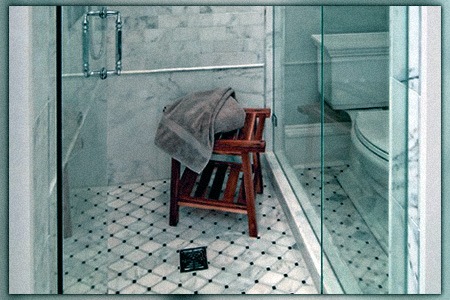 The dimensions of your shower bench solely depend on the amount of space you have available in the stall. If you have a large walk-in stall, add a large L-shaped bench with a deeper seat for more comfort.
Let's look at the common dimensions and see how they apply to each metric.
Standard Shower Bench Depth Dimensions
The depth of the shower bench is the most adjustable measurement though the standard is 15 to 16 inches with 15 inches as the minimum. The deeper the bench, the more comfort it offers you in the shower. Also, deeper benches allow for the addition of a slanted backrest, allowing a deeper feeling of relaxation when leaning against it.
The depth of the shower bench also depends on how you want to use it. Seniors like benches in the stall because slip-and-fall accidents may occur due to instability in the shower, and this design element removes this risk. Shower benches are ideal for retrofitting a home for a senior, making living conditions more comfortable.
However, they aren't just for older adults. Many people like to sit on the bench and relax as they enjoy the water pouring over them. Others like sitting on the bench as they shave their legs in the shower, allowing them to avoid bending over or balancing on one leg. You could also use the bench as another shelf for placing your shower items, like your gels and sponges.
The suggested 15 or 16-inch depth shower bench size isn't just the standard; it's what most people find the most comfortable for sitting in the stall. If you have a smaller stall, you might want to go with a shallow dimension, or if you have a larger one, you can make the seat deeper.
Standard Shower Bench Width Dimensions
The width of the shower bench is your next consideration when planning its dimensions. Most people shower alone, but some might like the addition of a second seat on the stall if they feel like showering with their partner.
Also, a wider seat might be the better choice for disabled individuals, helping them stand up and sit down more easily in the stall. The Americans with Disabilities Act (ADA) states its recommended seat dimensions as a minimum 14 inches wide.
However, you don't have to stick with these guidelines; building codes have no specific requirements determining how wide or narrow the bench must be. However, you don't want the bench so wide that it interrupts access to the stall. Choosing a width that doesn't require you to skirt around the bench is a good idea because it takes up all the available space in the stall.
The minimum recommended width of 14 inches is ideal for a small to average-sized individual. You might want a larger seat for the stall if you're taller and heavier.
Standard Shower Bench Height Dimensions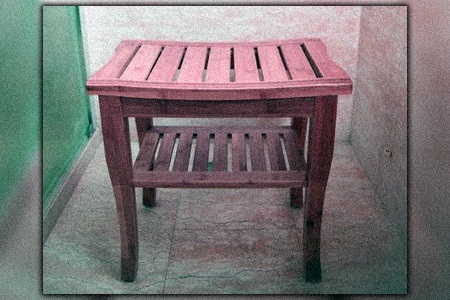 Typical shower seat heights for shower benches range from 17 (minimum) to 19 (maximum) inches from the shower floor. This shower seat height is ideal for the average 5'6" to 5'10" person that wants to sit in the shower comfortably while keeping their feet on the floor and still reaching their shower valve at the standard height.
We recommend you avoid going taller than these dimensions. If you're larger, you might want a higher bench, but you must consider how that choice affects others. If you intend on selling your home in the future, installing a built-in bench means the new buyer might not appreciate its height.
If someone sits on the bench and their feet don't touch the floor, they increase the risk of slipping when they get off the bench and their feet touch the ground. Fitting a bench too low to the ground isn't ideal. They'll have to compensate by standing up with more force, also increasing the slip-and-fall risk. Non-slip mats and grab bars go a long way to prevent these issues, too.
Understanding Shower Corner Bench Dimensions
If you want to make the most of the space in the stall, consider building a corner bench. These benches are triangular, allowing them to fit into the corner and reduce the bench's footprint for a snug fit.
They're smaller than standard benches but a great choice for compact spaces. The shower bench could be anywhere from 19 to 25 inches wide, depending on its placement. The width isn't the biggest concern for these benches. The more important metric is its depth. A wide bench doesn't always equate to a deeper bench, and you'll need to consider that when planning its design.
Stick to the standard height, but adjust the depth to accommodate a comfortable seating arrangement for the bench.
FAQ's Regarding Shower Bench Sizes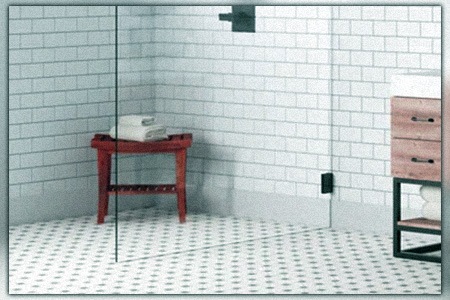 Whenever the conversation comes up surrounding the dimensions of a shower bench, there's always a specific set of questions that arise. We'll answer those now since more than one person is likely wondering the same.
Should I Put a Shower Bench in the Stall?
Most showers don't come with benches, so fitting one could be a good choice to improve your shower experience. It's a handy thing to have in the shower, and built-in models also provide you with additional shelving for your shower products, as well as a comfortable seat to enjoy the experience.
If you plan on selling your home or you're renovating to make the bathroom more appealing to buyers, adding a shower bench adds to the design aesthetic and utility of the shower, increasing its curb appeal. It also makes the stall more senior-friendly and useful for disabled individuals.
What Is the Correct Depth for the Shower Bench Seat?
The ideal depth for a shower bench should be 15 to 16 inches. However, you can adjust this measurement depending on the space available in the stall, though the recommended dimensions should work with all standard shower sizes. The standard measurements are only a guideline and not set in stone or specific guidelines enforced by building codes (check your local codes, though).
Making the shower bench depth shallower means you might not have enough space to sit comfortably. Increasing the depth allows you to sit comfortably, and you also have the option of including a backrest.
What is the Standard Height of a Shower Bench to Accommodate Disabled Individuals?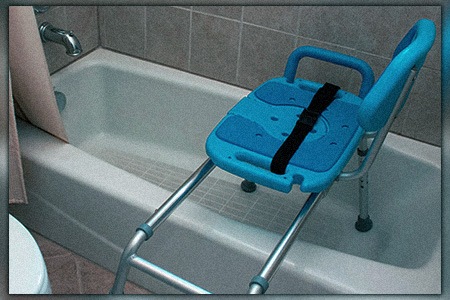 A shower bench is useful for disabled individuals, helping them with getting in and out of the shower without assistance. The ADA has standards for accessible design, stating the ideal height for the shower bench to be between 17 to 19 inches. The bench should not exceed 19 inches in height, or it presents a safety risk.
It's also important to consider the edge design for the shower bench. It's a good idea to smooth the edge to soften the sharp corner. The last thing you want is to fall and hit your head on a sharp edge.
What are the Types of Shower Benches?
You have options for choosing built-in shower benches, fold-up models, or portable benches to pull in and out of the shower as you, please. The proper built-in shower bench dimensions are available in models of several designs, from L-shapes to triangular corner shapes and even floating shower benches that you can find "off the shelf".
You also have the option of fitting a molded seat for additional comfort. Molded ergonomic designs usually feature construction with acrylic or plastic, and they're available in a wide range of colors to suit the bathroom's design aesthetic.
Shower Bench Dimensions Codes & Standards to Follow
We've shared the minimum and maximum dimensions you must follow when installing a shower bench. If you're doing this on your own you may think you can do whatever you want, but the standards for the shower bench height and depth also apply to comfort (and you may sell the home later) so please stay within the guidelines laid out above regarding shower bench dimensions. This is for your comfort and safety.
You'll Also Enjoy: