Zero Threshold Shower: A Modern Renovation Guide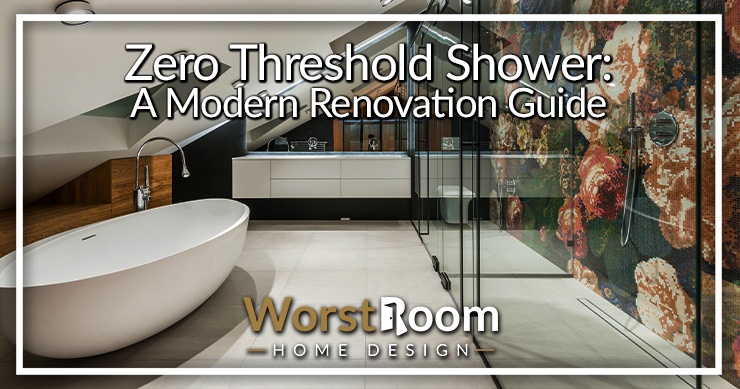 Designing or renovating a shower always needs some shrewd ideas that can make your shower fancy and gorgeous. Searching online or consulting experts might leave you with many favorable ideas, but have you heard of the zero threshold shower design?
Well, if not, here we'll be binging on some of the facts regarding this astounding design.
A zero threshold shower is basically a "walk-in shower" without any threshold. In this particular design, you will find the bathroom and shower floor flush without any dam. But that's not all; the overall structure and surface are pretty convenient for seniors with wheelchairs to roll.
Want to know more about this advanced and amazing design? Don't skip any of it, and read till the very end.
What Is a Zero Entry Shower?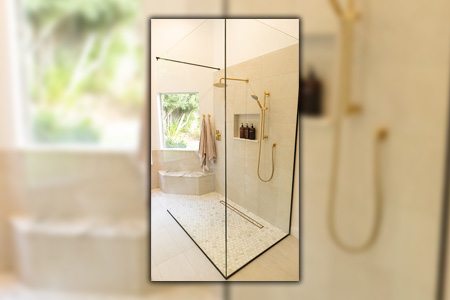 The types of showers that don't have any wall or barrier to step over are called zero-entry showers. They are also called curbless or low-threshold showers. And one of the best features of this zero-entry shower is its monetarily attainable, safer design which makes it favorable for seniors.
Moreover, people with wheelchairs or handicaps in general will find this shower very convenient. That's not all; they can get into the shower alone and can be seated while taking a shower.
Alternative Names for a Zero Threshold Shower
Zero threshold showers are one of the most trendy topics among architects nowadays. However, if this name doesn't ring a bell, its substitutes might. Many people know it as a curbless shower — besides that, some love calling it a barrier-free shower since it has no threshold.
Walk-in showers and wheelchair-friendly showers are some other names. The bottom line is any shower with no curb or barriers and a flush design can be called a zero threshold shower or any of the terms mentioned above. Let's list these names and more below:
Zero Threshold Shower
No Threshold Shower
Zero Clearance Shower
Zero Barrier Shower
No Step Shower
Zero Entry Shower
Curbless Shower
Barrier Free Shower
Wheelchair Friendly Shower
Walk-In Shower
You may encounter more names for these as the industry settles upon one nomenclature. It does seem like "Zero Threshold" will be the name that sticks. We'll use these names interchangeably some as we talk about it so you get used to seeing them all.
Why Choose a Zero Threshold Shower?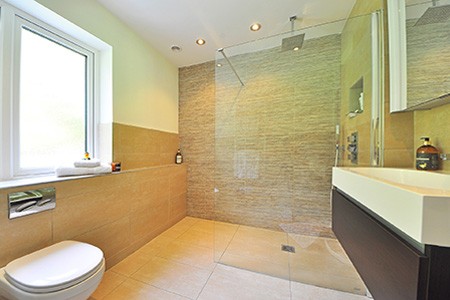 Zero threshold shower is indeed an iconic pick that reflects class in your space. Although you may need to extend your pockets a bit, that should not bother you if you're getting elegance within your shower space.
So, here in this section, we'll let you know some other essential factors you'll be getting from these astounding shower designs.
Safer for Seniors
When people age, it's evident they'll start to lose their mobility. That's when no threshold showers give a leg up. Since it's tough for someone senior to lift a leg over a threshold, getting a zero threshold shower proves more convenient.
Therefore, in contrast, whether the senior is in a wheelchair or even has leg joint issues, these showers will be bliss for them.
Stunning Looks
No one can reproach the luxurious, elegant, and stylish looks of a shower without a threshold. The design is functional yet classic. So, if you want to make your shower space look more attractive, a no threshold shower is a must-have for you.
Options Available
Curbless showers have so many options for you. You can go with the basic parts of a shower and functional design or even with fancier versions. They also come in a steam shower type; trust me, the looks and enjoyment are pretty astounding.
That's not all; you can even control the temperature in the steam zero barrier shower. This provides you with optimum comfort while you binge on taking a shower.
Dimensions Make for Ease-of-Use
Barrier-free showers tend to be 60 inches long at least since they have to make room for a wheelchair accessible. So you can also get a wide area to enjoy the most relaxing moments of your day.
How Do You Keep Water in a Zero Threshold Shower?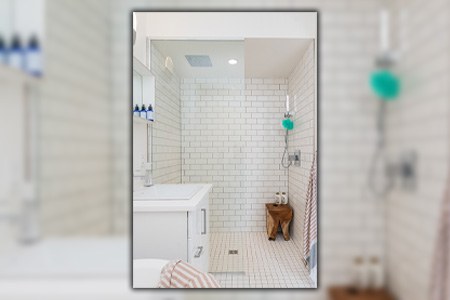 If the shower is designed correctly, even a no step shower will not let the water go outside the splash zone. The right design keeps the floor dry and neat the whole day.
For that, you must ensure that the shower head or heads, depending on the types of shower heads you have installed, are in the right place and the floor is just slightly tilted towards the drain.
It would help if you asked the designer to install a modern flow or long drain. These stretch to cover a long strip across the floor so the water has a quicker path to the drain. It's very much like a french drain you'd install outside. Those can do the whole job effectively and let the extra water out in no time.
Benefits of a Zero Threshold Shower
The pros of these showers are so beneficial that they beat even low-profile showers and ramped shower pans. Let's look at some that we haven't mentioned yet:
Accessibility - Young, elderly, and people with wheelchairs can all easily enter and exit the shower with little risk.
Cleaning - With fewer curves and corners, there's more flat surface area that is much easier to keep clean.
Openness - With glass shower walls (or none at all) your bathroom will feel much larger both visually and as you use it.
Modern Luxury - A walk-in shower looks and is very luxurious, featuring all of the most modern shower technology.
Flexibility - Install your shower anywhere thanks to not being confined by a tub or shower surround. Add benches, niches, multiple shower heads... whatever you like!
If you're going through a bathroom remodel, you should heavily weigh the benefits above when making your decision about how to design your shower area.
Get a Professional Installation for Your Zero Threshold Shower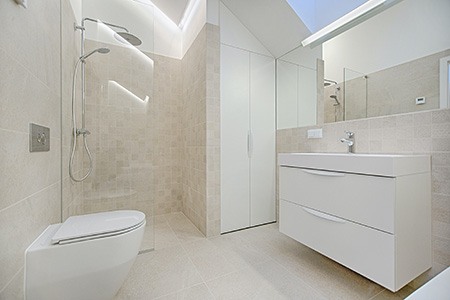 When you plan on building a curbless shower at your home, two ideas will pop up in your mind, DIY and professional installation. DIY projects are favorable in many cases, such as painting walls, minor plumbing, etc. But be prepared; constructing a zero threshold shower all by yourself is going to be a hard nut to crack.
Therefore, we strongly recommend you leave this to a professional. And you definitely should assign proficient contractors, as you simply won't want rookies to ruin the overall construction for you, right?
So, even if you need to extend your budget a bit, it's always a good idea to stick with professionals in this case.
Can I Convert a Basic Shower to a Zero Threshold Shower?
Fortunately, the answer is a yes! And to turn your basic shower into a lavishing zero threshold shower, an expert should get the job done for you. But it might take over a couple of weeks, and a considerable amount of cash might also get used up (as mentioned in the above section).
Now, there are certain reasons why your pockets are going to get hot! For instance, the contractor has to start with demolishing the shower first, but possibly only the bottom pan or basin if you're lucky. Then they need to get on with the drains to floating shower benches and make sure everything's watertight.
These are some of the significant reasons why your budget might stumble a bit, but at the end of the day, you'll have an iconic shower design ready to serve.
It's highly suggested that you go through some magazines and websites for unique designs. Pinterest would be elite in this case. Once you finalize the design, hand that over to the contractor.
Cost Range of Building a Zero Threshold Shower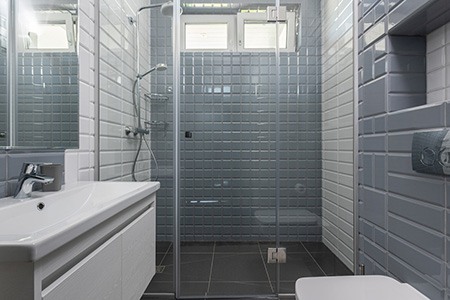 The cost range entirely depends on your preferences. Different options would cost you different figures of money. The elements of this shower are more expensive than the stuff of a traditional shower.
Variations of pans, the shower pan size, slope, the preliminary design, and drain cost around $8,000-$10,000. Moreover, demolition of the previous shower plus new waterproofing can increase the price another $3,000-$4,000. So on average, you can expect the whole job to be between $15,000- $20,000 for a conversion from an existing bathroom.
It, of course, matters if you use a basic shower surround versus using tile or any fancier options. The cost of materials and labor alone can make a big impact, such as the extra fixtures like the types of shower faucets you choose.
However, if you're planning on converting a traditional bathroom to a no threshold one, the cost range will be slightly higher. This entirely depends on the contractor. Some tend to charge extra for converting a regular shower to a curbless one; some don't.
What Tile Options are There for a Zero Threshold Shower?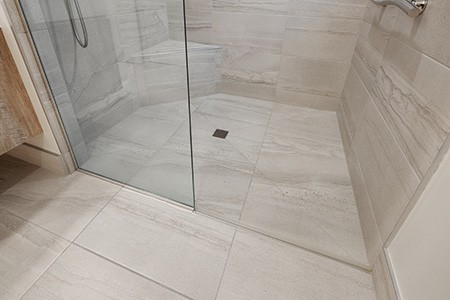 The thrilling news is you get a wide range of tile variants while installing a barrier-free shower, as well as shower tile alternatives to choose from. Well, you can choose any tile, but there are two major things you must consider. First is slip resistance, and the next is the allowance for a perfect slope for exact drainage.
Now, your floor tile must be comparatively small in a zero-threshold shower for any slip resistance. And the wall tile must be larger so that there are minimized grout joints.
To minimize the grout seams and slip resistance, look for smaller tiles for the floors and larger ones for the walls.
Experts Note: While choosing the wall and ceiling material, try going with aesthetic light colors; those go really well with the materials of the flooring tiles.
Lighting Ideas for Zero Threshold Shower
Layering the lights of your barrier-free shower would be the best decision ever. However, it's wiser to use various ambient lights and accent lights. A curbless shower is meant to look glorious, and we don't see that happening unless you get enough lighting.
To enhance the beauty and elegance, ambient lights do an excellent job. It would help if you got lights that are moisture rated.
An additional tip is to pick different sizes of lights and attach them to different corners of the shower to create a unique and pleasant effect. We bet you would love the texture of the lights on the wall in that way.
Is a Zero-Threshold Shower Worth it?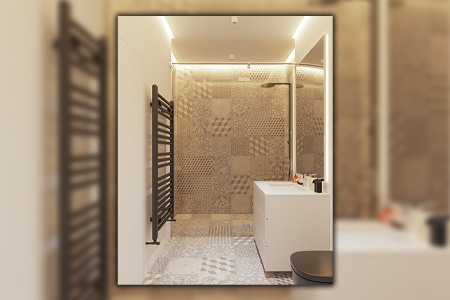 If we start with the benefits a curbless shower has for you, it would require pages. They not only look stunning, but also they are very safe and convenient.
Most importantly, this shower design is effortless to clean. Unlike traditional showers, there are minimal corners and crevices that come with this shower.
The steam type is more beneficial than the regular steam showers. So yes, zero clearance showers indeed are a good pick; it is worth every penny it costs.
Zero Threshold Showers are Superior for Larger Bathrooms
If you're sick of the basic tub and shower design just like we are, you must consider the idea of a zero threshold shower.
Not to exaggerate, but it is the most stylish, impressive, and flawless shower design everyone would love. Most importantly, thanks to this unique shower renovation idea, if any of your loved ones are in a wheelchair or walker, they will be able to maintain hygiene alone now.
So heed your goodbyes to the old-school bathroom designs and modernize yourself with zero threshold shower.
You'll Also Enjoy: