13 Types of Benches for Interior & Outdoor Design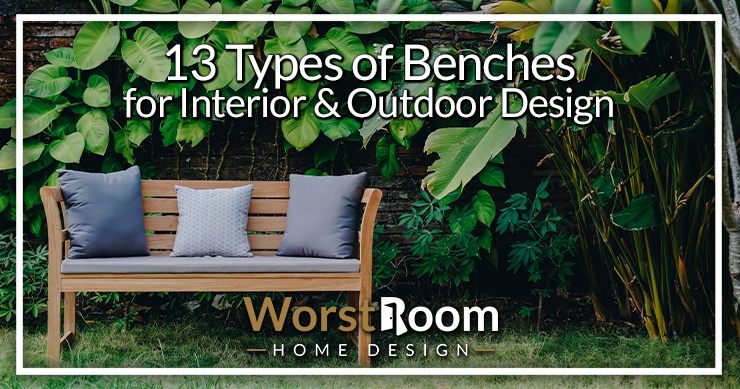 Are you looking for a bench for your garden or home? You have plenty of options for materials, seating configurations, and functional applications in any environment and to suit any budget. Here are 13 different types of benches presenting excellent design options for interior or exterior motifs.
13 Types of Benches
Of course, the first thing you need to consider is whether your bench will be indoors or outdoors as this will determine what type of materials you can use. Then you should consider functionality and seat capacity. From there, narrow down to the more decorative aspects. Try to go through the process of elimination as you scroll through these bench types below.
Storage Benches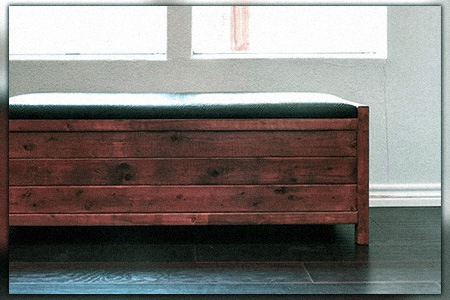 Storages benches feature four sides and a base, with a hollow interior accessed by lifting the hinged seat. There are interior and exterior models designed to store anything from children's toys in the playroom to gardening tools in the yard. Most models have a backless design, and many look more like chests than benches.
These multifunctional benches are ideal for sitting or storage, making them versatile. Indoor models like in a kid's playroom or in a mudroom can break the mold, meaning mudroom bench dimensions might be way different (larger) than you'd have in a different room.
Outdoor models feature construction with weatherproof materials like treated wood and plastic and some in stone and wood hybrid designs. Use them to store cushions, hide a generator, or pool cleaning equipment underneath the seat.
Indoor Benches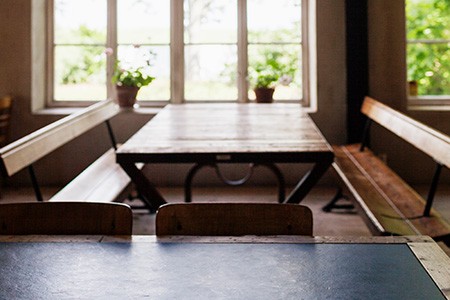 Indoor benches are an alternative to chairs. They're a great option for breakfast nooks or dining arrangements, featuring seating arrangements to accommodate anywhere from two to eight people (giant dining benches to replace your various types of dining chairs). Standard dimensions range from 42 to 52 inches wide, 30 to 36 inches high, and 15 to 20 inches deep.
They're available in backless or backed versions featuring a backrest. They aren't very comfortable, and most models feature construction with wood materials, but you have plastic options available. The typical design of an indoor bench features two sides and a benchtop, with a space underneath.
Curved Benches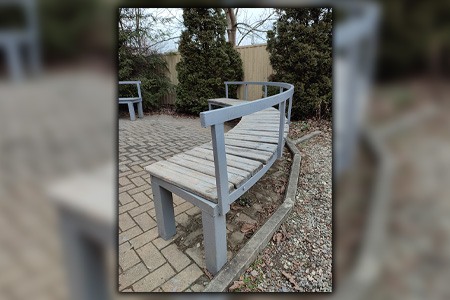 Curved benches are ideal for use in corners, like bay windows in the lounge or kitchen. The curved design of the bench means people face inwards towards each other, allowing for better eye contact and conversation than a straight bench. More often than not, these types of benches have no backrest.
They come in models seating two to six people and construction featuring wood or plastic materials. You have options for interior or exterior use, with outdoor models available in cast stone or concrete, making them an ornamental choice for use around ponds.
Backless Benches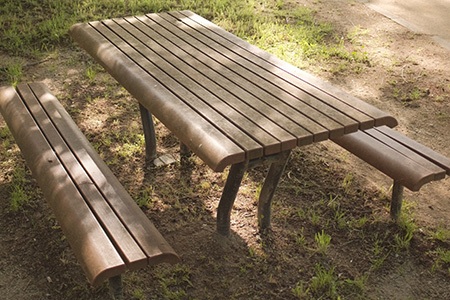 The backless bench does away with the backrest, and they're popular for applications in walkways and shopping malls, allowing people to sit on them from either side. It's a simple design with indoor and outdoor applications and a cost-effective choice for the home.
However, you have to maintain your seated posture, meaning they aren't comfortable and not suitable for sitting for long periods unless you have a table in front of you to lean on. Positioning the backless bench against a wall adds support for seated postures. However, many models feature a wide benchtop design, which is unsuitable for this application.
Wooden Benches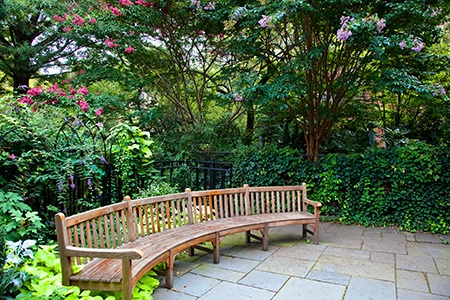 Benches come in a wide variety of material designs. The wooden bench types are by far the most popular version for home use. These benches feature construction with various types of hardwood, from maple to oak and cherry. Typically, the wood is sanded smooth and sealed, but some design feature unsealed raw wood for indoor use.
Wooden benches particularly unsealed models, require maintenance to keep them looking good. Unsealed versions may require annual sanding to remove rough spots, and sealed versions may need sanding and sealing every few years, depending on the rate of wear and tear they endure.
Pallet Benches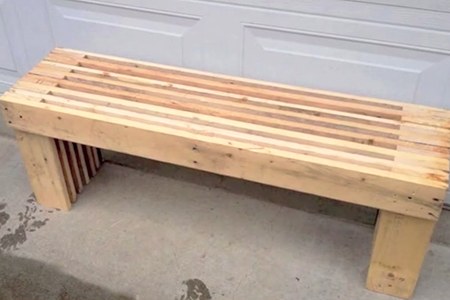 The pallet bench is a product of the "reclaimed" trend sweeping design motifs in recent decades. These benches feature design and construction with used shipping pallets. Many models are DIY projects by homeowners, but some are available commercially through independent furniture manufacturers or hobbyists.
Pallet benches come in various designs, from straight backless models to L-shaped benches with backs. Some may even act as storage benches, making them a highly versatile model. Typically, they're for exterior use around your property, on the patio, or by the pool.
Concrete Benches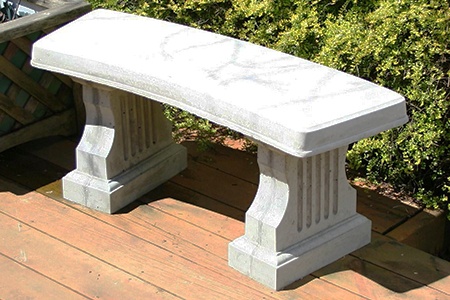 Concrete benches are great ornamental choices for the garden. These types of benches come in various designs, from backed benches to curved and flat models. Since the manufacturer uses a casting method when building the bench, they offer plenty of design versatility, with some featuring intricate moldings on the corners and edges, adding to their ornamental application in the garden.
Concrete benches are heavy, so they're challenging to move around the yard, and they also have a risk of chipping, cracking, or breaking if dropped when carrying them around. Many homeowners use these benches for applications in the garden, such as sun-viewing, relaxing by a pond or the pool, or sitting under a shady tree on a warm summer afternoon.
Planter Benches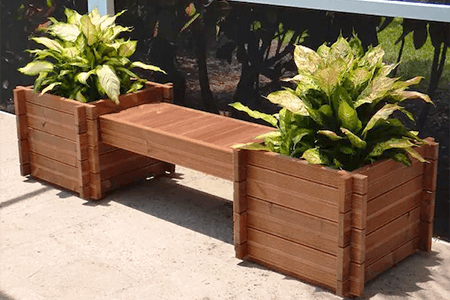 A planter bench is another best choice for the yard. These benches feature built-in planters on each end of the bench, allowing the gardener to plant flowers, ornamental shrubs, or small trees. Typically, these multi-purpose types of chairs come in a molded concrete construction, allowing for excellent design variability in various visual aesthetics.
However, you also have many models available in wood materials, with the planters being stainless steel encased in wood on either end or along the back of the bench. You have options for backless or backrest models. They're another popular bench for use in shopping malls, allowing the building to bring natural elements into the space.
Rattan Benches
Rattan is an eastern material featuring a manufacturing process incorporating traditional wooden vines. They have an authentic rustic look, and the rattans are not uniform or consistent, giving them a unique appearance. These models are usually seen in outdoor applications, but some feature in indoor design motifs, particularly in eastern decor, such as Indonesian or Japanese-themed homes.
The lightweight rattan materials make them easy to move around, and it's a strong bench. However, the uneven seating surface created by weaving the rattan together means you'll need a cushion when sitting on these benches.
The rattan bench has several design variations, from backless to backed models, and seating for two to four people. Rattan also requires treatment to prevent it from rotting.
Metal Benches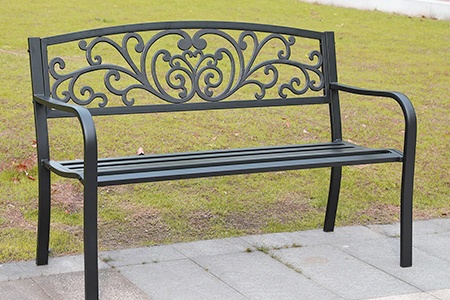 Metal benches are available in several design styles and various materials, from wrought iron to stainless steel or cast iron. Typically, these benches are for outdoor use and are long-lasting and durable due to stainless steel being waterproof as well as the other options.
Some models manufactured from cast or wrought iron have specialized coatings to prevent them from rusting. These types of benches come in a range of designs, with some featuring intricate patterns.
However, they're uncomfortable to sit on, meaning you'll need a cushion for prolonged seated periods. Their weight and materials used in manufacturing make them expensive and challenging to move around. You have options for lightweight aluminum benches, but most feature construction with heavier materials, and they are more ornamental than functional.
Tree Benches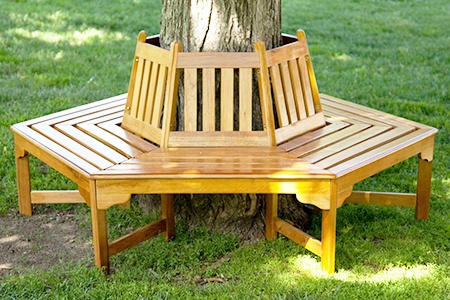 A tree bench offers homeowners a way to plan a seating arrangement around the base of a tree. The bench can surround the entire tree perimeter or just half of it.
Tree benches are available in several design configurations, with the most popular being a hexagonal setup encompassing the whole diameter of the tree trunk. Curved options are available, creating a circular pattern around the trunk.
Typically, they feature a design with wood, but you also have options for molded concrete to create a more decorative visual effect. Tree benches give you somewhere to sit and enjoy the shade while reading a book or taking in the late afternoon light without the sun beating down on you. Most models have backless designs, allowing you to lean against the tree trunk for support.
Memorial Benches
These bench types are usually found in public seating areas. They feature plaques, usually designed in steel, plastic, or cement, dedicating the seating area to a person or family.
You can find these benches in various locations, from university campuses to shopping malls, cemeteries, and parks. In most cases, the bench commemorates someone that passed away, but it can also refer to a living individual.
Memorial benches are for outdoor applications and feature designs from wood to steel and cement materials. Some benches have a dedication plaque to a single individual, while others have multiple plaques commemorating several people.
Most memorial benches are publicly funded, but some have private donors that pay for the bench (as little as $1,900 in Scottsdale, Arizona and as high as $10,000 in Central Park in New York City) as a commemorative symbol in remembrance of a loved one or an individual that made a lasting social impact on the community.
Garden Benches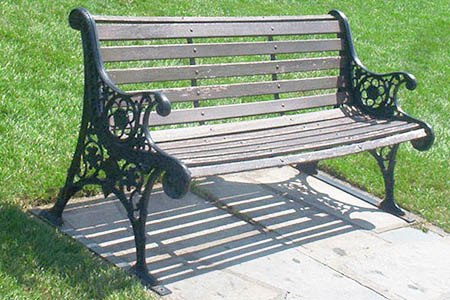 Garden benches are exclusively used in the yard and come in various design configurations and construction materials. From wood to plastic, molded cement, steel, and hybrid design materials, they are versatile and functional rather than ornamental. Most homeowners use these benches to give them a space to enjoy the beauty of their garden, water features, or the local wildlife.
Most garden benches seat two to three people, and they come in backed and backless designs. Typically, a garden bench offers standalone seating, but some come in sets with two benches and a table. When made of materials like Polywood (what is Polywood?), they have excellent weather resistance and don't require covering up with drop cloths when the rain or snow falls in the yard. Most models are heavy and not easy to move around.
Different Types of Benches for Every Home & Garden Decor Style
Hopefully at this point of your adventure, with our help above, you've been able to narrow down your options or even made a complete decision. You could become overwhelmed by all the different types of benches out there but again, with the process of elimination based on if the bench is indoors or outdoors, in a garden, and so forth, you can really narrow it down pretty quickly. Have fun and best of luck!
You'll Also Enjoy: