13 Types of Door Locks for Real Security & Ease of Use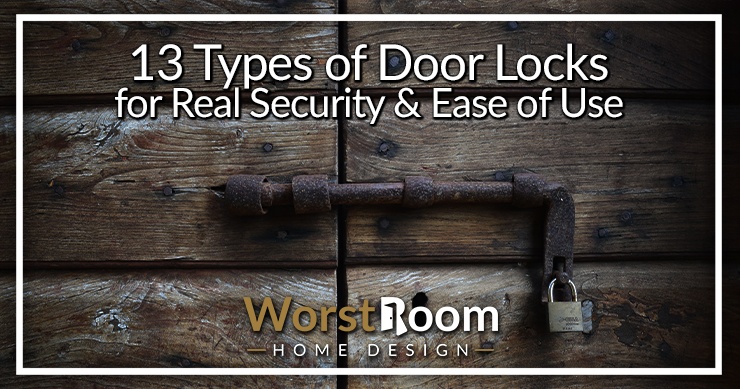 Whether it's to keep your homes and offices safe or to secure different areas within, the different types of door locks are the best things to get your hands on. In addition to providing security and safety like no other tool, door locks also help maintain your privacy.
From simple and elegant designs to stylish locks that add value to your doors, there is a wide range of door locks that you can choose from.
However, you must choose a lock not just on their looks, but also on their features, efficiency, operation and more.
13 Types of Door Locks
So if you're moving into a new home or office space, or simply just looking for more security, take a look at our detailed guide on the different types of door locks available in the market.
Types of Padlocks
These are some of the most commonly used and easily recognizable locks. Whether it's a door or a chain or even a gate and fence, padlocks can help to secure a space very nicely.
Furthermore, padlocks are amongst the oldest types of locks to exist and date back to the Roman times. Available in a wide range of sizes, designs and styles, some modern padlocks also come in miniature forms to secure journals and bags, among other things.
Additionally, more sturdy and larger padlocks are often used in industrial sites, huge office spaces and even in warehouses to provide more safety.
People say padlocks are those door locks which can't be broken apart. Some padlocks even have extended shoulders which make it difficult for bolt cutters to access them. But there are over a dozen ways to break a padlock, including a simple two-wrench method. They're a deterrent and that's all, really.
Keyed Padlocks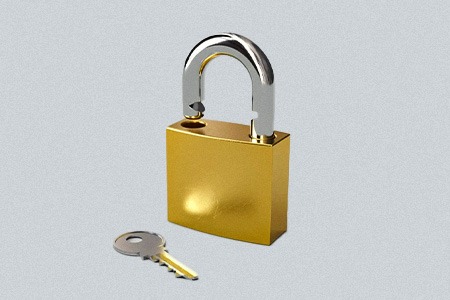 These kinds of padlocks consist of a key that's used to release the lock. You can also find key-retaining padlocks in the market.
In such locks, the key cannot be released even after opening the padlock. Some keyed padlocks are rekeyable, meaning that the key can be changed.
Combination Padlocks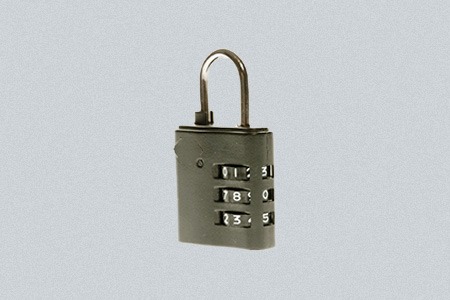 These are the most common forms of padlocks used worldwide. These types of door locks have dials with letters and digits that are used to create a combination.
Upon lining them up in the correct order, the padlock will be opened. Combination padlocks don't require a key and are very efficient owing to the use of combinations which can be difficult to decode.
Features of Padlocks:
Come in many different styles and sizes
Can secure the smallest of bags and the largest of warehouses
Very strong and difficult to open without a key
Types of Deadbolt Locks
Commonly used on external doors, deadbolt locks offer great security. These locks can only be operated using the right types of keys.
Once the key is inserted into the cylinder and turned, the lock gets released, thereby opening the lock.
Single Deadbolt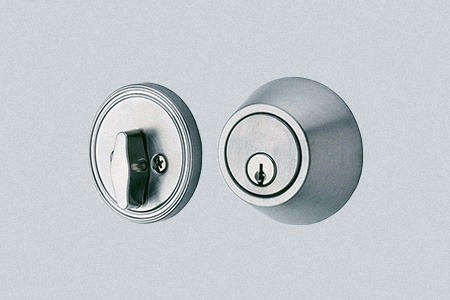 These kind of a deadbolt door lock types can be locked only from the external side of the door. On the internal side, one can simply rotate the door knob and open the lock easily.
These types of locks also offer safety against emergency situations such as fires, natural disasters and more.
Double Deadbolt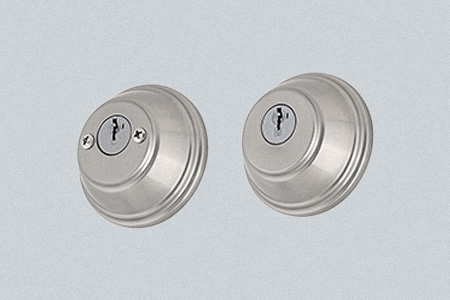 These deadbolt locks typically have two cylinders and require a key for both sides of the door. These locks provide great safety against thefts and unwanted intrusions since they can't be unlocked without a key.
Vertical Deadbolt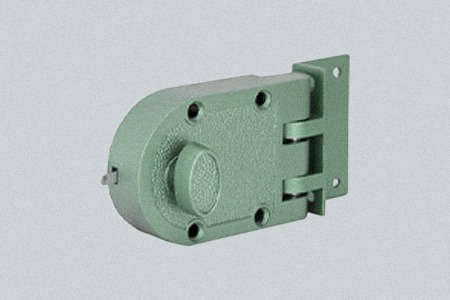 Also commonly known as a Jimmy-proof deadbolt lock, vertical deadbolts are designed in a way such that they can't be opened easily.
In addition to surface mounted lock, these different kinds of door locks also have a jamb bracket interlock which makes them resistant to being pried open.
Lockable Thumbturn Deadbolt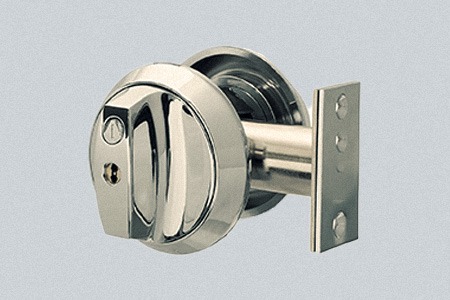 These locks are a hybrid between single and double cylinder deadbolts owing to their operation as both the types.
These types of locks for doors have a thumbturn and a lock in the interiors, in addition to a deadbolt on the exterior which guarantees added safety.
Features of Deadbolt Locks:
Can only operate with a key
This lock can't be opened except by rotating the key
Typically has a spring to hold the bolt in place
Offer safety against situations of emergency
Types of Cylinder Locks
These locks offer a wide range of uses and are some of the most secure types of door locks available in the market. These locks are commonly used in commercial doors, public buildings and glass entryway doors.
Cylinder locks use a series of length pins of various lengths which follow the pattern given on the key that comes with the locks. Once the key is inserted, the pins inside the lock move into the correct position to open the lock.
Rim Locks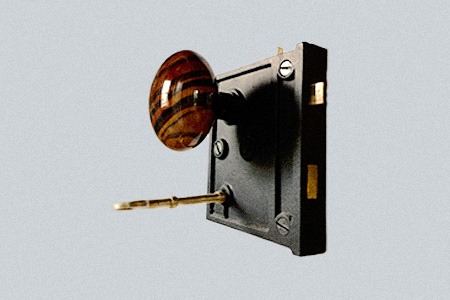 These locks require a pair of screws to be secured into place inside the cylinder. One of the best features of rim locks is that they can be mounted right on the door or on the internal side of the door.
The long section of metal that extends from the back of the lock through the door to the other side makes this mounting possible.
Mortise Locks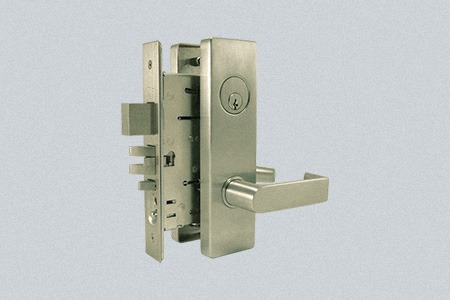 These locks are directly installed into the door instead of being mounted on the surface. The hardware of the lock is mounted within the door, with the lock being screwed into the hardware.
3 lever mortise locks and 5 lever mortise door lock types are two of the most common types of these locks that you can find.
Features of Cylinder Locks:
Provide extra safety
Can only be opened using a key
Can be installed within the door itself
Easy to operate
Mostly used as the primary means of safety in homes
Types of Lever Handle Locks
Commonly found in commercial buildings like schools, offices and hospitals, these locks are quite similar to the regular door handles with a lever.
However, they consist of a keyhole that's used to lock the door for more privacy and security. Furthermore, lever handle door locks are also easier to operate and only require a gentle push to operate.
Knob Locks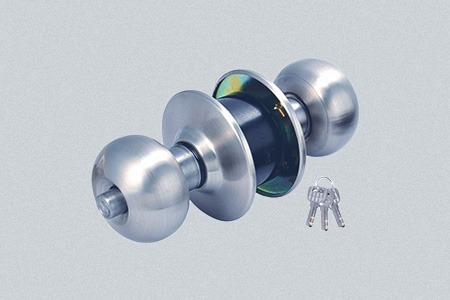 These are spherical shaped types of door knobs that can be locked with a key. Commonly found in bathroom doors and apartment buildings, knob locks serve as an extra means of security and are often used in conjunction with other locks. You'll find these sometimes on types of interior doors where security is still required, such as a bathroom door. If you lose the pushpin key to open the bathroom door when you get locked out, there's still other methods you can use.
Features of Lever Handle Locks:
Commonly used in commercial buildings
Have a keyhole for added security
Very easy to operate
Great for handicapped people
Other Types of Door Locks
The rest of these door lock types below are as prominent and meaningful as those above, but don't have multiple types per sub-type. So we're just combining them together.
Barrel Bolt Locks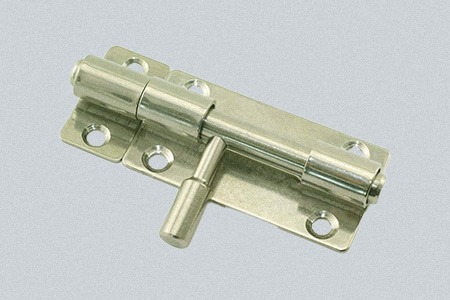 These are simple locks that can be used as means of extra security in doors or property gates. They are also some of the most widely used locks on bathroom doors.
Also known as sliding bolts, barrel bolt locks consist of a single bolt that's attached to the door, which then slides across to fit into a catch on the door frame.
Features of Barrel Bolt Locks:
Can be used as added means of security
Commonly used in residential and public bathrooms
Available in various sizes
Chain Locks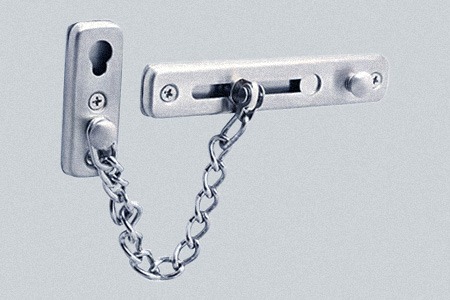 These locks are quite similar to barrel bolt locks. However, they come with a chain which is fixed to the door. The catch in the lock is screwed onto the doorframe. You only need to slide the chain into the catch to lock the door.
These door lock types are great if you wish to see who is outside without allowing someone full access to your home. Chain locks are commonly used in hotel doors, in addition to being popular in homes.
Features of Chain Locks:
Can be used as an extra feature along with a different lock
Can allow you to check who is on the other side without fully opening the door
Electronic Locks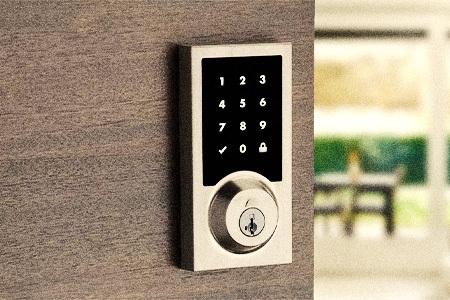 These are some of the most widely used types of door locks in houses in modern times. Electronic locks can be operated using a digital screen where one needs to input a code or use a keycard.
Commonly used in offices, hotel rooms, and residential properties, and even in objects like various types of safes, these locks have an electric control mounted on the device.
One of the biggest advantages of electric locks is the feature of logs, which can track the time and use of the lock.
Furthermore, many electric locks also have different keycards and record the number of times the lock was accessed by different people.
These locks are often run by batteries and also have a backup battery supply for hassle-free usage.
Features of Electronic Locks:
Require a code or keycard to be opened
Often have an entry log
Provides great security
Operated using motors or magnets
Smart Locks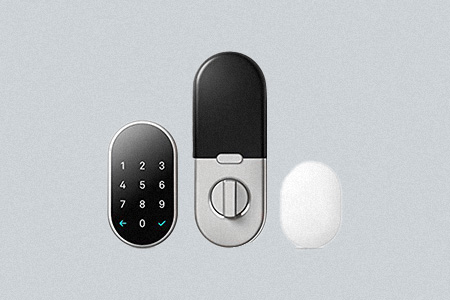 A lot of people around the world are now installing smart locks in their homes because of the enhanced security that it offers.
Smart locks use smartphones as their key, which means that the user could be anywhere in the world and still be able to access the lock easily.
Additionally, smart locks may also use a specific code or the user's thumbprint for access.
Some smart locks also use Wi-Fi to work and have an added set of security features, including audio and video, smartphone notifications and more.
Features of Smart Locks:
Use smartphones, codes or thumbprint for access
Easily accessible
Provides great security
Have a lot of additional features
Types of Door Locks for All Amounts of Security Needed
So, there you have it. An entire list of door locks for you to choose from. What are you waiting for? There's a bunch of different types of sliding glass door locks, too, if that's your concern.
But before getting one, decide on the purpose, specifications as well as the size of the lock you wish to get. And while you're doing so, don't forget to decide whether you'd like a cheap lock or an expensive one.
Go secure the different areas of your home, office and other spaces with one or more of these different types of door locks.
You'll Also Enjoy: