15 Types of Pâté That Form a Masterclass of Gourmet Meat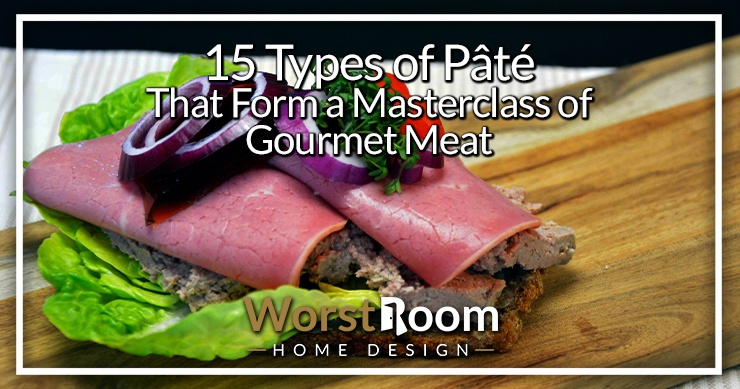 Pâté is mainly a rough paste dish associated with expensive chopped liver or duck liver. However, the many types of pâté have a broader range of recipes that many gourmets don't know about.
A chunk of meat cooked slowly is traditionally served as an appetizer or a first course in many cultures' cuisines. And what you have here is an enhanced version of this concept.
Pâté is a simple mixture of seafood, meat, poultry, vegetables, and other ingredients combinations, like liver, beef, ham, poultry, seafood, and vegetables. That's not all; you can serve it cold or hot, molded or unmolded.
This blog will tell you all the most amazing types of pâtés and the ones that you can definitely give a try.
15 Types of Pâté
Pâté is a culinary term derived from the French language, which can be translated generally to mean "paste". This paste of meat and fat is baked inside of a terrine (the cooking vessel, not the food type), and many times either served with bread or baked within a loaf of bread.
Here we have mentioned the pâté types that you must know. There are many recipes available and techniques that are famous world wild, but the pâté has some particular ingredients and methods which can be used in other recipes to make other pâté recipes.
Pâté-Croûte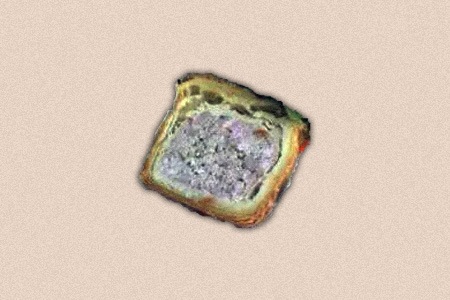 Making this pâté that is popular around Lyon, France doesn't involve a standard method. The technique is pretty different from grinding the regular meat. Here, you need to grind the meat and fat separately. Then ground the meat twice and the fat once. Most recipes that use straight forcemeat include crushed ice to reduce the temperature, add moisture, and minimize the grating.
Pâté en Terrine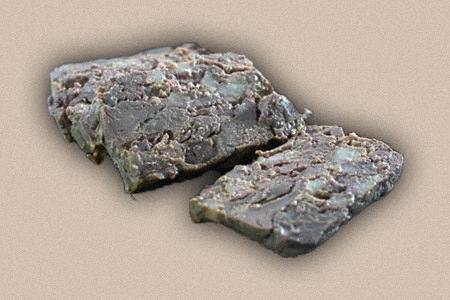 Gratin forcemeat uses sauteed meat than its grind and is baked without a pastry crust. The meat is sauteed to add flavor but not much because it'll cook later. The main ingredients of these pâté types are meat, liver, poultry, and seafood to make this Pâté en terrine.
Notice how much more chunky, textured, and robust the ingredients are here. They aren't blended into a complete paste or are suspended in paste, which is the critical difference between a pâté and a terrine dish.
Pâté Mousseline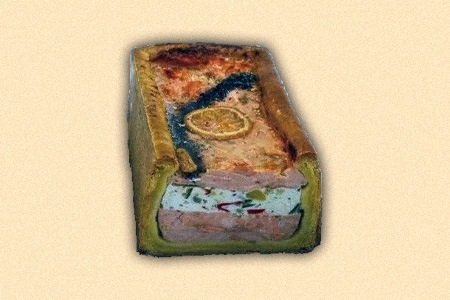 This one is light, delicate flavored, and airy. Mousseline is mainly made from shellfish, meat, liver, and fish. However, pork, poultry, veal, or furred game are used sometimes. Cream and eggs are also used to make this type of pâté, and they can be baked or steamed.
Pâté en Roulade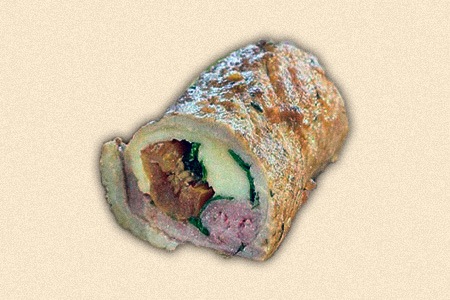 The main ingredients are meat, liver, poultry, and fish to make this type of pâté. To make this pâté, you need baking or steaming cooking method, and You can serve it cold or hot. However, wrapped or covering is not edible because mostly wrapped in natural wax paper or cured meat.
Pâté Chaud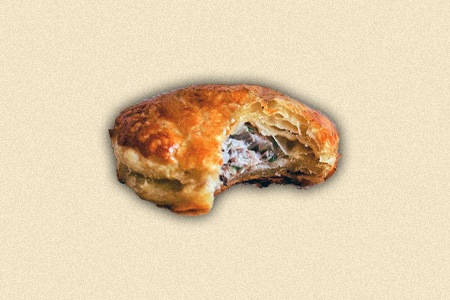 This is a famous Vietnamese pastry, also known as Banh Pâté. This pastry has a crusty outer layer with meat filling inside, meats you typically find in types of sausages, so nothing out of the ordinary.
Moreover, pork meat, beef, and chicken are used for filling in these types of pâté, and one of the famous pork and wood ear mushroom filling. The amazing recipe features pork and mushroom with delicious BBQ filling and beef.
Pâté Grand'Mere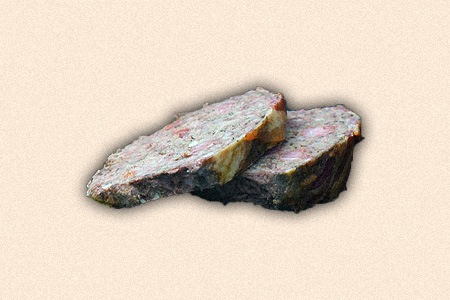 This one is from Gascony and enriched in Armagnac, prunes, and flavors. This dish is a classic charcuterie dish made from three different varieties of meat to make this chunky terrine. Bacon's liver and boneless leg combination enrich the flavors compared to other pâtés.
In addition, the pork meat is cooked with sugar, salt, pepper, shallots, lard, whole milk, any types of eggs, bread crumbs, and soft Omerta. It is one of the most-liked pâté dishes.
Pâté de Campagne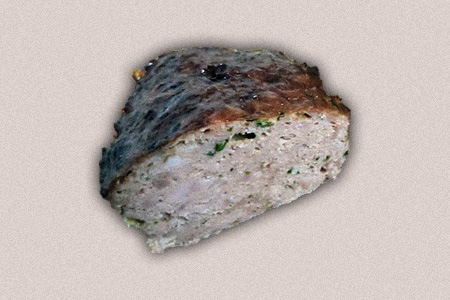 These pâté types are also known as a "country terrine". The process is easy and inexpensive terrine to prepare only needs trims and cuts of meat, garnish it with any seasoning or types of spices.
It is more refined than Pâté Grandmere and has rustic preparation containing a slight amount of meat liver, used as a seasoning in this type of pâté rather than being used as a dominant flavor. Internal garnishing is done with fresh herbs, duck confit, and chunks of smoked ham created with your favorite types of smokers or purchased as is.
The meat is ground through a large die, and it's smooth. It doesn't have the rough texture of a country terrine. Also, panada has retention of moisture and helps to bind the pâté.
Pâté de Gibiers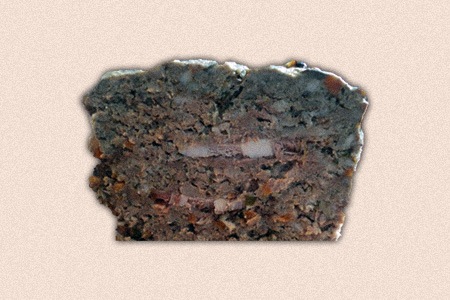 It means a wild game in French, made from healthy farmed animals. If pâté is made during hunting season, the menu is many da la chasse. However, Pâté de Gibiers is made from wild animals.
Wild boar, roe deer, and quill make Pâté de Gibiers. There are mainly two types of pâté de gibbers. One is made with bread or any other covering, and the other is served with lettuce salad.
Pâté en Croute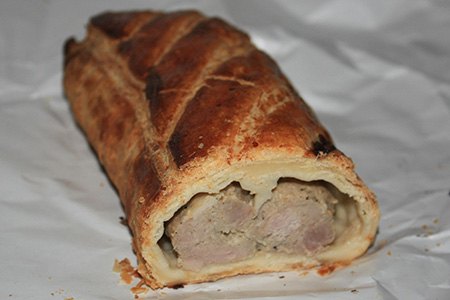 The Pâté en Croute pie crust is baked in a pastry covering and cooked in a terrine. Moreover, this dish was central cuisine in a castle in the Middle Ages. Although the crush was not meant to be eaten, the crust becomes part of this dish as time changes to remain preserved.
Pâté en croute is made from pork and veal. Nowadays, varieties are available, commonly the poultry ones. It is also filled with pistachio and mushrooms or with a game.
Moreover, pâté en croute Richelieu is a common variant of chicken livers mousse in the center of the pastry. Be ready to lift it with pie types of spatulas due to the crust on the bottom.
Even Champagne-Ardenne types of pâtés consists of pie crust similar to a pastry. The filling contains minced pork with pieces of rabbit meat, poultry, veal, or pork marinated. This dish is mainly served hot and with a green salad.
Pâté Lorraine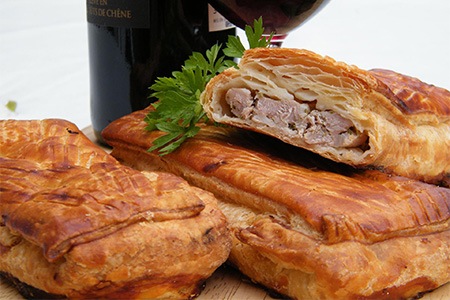 This dish contains pork meat and shallots, veal, and sometimes chicken and rabbit, and the seasoning is completed with wine, fresh herbs, and shallots.
You can use bay leaves, thyme, and parsley to make this traditional one. The covering is made from a flaky cover with pork filling inside, and it can be served either cold or hot.
Pâté Henaff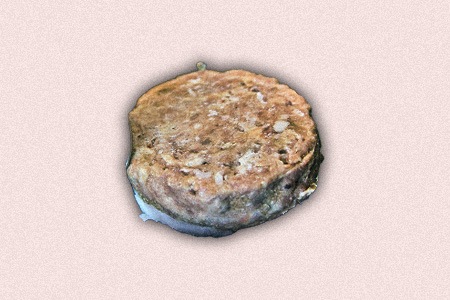 Henaff is the largest maker of prepared pâté widely available in France. This pâté is also available in canned forms at any supermarket and store throughout France.
These canned types of pâté contains ham, and it may include liver, stock, sea salt, and many different spices. The unique thing about this pâté is that it can pair easily with anything. Once sliced it looks so much like some types of salami but rest assured, it's got its own flavor profile.
Pâté Maison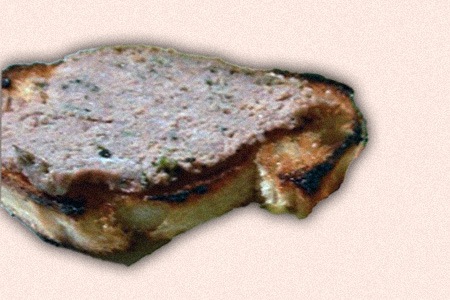 This delicious pâté is made from chicken and pork liver. The velvety and creamy texture of chicken liver grind. However, pork meat is ground with onions and herbs. Then, both pastes scrape together to enrich the flavor, and it is served as wrapped bacon with chicken liver and crisp toast or bread.
Pâté Vigneron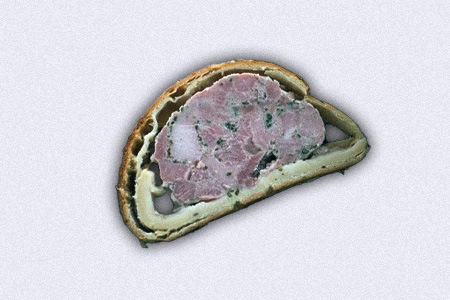 These pâté types are made with sliced pork, and then it is cut into strips and covered with puff pastry. The pork is marinated with any types of parsley, white wine, onions, and many spices then it will grind to make the mixture. Moreover, it has nutmeg that provides a delightful taste of pork.
Pâté Forestiere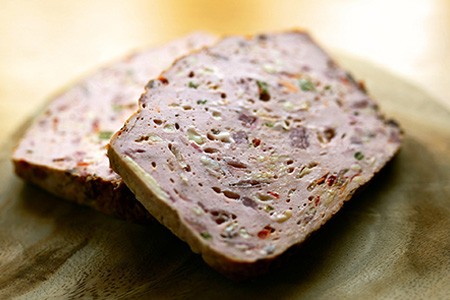 This recipe has a different taste than other pâtés, but it's delicious. The pork liver, pancetta, eggs, brandy, sherry, cream, mushrooms, truffle salt, and fresh herbs like parsley and thyme. Sometimes, it contains chicken liver, types of truffles, or meat with mushrooms. The texture of this pâté is attractive.
Pâté Mushroom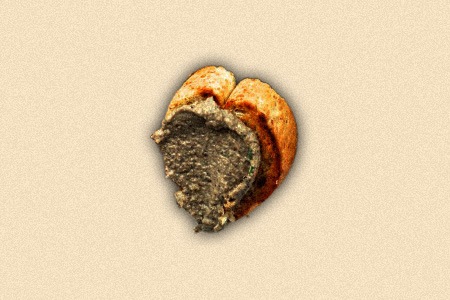 It's an amazing pâté choice for vegetarians in France. This pâté has a sauteed mixture including fresh or dried mushrooms, rosemary, ricotta, any types of garnish you enjoy, and especially garlic that is spread easily on anything.
The umami flavor mushrooms taste rich. However, mushroom pâté is for non-vegetarians and vegetarians pâté lovers. If you like a mushroom more, you must try it with toast.
Types of Pâté to Amaze Your Taste Sensations
It can be according to your desire, as fancy as you like or suitable for grandest occasions, and an expensive but rave-drawing appetizer at your dinner table.
Also, you can use mostly all types of pâté as a dip, stuffed in veggies, sandwiches, eggs, and loaves of bread spreads. Furthermore, you can make pâté more straightforwardly and serve it hot or cold, but we would want you to try pâté after a few days of chilling to get more enhanced flavor and taste.
You'll Also Enjoy: