13 Types of Vases to Match Every Event & Decor Style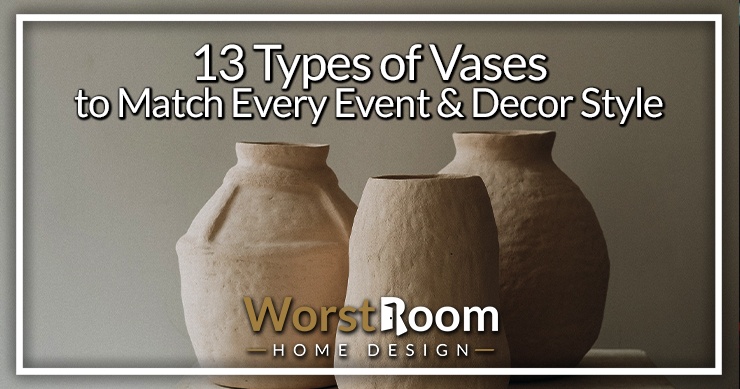 We pay little attention to all the available types of vases when purchasing one for our home decor. We just grab the first one we like, but each of the different vase shapes and styles adds a distinct appeal to the interior. The shape, material, and attributes are very different from one another each say something different about the owner.
While incorporating vases into your house, you should be familiar with the basic forms and styles of vases. Why spend a fortune when you can implement your knowledge and beautify your home like a professional?
Let's look at the different vase styles that you can add to your home. Whether you need modern decor or a classic one, we have got it all covered.
13 Types of Vases
Glass, wood, ceramic, metal, resin, crystal, and stone are the most common materials for making vases. Keeping this in mind, we've compiled a list of a few different types of vases that you may add to your collection. Let's look at all the names of different vase shapes and how to use them.
Bouquet Vase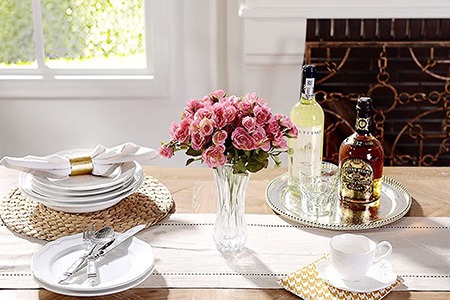 A bouquet vase holds the flower arrangement and any types of bouquets while leaving the flowers as fresh as new. The standard shape of a medium-sized bouquet vase is wider in the middle and narrower at the top.
This style is also known as the hourglass style. The shape of the vase holds the flower from the bouquet with ease.
Bouquet vases can be of three vase types. One is a large floor vase, the second is a medium-sized vase that you can keep on your center table or side table, and the third is a hanging vase. Bouquet flowers usually comprise long stems and large flowers.
Mason Jar Vase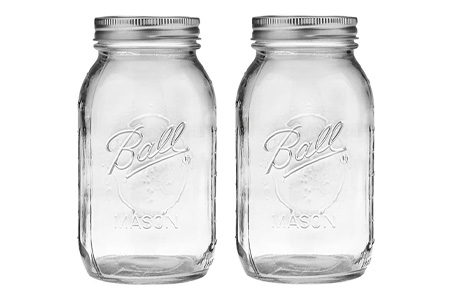 Besides preserving your food, you can also decorate flowers in a mason jar. We call it a Mason jar vase. A mason jar has an almost cylindrical body with a larger opening on the top.
You might have some mason jars lying idle in your home, and you can create a great flower vase out of them without spending a penny. Another option is to use the classic milk bottles.
Any innovative DIY project can make a mason jar into a vase. There are multiple ways to redesign them, and you can have completely different vases all using the same mason jar base. Adding color gives some fine edge to the vase. Twine some ropes around the neck or leave it as it is. Mason jar recreates a rustic look effortlessly.
Bud Vase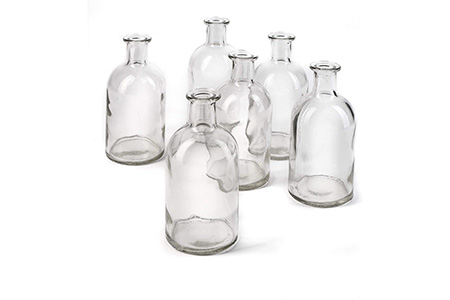 Now let's talk about a quirky vase. And that is a bud vase. A vase with a sleek appearance and holds very few flowers is called a "bud vase." The fewer, the better. You can even add only one flower to the vase.
They are tiny compared to other vases, and the maximum length they can have is eight inches. Arrange some miniature vases of different shapes and sizes with a maximum of three sticks of each flower to add texture to the ambiance.
Rectangular Vase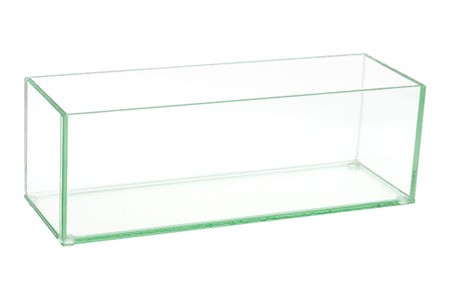 A rectangular vase is a popular choice in modern setups. There are two kinds of rectangular vases. The first one is a low-pan rectangle vase that looks great with big flowers like types of hibiscus, while the second one is a long cubic form that works better with thinner flowers like types of tulips. The opening is wide, and the bottom half might be parallel or narrow to the top.
The sharp edges of these types of vases give the contemporary arrangement personality. You can put a few flowers or can make a bed for succulent plants in the rectangular vases. You can find these in the square vase shapes or cube vase shapes, too.
I'd use these with flowers like types of poinsettias if I'm forced to use them, which can feel a little old school or tiresome without being matched with a fancier or more upscale vase like this. That can create an interesting juxtaposition, too. Keeping a low center of gravity will make for less of a disaster when the vase is tipped over.
Cylinder Vase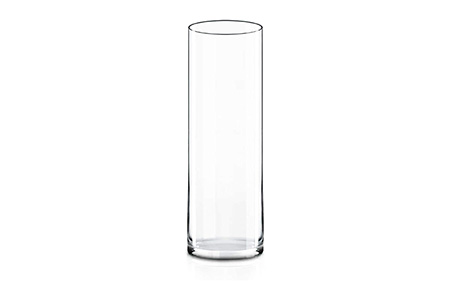 The salient feature of the cylinder vase makes it stand out in all kinds of setups. In both formal and informal setups, glass cylinder vases work pretty well.
A set of 3 to 5-cylinder vases of different lengths looks attractive when placing beautiful flowers in them. The cylinder vase comes in so many different sizes and widths.
They are easy to find, and the price is also affordable. Because of its shape, the cleaning becomes trouble-free. Though we are talking about vases, these cylinder vases can serve other decorative purposes as well.
Hand-Blown Vase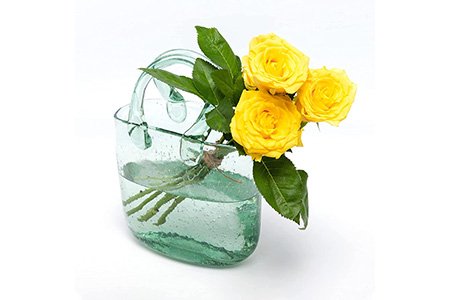 Hand-blown vases are one of the fanciest ones. Everything handcrafted has a certain charm. Despite its high price, this one is worthwhile. The entire process of manufacturing a hand-blown vase is time-consuming, and few people have the talent to accomplish it nowadays.
The artistry and effort seen in the vases are exceptional. These vases can be any shape or length. A huge hand-blown vase in a bright tint works well as a centerpiece.
Amphora Vase
An amphora is a pitcher with two handles and a pointed bottom. People from ancient Greece called these "amphoreus" and used to fill these vase containers with liquids such as milk, water, olive oil, dry foods, and so on. Its distinguishing characteristic is a slim cylindrical collar with an oval midsection.
These different vase styles create a rustic environment for both indoor and outdoor gardens. You can give an overflowing garden look or just add a few strands of flowers. Both will stand out.
Pedestal Vase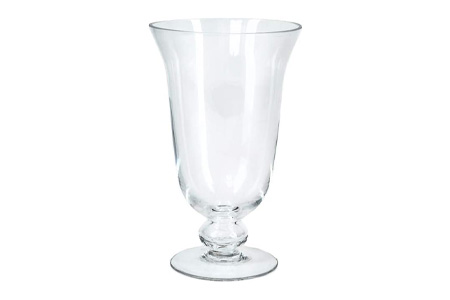 The pedestal vase is tilted so that blossoms overflow over the side, creating a flower bed look. This vase is among the most elegant ones. The shape of this vase is also different from the traditional ones.
Pedestal styles of vases can be made with so many different materials, like metal, ceramic, glass, silver, brass, etc. Depending on what you choose, you can really dress it up or down to match your decor style.
The price of these types of vases also varies depending on the material of the product. The vintage pedestal vases are very expensive, while glass and ceramic ones come in the mid-range. And plastic ones are the cheapest that you can find on the market.
The bent shape can't hold the flowers in place. While arranging flowers, use foam to hold your flowers. It will also keep them hydrated and fresh.
Floor Vase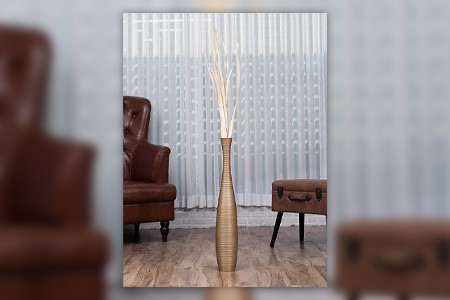 This one is the largest of all the vases. Floor vases can be one to three feet tall. The place to put a floor vase is in the entrance, hallway, or beside your couch or seating arrangement.
Though a vase is used for keeping flowers, you can even plant a leafy plant-like monstera in it. These vases add depth to the interior and you can score all of the different vase shapes in these sizes.
Personalized Vase
We got a hint about this vase from the name. The personalized vases are custom-made vases that serve as gifts to loved ones.
Giving someone a special gift of different vases along with a flower bouquet, a personalized vase is an excellent addition you can think of. Write a quote or special message on the vase.
The material for the personalized vase is crystal. You can also do this in a ceramic vase with vibrant color. Personalized vases have become extremely popular because of their emotional value.
Bowl Vase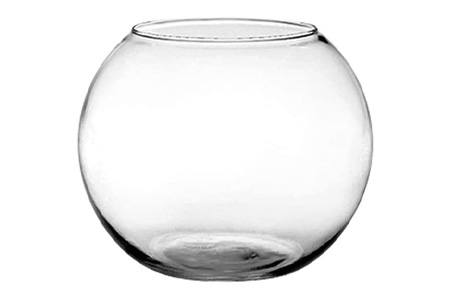 Bowl vases are the most difficult to embellish. There are several creative ways to use a bowl vase. You can make a tiny garden out of moss and succulent plants.
It comes in a wide range of colors and sizes. Bend some colored metal sticks and place them in the vase for floral arrangements. Then, take your flowers and swirl them around in the vase once again.
Fill these vase types with water completely, and your flower vase is complete. It's a clever way to arrange flowers in a bowl vase.
Trumpet Vase
You've probably seen the trumpet vase shapes at weddings or any other high class event. They're typically made of crystal or glass and are tall enough to add more variety to the height of centerpieces on tables.
These types of vases typically have wide enough feet to not tip over and are skinny but flare out at the top where you would stick in the flower stems. Being thin keeps them from taking up too much visual space between guests at the tables.
Pail Vase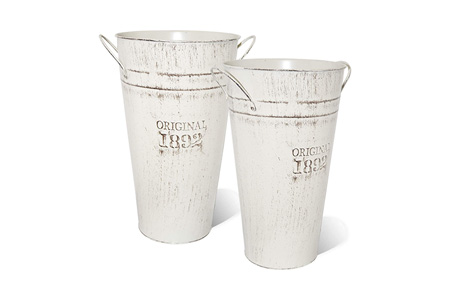 Pail vases are just types of buckets repurposed to be used as vases. They can be very ornate and fancy, or they can be plain, distressed, and painted however you like. These can work in farmhouse styles of decor, country, or even as upscale decorations. They work great to hold types of sunflowers and other less "fancy" flowers at home.
Many people will use these different vase styles as types of planters as well (you may alter it to have some drainage at the bottom, though), so don't feel limited. You can find pails in all sizes, from small to medium to large.
You can find them flared out at the top or straight up and down like a cylinder. To add some decorative flair, find ones with the handles still attached, as this is the defining feature of a pail.
Types of Vases to Match Your Decor Perfectly
So many home accessories have lost their charm and popularity among the youth, apart from the vase. The styles of vases came from different countries and cultures, so it's important to learn the vase shape names so you can communicate well about it.
But people around the world couldn't ignore the beauty of the variations and accept the vase types in all their forms. Whether you are decorating a dining room or a living room, a beautiful vase can make an enormous difference to the interior environment.
So, after learning about the different types of vases, redecorate your interior with a brand new vase that complements other features.
You'll Also Enjoy: