20 Types of Hyacinth for an Enchanting Spring at Home
Embellishing the garden with the most striking flowering plants is a goal for many, but have you ever wanted to cultivate a more sophisticated choice like any of the types of hyacinth?
Look no further, check out the hyacinth. This flowering plant is one of a kind. It's beautiful, it has an enchanting smell, and more importantly, it enhances the grace of a garden, complementing other flowers.
The hyacinth comes in many forms and colorways, each having its benefit and use. Now, when it comes to the hyacinth types, the varieties are many.
We have come up with this article to discuss the different varieties of hyacinth so that you can pick the right one without having to go astray.
20 Types of Hyacinth
The hyacinth belongs to the Asparagaceae family, and it has seasonal blooms, for example, it prospers during the spring season and produces exquisite flowers. That being said, hyacinths are very well rounded flower plants.
Back in the 18th century there were over 2,000 cultivars with unique names to fill the demand for hyacinth as a spring flower. Nowadays, that number has reduced to under 50 cultivars available commercially.
If taken care of, they will last for ages. A potted hyacinth can last for 2-3 years and keep producing flowers every spring. Like we said there are many kinds of hyacinth, so it's advised that you know the diversity. Let's talk about the far ranging hyacinth species.
Anna Marie Hyacinth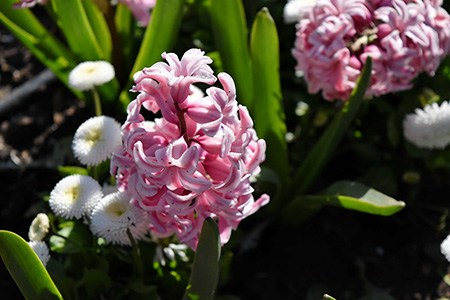 If you require a calming color that associates love and affection, you can look up to Anna Marie hyacinth varieties. These flowers go well in walkways and doorways. Such plants give salmon pink-colored flowers that can be pleasing to the eye, and they can grow up to 10".
Delft Blue Hyacinth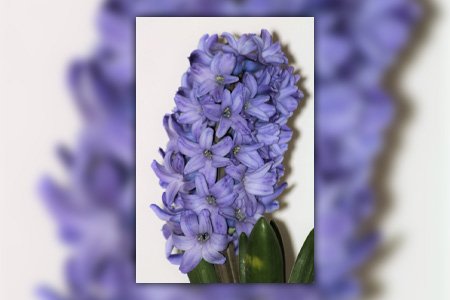 Hyacinths are common all around the world, and they are pretty hardy. They can withstand ranging weather conditions. Amongst all, the Delft Blue is the most used and adored hyacinth, seen in all types of planters, types of wreaths, types of vases, and more..
It has bright green stems with soft blue flowers on top. This blooms for 2-3 weeks in mid-spring and emits an extraordinarily pleasant smell. You can set it up on walkways, patios, and decks to make it stand out.
Blue Festival Hyacinth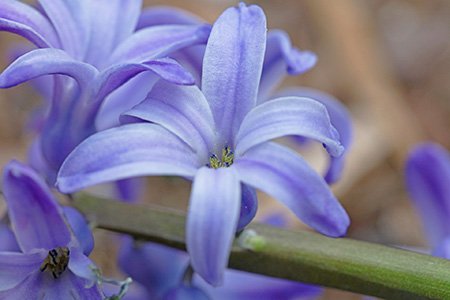 These flowers are best suited for rock gardens and border control areas. The hardy nature of these flowers also makes them fitting for house gardens.
If you want to shy away from red and pinks, the Blue festival types of hyacinth might be your best pick. It has a powerful fragrance and attractive purple-blue flowers with lighter edges.
Blue Jacket Hyacinth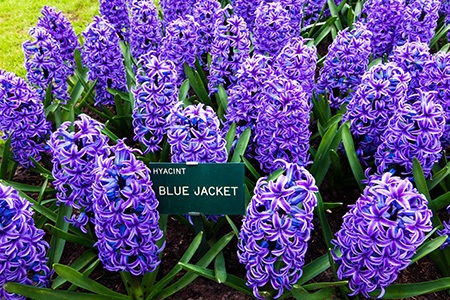 The blue jacket hyacinth can be a great addition to any flower bedding or border area. The blueish purple flowers are pleasant to look at, and this plant also has stiff spikes and rich green leaves. Their bloom should last 2 or more weeks compared to other spring flowers. The shape and color of these make them look like types of wisteria and perhaps they'd match well together.
Aiolos Hyacinth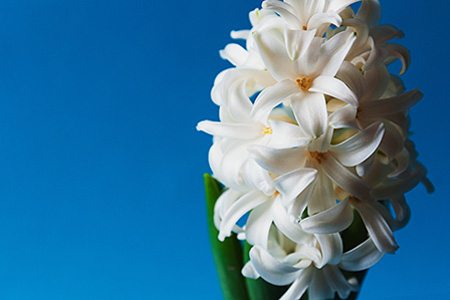 You might also know this as Dutch Hyacinth. These are plants with lance-shaped leaves and colorful flowers. It blooms for a few weeks continuously and grows to a length of 8 to 10 inches.
The scent these flowers emit is what people love about them. Aiolos is also resistant to species like deers and rabbits.
Carnegie Hyacinth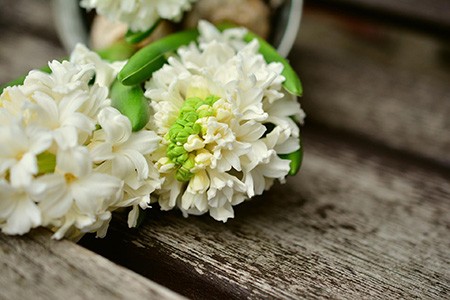 People who love the color white must grab these hyacinth types for their gardens, window planes, and other places. Carnegie is the whitest hyacinth out there, with dark green leaves and white petals. These flowers bloom during the spring and can continue to flourish for 2 to 3 weeks straight.
Top White Hyacinth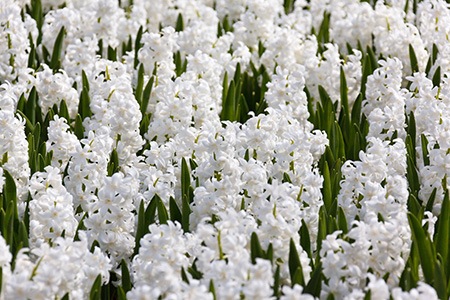 The top white hyacinths emit a rich smell that is well-loved by people around the world. What is more attractive is the appearance. The snow-white petals and bright green leaves simply cannot be overlooked.
These hyacinth varieties can reach a height of up to 10 inches. Top whites complement any garden, patio, and walkway and bring elegance to it. I've seen these used in table top types of bouquets on outdoor dinner tables paired with some types of poinsettias to wonderful effect.
City of Haarlem Hyacinth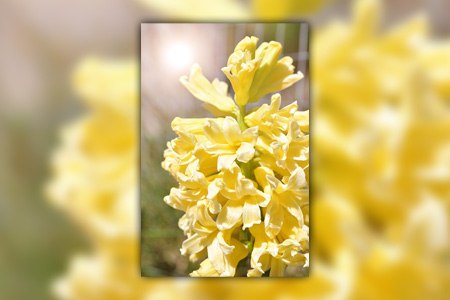 The city of Haarlem is destined to look good in any landscape. It has a lively look to it and will complement all the bright hues nearby.
These types of hyacinth bloom pale yellow flowers that are soft and mild, unlike the blue festival or blue jacket. These flowers go well on border patrol areas, beds, gardens, and walkways.
Pink Festival Hyacinth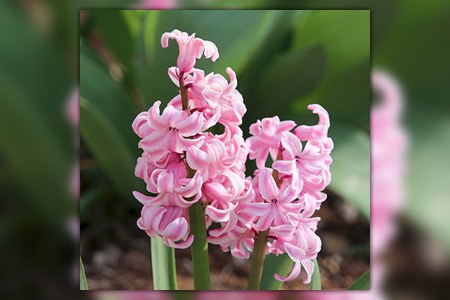 If you can plant it properly, the pink festival should be able to produce 6 flowers in a cluster. The appearance is soft pink on the flowers, with lighter edges. For those who admire pink, this is a flower that can beautify the walkway, patio, and decks like no other.
Pink Pearl Hyacinth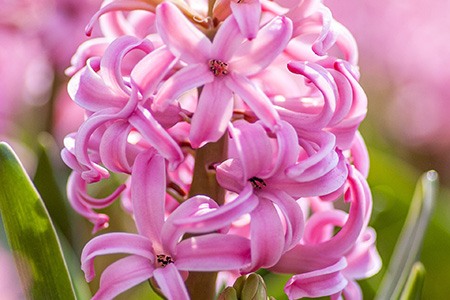 The pink pearl grows similar to all the hyacinths. It is ideal for blooming in mid-spring and must be planted in the fall for best results. The flower color is Fuschia purple and has lighter pink edges. The aroma is very strong and can glorify any walkway or doorway, looking amazing when matched with most types of irises, based on shape and color.
Pink Surprise Hyacinth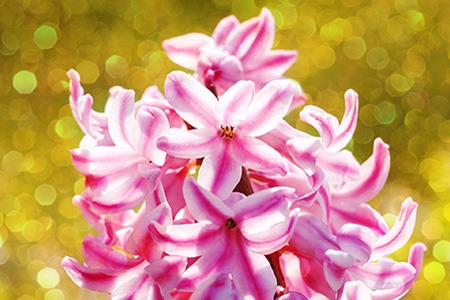 If you are looking for a strong but sweet-smelling hyacinth species, the pink surprise can work well. It has dark green leaves and produces soft pink flowers during springtime. It can be put on patios, doorways, windows, etc.
Purple Sensation Hyacinth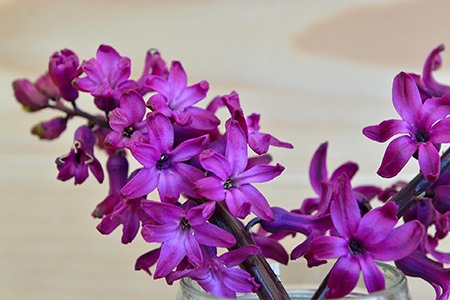 Planting purple sensation hyacinth typess will take the edge off your rusty mood. It not only looks good, but it also has an extraordinary smell and is well suited for walkways, patios, and decks. It blooms in mid-spring (2-3 weeks) and is very hardy to live in all seasons.
Gipsy Queen Hyacinth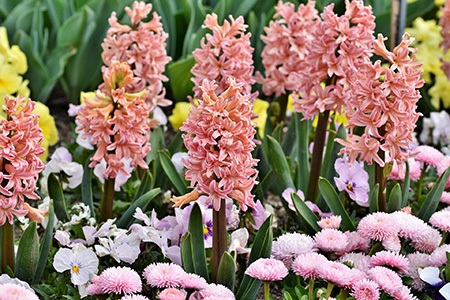 This particular kind of hyacinth has deep green lance-shaped leaves and soft coral petals. It can grow up to 10" in height and will cultivate properly if taken care of. Gypsy queens are flowers that deers and rabbits won't try to hinder.
Hollyhock Hyacinth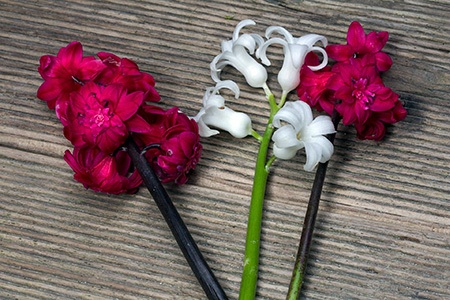 The hollyhock is a variant liked by people who admire eye-popping colors such as red and pink. These types of hyacinth produce reddish-pink double flowers and also has a sweet smell to it. You can easily put this flower in an adequately drained spot that has medium moisture, and this plant will work wonders.
Jan Bos Hyacinth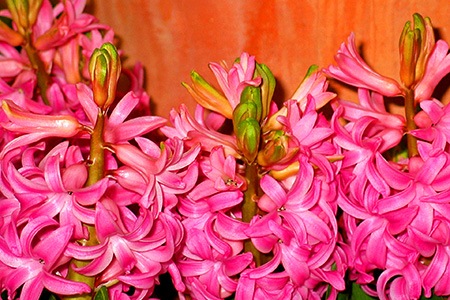 You can put this flowering plant in a container or tub and ground it in moist soil in your garden wherever you find suitable. The pink flowers with purple edges will certainly make your day. It has an aroma that is a wonderful mood booster.
Lady Derby Hyacinth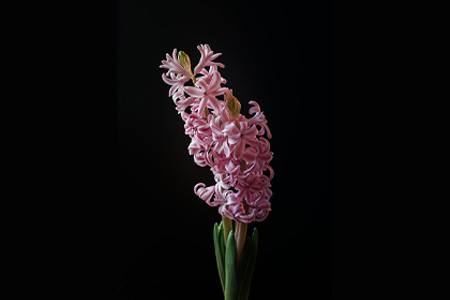 Another pink-hued flower on this list. The Lady derby is one distinctive species because of its light pink hue and sweet smell. It has been a dutch favorite since 1883. To turn a dull day into a cheerful one, lady derby can suffice your needs.
Miss Saigon Hyacinth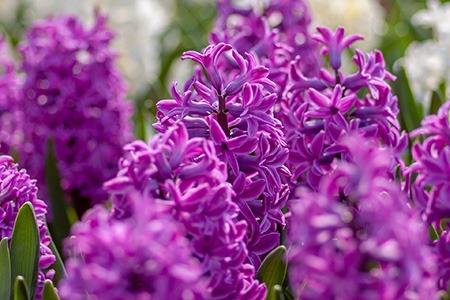 It is a flowering plant that has a strong enchanting smell. It blooms star-shaped flowers that are violet in color and has dark green leaves with it. It can last in shady areas and continue to grow, but the bloom season is spring, just like most hyacinths.
Woodstock Hyacinth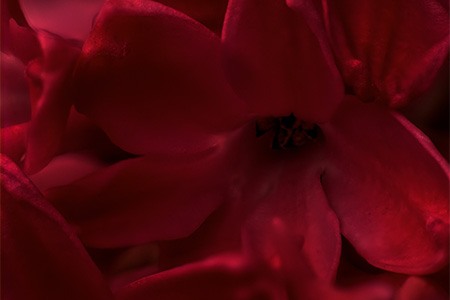 These hyacinth types are flowering plants that produce dark plum-colored petals and has bright green leaves to complement it. When put on the walkways, doorways, and patios, these flowers can be the ones to look at.
It has a strong aroma that is a pure mood booster. Woodstock hyacinths bloom during mid-spring and are sturdy enough to last for years and years if taken care of. I find these to be particularly striking when planted with most types of tulips.
Splendid Cornelia Hyacinth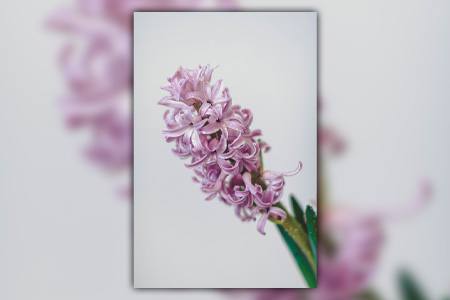 Just like all its variants, the Splendid Cornelia hyacinth species also needs a medium moisture environment and well-drained soil to grow. If set up in the right way, this plant will produce aromatic stars like petals that are purple and have bright green leaves.
White Festival Hyacinth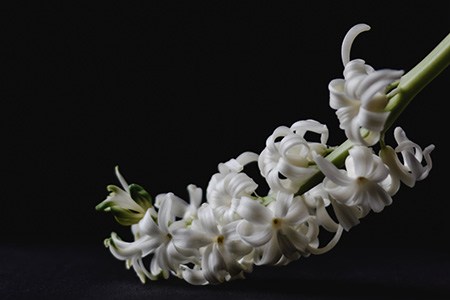 If you want a hyacinth that looks intimidating in a good way, then the white festival can be a good pick. It can have 6 flowers per bulb which make it eye-catching.
The appearance is something we love, it has bright green leaves with snow-white petals. If you place it in well-drained and moist soil, these flowers will certainly give a festive look, just like the name implies.
Types of Hyacinth to Create an Enchanting Garden
For avid gardeners, hyacinths are a go-to flower plant. The problem is that people don't realize that these species have many different classifications to them.
Rather than just going to the flower shop (nursery) and getting a random plant, it is better that you study the hyacinth varieties and then go on to select the bevy of beauties for your landscape plans.
We have tried our level best to give you proper knowledge about these exquisite flowers. If you are serious about growing aromatic and arresting flowers, then reading this article will help you know about the color combinations and functions of different hyacinths.
Next time you step into the nursery, you better know what types of hyacinth you're about to purchase. Enjoy it to the fullest!
You'll Also Enjoy: