11 Types of Saws That Make Each Job Easier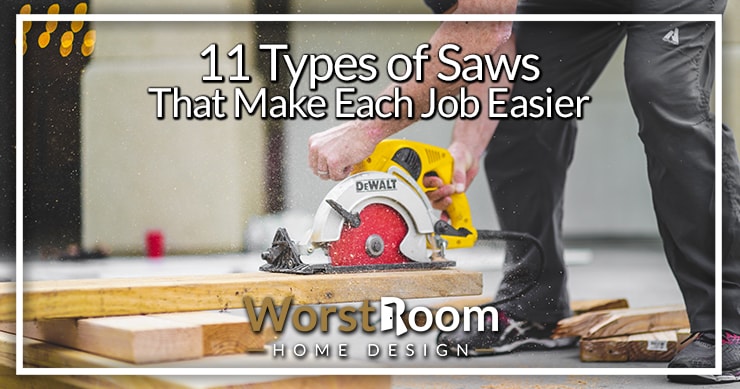 Saws are one of the most straightforward tools that were invented centuries ago, and over the years, many different types of saws were created to aid in our work projects.
Saws are made up of a series of sharp teeth that cut through the surface of something by moving back and forth (or continuously around) with force. Generally, they're used to cut wood to size, but can do the same to metal or brick.
Nowadays, they're manufactured in different designs to deal with various situations. The different types of saws have many teeth, but the breakthrough was achieved by the invention of universal and hybrid teeth.
Saws come in handy for a lot of house improvement tasks. Having a saw at your home is an excellent start if you want to do some work by yourself. However, before purchasing one, you should know about the types that are available.
11 Types of Saws
There are a lot of different types of saws, depending on how much you wan to subdivide them. The differences largely come in the types of blades they use. Mainly, saws are categorized into two types: hand saws and power saws. That's how we'll discuss them below.
Handsaws
Handsaws are the most common types of saws. They were invented hundreds of years ago to be used in carpentry and joinery. These saws have a long blade, mostly a thin metal strip and a wooden handle to enable better gripping.
Classic Handsaw

Usually, handsaws have two kinds of teeth: rip saw teeth and crosscut saw teeth. Also, they're used to make elegant designs on wooden objects by the very skillful, in combination with various types of chisels and rotary tools.
If you want to make handmade and customized furniture pieces, you must go for these types of saws to do the heavy cuts. Pictured above is the classic style of handsaw, though others exist, which we'll get to now.
Mitre Saw
Mitre saws are used to create an excellent, straight cut through a surface. This saw has a narrow blade and a steel backing across the opposite side of the saw teeth.
They're also known as back saws or tenon saws because they are used for precise working, such as cutting a mortise and tenon, miter boxes and dovetails, etc.
Back saws have a design that ensures that they remain straight while cutting the material. Additionally, they are smaller in size. Either hard or smooth, they are perfect for cutting many kinds of surfaces. Their blade is what makes them ideal for trimming moldings and angle cuts.
Bow Saw
Traditionally, bow saws were used to cut straight and curved pieces of wood. Bow saws have a thin, rough blade embedded in the metal frame. They're commonly used to cross-cut firewood or tree branches.
These types of saws can easily cut through a tree. This is the reason why they are used for felling. They closely resemble the shape of a bow, and this is where the name comes from.
Like the previous type, bow saws are perfect for a single user. They're best suited for you if you want to cut logs for your fireplace or want some creative cutting. Their narrow blade cuts any material in no time.
Hacksaw

You probably have seen these types of saws; they are mainly used for cutting pipes and tubing. This is because their thin blade can be easily positioned for angled cuts. Initially, these were made to cut metal surfaces smoothly.
That being said, it won't be wrong if we call it a versatile tool because it can serve various jobs of different natures. They have a small fine-toothed blade supported by a C-frame. And the frame holds the blade under tension.
They're not made for soft metals like aluminum. Hence, make sure to clean it neatly when you're working on soft metals or the teeth will get clogged up. They can cut through concrete and concrete alternatives, metal, and wood (with the right blade).
Coping Saw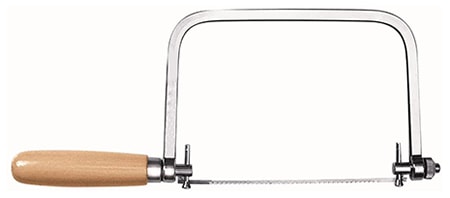 Coping saws are widely used for cutting a variety of materials. They consist of a thin narrow blade that makes it perfect for work like scrolling and trim cutting around inside corner joints for a neat look.
They're used for work that needs back-cut curves or more intricate cuts. Moreover, these types of saws are great for cutting unusual shapes. Coping saws have a removable blade, which is a handy feature.
Many professionals like plumbers, toymakers, and carpenters carry these types of saws with them. They were named so because they are used for coped joints.
Japanese Saw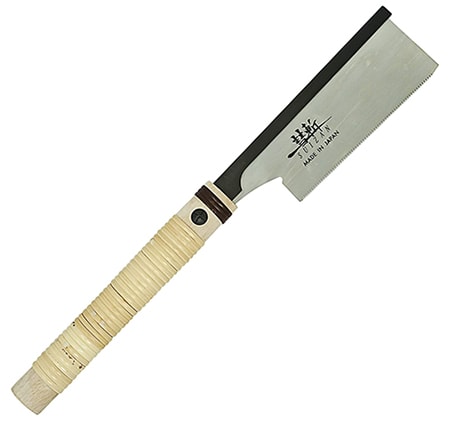 Unlike the other types of saws that you've learned about so far, Japanese saws have a single handle and a thin blade. Their blade is sharp and invented for hard-to-reach places where a standard saw can't work.
Japanese saws have three different types. The most practical example is the Ryoba style saw. However, other types are equally important and beneficial. They're often called pull saws, too.
They can cut both hard and softwoods. This is possible because of the rip teeth on one side to finish the cut and crosscut teeth on the other side that can cut wood of any thickness.
Power Saws
Due to the increasing demands of many industries, power saws were produced to fulfill their requirements. They're not manual like hand saws. Power saws have a comfortable grip, and they save your own physical energy.
In addition to that, they consume electricity to provide those smooth cuts. Nevertheless, they should be used within their limitations and can be dangerous otherwise. Please take proper safety precautions and learn the techniques required.
Also, because these are valuable, you need to make sure you lock up your garage or garage alternatives so nobody can walk off with your pricey and powerful tools.
Circular Saw
Circular saws contain a toothed blade that rotates to cut different materials. They are used to make combination cuts, rip cuts, and crosscuts.
Occasionally, gasoline and hydraulic motors are used as an energy source. They can fit multiple types of saw blades into it. It can cut even more materials than a simple handheld saw thanks to this versatility.
Furthermore, they have a lightweight motor that prevents it from recoil, and there are enough places on the left side of the handle to see the cut. They are the most well-known type of powered saws.
Table Saw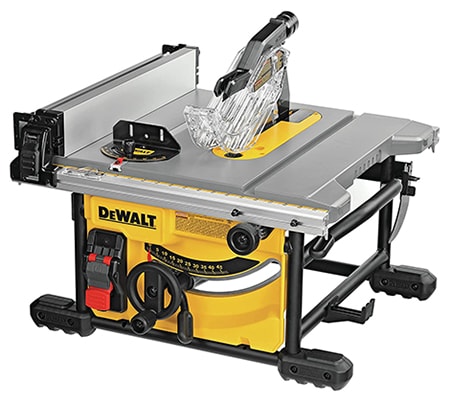 Table saws can accomplish numerous tasks efficiently. They help in rip cutting, crosscutting, and mitering. However, it is not easy to carry them around as they are not designed to be portable, though some have wheels under the table.
They also have a circular blade that penetrates the surface of the table, which maintains balance and lets you adjust the depth of the cut. They're great for precision cuts and for processing bulk amounts of lumber.
Mostly, they are used on wooden surfaces. They're slightly larger than circular saws if you don't count the table. They can cut straight lines and many identical pieces. It's driven by a high-speed motor that is set up underneath a flat table.
We used a table saw for all of the cuts in our "How to Make a Cutting Board" guide. When you need consistent and straight cuts, there's no better option.
Band Saw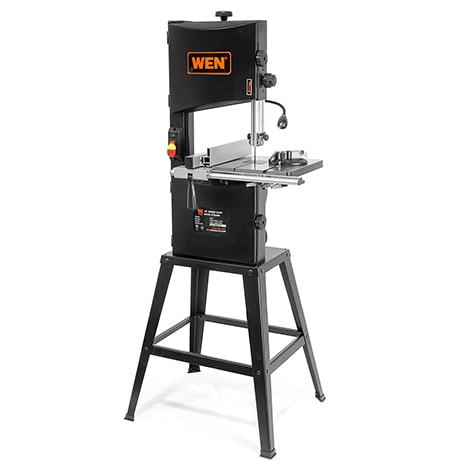 These types of saws can cut not only through the wood but also metal. Band saws don't make a lot of sound so that you can continue your work till late without troubling anyone. They make shallow cuts that cut through completely over time.
They can't be used for heavier purposes because they are specialized tools for smaller, automated cuts. Band saws are small so that they can be moved from one place to another, though there are certainly larger ones.
Unlike their other variants, these types of saws are not as efficient as the other powered saws. Many professionals don't consider them very purposeful for speedy work as they take more effort. The wood can kickback, so you have to be attentive and protect your body, hands, and face.
Chainsaw
Chainsaws are one of the most popular saws due to their unique design. Chainsaws are commonly used in tree work. They're very similar to band saws in shape and blade orientation.
Plus, all of the various types of chainsaws have a sharp tooth blade, which is attached to a chain that rotates. They're used to clear bushes, carve ice to make sculptures, firewood cutting, etc.
Among other things, they are transportable and lightweight. That means you can take them to your camping trips. Today, chainsaws are available under different brand names and types. So you can pick the one which works best for your task.
Jig Saw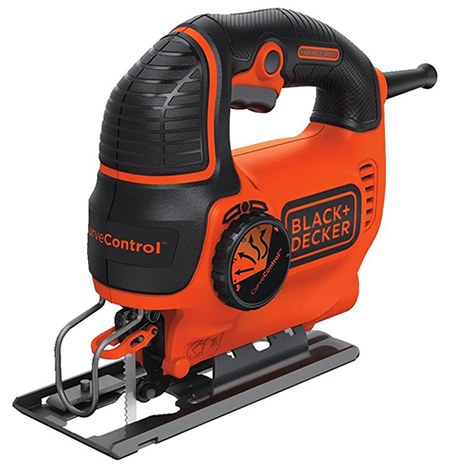 Jigsaws are small and easy to use. If you need a tool that can cut straight and curved lines, you should go for this type of saw. Even though you can adjust its speed, you have to pay close attention while working with this tool. This is because it can easily drift from the material.
Not to mention, jigsaws can help you create different designs, which makes it crucial in woodworking projects. Their reciprocating blade can cut through ceramic tiles, wood, plywood, and even metal. Additionally, they are safer to use.
Types of Saws for Every Job!
People have been using a saw for thousands of years as per their requirements. All of the types of saws that were mentioned above are beneficial for particular tasks. Before purchasing and using them, you must know how to operate them to avoid danger.
Brands to consider include, but aren't limited to, Craftsman, Bahco, Lenox, Dewalt, Porter-Cable, Milwaukee, Ryobi, Worx, Makita, Skil, Black+Decker, and more.
In modern times, these tools are modified to fill the specific niches. Fortunately, you can get them from any shop once you know which types of saws are the right option.
You'll Also Enjoy: