8 Garage Alternatives for the Rest of Us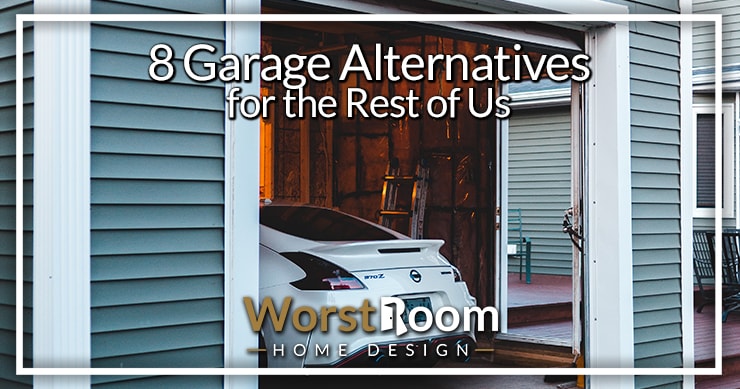 Garage alternatives save the day when we find ourselves in a home or apartment that can't offer us the traditional drive-in space. We all have cars and projects where we need the space to get a little dirty. And we could certainly use the storage room.
A garage has its perks but is by no means an essential component of every house. Many folks forego garages, especially if they're using their vehicles quite frequently during the day, or the car is in use for a major part of the day.
Sure; you could get away with parking on the street if you live in a relatively quiet, residential area in the suburbs, but not so much in the heart of the city. Therefore, ultimately, the importance of a good parking space can't be ignored.
A covered parking area not only keeps away the burglars but also the dirt, dust, heat, snow, and ice. A well-designed area can also add immensely to the aesthetic value of your house.
And the free space comes in especially handy when you have kids or pets in the family, or you don't want a garage eating into your work, home, or garden space. The best part is that you don't even have to shell out unreasonable thousands to get yourself one of these great garage alternatives.
8 Garage Alternatives
If you're still keen on putting in the large amount of planning, physical labor, time and money that goes into getting yourself a garage, good on you. But if you're looking for a considerably less time-money-and-effort-consuming alternative, you're in the right place.
From DIY garage kits to canopies, here's a list of great garage alternatives to consider that can even match the standard garage size.
Sheds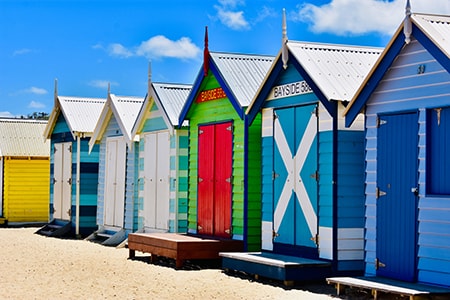 Probably the most common and popular alternative to a garage, sheds are pocket and space friendly. Chances are, most people already have some sort of shed on their property.
Though most sheds aren't big enough to park vehicles (you'd need a super-huge shed to be able to do so), they're great for storing other equipment, such as your gardening tools and lawnmower, depending on the size of the shed.
Whether you're building your own little shed or getting a readymade one, sheds are low effort and often, low maintenance. You won't have any surprise garage floor crack repair to deal with, and all the guidelines for storing an extension ladder in the garage still work.
You could get a shed of wood, though most folks prefer steel for its sturdiness and durability. However, if the aesthetic value is what you desire, wood is the better option. Sheds are especially popular on small properties.
Quonset Huts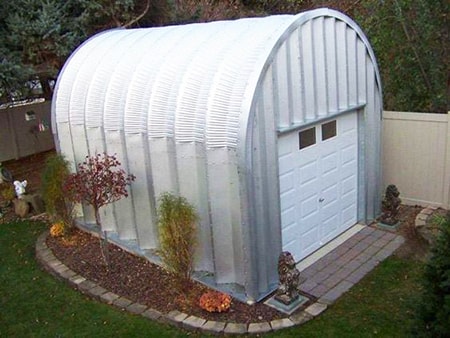 Quonset hut sheds come with quite the rich history—they were an improvement on the original British Nissen huts, used in World War I, made by the Americans for use in World War II.
These sheds are designed to allow their ends to open or close, owing to their being constructed of arches or semi-circles. They're extremely easy to assemble and even better, come in kits, which makes the whole setup process even easier. Each part of the shed slides into the previous one and all you have to do is bolt it in place.
Quonset huts are not very different from garages in terms of the space they provide but work out to be much cheaper and less time consuming than actual garages. However, since this is an additional structure to your house, ensure that you're in the clear when it comes to the regulations on the same.
Carports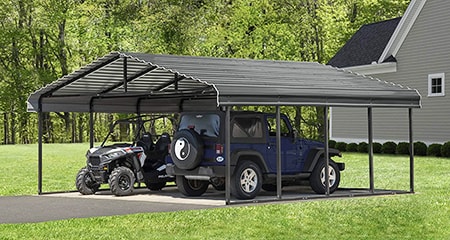 Carports are super efficient when it comes to protecting your vehicles. Though you may require some technical know-how or in the worst case, get professional help, carports are worth the effort and not really too difficult, once you know what is to be done. These types of garages are incredibly easy to install and inexpensive, relatively, and very durable.
Carports are, very basically, a roof under which you can park your car. That means your car will be protected from anything above, rain, hail or snow, but not so much from things at a level below the roof like sideways rain fro heavy winds, since it isn't entirely enclosed.
Despite that, carports are still one of the more popular and efficient garage alternatives for your vehicle. You can either build a freestanding carport or have it connected to your house; an attractive carport, with a colorful roof or well styled, can also bring much aesthetic value to your house, in addition to keeping your car protected. And you don't have to worry about dealing with garage ventilation, since it's wide open.
Car Covers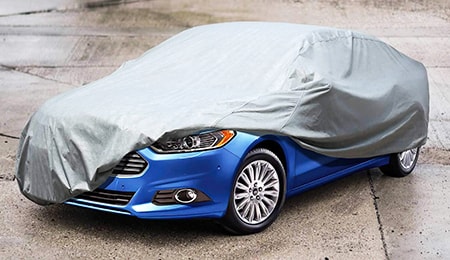 By far the cheapest alternatives to a garage, car covers are also perfect for those looking for an option that consumes neither time nor effort. A car cover will protect your car on most sides, preventing any scuffing, dust settling, UV-ray attacks, and other elements, all of which can cause dulling and scratches on your car's nice paint job.
However, if you notice that we said "most sides" and not "all sides" in the previous paragraph, that's because car covers don't protect the underside of your car. This means that come winter, the cold can still get to parts of your vehicle.
However, the rest of the protection that your car cover can provide can, by no means, be discounted or written away as insignificant; this makes car covers an extremely popular alternative to garages.
Tent Canopies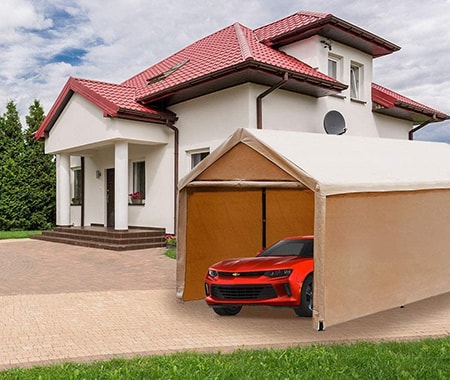 The next awesome alternative on our list is tent canopies. Who knew canopies could be used for more than camping, right? Well, turns out that these guys are extremely handy when you want the benefits of a garage but not an actual garage.
Additionally, such canopies are super convenient, as you can pull them down just as easily as you put them up and even carry them around easily. For extra protection, you can install a weatherproof cover to ensure that nothing hits your vehicle.
However, be warned that if you live somewhere that's hit often by a lot of wind, your canopy may just get blown away, unless you take additional precautions.
Awnings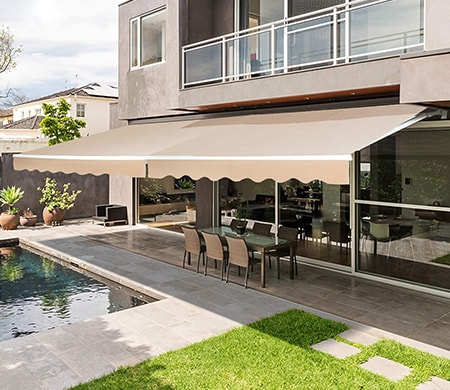 Awnings are similar to carports, keeping the rain and snow from hitting your car. The only difference lies in the fact that awnings are always attached to the house, while carports may or may not be.
Awnings extend outwards from the house and provide shade and protection. This makes them a great option not only for vehicle owners but also for those looking for some shade on the deck or patio on a hot, sunny day.
While it isn't common, you can place a normal or portable types of awnings over your driveway (awnings are usually above the deck or patio). However, the benefits are mostly the same, whether you place your awning above your deck or your driveway; it all depends on what the purpose for installing the awning is.
Awnings are just a little bit shy of 7 feet, so you may need to get 2 awnings and fix them side by side to create a canopy long enough to protect your car, if that's the goal. This may take away some of the cost effectiveness of the method but many deem the protection worth it.
Additionally, awnings are easy to set up and involve relatively less time and effort to set up and maintain. You can also get a retractable awning if you anticipate that you won't be using your awning all the time. No need for garage door alternatives if you don't have one at all!
Portable Garage Kits
Yes, even garage kits come in kits these days! The kit above comes from MiracleTruss, for example. Portable canvas garages come in a range of styles and sizes and fully enclose your vehicle on all 4 sides. Whether it's a car, ATV, snowmobile, or RV, you have a garage kit in every size.
Garage kits are easy to assemble—assembly takes very little time. For something so easy to handle, they can be pretty durable, featuring galvanized steel frames and a simple locking mechanism that speeds up the setup process. You can even reap the benefits of an insulated garage, too.
The frames are secured to different surfaces using special anchors—these make quick work of all surfaces, whether concrete, gravel, dirt or asphalt. This also keeps them from being flipped by extremely heavy winds. Often whatever types of trusses you order will be pre-assembled.
These portable garages feature UV-resistant reinforced polyethylene fabric, instead of vinyl, wood, or other types of siding, for better protection. The fabric can either be one stitched-together covering, or consist of separate panels. It can feature either a roll-up or zippered front enclosure or just be open on one end.
Ultimately, portable garage kits are less expensive, less effort consuming and more portable than storage sheds or other vehicle sheds.
Telescoping Tents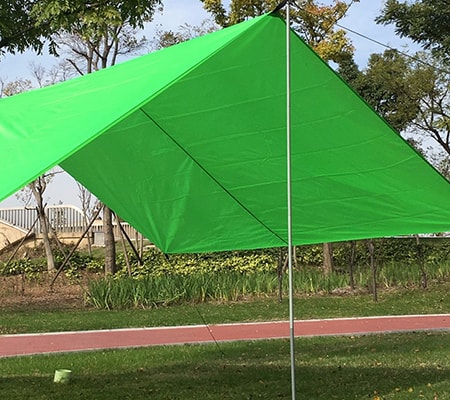 Telescoping tents are like portable versions of awnings, which adds some amount of convenience to their already existing functionality—putting it up and taking it down is quite simple and fast.
You can even take these along while traveling, which makes them a popular option for those who camp or cross country travel frequently. They're also quite affordable, though they may not provide the same extent of protection that some of the other garage alternatives do.
Garage Alternatives Get the Job Done!
Maybe you don't have enough space for a garage on your property or maybe you just don't like the idea of a garage—whatever the reason, there are many alternatives that you can opt for, as indicated in the list above.
While many of them are definitely more affordable than a garage, you may have to compromise quite a bit on the amount of protection provided. Similarly, some will permanently change the look of your property or house, while some are portable or removable.
Ultimately, it all boils down to your needs and preferences, so pick out one of the garage alternatives after carefully considering these as well.
You'll Also Enjoy: