9 Types of Shower Pans for Bathing in Style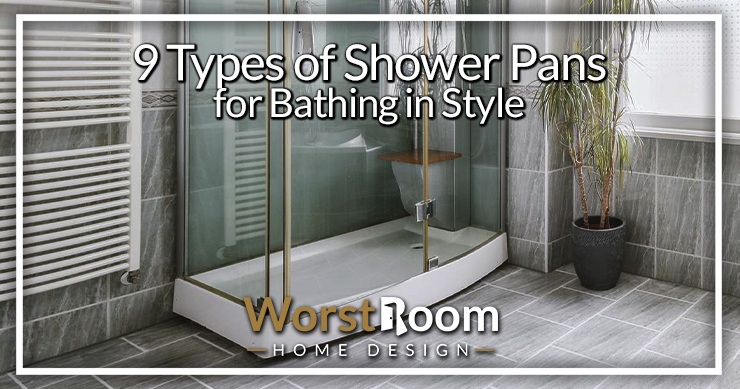 Is there any better feeling than jumping in the shower first thing in the morning? Having the warm water (or cold, if that's your thing) splash over your face and body is exhilarating, refreshing, and the perfect way to start the day, even more so with the right types of shower pans to match your lifestyle.
Most of us never stop to think about the components of the shower. We jump in it, turn the taps, and jump out a few minutes later to towel off. The shower has many elements, and probably the least understood or considered is the shower pan.
9 Types of Shower Pans
The shower pan is the waterproof barrier beneath the tiled floor. It collects water seeping through the tiles, channeling it to the drain. Did you know there are different types of shower pans?
This post unpacks 9 shower pan styles to consider for your next DIY remodeling project. Before you start deciding on a shower pan size, too, you should consider your bathroom size and shape as well as the standard shower size you'll be working with.
Fiberglass Shower Pans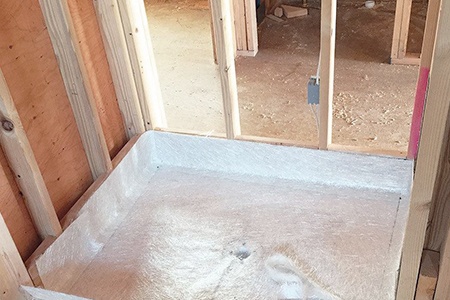 The fiberglass shower pan is the most common type on the market. Fiberglass is an affordable material and readily available for your DIY plumbing project. The various types of fiberglass are a favorite for contractors and homebuilders because they're strong, affordable, and effective, with a good service life.
Fiberglass shower pans are less susceptible to cracking and breaking, and they come in a huge range of designs thanks to the ability to mold fiberglass to any shape. On the downside, white fiberglass shower pans tend to go yellow over time, and they're easy to scratch if you use rough scourers or steel wool to clean them.
Acrylic Shower Pans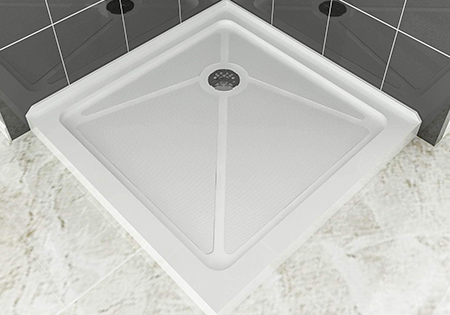 The acrylic shower pan types are the preferred option for modern homebuilders. You get the same lightweight consistency from acrylic as you do with fiberglass, with dozens of design options to suit the shape of any shower, thanks to its molded construction.
Acrylic is another affordable material. It's slightly more expensive than fiberglass, but it's still great value for money for any DIY project.
You get the same durability and flex in acrylic as with fiberglass but a better range of shapes and colors. They also don't scratch as easily as fiberglass shower pans, making them the preferred option for your DIY project.
Composite Shower Pans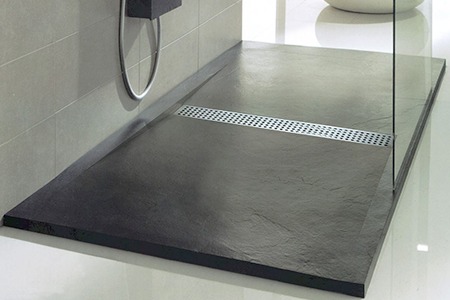 Composite shower pans styles are another affordable and popular option for DIY projects and homebuilders. You get better strength than fiberglass and acrylic, with construction materials usually blending fiberglass and plastic. The result is an incredibly durable shower pan with plenty of design and color options.
Composite models require installation before fitting the titles, and they are more challenging to install than acrylic and fiberglass. However, they have a long service life and are easy to clean and repair.
Tiled Shower Pans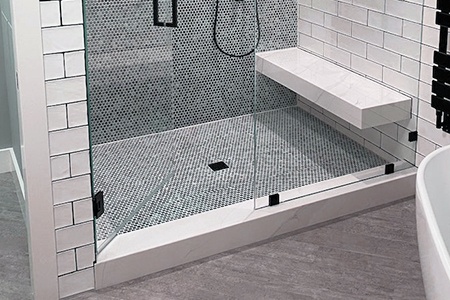 A tile shower pan is more of a premium option and requires some skill to install correctly. They have an expensive price tag, and they're challenging for homeowners to maintain. However, a tile shower pan allows you to match it to your walls and bathroom floor.
There are two options for tile shower pans. The first is a "tile-ready" design, and the second is a "tile over concrete" setup. The latter is the more common design thanks to the high level of customization available for its size, shape, and appearance.
Natural Stone Shower Pans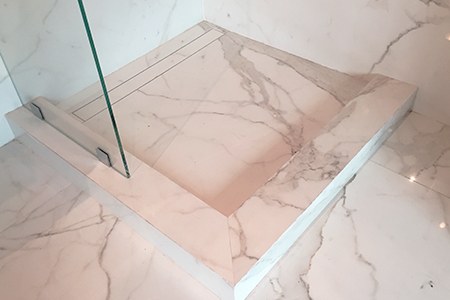 Natural, cultured stone styles of shower pans are expensive premium options in engineered stone mixed with resin to form the base. The most common natural stone used in these shower pans includes granite, limestone, and many types of marble models, but there's even pebble shower floors to consider.
These shower pans have good leak protection since they feature an impenetrable resin coating. They are also less vulnerable to deterioration and scratching. They also feature a textured surface, making them the ideal non-slip option for your shower. You have a selection of more than 30 colors and plenty of design options to suit your needs.
Porcelain Shower Pans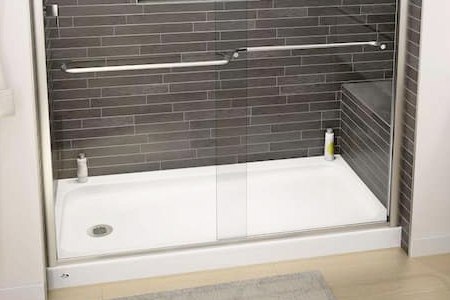 Porcelain types of shower pans feature construction with the same materials as your toilet bowl and sink. It's a sturdy, non-porous material making it ideal for a shower pan. However, you'll need a model with a textured surface, as porcelain can feel slippery underfoot when wet.
It's a good choice for high-traffic areas, but there are limited color options and designs. The porcelain will also chip if you drop heavy objects on it. However, the hardened smooth surface makes it very scratch resistant.
Concrete Shower Pans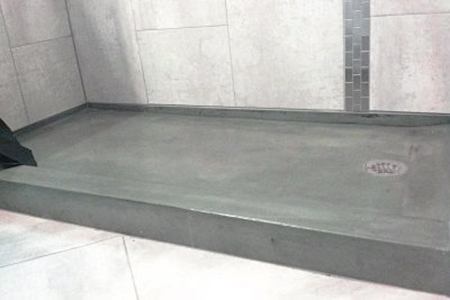 A concrete shower pan is usually a good choice for a commercial installation. For instance, prisons and other low-cost housing facilities may use concrete shower pans to save on costs. They probably aren't the best choice for your home since they tend to have a lifeless look, unless you're going for a minimal and brutalist look.
Concrete is a porous surface and requires sealing to be watertight, no matter what concrete mix you use. You can paint the concrete or coat it with other waterproof membranes to improve its water resistance, service life, and appearance.
Stainless Steel Shower Pans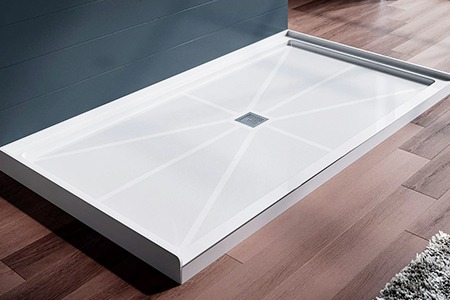 A stainless steel shower pan is highly durable and long-lasting. It's a great waterproof option and highly scratch resistant. However, stainless steel is very expensive and creates a slick surface that feels slippery underfoot when you're in the shower.
These models have a straightforward installation, and you only need some sealant to waterproof the edges of the shower pan for a watertight fitment. They don't come in colored options, but the look of a brushed stainless steel shower pan provides a pleasing visual aesthetic to any bathroom. This material is also very easy to clean and lasts a lifetime.
Cast Iron Shower Pans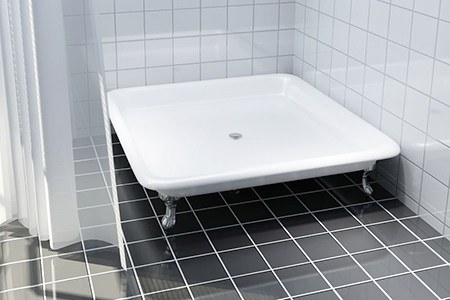 Cast iron isn't only for kitchenware anymore. Now you get cast iron shower pans to match your skillet. A cast iron model is a very durable material, but it requires sealing to prevent corrosion. It's a heavy, sturdy material and design with minimal maintenance requirements and long service life. These are very interesting types of showers, though.
Most manufacturers add slip-resistant coatings to seal the material and reduce the slippery feeling of steel underfoot. It's another expensive option but more affordable than stainless steel. You get excellent scratch resistance, but like stainless steel, there are limited designs and styles.
Choosing From the Styles of Shower Pans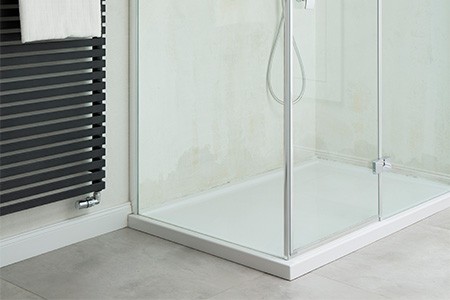 Knowing what types of shower pans are available is the first part of the battle. Actually choosing from all of those styles is a bit tougher, but we'll provide guidance below.
It's all about what you envision while making that match the rest of your existing bathroom or what the final renovation will look like. Let that guide you and go through the process of elimination and things will get easier.
Tips for Choosing the Shape of Your Shower Pan
You can make the shape and design of your shower anything you want. The most common options for DIY projects are square, neo-angular, rectangular, and circular shower designs.
The ideal shape for your DIY bathroom remodeling project will depend on factors like the room available in your bathroom or work area and your personal design preference.
For example, if you have a small bathroom, you can optimize space by choosing a semi-circular or quarter-circle shower pan. If you have a large bathroom, a rectangular design gives you a luxurious feel.
Color Options to Match Your Bathroom in Style
Certain interior design and décor rules apply to shower pan installations. Your chosen materials determine your color options, so ensure you pick the right material for the job.
For instance, you get far more color options in Acrylic and composite shower pans than you do in fiberglass models.
Ensure you choose a shower pan matching the color of your bathroom tiling. As a pro tip, don't mix cool and warm colors. This contrasting approach to color selection will turn out terrible.
If you're struggling with choosing the right color for your shower pan, you can always go with classic white – that generally works with everything.
Material Options for Your Shower Pan
Choosing the right materials for your shower pan depends on your available space and your budget. Inexpensive materials like fiberglass, acrylic, and composites are ideal for low-cost DIY projects and homebuilders looking to save costs on large projects.
Materials like natural stone, stainless steel, and cast iron have premium price tags and can cost five to ten times more than the more inexpensive materials in the range. You'll have to decide on what materials suit your budget and bathroom.
FAQs Concerning Shower Pans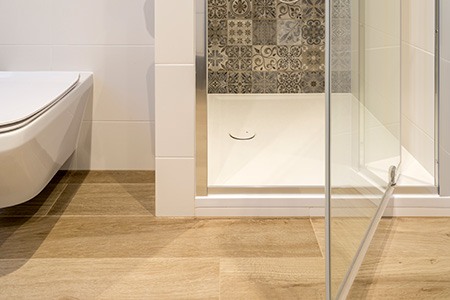 There's always a set of questions that arise when we start talking about the various types of shower pans. Let's explore those in case you have the same questions.
Who Can I Call to Install My Shower Pan for Me?
Installing a shower pan requires intense DIY skills. If you're not handy, it's a good idea to leave it to the professionals. Search online for a handy person or a plumber in your area and hire them for the job.
Are Shower Pans & Shower Bases the Same Thing?
Many people use these terms interchangeably, but they are two different shower design components. You step on the shower pan, and the shower base is the underlying structure. However, they both direct water to the drain and are waterproof structures.
Do I Need a Shower Base & a Shower Pan for My DIY Project?
Yes, you'll need both a shower pan and shower base for your shower installation. The base provides much to the structure for both the pan and the drain, while the pan provides the style while directing water towards the well-sealed drain.
Do I Need to Replace the Entire Shower Flooring When Changing Out the Shower Pan?
A shower pan isn't structurally connected to the rest of the shower. So, you can usually change out the shower pan without removing the shower base or other components.
What are the Standard Sizes Available for Shower Pans?
The standard size for a shower pan is 32" x 32" for a square design. A neo-angular shower pan design is usually 36" x 60".
Types of Shower Pans to Match Your Bathroom's Style
While we've listed the main types of shower pans, realize that within each style there are varying designs that put minor tweaks on the look and feel. So keep exploring once you've settled on a main type so you can find exactly what you want. You'll find it and be so pleased once the project is over.
You'll Also Enjoy: