17 Types of Showers to Fit & Enhance Any Bathroom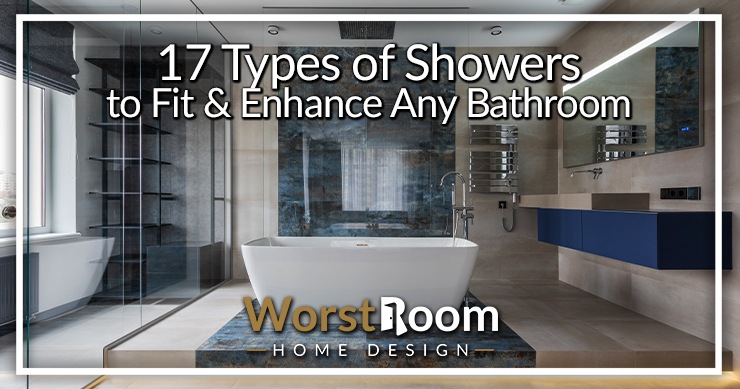 How can you decide what types of showers to include in your renovation if you haven't seen them all? No worries, we've got you covered.
Whether you are installing a new shower or just got bored with your outdated bathroom and want to remodel the entire thing, there are lots of new and exciting shower options that you can choose from.
We have come a long way from showers that just washed away the dirt. Today you can even get your hands on smart showers that have up to twelve different settings. That's just the tip of the iceberg, though.
17 Types of Showers
Here are the main shower types that you should check out before you even start the demolition for your next project. Showers are the ultimate in bathtub alternatives for the busy adult, so you might as well have a nice one.
Prefabricated Shower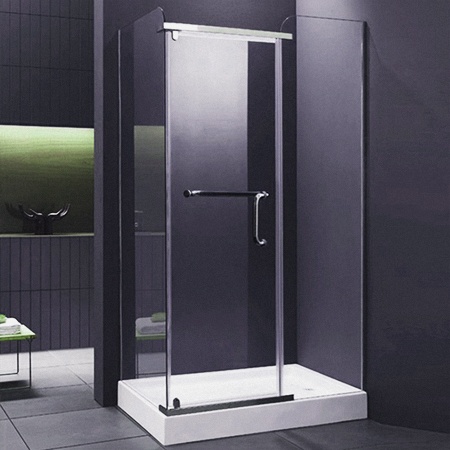 These shower shapes are budget-friendly options to consider when installing a new shower or renovating an old one. It comes as one single unit that is easy to install.
It will have all the normal shower fittings. Apart from that they will also include basic shelves, wall panels, and grab bars. Sometimes they have seats built in, too.
Since they are pre-made you won't have a lot of creative freedom when designing the shower. However, they offer great value for money and ease of installation.
Rectangular Enclosure Shower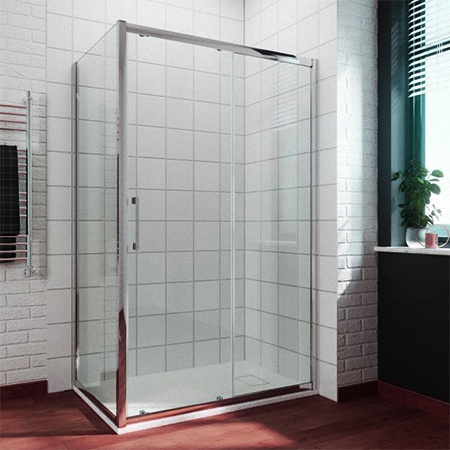 These are walk-in showers enclosed into a rectangular space with the help of tempered glass partitions. They are not set in frames but rather held in place with the help of metal clips. Frameless designs are easier to clean.
If you have a small bathroom and you don't want to track water all over the bathroom floor, you should go for a rectangular enclosure shower as they can be tucked into a corner quite easily. Use glass walls or other shower tile alternatives to feel like you've got a much bigger space to shower in.
Rectangular enclosures can be installed even in the middle of your bathroom, but you probably shouldn't do that, unless you're going for really different types of showers and have a huge bathroom.
Curved Enclosure Shower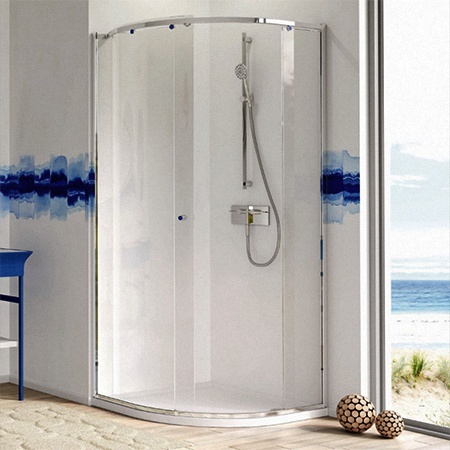 Curved enclosure types of showers in a bathroom help you utilize the space in a small room efficiently. They can be tucked into a corner and closed off with a rounded glass door (one of the cool alternatives to glass shower doors).
When installed in corners, these shower stalls resemble a slice of pie that fits into a cozy nook of your bathroom. But these showers can be installed anywhere in the bathroom, not just the corners.
Since they have a unique curved design, they cost more than rectangular enclosures. They also add a contemporary and minimal look to your bathroom. These different shower designs lose their effective use of space if not used in a corner, though.
With these transparent curved glass shower walls, you may want to stay away from some of the bathroom door alternatives that will provide less privacy in a highly trafficked area, though it'll be fine in a master bedroom.
Corner Enclosure Shower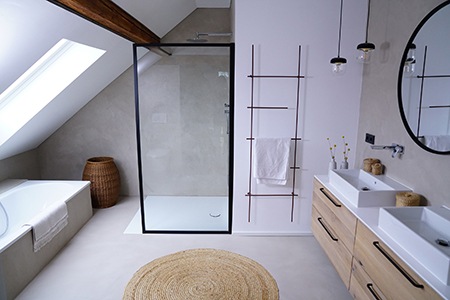 These can be rectangular or curved enclosures. These shower styles are free-standing and are perfect for tiny bathrooms. Unlike other enclosed showers, these can only be installed in a corner of the bathroom. Their shower shapes aren't conducive to options, but can save a small bathroom redesign. Often, like pictured above, these will be zero threshold showers where the shower pan types or tiles are even with the rest of the ground.
Neo-Angle Enclosure Shower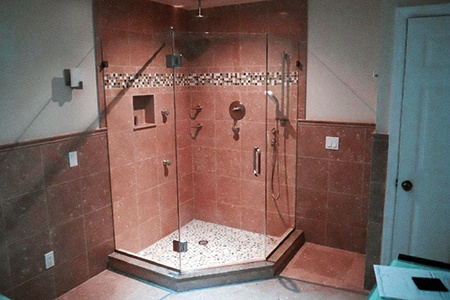 These showers are a cross between rectangular and curved enclosures. They usually fit into a corner and are ideal for smaller bathrooms.
They have rectangular or square shapes with two sides of the square being tempered glass and the other two being the bathroom walls.
They are different from rectangular enclosures because the glass sides do not meet, with the third sheet of curved tempered glass forming the shower door. These may include a pivot shower door or hinged shower door.
Bathtub-Shower Combinations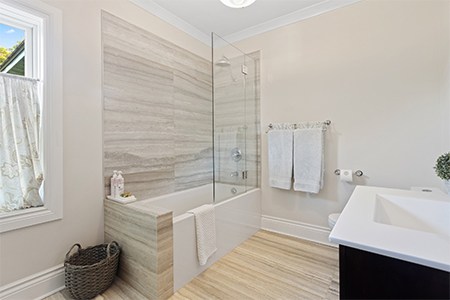 These types of bathroom showers have standard types of bathtubs as the base. They maximize utility and save space by doubling up as both shower and tub. The faucets in the tub are used to control both the water flow in the tub as well as the shower.
They are ideal for smaller bathrooms and for homes with kids. You'll find these in apartment homes often and guest bathrooms. They're only found in full bathrooms, and not half baths.
Shower Tower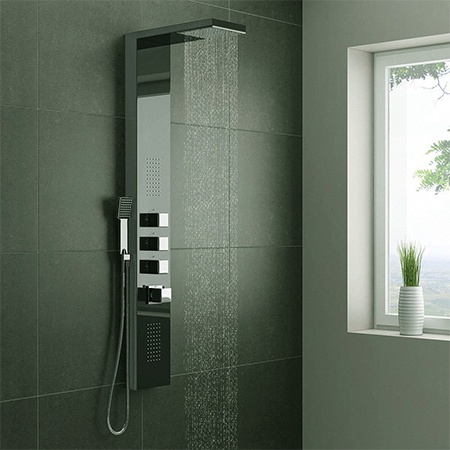 Shower towers are commonly seen in bathrooms with contemporary designs. They consist of a vertical metal column with built-in controls, a traditional overhead shower head, a hand shower wand, and sometimes even jets located at varying heights.
Since all these additional types of shower faucets and fittings are built into the column of the tower, you don't need to drill multiple holes in the bathroom wall for each outlet. This makes the bathroom look modern and minimal and come with some cool shower features.
For as sophisticated as they are, they're fairly easy to install and are a great option for a luxury experience every morning or evening.
Body Shower
Body showers are for you if you want to get the spa treatment from the comfort of your home. They are designed in such a way that there are multiple water outlets spraying water all over your body from different directions.
Some body showers can even combine a tower shower along with the other fittings. These showers come with multiple settings like massage and mist. With this shower, you can adjust the water pressure to take a soothing bath that hits all the right points.
You just need to be aware that you'll experience an increase in water usage with these, especially if you take lengthy showers.
Waterfall Shower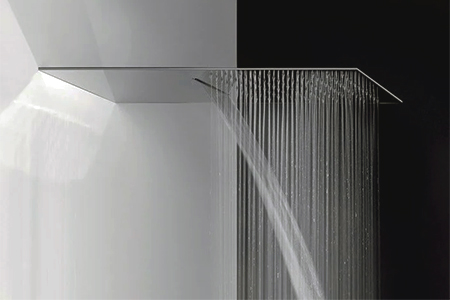 These types of showers get their name because they emulate the flow of water from a waterfall. This soft, rainfall type of water flow is created by installing these types of shower heads higher than you normally would and attaching a special waterfall adapter to the outlet.
Although a rush of water cascades from this shower, the water flow is quite softer than typical showers. You might not enjoy waterfall showers if you like the pressure of water on your body when you shower.
Another option is to install the showerhead into the ceiling directly above you, rather than off of a pipe. It's a more sophisticated shower design in this way, sure to wow your guests.
Manual Mixer Shower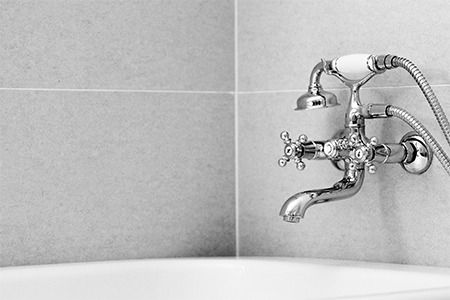 Manual mixer showers have been around for a long time. These showers mix hot and cold water inside the unit before releasing it from the showerhead. However, they do need an existing source of hot water.
The valves on the shower can be used to adjust the amount of hot or cold water being mixed, this will help regulate temperatures according to your preference, especially if someone turns on one of the types of bathroom sinks. It won't get suddenly cold or hot on you.
Since they are manually operated, they function even if the power fails. On the other hand, since they take water from the existing water supply, they do not increase the pressure or flow of water. These are perfect for the budget conscious user.
Thermostatic Mixer Shower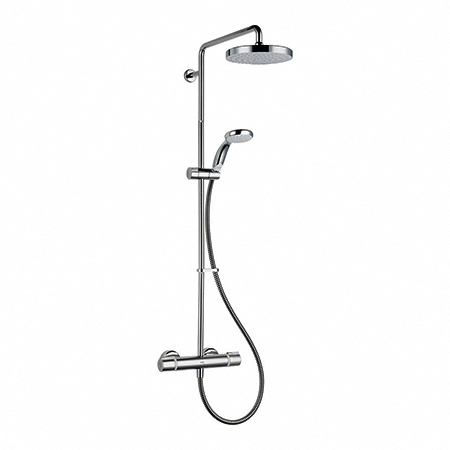 These showers come with a built-in thermostat to help you preset the water temperatures. They are similar to mixer showers because they make use of the existing water supply, but unlike the manual mixer, temperatures are constant.
This build with an overhead rain shower head and the long free-moving hand head is perfect for heated outdoor showers where you can get completely wet but target especially dirty parts of your body.
You can take showers without fear of being scalded by boiling water. You can enjoy showers that are not too hot, not too cold, but just right. The temperature won't fluctuate if someone flushes the whatever types of toilets you have!
Electric Shower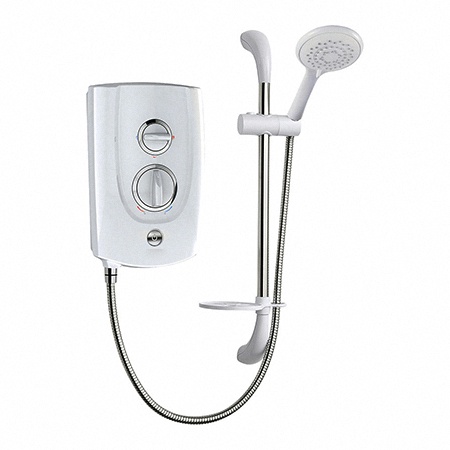 In an electric shower, there are heating elements inside the shower unit. This means that you don't need an existing hot water supply if you have an electric shower. They heat the water coming from your normal water supply system.
You don't need to switch on the heater before you plan to take a shower; an electric shower provides hot water round the clock, as the heating unit is installed within the shower and heats quickly.
They also provide better water pressure in case the normal water flow in your system is very low. These don't require different shower designs but can be installed in any of the different types of showers.
Multi-Setting Showerhead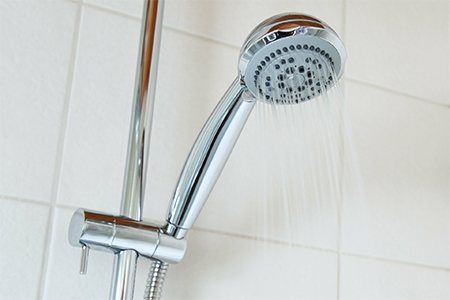 Multi-setting showerheads come with a lot of features built into one unit. Many types of showers offer multiple settings starting from simple things like adjusting water pressure to even more complex settings like pulsing and misting.
Some showers can even have up to twelve different settings. Some of the things that you can do on a multi-setting showerhead, depending on the model you choose, are adjust temperatures, adjust the water flow, set the jets to a massage function and toggle between narrow and wide streams of water.
Don't get confused. These aren't just special showerheads. They're far more complex and involved, requiring a much more complicated installation like the others.
Single-Setting Showerhead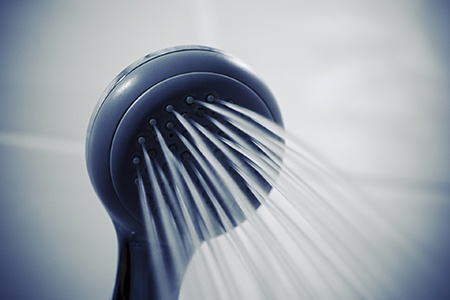 These are the most basic and traditional type of shower sets that you can install. This showerhead only has one setting, you cannot adjust the water pressure or temperature while showering, it remains constant.
People usually opt for single-setting showerheads because they are more affordable than other options that pack a lot of features. These showers are ideal for outdoor showers which you don't use regularly as they are minimal and get the job done.
You find them in apartments, hotels, motels, and so forth because there's fewer moving parts to break and they discourage people from trying to manipulate them (and ending up breaking them).
Concealed Shower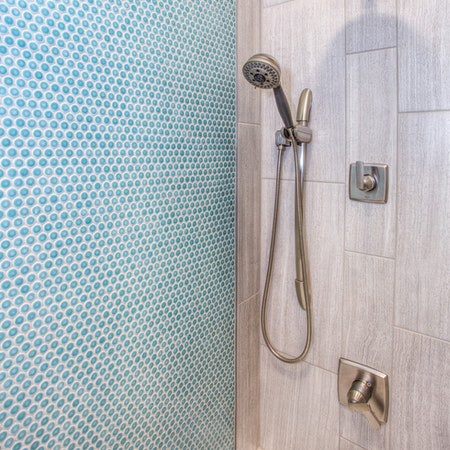 Concealed showers are perfect for those who love minimal interiors and sleek modern designs. Generally, concealed showers mount the showerheads into the ceiling in such a way that it appears as though the water is falling from the ceiling.
All the pipework is concealed or hidden behind the walls, floors or ceilings. They usually have water flows emulating rainfall or a waterfall. Concealed showers can also come with other fancy settings like built-in LED lights.
Power Shower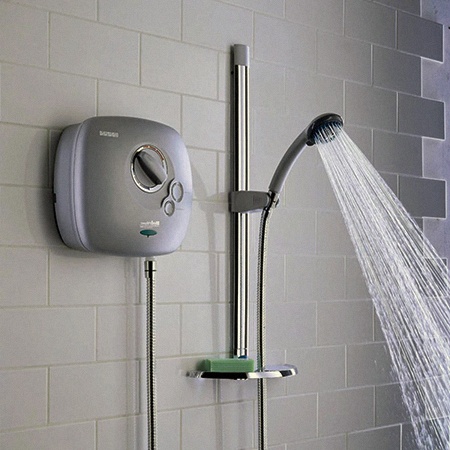 Power showers are the ideal match if your home has low water pressure. They function as a mixer shower and combine water from existing cold and hot water sources.
But they differ from normal mixer shower types as they come with a pump to boost the water pressure and increase the flow of water.
You can install a power shower with either a plastic pump or a brass one. Plastic pumps are cheaper to install than brass pumps. However, brass pumps last longer, make less noise, and require less maintenance. So brass pumps might be a more effective long-term solution.
Digital Shower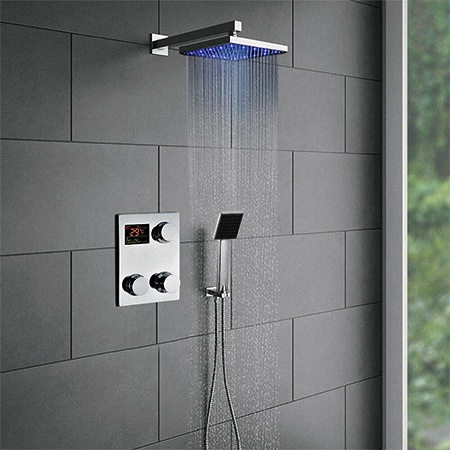 Digital showers are new on the block and perfect for all those technology freaks out there. They have sophisticated control panels that display water temperature and water flow.
They let you set precise temperature controls and program warm ups so that you don't have to keep checking if the water is hot enough every few minutes.
You can do all this at the touch of a button or even by connecting the controls to a smart device. The only drawback is that they use the water from an existing hot water source like one of the types of water heaters, so you need to have a system in place to install a digital shower.
Types of Showers for Every Renovation
The world of showers has seen so many developments. Whether you want to take a simple shower or one that gives you all the feels of being in a spa, there are so many options in the types of showers for you to choose from!
You'll Also Enjoy: