Toilet Room Dimensions by Code & by Comfort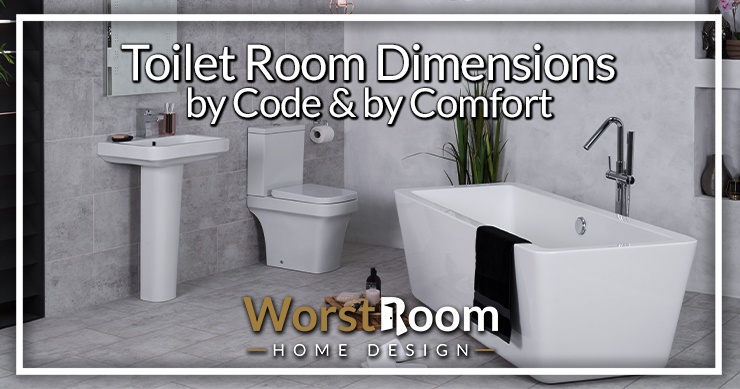 Although we don't like to discuss it, our bathroom, toilet, or powder room is vital to our existence in North America. We even buy and sell our homes based on the number of bathrooms. But how big should you design a standard toilet when renovating or building? Are there minimum toilet room dimensions to consider?
Before you tackle a renovation or building plan, get the facts on the minimum size of a toilet room. Find the latest trends and code considerations here, guided by the International Residential Code committee and the National Kitchen and Bath Association, which we explain below.
6 Main Concerns for Toilet Room Dimensions
There are no hard and fast rules that say the size of a water closet (another name for a half-bath) has to have a minimum size. There is no standard size of a toilet room. But you'll find as you follow all of the other rules that you become limited by aspects. Let's look at some of those real quick.
Bathroom Door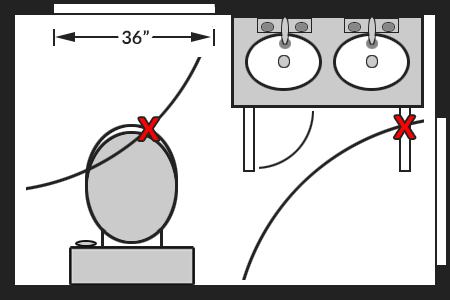 You'll need room on the lengthier wall for a 36" door (jamb to jamb) to be installed and room for it to be able to swing open inwards or outwards. Outwards allows you to maneuver in a small bathroom once you're inside it, so you're not having to dodge the door to close it. You don't want the door bumping into the toilet, cabinets or cabinet doors, or a shower or tub for a full bath.
Floor Space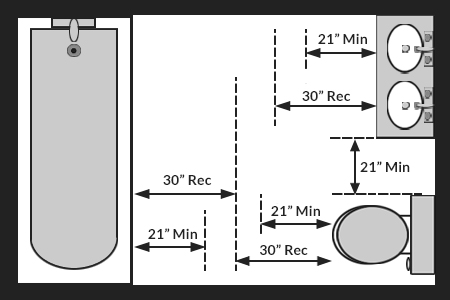 You will be required to have 21 inches of distance between fixtures, such as a toilet and sink or toilet and tub, though 30 inches is recommended. You must have at least 24 inches in front of a shower's entry, no matter if you have a standard shower size or even much larger.
Ceiling Height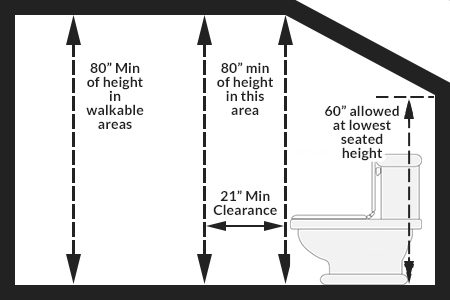 You'll likely use the existing ceiling height in your home, which is probably 8 feet or 90 inches (the usual height of a story in a house). Code does dictate you need 80 inches minimum of height in the 21 inches in front of a fixture (the toilet, for instance), but you shoudn't have an issue with that. You need 80 inches anywhere you can walk, as well. You can have up slope towards the toilet to as low as 60 inches in height.
Sink Space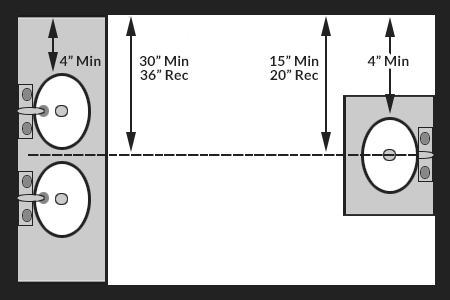 The IRC code demands 15 inches between the centerline of a sink and the wall, with at least 4 inches between the edge of the sink and the wall. The NKBA recommends increasing the centerline distance to 20 inches for comfort (literally for elbow room). This guidance increases to 30 inches (IRC) and 36 inches (NKBA), respectively, for double sinks.
You'll want to leave width for places to hang towels in a small bathroom, too. And depending on if you're using free-standing types of bathroom sinks or full on vanities with counter tops, you'll want to increase the depth allowed, which will mean a longer bathroom in general. When it comes to toilet room dimensions, realize how much space your sinks will eat up immediately.
Shower Pan Sizes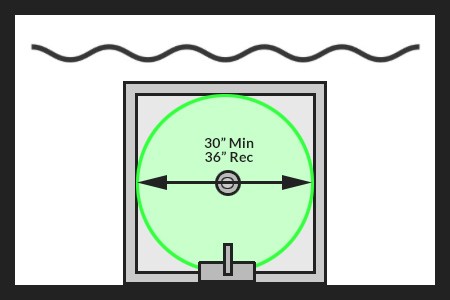 The minimum size of a small shower can be no less than 30 x 30 inches, meaning the portion you stand in (not the raised lips of the pan). The shower head must also fit in this 30 inch diameter disc-shaped area. The NKBA says 36 x 36 inches is a better minimum size. This is for square shaped pans. For a rectangle shower pan, the shortest width may be no less than 30 inches, with 36 inches being recommended.
Toilet Placements & Compartments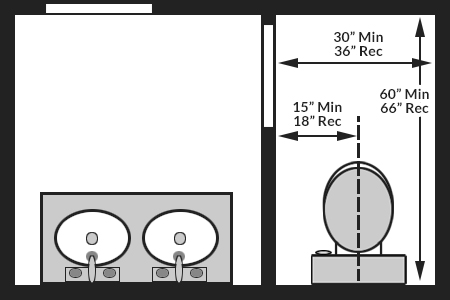 Toilets are to be no less than 15 inches from the centerline (a line running front-to-back) from any wall or fixture. The minimum toilet distance from the wall is non-negotiable. Increase this to 18 inches for comfort. The compartment for a toilet, if built, is to be no less than 30 inches wide by 60 inches long. Increase this to 36 x 66 inches based on the NKBA's guidance.
Toilet Sizes for Residential Toilet Rooms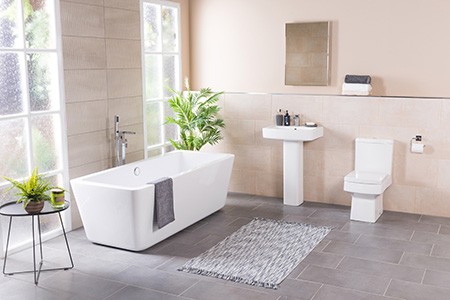 What will effect the size of your water closet the most is the size of your toilet, since you have to have clearance on the sides and in front of it. Let's look at the two main types of toilets you'll be considering and how that plays into things.
Standard Toilets by Today's Considerations
Regulations come and go and often result in overall improvements. As the population ages, reaches new body height dimensions, and works from home frequently, adding a few inches of space becomes a valid consideration. But where do you find that extra space?
Depending on the location within the house, you can increase toilet room dimensions by scarifying the closet, garage, and pantry or finding room beneath the stairs.
When you renovate or build a house, ensure the bathroom you install meets code regulations in your district. This code includes dimensions, plumbing, electrical, and ventilation.
Adding a half bath is an excellent investment. People shopping for property always consider the number of bedrooms and bathrooms as vital. Adding a bathroom after the fact is an expensive prospect.
Standard Two-Piece Toilets
Some two-piece bathrooms seem like an afterthought. We squeeze a standard toilet and sink into a 30 x 60-inch space. The International Residential Code mandates this size allotment in the building trade and meets the bare minimum.
Anyone looking to build new, or renovate an existing space, consider upgrading the size. A 36 x 66-inch toilet allows disabled access and some elbow room. It's astonishing what six inches of space can do to transform a space.
Upgrade your two-piece design to 48 x 72 inches for those with a blank slate. It will make users feel less cramped and create a better atmosphere in one of the most popular rooms in the house. Although it still isn't ample space or lavish, it's possible to add a vanity for extra storage.
The National Kitchen and Bath Association believes homeowners deserve more room to do what people do naturally. Those aren't official codes by law, but are interior design suggestions from experts. From a design aspect, their guidelines just open up the canvas.
Though the average weight of a two-piece toilet is 93.6 pounds, you will install them in two separate pieces. This is something to consider if you're doing this work alone, because one-piece toilet is a bit heavier and in one solid piece.
Regulation Size Toilet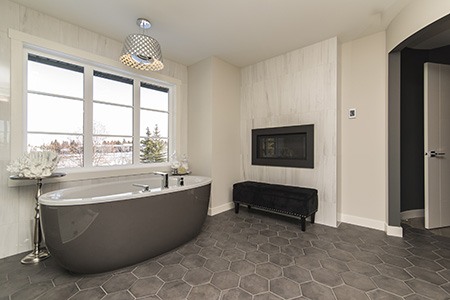 The absolute smallest code allowance is 30 x 60 inches for a toilet. Some homes don't have any extra space to increase the size. On paper, adding that half bath increases property value and sellability. In a pinch, a small toilet is better than no toilet.
Some people consider alternative options and make the space a proper water closet with only a toilet. The sink moves next door. In Europe, where they're used to living, small, teeny-tiny sinks make all the difference.
In North America, we opt for pedestal sinks that serve a function but provide no storage. Therefore, renovating or designing a toilet size shouldn't be an afterthought. You must create room for both of these in your toilet room dimensions as a primary thought.
One of the critical considerations in designing small toilets is accessibility. Anyone who struggles with mobility can't make small toilet rooms work. As we age, mobility becomes essential. Even families with small children will realize that it's challenging to squeeze small bodies that need support into cramped spaces.
Before you draw out a 30 x 60-inch space on paper, tape the area off to get a true feeling of space. Try to find additional inches by sacrificing space in another part of the house.
Make It Bigger
Even if we maximize the dimension to the Kitchen and Bath standard, it's still a tiny space. You'll add minimal footage to the home's footprint but change the room's dynamics.
Since two-piece bathrooms are often for visitors, like parents and grandparents, adding that extra space is peace of mind. Increasing the size of a 30 x 60-inch toilet is also a tremendous future consideration. Life situations might force you to install handrails and other accessories to make the bathroom accessible for those with compromised mobility.
Saving inches in home design is an important consideration. But once you commit to the standard size, there's no going back without spending a small fortune on renovating to snag a few inches of space from another room. It also adds extra storage for cleaning supplies and other toiletries.
Afterthought renovations mean you'll tear down walls, add new tiling, move the toilet and sink, and possibly relocate the plumbing. Therefore, the pros of opting for a larger space outweigh the cons.
Upgrading the Minimum Size of a Toilet Room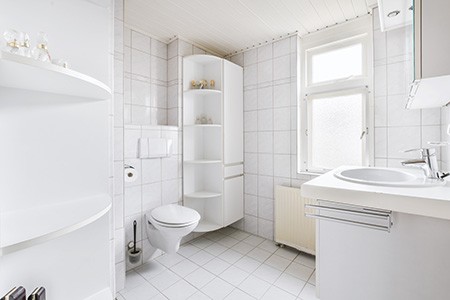 Going big or going home on your toilet room dimensions doesn't mean 48 x 72-inch bathrooms, but it's a vast improvement. That extra half foot of length and width make a considerable difference.
Twenty-four square feet is a decent size for a powder room. It provides ample access for persons with mobility issues and any additional hardware or personal aid equipment.
Storage is the biggest bonus of upgrading to a 48 x 72-inch powder room. Going longer on the length by another foot is a luxury if you can do it. There's nothing more annoying than a lack of storage in a bathroom. Increased space allows you to invest in a sleek vanity with counter and cupboard space.
Having cleaning supplies, extra toilet tissue, and sanitary products handy is convenient and makes a bathroom tidier. It also makes using the powder room less claustrophobic.
Common Questions About Toilet Standards
Most toilets come in a standard size. While there are modern fixtures that fall outside the standard dimensions, a regular commode is about 15 inches tall. Comfort height toilets for tall and incapacitated individuals are either 17 to 19 inches tall, not including custom seat heights.
Toilet shapes are either round or oval and measure 27 to 30 inches based on design. Most people find oval toilets more comfortable. Round toilets are best for small or angled ones to save on space.
Before allocating bathroom space, ensure the toilet you plan to install can fit, including the tank. Always measure twice.
Choosing the Right Toilet Design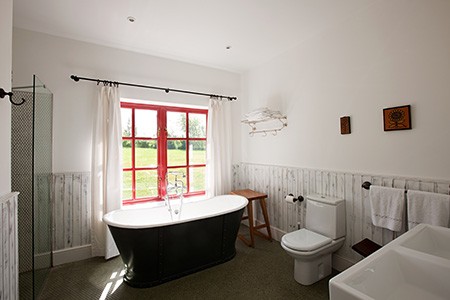 Hanging out at your local building supply store is a great way to get to know a toilet. Angle toilets can save on space. While some people angle a standard toilet, buying toilets with corner-shaped tanks is possible to save space.
Another significant consideration is to invest in water conservation toilets. Although most commodes have this feature, look for the WaterSense sticker.
The WaterSense sticker meets the US Environmental Protection Agency's mandate that a toilet only uses 1.6 gallons per flush. It saves on water and the water bill.
To save even more space in your water closet dimensions, invest in a tankless toilet system. These unique toilets don't rely on a tank but use water directly from the line.
Bathroom Door Decisions
It goes without saying that toilets need doors for privacy. However, the door swing space takes up valuable real estate in a tiny room. We've all been in bathrooms where the door instantly bangs into the toilet or sink, and we have to shimmy around the opening to get inside.
Changing the direction of the door swing is one way to solve the problem. However, it isn't always a good solution. Regulations on limited space also advocate for doors that swing out instead of in. In-swinging doors are dangerous as they can trap a person inside.
Pocket doors, bi-fold, or barn doors can help save valuable space. Check out these bathroom door alternatives to get an idea of how you can avoid dealing with the swinging door issue. In a more private setting your options increase drastically.
FAQ's on the Dimensions of a Toilet Closet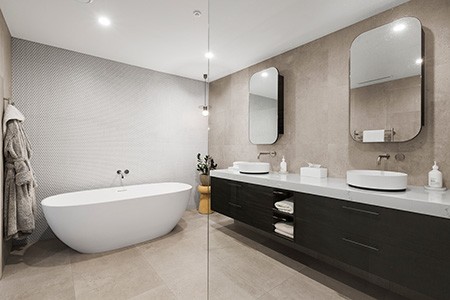 Although it's just a toilet, it takes considerable planning to install the correct toilet and allocate the right size. Toilet room sizes aren't critical, but comfort can barely have a price put on it.
How Big Should a Half-Bath Water Closet Be?
A toilet or bathroom space should be at least 36 X 66 inches. Although this is a very compact space, many people use swing-out doors to make it functional. To meet the code, you need 30 x 60 inches.
Is Two Feet Enough Room for a Toilet?
This is a popular question. Minimum space allowances are 21 inches, but that only leaves two feet of space to move around and restricts movement for larger bodies. The code is 30 x 60 inches. You must have at least 15 inches from the centerline of a toilet to a wall, with 18 inches suggested for comfort. So it depends on the width of your toilet.
What are the Code Requirements for Around a Toilet?
IRC code clearance requires you to have at minimum 15 inches from the center to any wall and 21 inches from a door, other fixture, or wall. The NKBA suggests increasing this to 18 inches for comfort.
Is a Taller or Shorter Toilet Better?
Most toilets come in standard size heights of 15 to 19 inches tall. However, commodes with 17 to 19 height are more comfortable for the average person. Seniors, tall people, or people with injuries also benefit from taller toilets. For people with mobility issues, you can buy a raised toilet seat as a temporary solution.
All the Toilet Room Dimensions You Can Stand!
Bathrooms can be luxurious suites or little cubby rooms with a standard sink and toilet. Our two-piece bathrooms are often cramped spaces in an unused corner of a house for privacy. Luckily, increasing toilet room dimensions isn't as tricky as you think, and the pros far outweigh the cons.
You'll Also Enjoy: