14 Caladium Varieties to Bring Maturity Back Home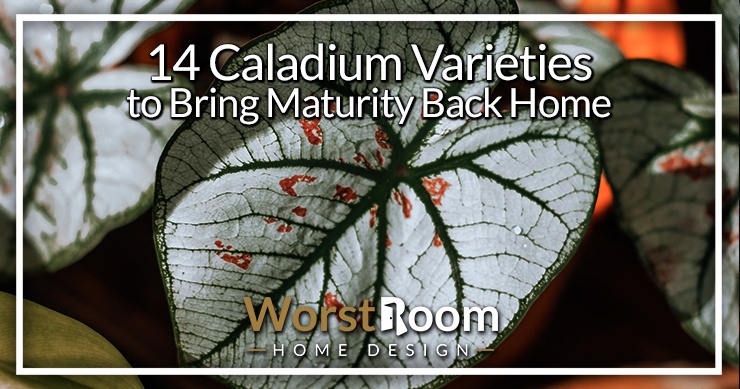 Have you been planning to embellish your garden with a plant that is apparent to the eyes? Why not get some caladium varieties to revitalize the landscape? Caladium plants are also identified as elephant ears, angel wings, and sometimes the heart of Jesus.
They are known for their striking greenery with ornamental foliage that can enhance the beauty of any space. When picking caladium, you will be surprised to know that there are more than 1000 types of caladium out there.
We are not going to talk about each one of them but rather highlight the most common and available caladium types for you.
Keep in mind that caladium is classified into two types, strap leaf caladium and fancy leaf caladium. Within this bracket, you are likely to find numerous caladium species. Let's explore some of the finest caladiums out there.
14 Caladium Varieties
Caladiums are perennials plants native to Central and South America. With time, the genuine plant has gone through rigorous cultivation and now has more than a thousand variants. Below we have enlisted some of the most available and renowned categories of caladium.
The strap-leaved (or lance-leaved) options have shorter and narrower leaves with ruffled edges. They're more dense and compact with shorter petioles. Fancy-leaved caladiums have heart shaped leaves that remind me a lot of various types of poinsettias.
Fannie Munson Caladium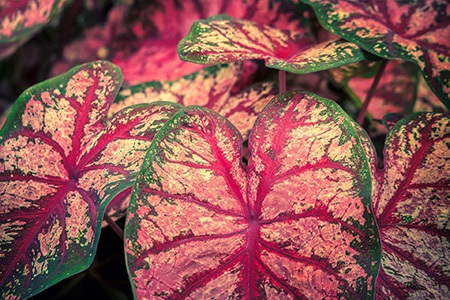 This variant of caladium is common and widely picked by flower enthusiasts because of its striking pink and green combination on the leaves. It falls into the fancy leaf category with leaves that exhibit flamingo pink in the middle and dark green shades on the edges.
It can grow up to 24 to 30 inches when thriving. This plant must be kept in shade or partial shade because sunlight can damage its translucent leaves. This plant is very easy to maintain because it does not require any particular soil and will flourish in moist conditions.
Candidum Caladium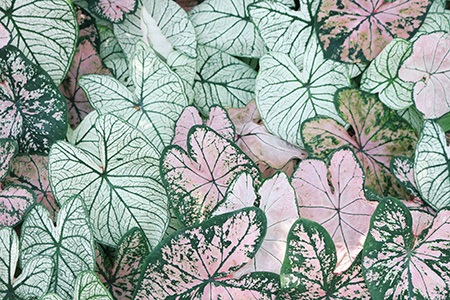 This caladium variant is simply one of the most eye-catching plants out there. It falls into the fancy leave category and does boast the fanciest of leaves. Candidum has good growth and will extend up to 18 inches when kept in full shade. Direct sunlight is known to irritate their leaves, so better keep the Candidum under shade.
During the winter season, it is wise to bring this caladium indoors to avoid severe damage. For best results, make sure the soil is well drained, and also watering it day to day will keep all kinds of slugs at bay. You'll notice all these caladium look a lot like the types of coleus, too, which can give you some leads on what flowers to mix and match in your flower bed.
Candidum Junior Caladium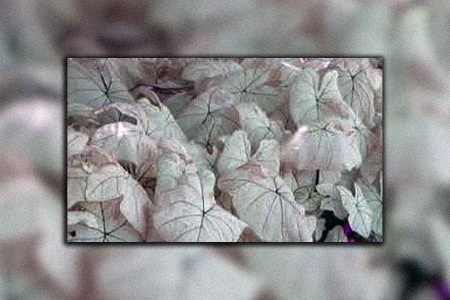 Unlike Candidum, this junior version is a strap leaf caladium. It has branches on the edge and comes with smaller leaves. This is one of the smallest caladiums out there, which can be restricted to 11 to 16 inches.
Candidum junior is a plant that can be well suited on pots and fit into your balconies pretty well. They have green and white leaves that are simplistic yet elegant to look at. To care for these caladium varieties, you must maintain well-drained soil and water the plants when dry.
Aaron Caladium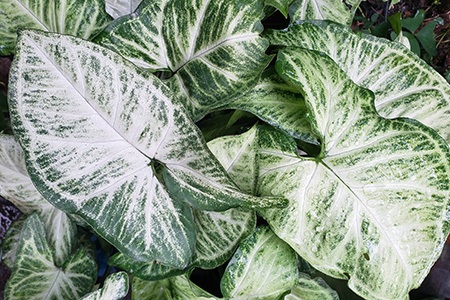 The Aaron caladium is a crowd favorite because of its white center. It is a plant with heart-shaped leaves that can grow up to 24''. Expect a white shade in the middle of the leaf and dark green color on the outer edges.
This caladium is a good pick for decoration and also easy to maintain. Aaron caladium thrives in partial to full shade and also can endure the sunlight. Make sure you keep the soil moist and water them whenever necessary and cherish vigorous growth.
June Bride Caladium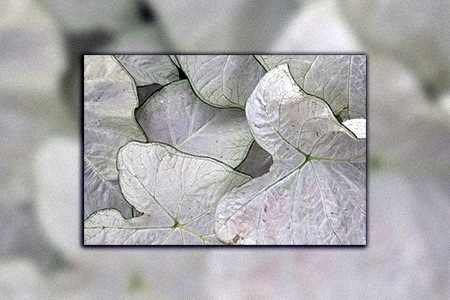 If you are a fan of white color, then the June Bride caladium is the ideal one. It is a fancy leaf caladium with large green leaves that turns white with time. In the summer season, a certain type of flower grows on this planet but won't be visible due to the foliage.
It is a low-maintenance plant — therefore, you won't have to worry about it getting damaged easily. Give it enough shade, water it when dry, and enjoy the white bloom. In the rainy season, you might have to keep it in check from slugs and snails. They look great growing low amongst various types of ivy plants.
Carolyn Whorton Caladium
Let's talk about another fancy leaf caladium well suited for interior decoration. The Carolyn Whorton is a plant that consists of a pink center with red veins on them. The outer edge is light to dark green, making it a super attractive plant.
Again, the good thing about this plant is that it can thrive in partial light, unlike other variants. The best you can do is to get it under half shade and ensure the soil is warm and moist. It can reach up to 20 inches and will enhance the beauty of your house.
Gingerland Caladium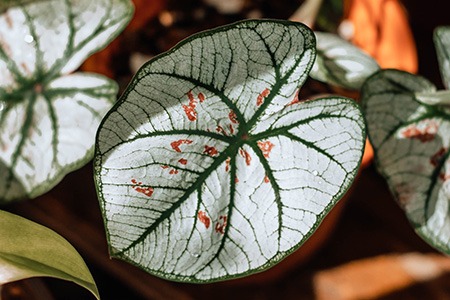 If you are looking for popping colors for your flowering space, then Gingerland types of caladium can suit your needs. It is a strap-leaved caladium with medium size leaf, ideal for fitting into a smaller space.
The leaf comes with green borders and a creamy white center, striking enough to stand out. Another specialty is its pink freckle-like spots that give it a unique look. If you like these and the other caladiums here, check out the types of polka dot plants, which have a very similar appearance.
Good thing is that Gingerland can stand sunlight and can be kept away from shade. Make sure you provide day-to-day watering for these caladium varieties to live longer.
Pink Symphony Caladium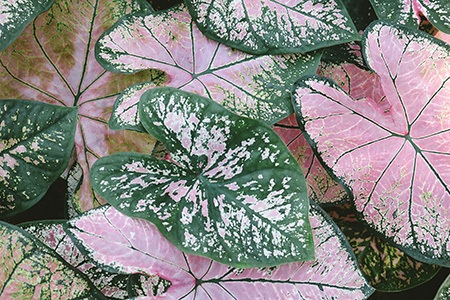 Talking about indoor plants, the pink symphony is the ideal strap-leaved caladium for your house. It grows heart-shaped leaves that can grow up to 14 inches. The color of the leaf is pale pink with green outlines throughout the body.
As it is tropical greenery, you must ensure you mist the plant daily to avoid dehydration. It will tolerate humidity, but you have to make sure the soil is moist at all times.
Pink Gem Caladium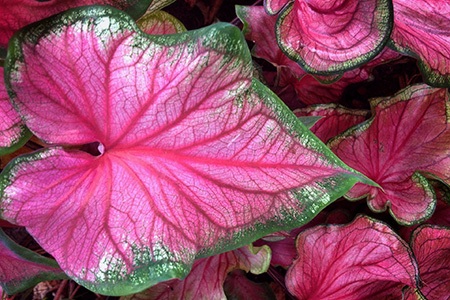 Let's talk about another strap-leaved caladium, the pink gem. It is a beautiful plant that is made to enhance the visual aesthetics of your house. The leaves on it are ruffled and have a bright pink color in the middle.
Scattered in the center area, there are red veins that make it pop out even more. The green borders on this plant are like the icing on the cake. Imagine these scattered around with types of allium popping up around them in rich colors.
These varieties of caladium has a rough texture and will need to be placed under shade for continuous growth. Make sure you water these caladium types daily to avoid any possible wear, but not too much. Otherwise you should water other varieties once per week, keeping the top inch of soil moist.
Pink Beauty Caladium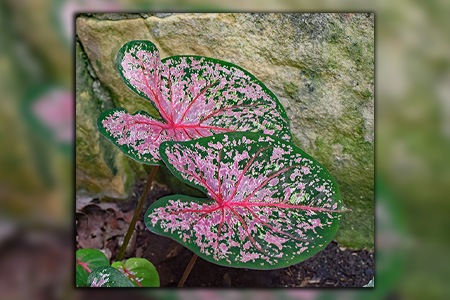 The Pink Beauty caladium species is similar to other pink varieties but with less pink. The pink color does start from the center of the leaf at the stem, but doesn't spread out as far, and quickly becomes a more speckled pink amidst the green than dominating at all.
What is interesting is the veins of the leaf are a very rich, bright pink that runs even out to the green margins of the leaf. Make sure it is given at least partial shade if not full shade so it'll thrive at its best.
Lemon Blush Caladium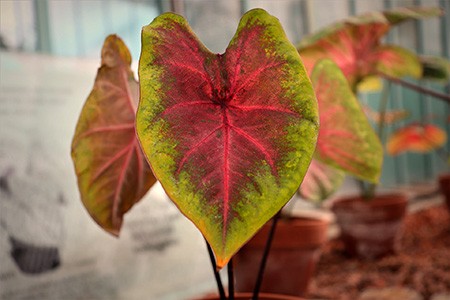 The Lemon Blush caladium is a plant with a graceful and engaging appearance. It has an exquisite color palette that will brighten your indoor space like never before. The leaves are heart-shaped and have a hot pink center. The outer edges are either yellowish or light green, which complements the red center.
For ideal growth, this plant desires partial sun or full shade. It is an extremely heat tolerant plant and will survive exposed sun rays too. It is mandatory to keep the plant hydrated, thus we recommend watering it daily. Don't overdo the misting, try to keep it wet, but don't drown it.
Miss Muffet Caladium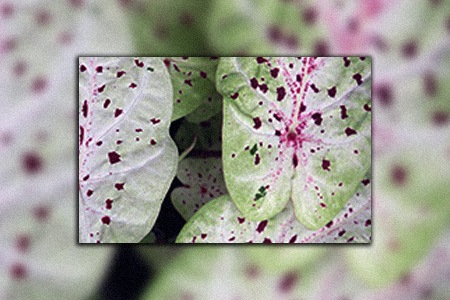 The Miss Muffet caladium varieties are exquisite house plants, with leaves boasting light yet vivid colors. This is a strap leaf caladium with light green leaves, which are quite elegant to look at. It has a pink center and reddish freckles that add to the glamor of this beautiful plant.
This plant can live under sunlight and will require well-drained soil. Ideally, it should be kept under partial shade and watered regularly. It is a tropical plant, so misting it regularly will keep away slugs and retain its beauty throughout the season.
Freida Hemple Caladium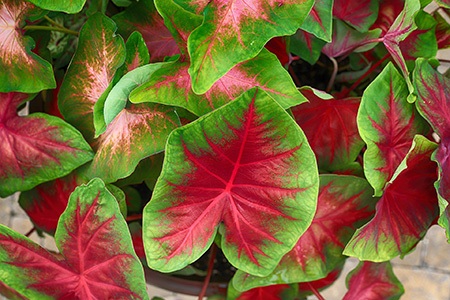 If you are looking for a flashy plant, then there is nothing better than the Freida Hemple Caladium. It is a fancy-leaved caladium with broad leaves. The colors on this plant are something to die for, even more complex than the colorful types of azaleas that come to mind. It exhibits vivid red in the center and green on the edges.
This caladium can live in the shade as well as the sun and is tolerant to humidity. For maintenance, you must ensure that the soil is moist and the plant receives regular misting, that's it, nothing complicated.
Florida Sweetheart Caladium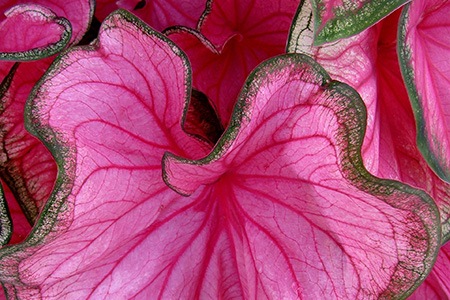 This is a caladium that comes with wavy leaves and falls into the category of strap leaf caladium. The appearance of this flower is what makes it an ideal house plant. This comes with a pink center with red veins and green borders, enough to brighten your location.
It is a small plant that works as a great filler for your indoor planting space. This can be kept in direct sunlight, but we prefer you put it in partial shade for better results. Good thing is that Florida Sweetheart can withstand humidity and heat, but you have to make sure you water the plant daily to keep it lively.
Other Caladium Varieties to Explore
There are countless varieties of caladium you can seek out, though there are the handful above and a few more that are most popular. Here are more for you to experiment with to get your fill:
Postman Joyner (Strap-leaved)
Red Flash (Fancy-leaved)
Red Frill (Strap-leaved)
Rosebud (Fancy-leaved)
White Christmas (Fancy-leaved)
White Queen (Fancy-leaved)
White Wing (Strap-leaved)
Again, there's so many more you'll have a hard time even hearing about them, and truthfully there's not any need to go beyond the 21 options listed above.
Types of Caladium Varieties for Your Flowerbed
For those who have been looking for recommendations on what type of caladium to fit in their home space, the list above provides an idea about the obtainable types of caladium species.
For people who like bright, punchy colors will love the appearance of a Fannie Munson or Freida Hemple. Those who love the shade of white can pick out the Aaron caladium or the June bride to add some delicate touch to their landscape.
Whatever you pick, any caladium varieties will certainly add to the positives and make your garden or indoor space more graceful. All you need to do is maintain the plant regularly. So, stop wasting time and get the caladium of your choice to make your place appealing.
You'll Also Enjoy: