9 Changing Table Alternatives for Convenient Diaper Changes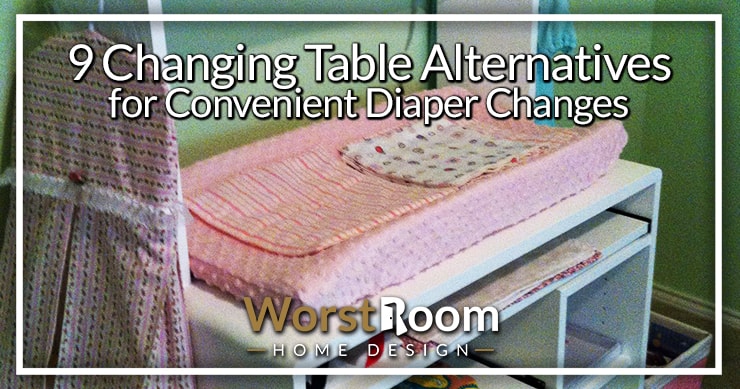 Changing table alternatives usually pull double duty, serving multiple purposes and thus saving you some space in your room and some money in your wallet.
A changing table offers a safe and convenient place to change your baby's diaper, without your baby rolling off. It's also beneficial because it's at the right height and you don't have to bend over, preventing a sore back or accidents.
However, traditional changing tables can cost $200 or more, which can be a dealbreaker, especially if you're on a tight budget. And that can be a considerable amount of cash considering how quickly your baby will outgrow the table.
A traditional changing table not only takes up a lot of space, which can be a challenge if you have limited space, but it's also quite expensive too, which may leave you asking the question, is a changing table really necessary?
Changing Table Alternatives
Thankfully, there are many other practical alternatives for nappy changes that can help parents to make the most of their budget and space. In this article, we will discuss some smart changing table alternatives to help you hot swap those diapers fast and comfortably.
Dresser-Changing Table Combo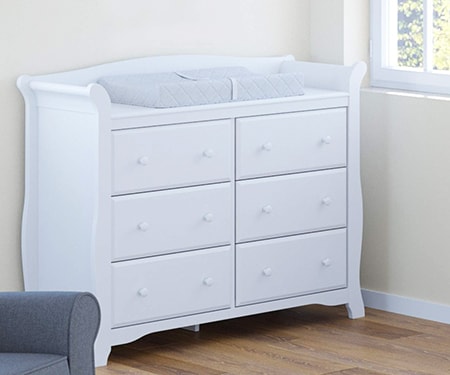 You can find sturdy types of dressers with protective borders on top that can work quite well as a changing table. This is especially a great option if you have limited space, perfect among the dresser alternatives.
The dresser will allow you to make the best use of the space and you can use it for multiple things. While you can use it as a changing station, you can use it as a normal dresser too.
The top of the dresser offers a spacious spot where you can change your baby safely. Alternatively, you could place a padded changing mat with raised sides at the top of the dresser.
You can pair the mat with a set of fabric bins or wicker baskets that you can use to store your baby's diapers and other essentials so that you will have all that you want conveniently at arm's reach.
You can take advantage of the extra storage the dresser offers, which makes this a great buy in the long run, stashing diapers, wipes, and powders all right there in the same area.
Wall Fold-Out Changing Table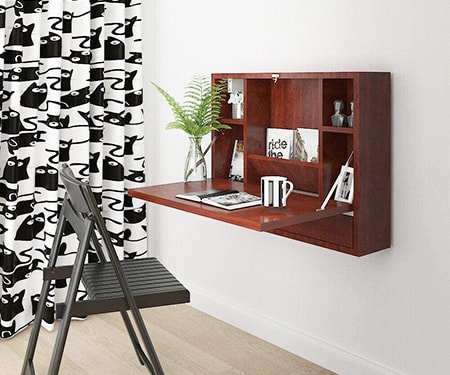 If you're working with an exceptionally tight space and want to make most of the available room, then you could consider getting an in-built, fold-out changing table.
You can install this clever changing table on your wall and it will fold out of the wall offering you a sturdy and stable changing surface, which you can tuck away when not in use.
The changing table sits up vertically against the wall and when you need to use the fold-out changing table, you simply need to pull the table down into a horizontal position. The fold-out changing table lets you capitalize on the space that is otherwise unusable, such as the space behind the door, etc.
Since the fold-out station is built into the wall, it occupies very little space and, in the future, you can even convert it into a nice fold-out workstation, which your child can use for homework or as an entertainment center.
Desk-Changing Table Combo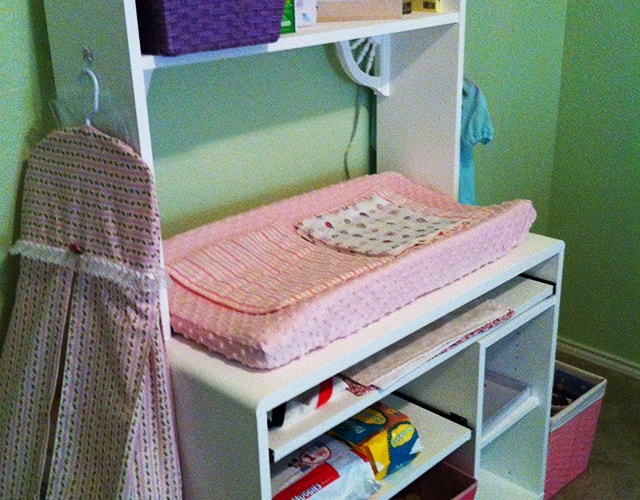 If you have a nice sturdy desk, you can use it as a changing table, as long as it has a smooth solid surface and it is at the right height. Avoid desks that are made of old dry wood and choose one with a hard, smooth finish such as polyurethane.
You can place a thick changing pad on the desk to make it more comfortable for your little one. Ideally, the desk (doubtfully) or the changing station you place on the desktop should have raised edges on 3 or 4 sides to prevent your baby from rolling off.
And, if the desk has a shelf or drawers underneath, this can be a great place to store your baby's wipes, diapers, lotions, and other essentials. Using a desk as a changing table is not only practical but also a cost-effective option because the desk will be functional long after your baby stops wearing nappies.
Among the changing table alternatives, this one works great because you can make the nursery double as an office for the meantime since you'll be in there frequently anyways.
Folding Changing Table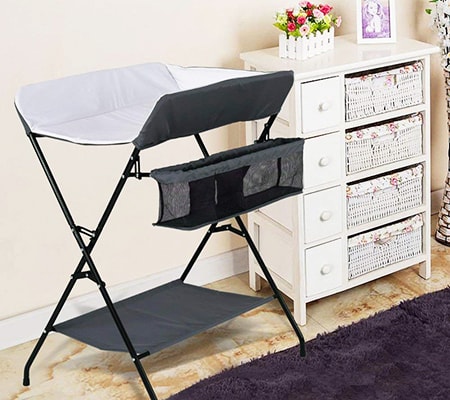 If you loved the idea of the fold-out changing table but are not very keen on making holes in the wall, then you could consider the option of a folding changing table. My parents never even let me hang posters, not even with tape, so I still wince at the idea, myself.
This is a great choice as it offers all the benefits of a fold-out changing table minus the tedious installation process, which makes it a more practical and convenient option for new parents who are renting their home.
These freestanding changing tables are a smart, inexpensive solution that you can fold flat when not in use and tuck away behind the door or put away in your closet, making them perfect for homes with limited space.
Very lightweight and portable, folding changing tables can complement a bedroom bassinet very well, offering a convenient changing surface when the baby may be in your bedroom during the initial months.
The only thing that you must keep in mind when buying a folding changing table is that it should be large enough and at a comfortable enough height to allow you to change your baby easily. You can use them as high chair alternatives as well with a baby seat atop, if you strap it in well.
Crib-Changing Table Combo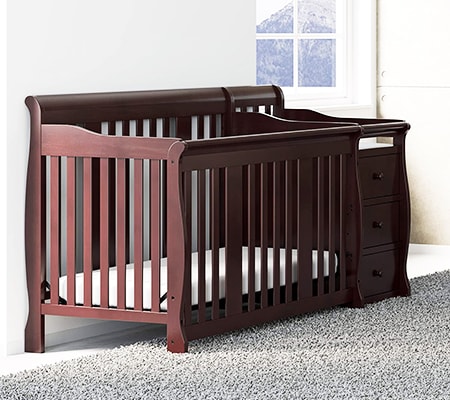 While not a very sophisticated option, a crib-changing table combo gets full points when it comes to practicality. The crib-changing table combo offers a larger surface area that allows you to change your baby easily. This often also comes in a space-saving model, i.e. the crib-top changing table.
Crib-top changing tables are small wooden trays that fit horizontally across the top of your baby's crib and provide the perfect surface for changing. And, once you're done, you can simply slide the changing table under the crib.
A crib-changing table combination is an excellent solution to all your changing table troubles and it helps you to use your space conveniently and efficiently. And, god forbid, your baby rolls off, he or she will land gently in the soft crib and crib bumper alternatives below.
Portable "On-the-Go" Bassinet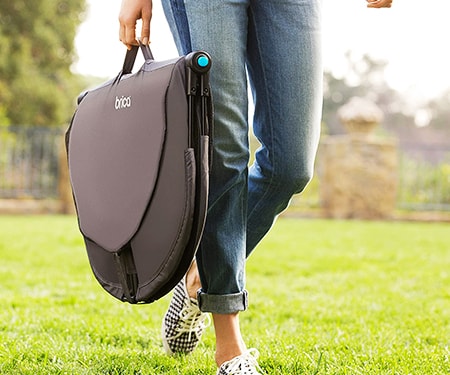 If you don't want to use a traditional changing table, then a portable bassinet can be an excellent option. A good portable changing station usually includes a washable changing mat, diapers, and other essentials. This is all you need to change your baby when on the go.
You can get a nice diaper bag and put a changing mat and diapers in it. The changing mat will provide the flat surface you require to change your baby and the bag's multiple pockets allow you to store the extra diapers, lotions, and other baby essentials that you may need.
This is a very simple solution that is both space saving, as well as inexpensive and cost effective. And, when not in use, you can store the portable changing mat in your closet conveniently.
Alternatively, you can purchase a couple of large changing mats and caddies, which you can stash away in various parts of your house like your family room or living room so that wherever you are, you will have your baby changing supplies always on hand.
Baby Changing Basket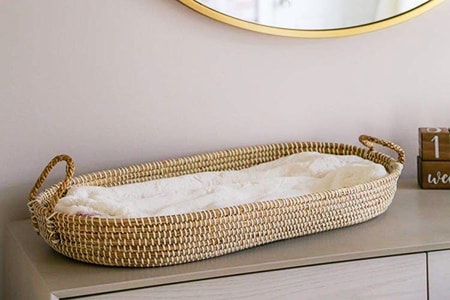 If you like the vintage and old-time look, then the simple handwoven changing basket is the perfect accessory that can transform any surface into a stylish changing table for your baby.
A type of Moses basket, changing baskets are usually made of soft and natural materials such as seagrass. To ensure your baby's comfort and for easy cleaning, you can add an insert into the basket.
And, the best part is that the changing basket has plenty of other uses. Once your baby grows up and you're no longer using it as a changing station, you can use the basket for other purposes like storing anything you need to organize.
Quilted Changing Pad & Insert
Made with internal layers that are water resistant, quilted changing pads are extremely stylish and comfortable. The quilted pad will complete your changing station and it will match with any interior style or design perfectly.
The quilted changing pad and insert are very easy to clean and can be spot cleaned or machine washed. The convenience of that shouldn't be understated. You won't want to machine wash it every time there's a spill, but when it's time you'll love it being a hands-free operation.
Baby Changing Mat on the Floor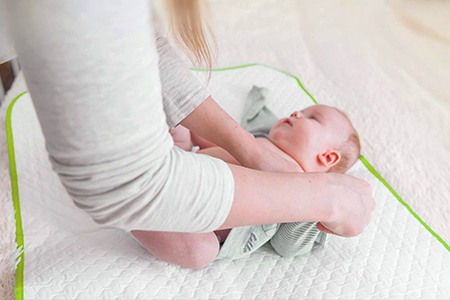 While this may not be an ideal option for your back, the floor is a great alternative to a changing table. You can simply place a big changing mat on the floor and change your baby on the mat.
This is a safe and good option for your baby because even if your baby does roll off the pad, he/she won't be injured. Let's be real, even as adults we use the floor as one of our bed alternatives at time, so changing the baby down there isn't that big of a deal.
However, the floor may not be a good option for you, as you will need to crouch or kneel down and bend over while changing your baby, which can be rough for people with back or joint issues.
The floor is probably just a stop-gap alternative that you can use when absolutely necessary and you don't have any other option rather than a permanent changing solution.
Changing Table Alternatives are Smart
While there is nothing wrong with purchasing a changing table for your baby, if you consider your budget and space, then there are more practical alternatives available. It's just a question of looking for smarter options.
And, whether you decide to use your dresser as a changing station or your desk, use a basket or simply make do with a mat or blanket on the floor to change your baby's diaper, the most important thing is that the spot is safe.
While this may not make a lot of difference to your little one, the idea is to choose an option that works best for you and your baby. And, what matters the most is that your baby is clean, comfy and happy while being changed, maybe on one of these changing table alternatives.
You'll Also Enjoy: