6 High Chair Alternatives That Can Look & Perform Better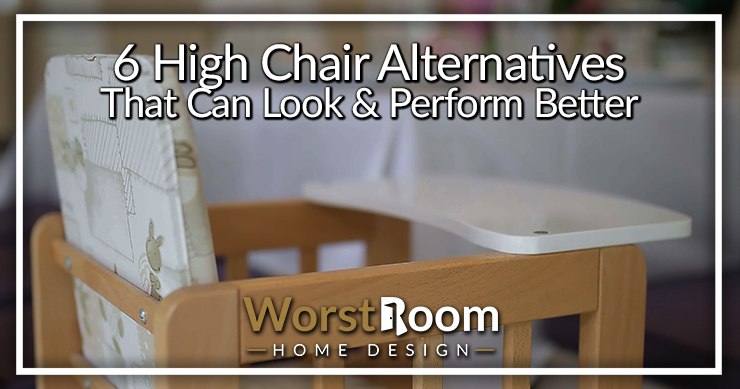 Teaching your children basic motor functions from an early age is vital, and dining in a high chair is a great way to start. However, this infant furniture tends to be a bit expensive. Thankfully this is where high chair alternatives come into play.
If you don't want to spend too much money on something that only has usefulness for a limited time, then it's best to start looking for some alternative choices.
Thankfully, there are a plethora of different options that can provide more value at an affordable rate in comparison to traditional high chairs.
You won't have to break open your wallet, and your kid can gain all the benefits. So without further ado, let's look at some of the baby and toddler-friendly furniture that perfectly fits the bill.
6 High Chair Alternatives
Despite all of the benefits of a high chair for a baby, sometimes they're not right for the adults. Needing another piece of furniture that doesn't match, that isn't all that adjustable, and isn't portable to different rooms or homes... sometimes there are much more convenient options that still solve the same problems.
We have compiled 5 of the most effective children-safe furniture that can easily replace the high chair in case of function and benefits. Keep on reading to find out all about them and choose one that appeals to you the most. You can also learn about the alternatives to crib bumpers if that's an issue for your baby, too.
Folding High Chair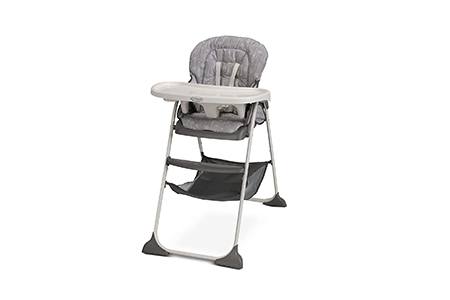 One of the more convenient high chair substitutes, the folding high chair is a more hassle-free hybrid version of the traditional high chair.
Not only does it fulfill the regular function of raising your baby to the height of most types of dining chairs, but it also provides a plethora of other features. Most models of this furniture are reasonably priced too.
An excellent plus point of using the folding high chair is its minimal weight. Unlike its predecessor, it's not hefty and therefore is easier to move around.
The frame of the furniture is quite slim and will fit into any table quite conveniently. Therefore, you can safely look after your toddler during meals and teach them table-side etiquettes easily.
A redeeming aspect of the folding high chair is the extremely little space it takes up when not in use. The limbs of this product are foldable and detachable.
Thus, you can easily take it apart and fold it up when your child isn't using it and store it away in the corner of your home. In comparison to the more conventional model, it is more convenient on this front.
The folding high chair also comes with an attachment that isn't present in most models of its predecessor. Almost all the versions of this item come with a tray attached to it. You can remove that tray to push the chair up against whatever types of tables you have.
These high chair alternatives are really handy when it comes to teaching your baby to eat by itself. You won't have to worry about maintenance, too, as they are washable and is easily detachable.
Booster Seat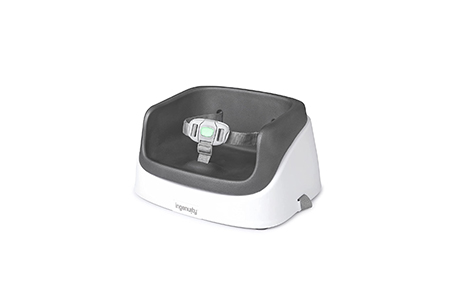 You might be confused to see booster seats being considered as a high chair alternative due to their primary function as a vehicle attachment. But it has all the right features and utilities to function just as well in the dining room.
You can easily attach it to one of your dining room chairs, and your kid can easily start using it when having meals.
Children of different heights can easily use booster seats as high chairs. You will have to buy a model that complements the height of the child for them to use it comfortably.
Furthermore, it is significantly more affordable than high chairs, making it the perfect choice if you're on a budget and want something of value.
Booster seats are mostly a suitable option for toddlers or babies in that age range. They will be able to use it comfortably and eat directly from the dining table as long as the height matches them properly.
However, there is no need to fret if you have an infant. Just get the model with a detachable tray, and you're good to go. One of the most attractive qualities of the booster seats is the incredible portability it provides to parents.
Its small size allows you to move it around effortlessly in comparison to the high chair. Furthermore, its ability to fit into vehicles makes it the perfect companion on the road. Therefore, it is perfect for use when going on trips.
Hook-On Seat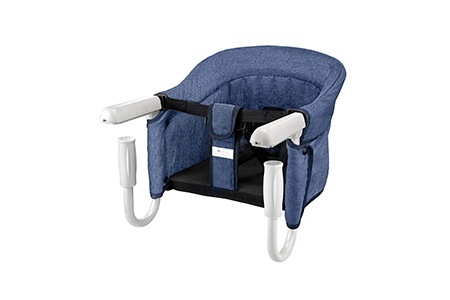 If you want your child to experience directly dining from the table, then there is no better option than the hook-on seat. It's better for babies than toddlers due to their weight and movement beginning to increase.
As the name suggests, you can directly hook it to the table, and your child can enjoy his meal table-side with ease. It removes the distance that high chairs create as it often feels pushed back from the table.
A lot of questions can arise regarding the safety and security of the hook-on seats. However, there is no reason to worry as long as you purchase a model that meets the regulations.
You can easily use this high chair alternative both at home and in restaurants. Just ensure that the unit you are getting has a three-point harness and install it properly before letting your child sit.
One of the most stellar aspects of the hook-on seats is their unparalleled durability and dependability. These high chair alternatives offer convenience ensures that no legs are necessary for it to balance itself with ease.
However, it's incredibly affordable in comparison to traditional high chairs. Therefore, it's a much more inexpensive and valuable purchase.
Easy maintenance is yet another great factor about the hook-on seat. Children often tend to make a mess when eating by themselves, and therefore, it's crucial for the chair to be easy-to-clean.
Its material is easy to look after, and a few wipes are all it takes to clean the product effortlessly. The inclusion of a tray also makes things easier. These can also be in the shape of a reclining baby chair for a more comfortable posture.
Travel Harness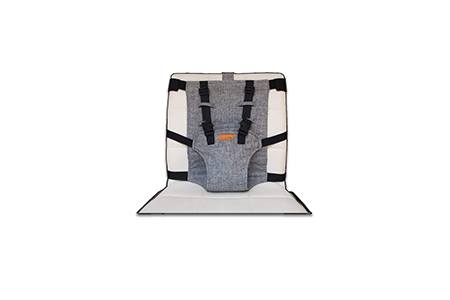 Popularly known as portable high chairs, their characteristics are eerily similar to that of the booster chair. Its straps let you connect it with a regular chair for quick use.
Therefore, this item doesn't take up as much space as regular high chairs while still fulfilling the basic functions. Using it feels like a breeze from that point of view.
You will love using the travel harness if your baby is quite active by nature. Children who tend to move around a lot always risk falling down when sitting on a high chair.
This unit fastens the kid to it firmly and protects them effectively against falls. In that regard, it would be the perfect purchase for older kids.
Another great aspect of owning the travel harness is its ease of portability. Usually, each of these commodities comes with a travel bag in which you can easily store it.
Therefore, carrying it around feels relatively more convenient. In case you have a travel harness that can fold, it will still be small enough to fit into linen drawers.
There's just one downside to using the travel harness, which is its build material. Unlike other children's furniture, this product is made from cloth.
So, it is relatively difficult to clean up in case any food or drink spills into it. So you should think about buying it only if you're okay with cleaning it every now and then.
Toddler Tower
Toddler towers (sometimes called learning towers) aren't the most obvious alternative to high chairs, but they are perfectly suitable for use for informal meals. Using it will let children be on the same level as dining tables while standing up.
These high chair alternatives for toddlers also give the child enough space to move around while eating. This product is perfect if you have an exceptionally energetic child.
Unlike conventional high chairs, toddler towers are more versatile in use. You can use it for many more purposes than just simply feeding your kid.
It will also be effective for letting them stand on the same level as sinks. Therefore, they will be able to wash their hands and brush their teeth by themselves too.
Another excellent aspect of using toddler towers is the durability and sturdiness they offer. It has a significantly higher weight carrying ability than that of high chairs.
On top of that, its balance is superior as it can stand erect while holding the full weight of hyperactive children — no other alternative is as reliable as this item on this front.
Although there are many benefits to using the toddler tower, it does have one significant drawback to using it — unlike other items on this list, there aren't any additional safety measures to secure your baby when using it.
Furthermore, your kid will have to be able to stand up for them to be able to use it.
Chair Booster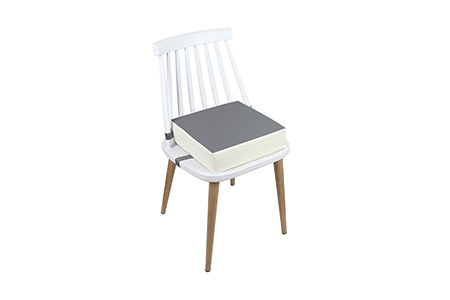 Instead of adding some kind of booster seat on top of a regular chair to help raise the height of your baby or toddler, this method involves adding a booster to the bottom of the chair.
These devices all connect at the center and have four arms that extend outward. You can adjust how far they extend to accommodate most types of chairs as long as they have a square leg configuration and not some rectangle shape.
The nice part about these is nobody sees this chair booster. It's on the ground. So as you look out across the dinner table everything appears normal and pristine like you designed it.
Also, your child will get to feel like he's sitting up like a big kid. You probably want to create a seat belt for them, though, depending on their age. If they can't sit safely without toppling over, this probably isn't a good idea.
High Chair Alternatives to Bring That Baby Up to Height
Well, there you have it. Six of the most reliable options in the current market that can effortlessly serve as alternatives to high chairs. All of them are unique in their own ways and have something different to offer to their users. You just have to decide which one's qualities appeal to you the most to make the ideal choice for yourself.
Now you know which products you can go for if you don't want to spend too much money behind a high chair. You can easily go through the wonderful experience of watching your child learn to eat by themselves with these high chair alternatives.
You'll Also Enjoy: