Floors for Sheds: Material Options & Guidance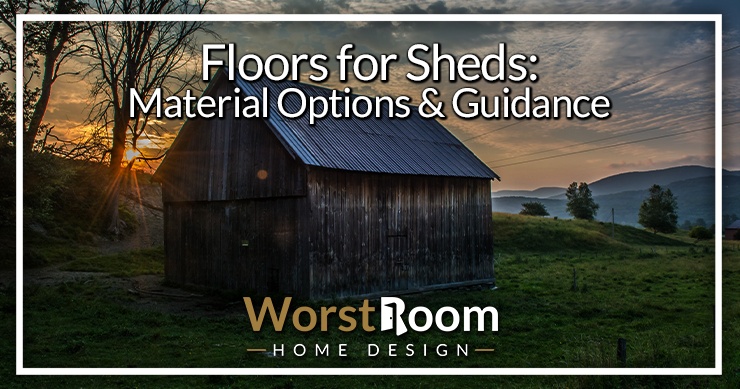 In many families, shed space has become prime real estate. People used these miniature spaces to store tools, gadgets, toys, and seasonal decor in the past. More than ever, people are converting these spaces into hobby shops, home offices, and outdoor living spaces. This is why floors for sheds need some extra consideration.
One of the prime elements of repurposing shed space is choosing suitable flooring for sheds. There are permanent solutions involving hard surfaces or, depending on the purpose, upcycled options that don't cost a thing. Here are some of the most popular shed flooring options and materials.
Do Sheds Have to Have Flooring?
Yes. You don't want any types of sheds with no flooring (which is to say that the earth beneath you would become the floor). You'll want to elevate a floor for insulation purposes, to reduce contact with moisture, and to bring much increased stability to the entire structure. If you intend on storing heavy items in the shed, especially on the walls, a floor is a must-have.
What is the Best Flooring for a Shed?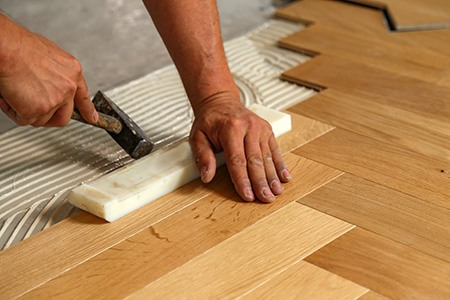 There are a lot of choices you can make for the flooring for your shed, but in all honesty, there's really only three main options you should be choosing from. We'll discuss the details below but for now let me list them for you.
Concrete Slab - This is the most time-consuming and difficult to install, but is the most durable by far. However, if you drop extremely heavy equipment on it and chip it, fixing it is also going to be a greater annoyance. You won't be able to move the shed with the flooring, though.
Oriented Strand Board - Also called OSB, this is your cheap option that is durable enough with an acceptable appearance. It won't be the most beautiful but you could cover it with a rubber mat. It's not as durable as the other choices, but cheaper to replace.
Pressure-Treated Plywood - The most accessible and easiest to repair option is plywood. The pressure-treated variety will resist weathering, rot, insects, and liquids, but you will need to repair it eventually. And you can simply unscrew it and lay down a new board.
A serious person building a serious shed should choose from one of these three options above. If you do like the idea of concrete but don't want to lay a slab, read on to discover other concrete-related ideas that can be easier to deal with.
Shed Flooring Options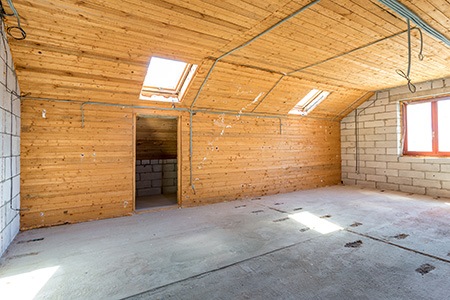 We're going to start the discussion by covering your main flooring options for a serious shed. There are 9 options to choose from here in 6 categories. After that, we'll cover some alternative options you can choose if you want to spend less money and be more playful about it.
Concrete Slab
Concrete or cement flooring is durable but slightly expensive for a shed, seeing as it's similar to most types of house foundations, which lets you know how strong it'll be. Even skilled DIYers might hire someone to prep and pour the concrete slab. Many factors can go wrong with cement for those who lack experience.
Concrete is a good option for shed flooring. It's ideal for someone who plans on tinkering with engines or hobbies requiring lots of messy tool work like carpentry, painting, or gardening. The beauty of concrete is that it lasts forever (for the most part). It's easy to brush and rinse and withstands all kinds of abuse and neglect.
Cement is prone to staining from substance spills. To remedy spills, use industrial absorbent granules. If you plan on standing on the cement for long periods, add rubber matting to prevent sore legs. Consider polished concrete if you're looking for a durable and attractive option.
Pavers, Patio Stones, & Interlocking Stones
Large surface pavers or patio stones are other great alternatives. Slab pavers are inexpensive, and remnant patio stones are often free on online market forums. The nice thing is there are many types of pavers to choose from, design wise.
Both options can work great for floor sheds to house your garden tools and whatnot. While pavers and patio stones are hard, they are more susceptible to settling and creating uneven surfaces.
The beauty of pavers or patio stones is that the material lends itself to being utilitarian or can be creative. A bit of planning and prep work is the key.
Oriented Strand Board (OSB) or Plywood
Leftover OSB or pressure-treated types of plywood sheeting can make suitable shed flooring if aesthetics and longevity aren't the top priority. Using OSB or plywood is a great way to get tools and feet off the ground.
While OSB and plywood can be inexpensive material options, they're not suitable for sheds with leaks. Water will rot the wood, even pressure-treated wood, over time.
In dry sheds, OSB and plywood are durable and comfortable for standing and walking on. These boards can handle some wear and tear, but the look is rustic overall.
Plastic
Plastic is a material everyone loves to hate. It's inexpensive, durable, and also practical. Many prefab garden sheds come with plastic flooring bases. Or you can order plastic shed bases online.
Plastics are immune to water damage and won't stain as easily as wood or cement. The other beauty of plastic flooring is that it cleans easily with a pressure hose.
Plastic is a good option for floor sheds. However, it will bend from heavy weights and can dent. Heat will melt and damage plastic floors. Plastic is good for garden sheds, kids' toys and playhouses, and greenhouses, but not heavy-duty workshops.
Tongue & Groove Planks
There's no doubt that tongue and groove planks add charm to any woodshed. If you have access to leftovers, this is a nice option. Tongue and groove should only go into a well-insulated waterproof shed that you plan on converting into an outdoor office or playroom.
Wood prices have skyrocketed in the last few years, so adding it to a shed should speak to its use. There are better materials than this if your shed is a catch-all for engine parts or leaky lawnmowers.
Tongue and groove planking can create an ambiance for those wishing to create an outdoor living space. There are better choices for sheds with water leaks.
Composite Decking Material
Composite decking material makes for great floors for sheds. It's rugged and durable but not uncomfortable like concrete and susceptible to rot like wood.
The composite decking material like Polywood or Trex are easy to install and clean and can handle wear and tear. Its versatility makes it an excellent choice for many applications, from storage, outdoor living, garden, tool shed, and children's playroom.
Alternate Materials for Floors for Sheds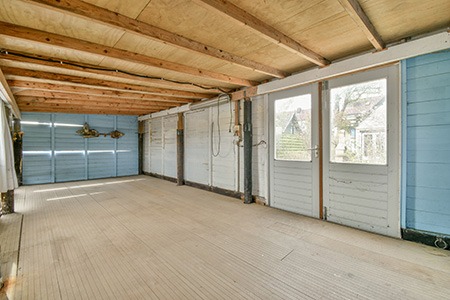 Shed flooring material can virtually be any flooring material you'd use in any other interior or exterior location. Only your imagination sets the limit, as long as you accept that you probably still need a real subfloor (and not a particle board subfloor).
These are going to be less expensive for you to apply and can create a more fun environment, especially in a shed where heavy-duty work won't be done and heavy-duty equipment won't be stored.
Carpeting & Artificial Grass
Deciding on the shed's primary purpose leads to many options. For hobbyists who want to claim a space of their own used carpeting or outdoor carpeting is also a great option.
Used carpeting and artificial grass add a bit of comfort and warmth. Recycled carpet is also superb because it keeps waste from ending in landfills.
Rubber Mats & Rubber Mulch
Rubber products are easy to cover a patch of ground in a shed. It can be helpful on bare earth or over concrete, gravel, and pavers to soften the floor.
Rubber products aren't affected by moisture, can handle spills, and don't rot. While rubber mulch and mats aren't the most attractive option, they can serve a utilitarian purpose and get feet and items off the damp ground.
Linoleum
Offcuts of lino are also a great surface material for floors for sheds. Linoleum requires a solid foundation to which you can adhere with bonding material. It's possible to staple it to a wood frame though it won't look very sophisticated.
The beauty of linoleum is that it's easy to sweep and wash, but prolonged exposure to moisture will deteriorate the material.
Vinyl Tile, Cork Flooring, & Interlocking Jigsaw Mats
Depending on the subflooring and the foot and tool traffic, these versatile materials make great flooring for sheds. They're inexpensive, easy to install, and feel great on tender feet. The key is that these will be placed atop a more "legitimate" subfloor.
What to Consider When Choosing Floors for Sheds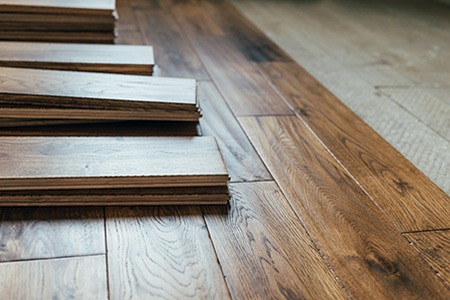 When choosing floors for sheds, the biggest consideration depends on how you use the space. It makes no sense to install tongue and groove flooring for anyone using the area to rip engines apart or work with water makes no sense.
Functionality
Sheds often become the catch-all of our seasonal whatnot and take quite a bit of neglect. For those who want their garden shed transformed into an outdoor living space, consider installing something durable but functional.
Interlocking brick is sturdy if appropriately set and adds a sophisticated look with little maintenance. Concrete or cement is hard, but depending on the needs, it's possible to soften the look and feel with paint or outdoor carpeting.
Industrial rubber mats are ideal for softening the ground for those using the shed for prolonged standing. They're a cheap option to improve your experience and comfort.
Cost
There are cheap solutions and expensive solutions. However, one sometimes negates the other. While concrete is more costly, it will last a lifetime. OSB or plywood is quick and inexpensive but won't last as long.
The idea is to find a sustainable material that is functional and durable. Upcycling materials is an excellent way to repurpose just about any flooring material.
Installation, Curing, & Adhering Timelines
DIYers like to tackle many projects, and floors for sheds are a great way to experiment with different materials and techniques.
Prep work is critical for those who want to tackle a cement floor. Concrete is not forgiving. Depending on the climate, cement also needs curing time. Cement cures to about 70% after seven days. After 28 days of curing, it should handle heavy objects. Many experts agree that 40 ℉ to 60 ℉ is ideal for pouring concrete.
Adhesives also require an optimum temperature to bond properly. Always follow manufacturer guidelines.
Refurbishing Existing Shed Flooring Material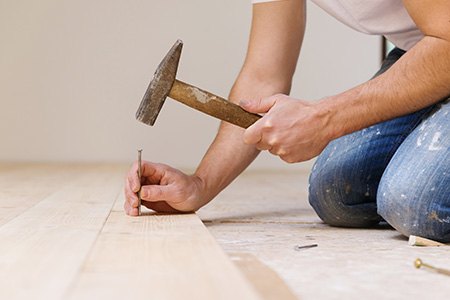 Consider repairing or upgrading the base if the shed already has an existing floor. Treat cement floors with epoxy and transform them instantly.
Epoxy is durable, attractive, and easy to clean. It's a great DIY project. There are many epoxy kits on the market.
Concrete paint and sealer also help preserve concrete floors. These coatings add shine and make the floor seem new.
Wood stains and sealers can also change the dynamics of drab wood floors for sheds. A lick of paint or stain can not only brighten but also help seal wood materials and help improve its lifespan.
Floors for Sheds Made Easy
Floors for sheds are only as limited as imagination and budget. Sheds don't have to be dingy and damp. By using alternative shed flooring, anyone can transform an ordinary shed into a usable and attractive outdoor space that is functional and practical.
You'll Also Enjoy: